Hi, guys! Today, I am going to share my review on the box of goodies that I received from Ashtapathy Herbals almost a month ago. I have used each and every product from their collection and I feel I am ready to share my views on them. Are you guys ready?
Kerala is known for its lush greenery, beautiful landscapes and backwaters. Amongst everything, Kerala is famous for its Ayurveda treatment. The abundance of rare herbs with medicinal properties and the presence of the families that have been practising Ayurveda for centuries make Kerala a state where Ayurveda is a mainstream way of healing oneself. Ashtapathy Herbals pledges to deliver the secret traditional recipes of Ayurveda to you through their products within a very affordable price tag.
About Ashtapathy Herbals: In their own words,
"Harnessing tried and tested Ayurvedic beauty secrets is Ashtapathy. We are a firm that knows traditional beauty like no one else. In today's times when purity in products is a rarity, Ashtapathy captures Ayurveda in its purest form and brings the same to you in a subtle way.  Go ahead and redefine beauty and purity in your heads; Ashtapathy Ayurveda is just what you are looking for.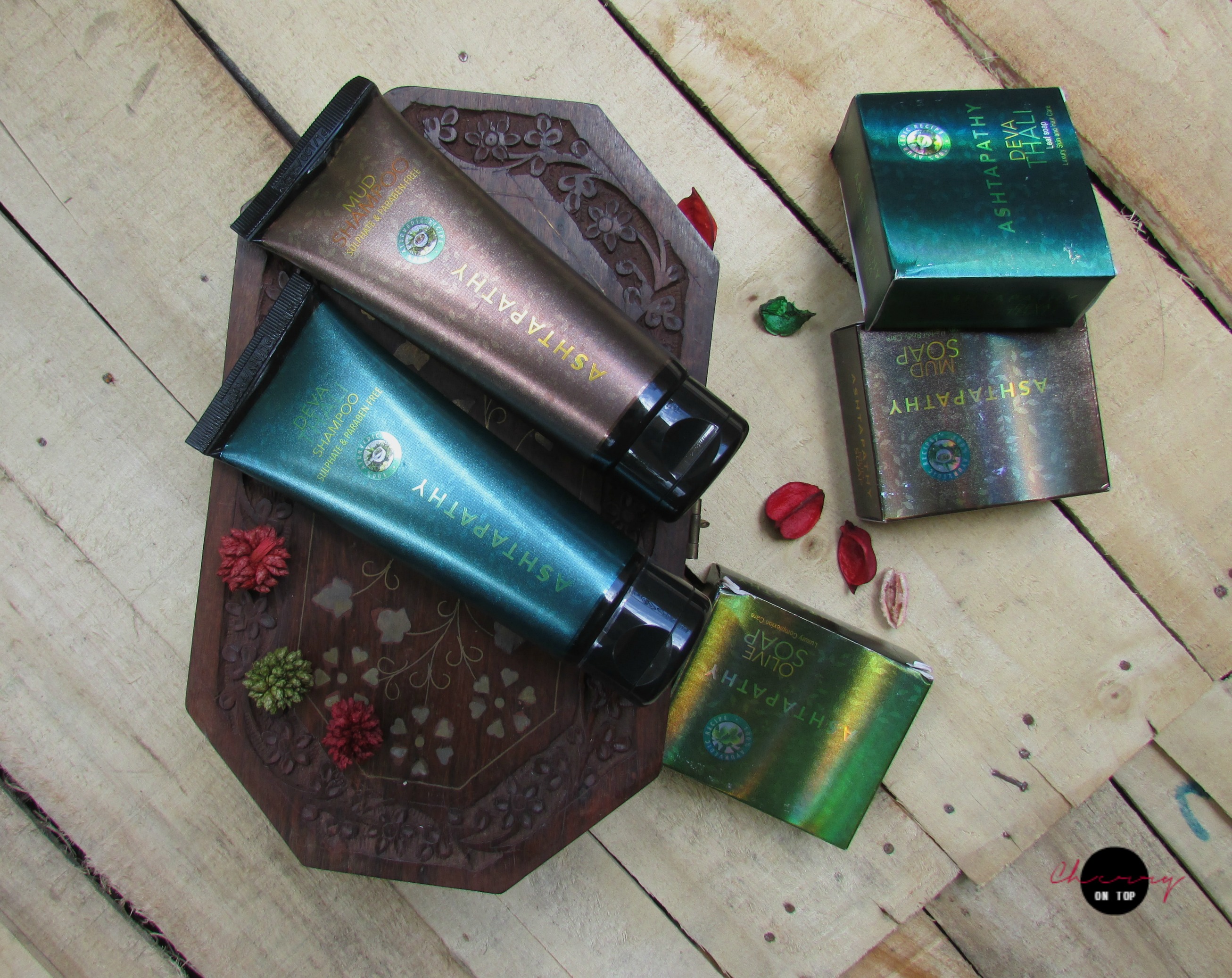 Mission: To be committed towards bringing high quality, genuine Ayurveda products within everyone's reach; to infuse traditional values of Ayurveda into modern living; to deliver 100% foolproof products of nature.
Vision: To earn satisfied customers who take Ashtapathy Ayurveda as the go-to place for every beauty needs and thus promulgate the goodness of this ancient science of Ayurveda."
The entire range of Ashtapathy Herbals bath and body care contains five different products, three soaps and two shampoos-
Deva Thali Leaf Soap
Mud Soap- Luxury Herbal Body Care
Olive Soap-m Luxury Complexion Care
Deva Thali Shampoo
Mud Shampoo
Ashtapathy Herbals Bathing Bars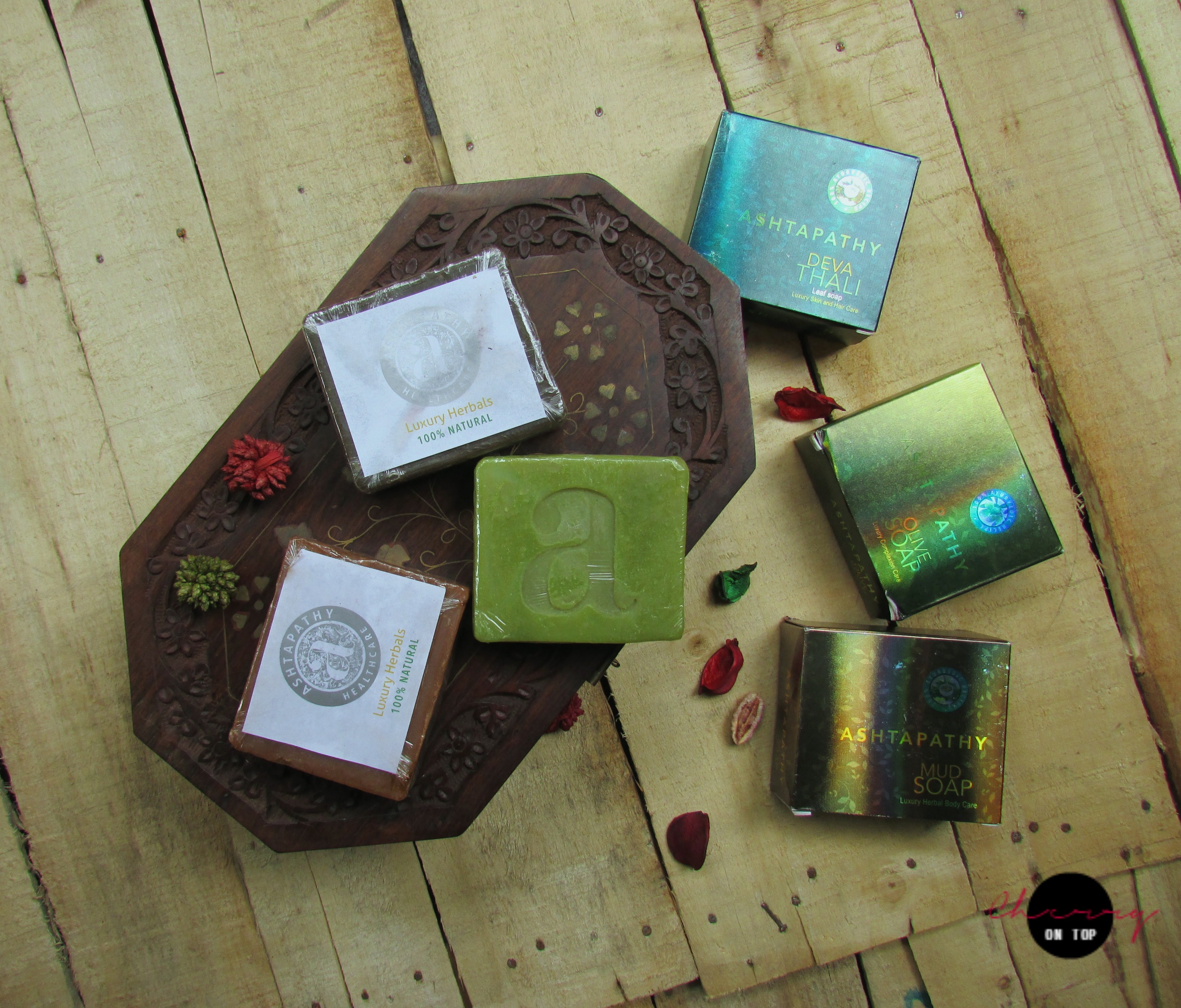 Price- Rs 70 for 100g
As I mentioned earlier, there are three soaps in this range- Deva Thali Soap, Mud Soap and Olive Soap. These soaps are made from pure coconut oil and 100% natural herbs with process rooted in tradition.
1. Deva Thali Leaf Soap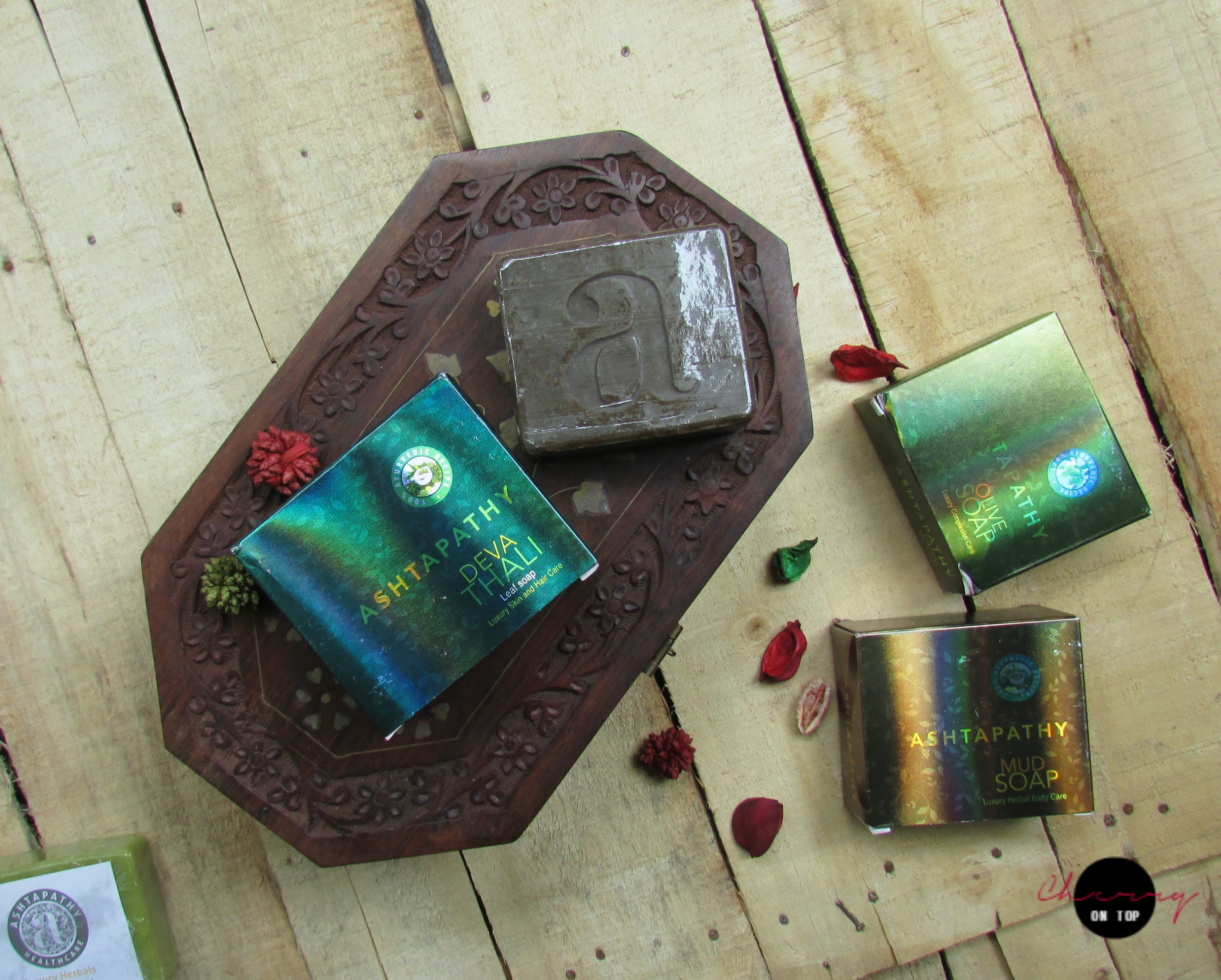 Description: This is a refreshing herbal soap with the nourishing goodness of betel leaves. Other than effectively removing impurities from hair, it maintains and balances hair moisture. Also, a natural cleanser that removes dandruff and treats split ends and makes hair shiny and healthy. The Leaf soap looks after skin too. Moisturizing, whilst keeping skin smooth and clear.
2. Mud Soap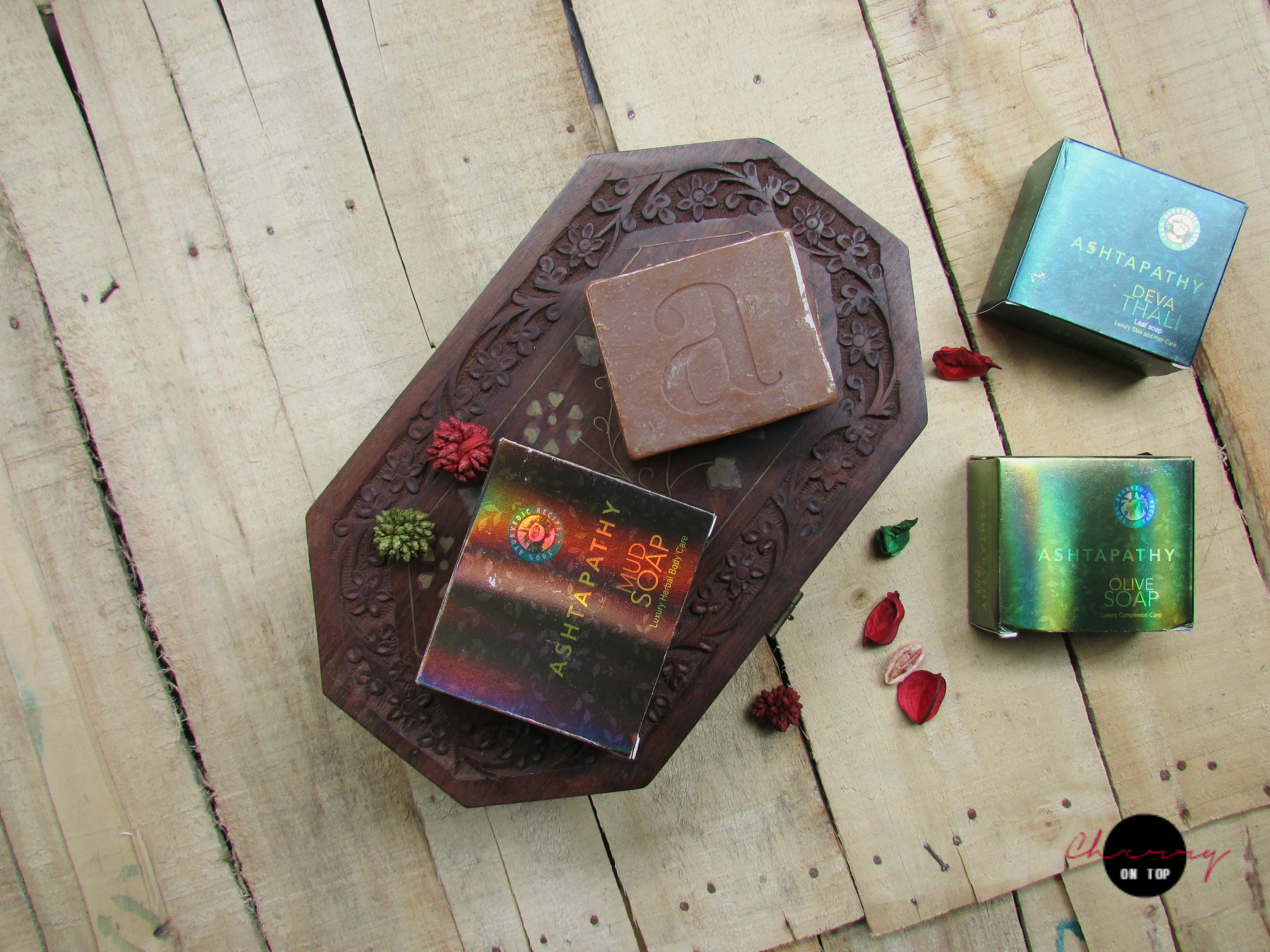 Description- For centuries, 'Multani Mitti' or 'Fullers Earth', has been trusted for skin care. 'Multani Mitti' is a natural cleansing agent absorbs and removes toxins from the body. This Mud Soap tackles excess oil, acne, blocked pores and hyper pigmentation. Resulting in brighter and more glowing skin.
3. Olive Soap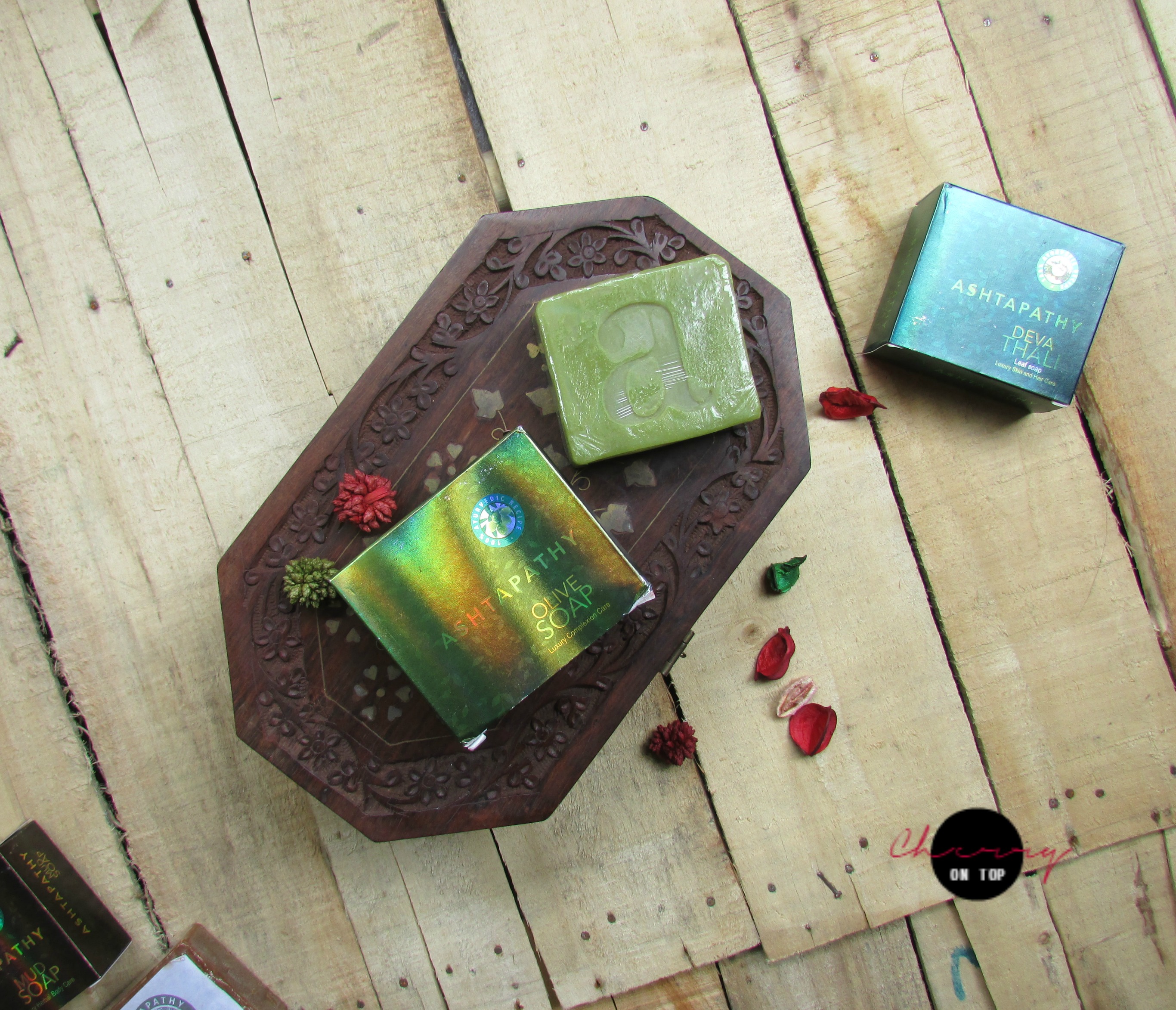 Description- Olive Oil, the beauty secret of beautiful women across the globe. It is one of the most natural ways to rejuvenate skin health. The soap is enriched with Olive and Coconut milk for smooth skin. Removing dryness, it keeps the skin radiant through out the day.
My Views on Ashtapathy Herbals Bathing Bars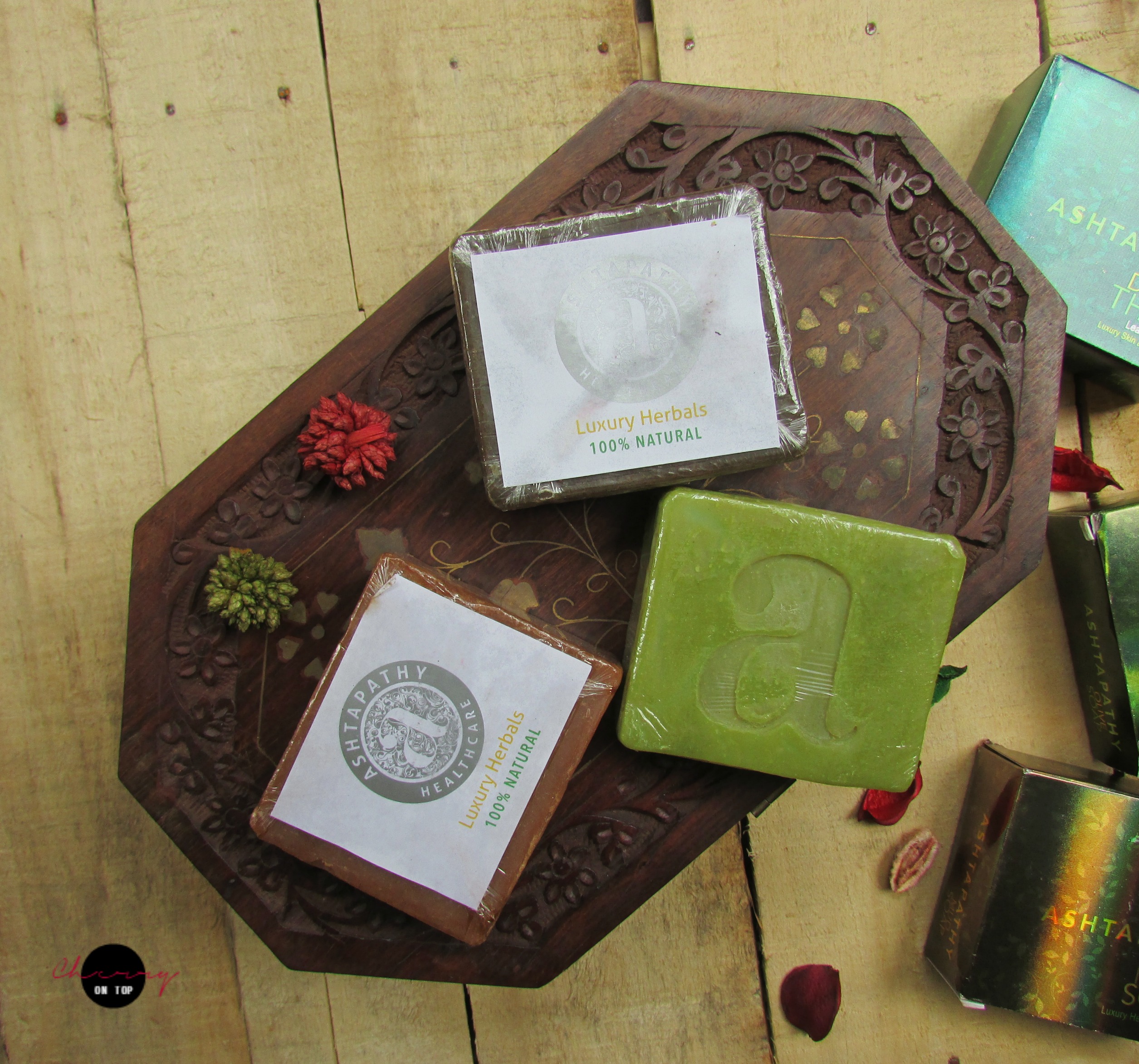 My first impression on these soaps is that they smell so good! They smell like raw natural/herbal product that they actually are. All the soaps are gentle on the skin and they do not dry out the skin. I would like to talk especially about the Olive Soap that was so smooth and it made my skin soft, supple and visibly healthy. I applied the Mud soap on the body as well as on my face and the result was amazing. The Multani mitti in the soap actually worked well on my oily t-zone and my face felt less oily for quite sometime after the wash. It did not strip off the skin making it dehydrated. The Deva Thali soap was an okayish soap, great for everyday essential use. It cleanses the skin very well giving it proper hydration. These soaps are not fast melting, they last for more than 15 days if properly used.
Ashtapathy Herbals Hair Cleansers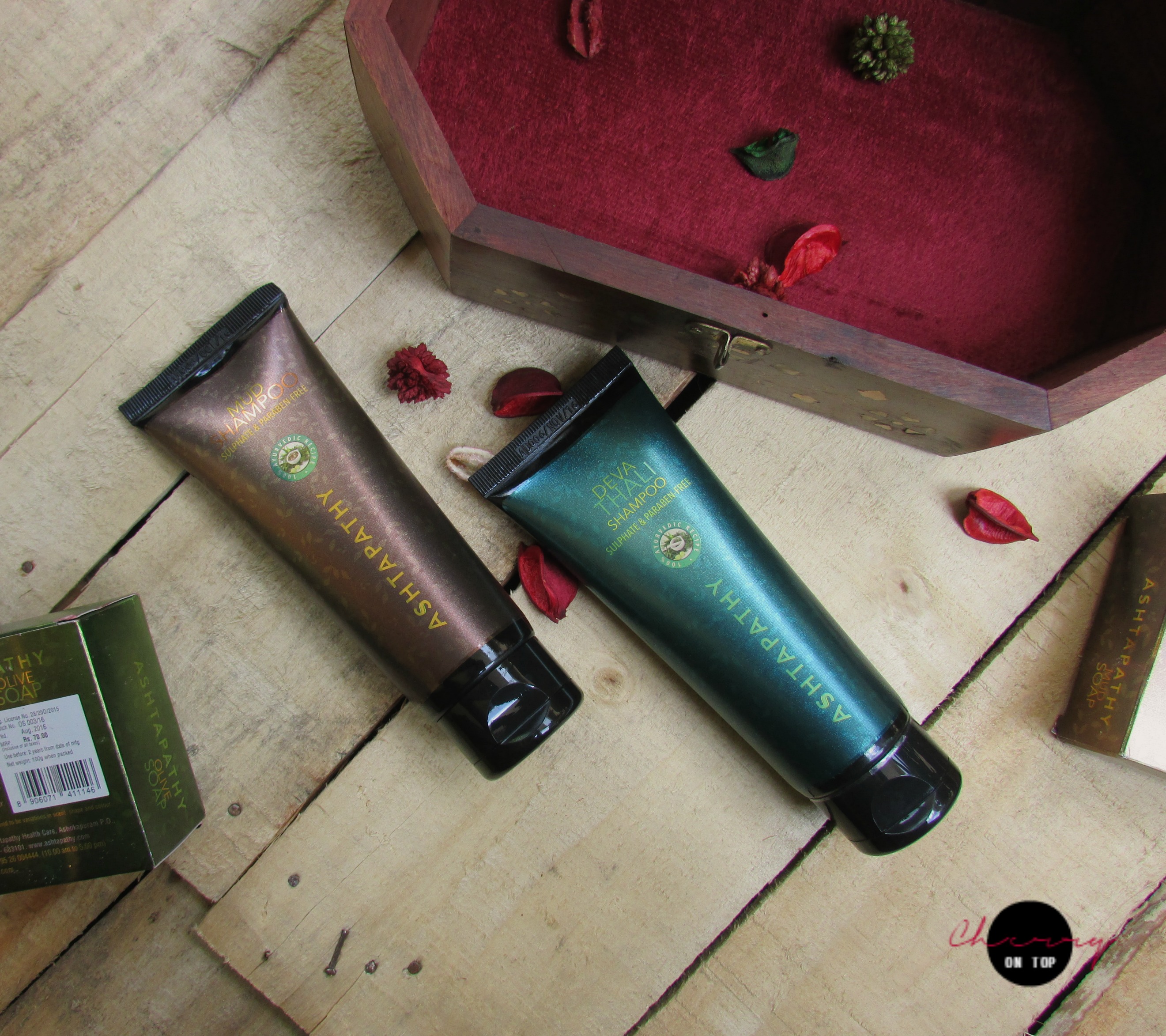 Price- Rs 125 for 100ml
The hair cleanser range is a Sulphate and Paraben free range of products made from 100% natural herbs based on ancient Ayurveda scriptures. This range has to shampoos- Deva Thali Shampoo and Mud Shampoo.
1. Deva Thali Shampoo
Description- A gentle herbal Cleanser enriched with the natural goodness of Hibiscus, Shikakai and Henna. Adding volume to your hair, it effectively tackles problems like premature greying, split ends, dandruff, dryness and hair damage. It is also an excellent conditioner that protects hair from daily damage.
2. Mud Shampoo
Description- A unique shampoo created with the tried and tested goodness of 'Multani Mitti' (Fullers Earth). Making it a natural cleanser that strengthens hair and enhances growth.Bringing about a natural shine along with lustre. Instilled with natural anti septic elements, here is an effective remedy for dandruff and split ends. It also tackles and removes excessive oil as well as toxins from scalp. Regular use makes hair radiant and beautiful. An ideal shampoo for everyday use.
My Views on Ashtapathy Herbals Hair Cleansers-
To be honest, I enjoyed using the Deva Thali shampoo more than the Mud shampoo. Although I have very oily scalp and the Mud shampoo did work on that but it also did tend to dry out my already dry hair. I have a combination hair type- my scalp is oily and hair is dry. So, if you have my type of hair, I would suggest you go for the Deva Thali shampoo instead of the Mud shampoo. The Deva Thali shampoo worked quite well on my hair. It cleansed the scalp, made the hair soft and shiny. Both of the shampoos did not cause hair fall during the shower. It felt really great to use pure and natural products on my hair after continuously treating it with chemicals.
Overall, I enjoyed using the Ashtapathy Herbals products. Their products are available exclusively at Shesha Beauty. A lot of you had asked me to review some new natural skin and hair care products on my Facebook Page, so here it is for you!
---
That was it for today's post. I hope you found this post helpful. Make sure to share it with your family and friends if you did. Pour in your thoughts in the comments. Your comments encourage me a lot! Do subscribe to our Newsletter so that you get notified whenever there is a new post on the blog. Will talk to you in my next post. Till then, be safe & keep smiling! Follow me on Facebook, Twitter or Instagram for regular updates. Add me on Snapchat for more fun and a sneak-peek of my life.
Disclaimer- The product was sent by the brand in exchange for an honest review.