Hello, all! How are you doing? Today, I am going to talk about a facewash that has successfully made it to my morning skincare essentials. Today, I will be talking about the newly launched Medimix Ayurvedic Face Wash and how it is making my skincare routine easier.
If you follow me on my social medias (links on the right sidebar) then you already know that I have recently changed my skincare routine. You guys have seen my Snapchat stories where I showed you how I changed my morning skincare, but, I have now shifted the whole thing to night time. I'll discuss the reason in another post.
When it comes to face washes for the morning, I always like to use something that is mild and has natural ingredients. In mornings, I need a product that cleanses my skin gently, provides hydration and removes the extra oiliness. When I received the Medimix Ayurvedic Face Wash, I was beyond happy because firstly, I have been a lover of their soaps since I was a kid, secondly, I love herbal facial cleansers and lastly, I needed something as this product to include in my morning skincare regime.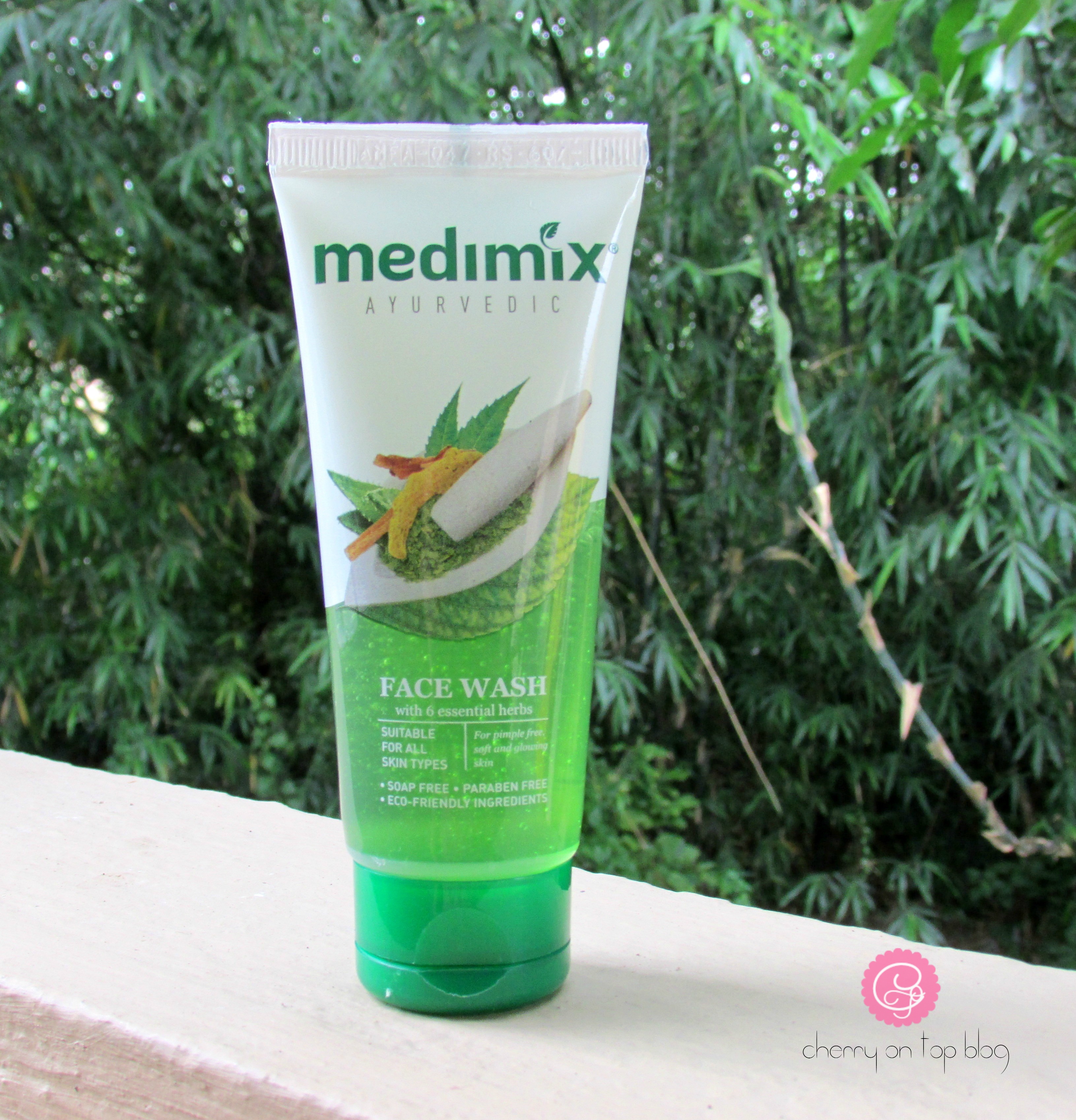 Price- Rs 60 for 50ml
Ingredients- This face wash has an infusion of 6 essential herbs such as Manjishtha (Rubia cordifolia) 0.835mg, Nimba (Azadirachta indica) 0.835mg, Haridra (Curcuma longa) 0.855mg, Amaya (Aplotaxis auriculata) 0.835mg, Lodhra (Symplocos racemosa) 0.835mg, Kumari (Aloe vera) 0.835mg. INACTIVES- 5-Chloro-2-Methyl-2H-Isothiazol-3-One, 2-Methyl-2H-Isothiazol-3-One. COLOUR- Cl 42090, Cl 19140.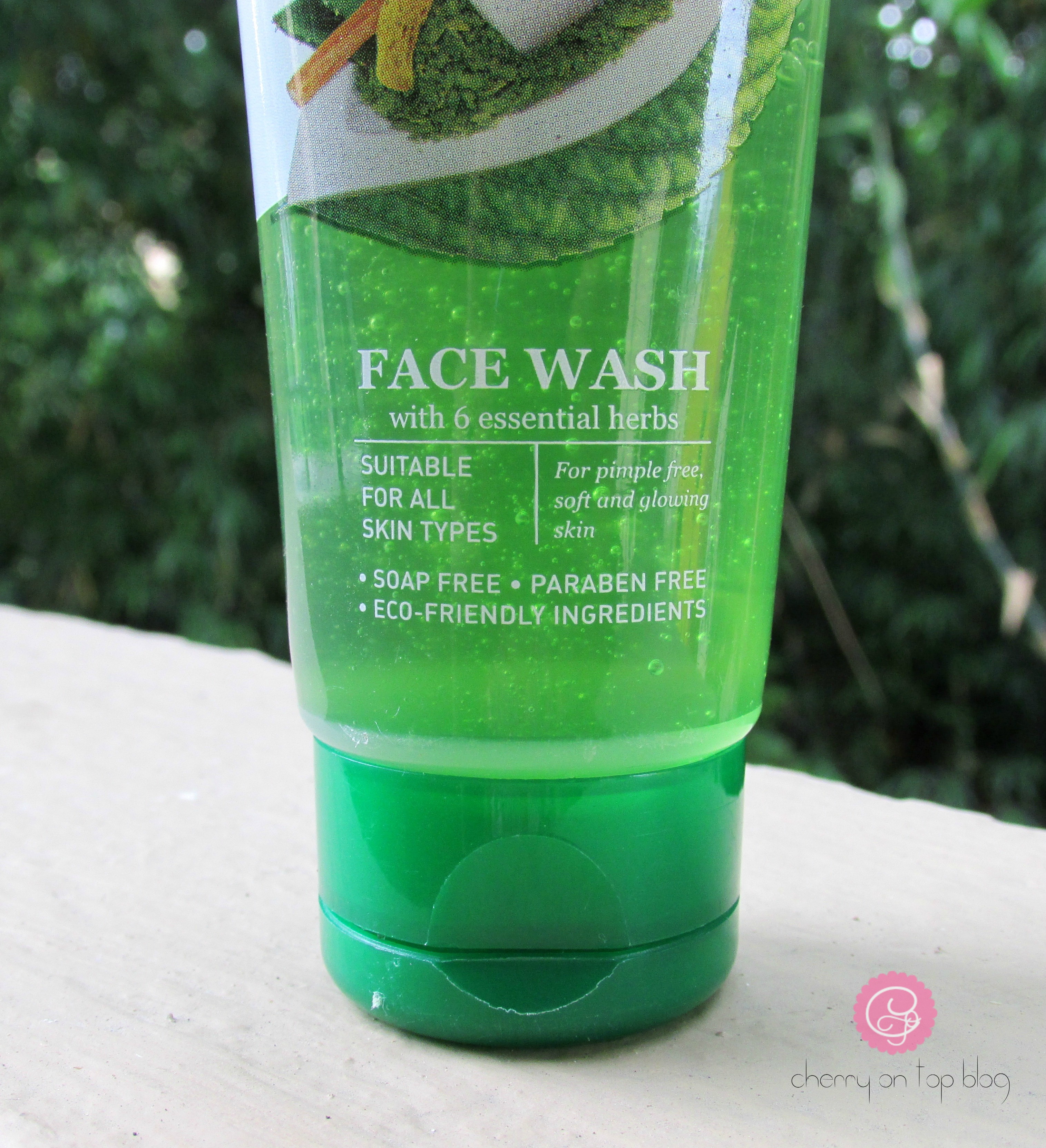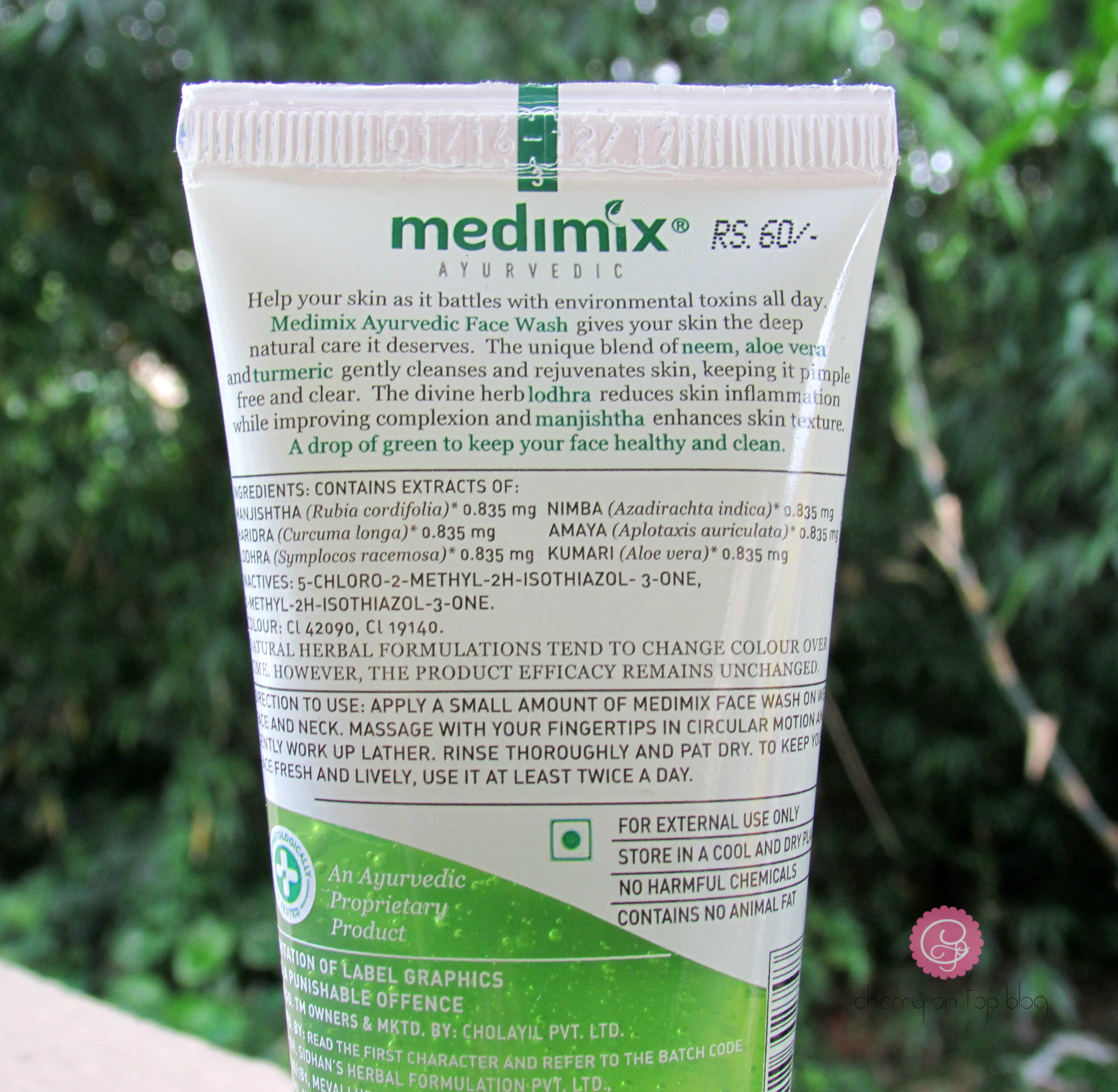 Packaging- Medimix Ayurvedic Face Wash comes in a regular plastic tube with flip cap that closes quite tightly. All the descriptions and ingredients list is printed on the tube which is really useful. Being designed a small a sturdy packaging, it is really convenient to travel with.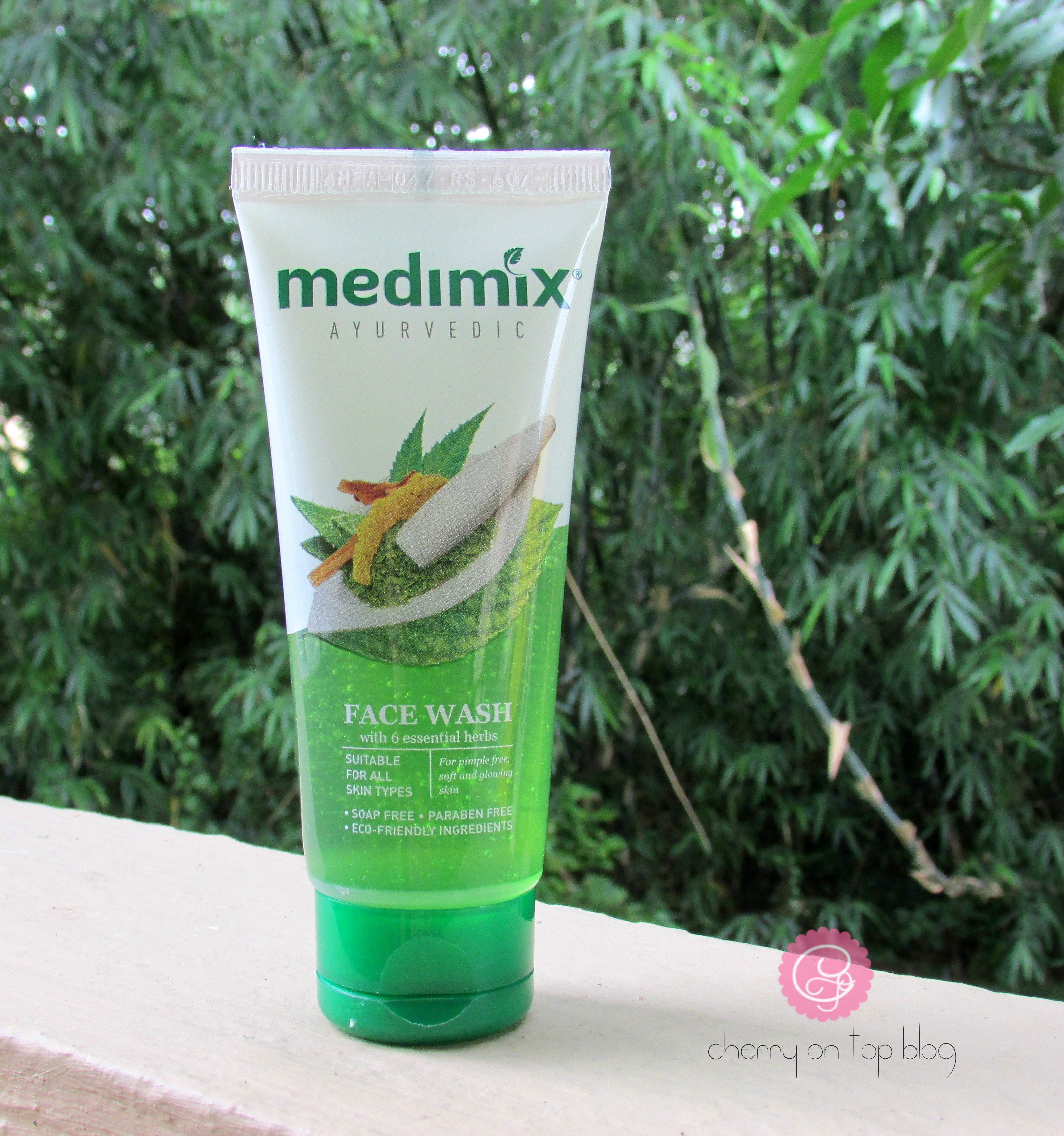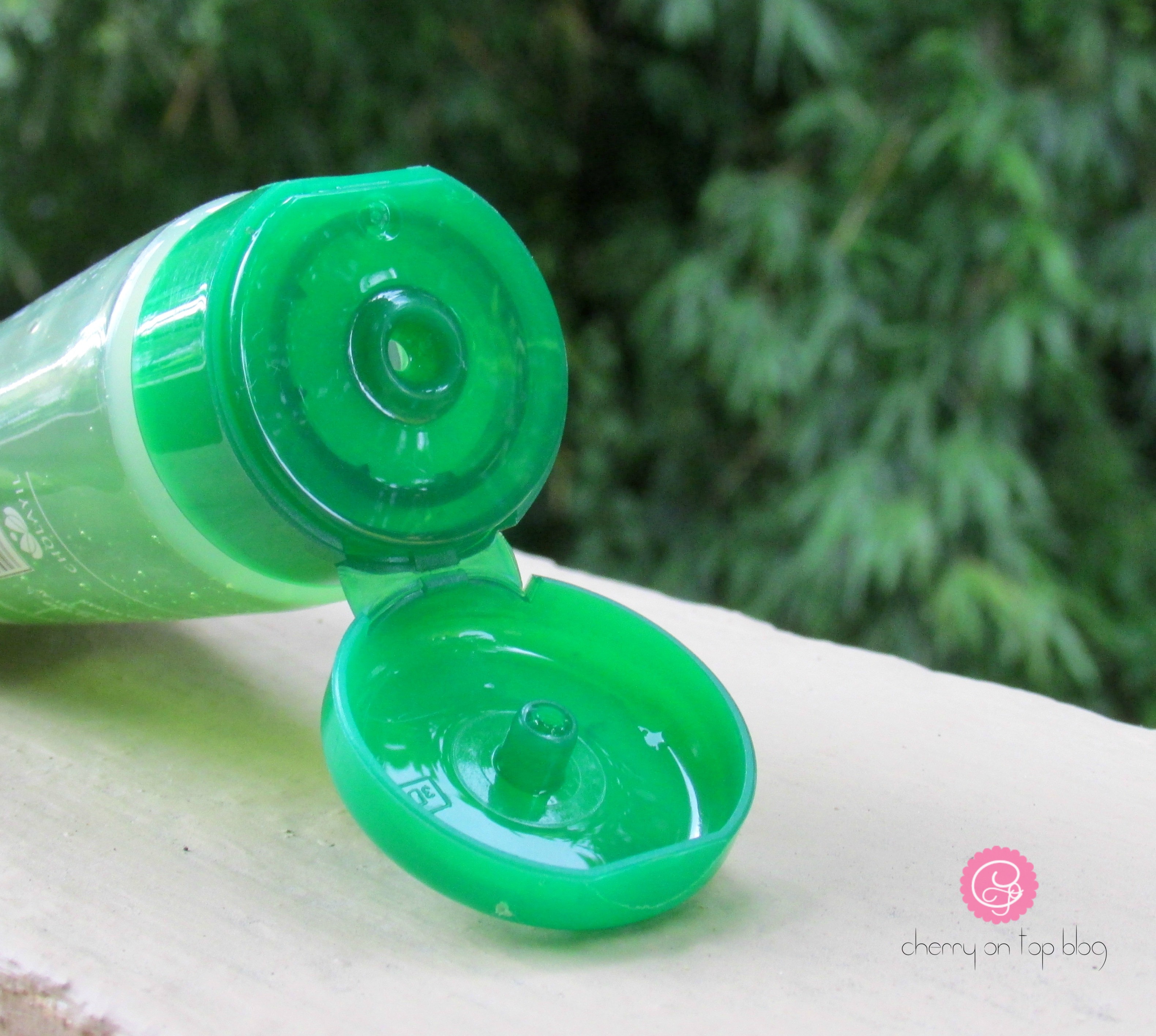 The Product- The product is actually a green coloured, foaming gel. The texture is exactly like a gel, a little less concentrated. You just need a pea-sized amount of the product to cleanse your entire face and neck. It lathers quite well when applied on a semi-wet face. Medimix Ayurvedic Facewash has a particular smell to it. It smells like herbs. The fragrance is very mild and goes away after washing off. As I said earlier, it is quite concentrated so, a little product goes a long way.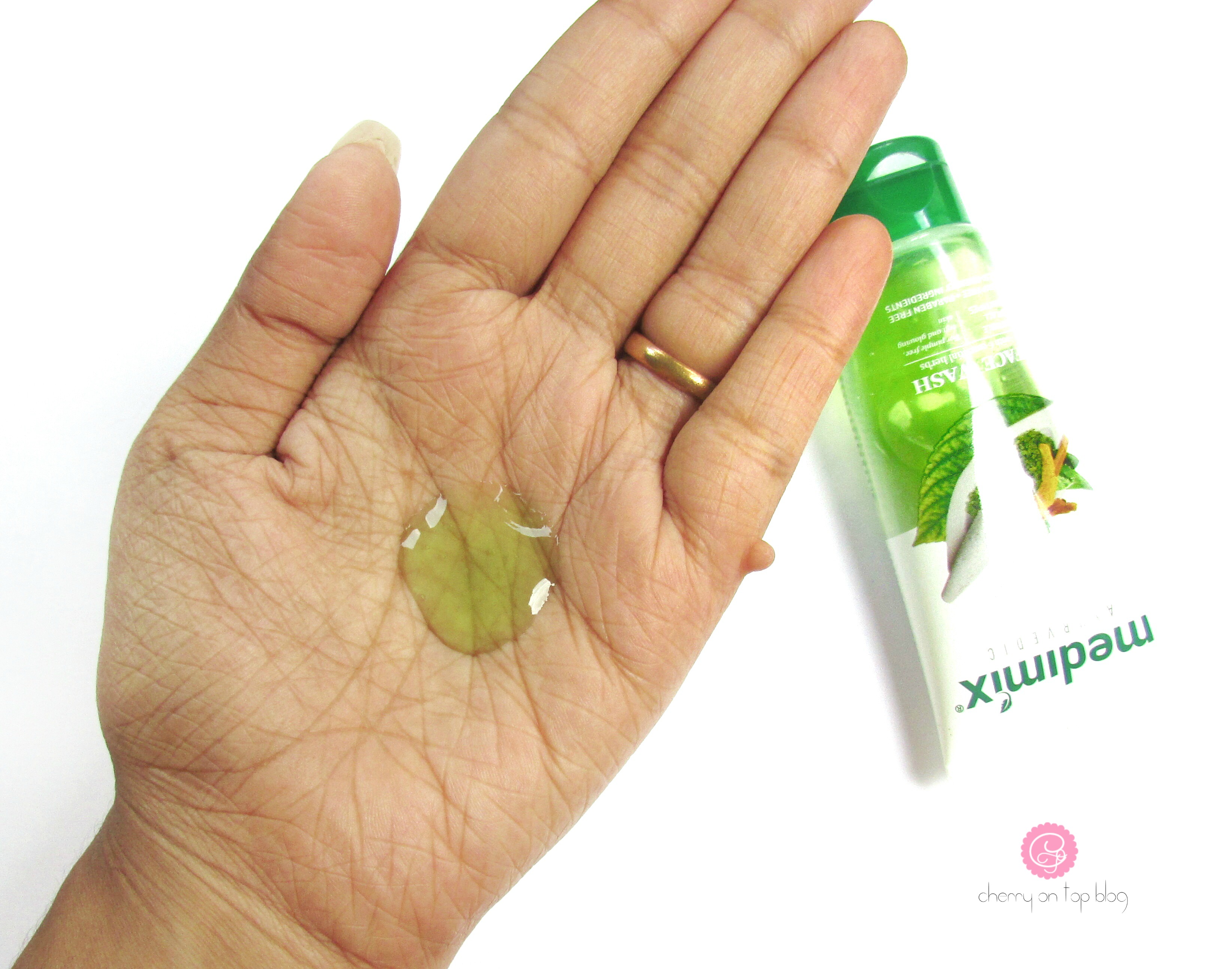 My Experience with Medimix Ayurvedic Face Wash
I use this face wash once a day, in the mornings. I like to wet my face first and then take a pea-size amount of the product and rub it between my palms, foam it up and then apply to the face. It instantly brings a healthy glow to my skin. I have been using it for more than a week and I can surely tell that it makes a difference. It does not cause breakouts, does not dry out my skin and provides an all day long freshness. I do not have acne, nor that I have an acne-prone skin, so I cannot tell you if it fights pimples or not. I need my morning skincare to be something extra. Medimix Ayurvedic Face Wash ensures I get that extra something.
It comes in handy when you are out and need a quick cleanup, but which will give the same effect as a full-fledged skincare routine. Like, if you are running late for work but do not want to skip your morning skincare regime, you would need this face wash. You would need to have something this the Medimix Ayurvedic Face Wash if you are always on the go. Skincare with this product is absolutely fuss-free and quick, with the benefits of 6 essential herbs infused in the product to give you the best from nature.
Overall, I liked the efficacy of the Medimix Ayurvedic Face Wash and I am looking forward to continuing using this in the future. I highly recommend this product to everyone because this is an infusion of both science and nature and is designed for every skin type. They also have an anti-tan variant of this, Medimix Ayurvedic Anti Tan Face Wash with Tanaka. These face washes are available at Amazon. Medimix Ayurvedic Facewash comes in two sizes-  50ml and 100ml.
Have you used Medimix Ayurvedic Face Wash yet?
Hope you find this review helpful. Until next time, be safe & keep smiling!
Disclaimer: Product sent by the brand in exchange for an unbiased review.