Hello, there! I am pretty sure you've landed on this blog post because you've been in a creative shutdown and now you are looking for some ideas and inspirations to successfully survive this quarantine phase through some fun writing that will engage your audience. Welcome! I have some cool quarantine blog post ideas to get your creative juices flowing again.
The whole CoVid-19 outbreak followed by the drawn-out lockdown period has definitely taken a toll on all of us, especially those that are in a creative field. Being creative and productive is way harder than it seems. One needs to be calm, at peace and mentally stable. Unfortunately, at least for me, it just had been the opposite since the past couple of months. My head is always full of scattered thoughts, most of which include death, destruction and uncertainty. My creative friends would agree that this is clearly not the ideal situation to keep oneself creative or productive. This resulted in writer's blocks many a time which makes me believe there are many who might be feeling the same as me.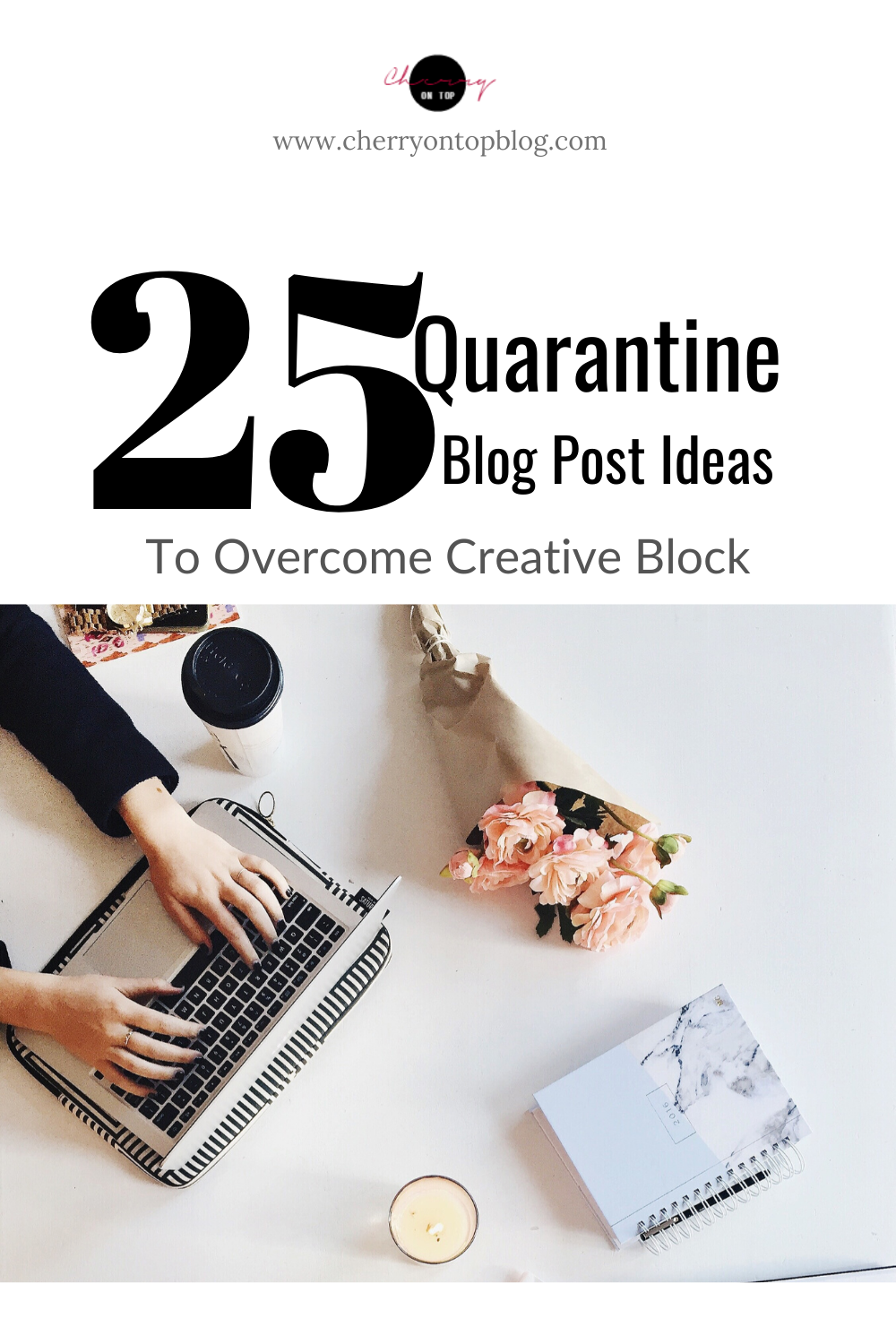 You can jump straight into my list of blog post ideas OR you can continue reading to get a guide for coming up with unique blog post ideas when in a creative deprivation. As the purpose of this post is to share a list of ideas and not sharing 'how-to's, I will not be as descriptive in this part as I'd have love to. Maybe I'll write a separate post on it if you like this type of content. Now, let's start with the pointers.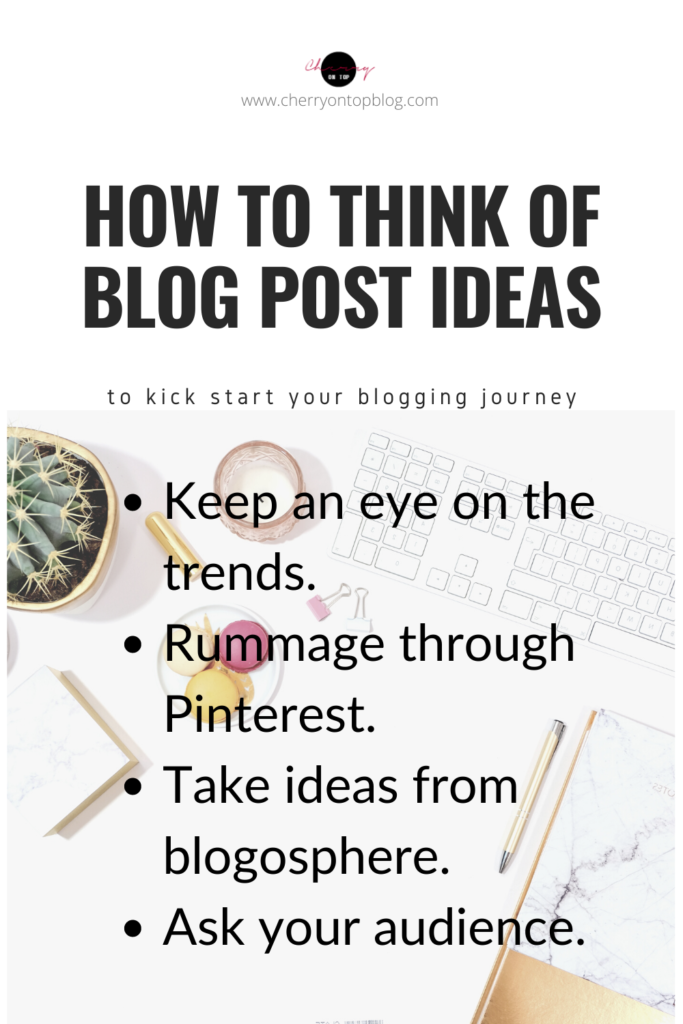 Keep an eye on the trends: A trending topic not only will help you with tons of ideas around it to play with but also it will drive more traffic to your blog than usual. A win-win, right? You can use search engines, Google Keyword Planner tool or Google Trends to know which topics are trending right now and plan your content according to it.
 Rummage through Pinterest: Believe me, Pinterest is a secret (not really!) chest of different ideas when it comes to creating content. On Pinterest, you get tons of fresh ideas every time you refresh your home page. They have different creators sharing bunches of unique content on various topics. You can take ideas from there and add your own magic to it. If you happen to be on Pinterest, don't forget to check me out there! 
Take Ideas from Blogosphere: If you are blogging for some time, you must have made blogger friends or have followed a bunch of bloggers that you look up to. If the answer is yes, I believe you are following their work via email or RSS or maybe you use Bloglovin (your girl is there too!) You can always see what others are doing and take some inspiration from there. Remember NOT to copy someone's work. That's shameful!
Ask Your Audience: In this era of social media, why not take the help of it when needed? Ask what your audience want on your blog. Create Instagram stories with Question sticker or simply post on Facebook status. I'm sure you'll get tons of ideas.
25 Quarantine Blog Post Ideas to Overcome Creative Block-
Now that I've shared enough tips for this post, let's jump straight into the list. I have tried to make this completely no-nonsense. So, when I say LIST, it will be a LIST! A list and nothing else. So, here it is-
Beauty Blog Post Ideas-
1) Your quarantine skincare regime.
2) Your go-to makeup look/routine for Zoom meetings.
3) A DIY face pack.
4) Your nail polish collection.
Fashion Blog Post Ideas-
5) How to style basic tees/shirts.
6) Your jewellery collection.
7) Accessories you love the most.
8) Outfits for work-from-home (Mon-Fri)
9) Self-portrait ideas.
10) Style an old outfit.
11) Wardrobe organization tips.
12) How to style less number of clothes in many ways.
Food Blog Post Ideas-
13) Share a quick recipe.
14) Share your most popular post.
15) Make a food item from scratch.
16) Share a baking recipe for beginners.
17) Your top 10 cookbooks.
Lifestyle Blog Post Ideas-
18) Things you're grateful about.
19) Share your current playlist/podcasts.
20) Books you're reading during the quarantine.
21) Things that help you stay positive during this pandemic.
22) Why you started blogging? Your blogging journey.
23) List of your favourite blogs.
24) Home organization tips.
25) How to manage your expenses during a pandemic.
—–
I hope this post helps you overcome your blogging blues! Make sure to leave a link in the comments with any blog post you write from the above list.
Happy blogging!
---
That's it for today's post. I hope you found this article helpful. Make sure to share it with your friends and family if you did. Your comments encourage me a lot. So, pour in your thoughts in the comments. Subscribe to our Newsletter so that you get notified whenever there is a new post on the blog! Will talk to you in my next post. Till then, be happy and keep smiling! Follow me on Facebook, Instagram & Twitter and also Subscribe to my YouTube channel for beauty & fashion related videos and vlogs.