We all feel most comfortable in our night suits, and there is no way you can deny that fact. The level of comfort your sleepwear offers somewhat decides whether or not you are going to get a good night sleep. Also, with the current pandemic scenario, our wardrobes have indeed gone through a significant modification. Considering the work-from-home situation all over the world, women have inclined more towards comfortable and attractive night suits than any other fancy office clothes. So, it's wise to spend on some cosy and trendy nightwear. In this post, I am going to talk about five types of night suit for women of all ages.
We often picture younger girls in night suits and older women in old-fashioned nighties. But that is entirely untrue. In the year 2020, we have wide varieties of night wears for women of every age group and of different preferences that too within budget and at your fingertips. However, there is no hard and fast rule about what a specific age group can or cannot wear. This is to guide you through the styles so that you can choose what works best for you.
1.   Sleepshirt & Pyjama Set-
This is the type of sleepwear mostly popular amongst millennials. You can notice if you are Instagram savvy or internet savvy in general. 
Girls love this style of nightwear, primarily because of their comfy fit and attractive designs. They come in two parts, the top wear is mostly a collared shirt, can be full or half-sleeved and the bottom is a pair of no-nonsense pyjamas. The material could be satin, rayon or cotton. What makes them the most loved is their unique designs. I love cute cartoon designs and animal motifs. The traditional ones are usually striped or solid colours.
2.   Top & Capris-
Available all over the internet, this type of night suits are great for those who don't like wearing long pyjama bottoms and at the same time are not comfortable wearing shorts. Women, regardless of their age-group, can wear this not only during the night time but also during the entire day. These are well-suited for mommies with infants or toddlers who need to put on something that is comfortable, and also that are easy to walk around in. 
3.   T-shirt & Pyjamas-
This is probably the most popular and in easy reach. Even if the fancier nightdresses are unavailable offline, you'll never come back home empty-handed if you are out searching for a good t-shirt and pyjama set. These types of nightwear come in various designs, colours and prints. You could wear this all day, or for a morning walk. The ease and versatility of this type of nightwear make it my number one choice. It is the comfiest pair, in my opinion, and suited for women of any age.
4.   Top & Shorts-
This is also one of the most favourite women's nightwear. This is for those who like short and simple. Most popular among teens, this type of night suit for women is loved for its cosiness and breeziness. These are also available in different prints, colours and styles considering the taste and mood of the one who's going to wear them.
5.   Knee-length Night Dress-
This is another type of nightwear that is most loved by women of all ages. This is by far the best invention in the world of nightwear. These short nighties are very comfortable to wear and easier to move around in, and also these are great for summers since they are breezy.
6.   Baby Dolls-
One of the most sensuous night wears, Baby dolls are mostly opted for by new brides or those who are looking for adding some spice to their night suit. Baby dolls are mostly made out of satin or silk materials, usually come as a dress or two-piece cami & shots. The material typically is semi-sheer or sheer and sometimes lined with laces making it appealing to the eyes.
These are certainly not the most comfortable sleepwear, but these have a hugged fit and come with adjustable straps for optimum pleasure. This is a must-have if one is planning to change to something new and exciting for themselves and their partners. This being the most sensuous night suit for women, this could also be a great Valentine's or Anniversary gift for your spouse.
7.   Nighties or Nightgowns-
There is no need to introduce nighties to women because we all have grown up seeing our moms wearing these. Nighties, by far, are the most worn, most loved and most readily available. They come in different materials- cotton, satin, viscose, rayon etc. Also, there are different designs and patterns available- printed, solid colours, full sleeve, half sleeve, sleeveless etc.
8.   Robes-
Technically, these alone cannot be qualified as night wears, but they are like add-ons, for your sleeping suits. Robes add that oomph to any nightwear you're wearing also they come in handy mostly as a cover-up to your baby dolls. 
So, these were the most loved styles of night suit for women that anyone can opt for depending on their styles and penchants. Be it a pyjama party or surprising your partner or to improve your overall sleep cycle, right nightwear is a must-have.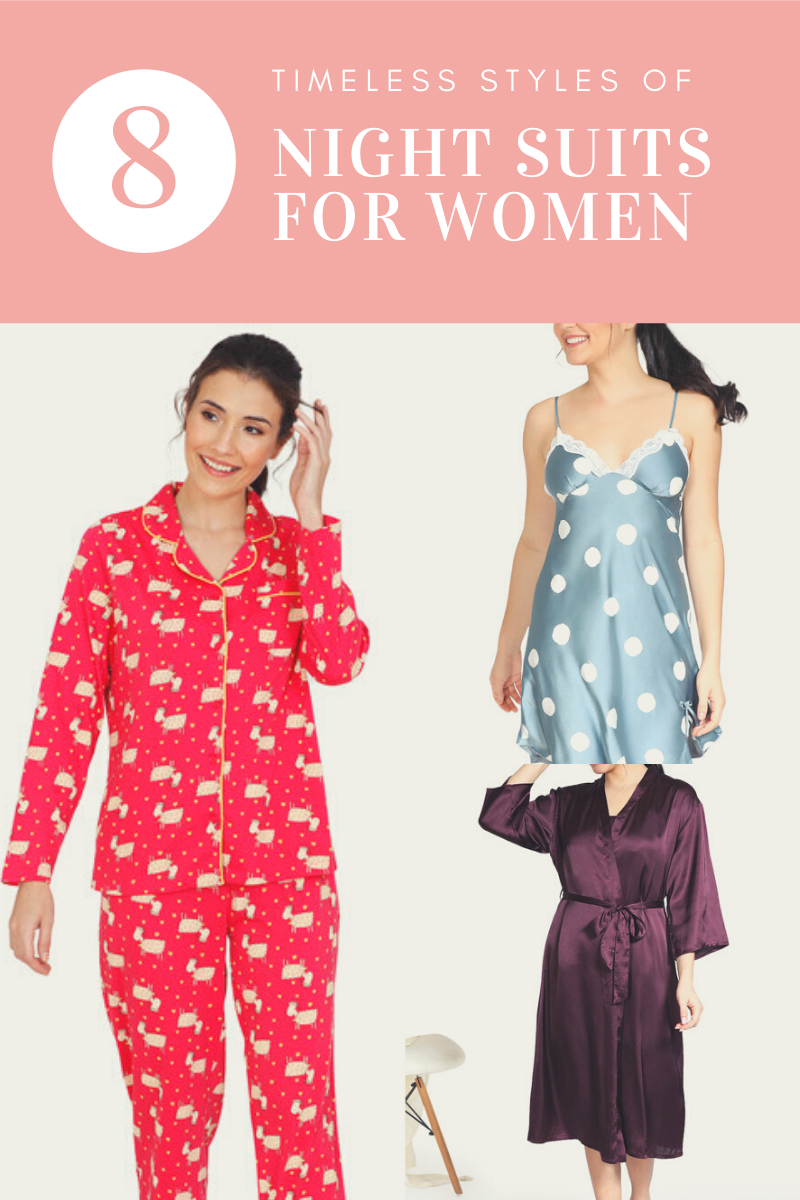 ---
That's it for today's post. I hope you found this article helpful. Make sure to share it with your friends and family if you did. Your comments encourage me a lot. So, pour in your thoughts in the comments. Subscribe to our Newsletter so that you get notified whenever there is a new post on the blog! Will talk to you in my next post. Till then, be happy and keep smiling! Follow me on Facebook, Instagram & Twitter and also Subscribe to my YouTube channel for beauty & fashion related videos and vlogs.