Fashion design is pivotal in various professional and personal life phases. Various occasions, like parties with dress codes, normal parties, business meetings, weddings, events, etc., demand change in clothing. Here comes the designer's role to design the customers' wants and needs. Fashion designers play a crucial role in making people look good and apt. The right fashion provides much-needed confidence and is in trend to people irrespective of the occasion.
If you start as a fashion designer with experience, you could progress to senior designer, head of a fashion department or design director. So there is constant growth in this career if worked religiously. You could also move into other aspects of the fashion business, like marketing or promotions, based on your skills and experiences. You could develop business skills and freelance or start a fashion company. So, the scope is huge. One thing is certain: the fashion industry will only thrive shortly so fashion designers will stay in high demand. 
Exploring the World of Fashion Design
Fashion design is a form of art dedicated to creating clothing and other lifestyle accessories. It is a creative process where a designer sketches, and then the work begins by assembling the clothing and accessories by cutting, sewing, and decorating with materials like textiles and leather with aesthetic elements like patterns, motifs, shapes, cuts, and colours from various cultures.
Design elements are the basic parts or qualities used in the design process. The core elements of fashion design are shape or silhouette, line, colour, texture, form, space, imagery, and tone. These elements are the materials from which all designs are built.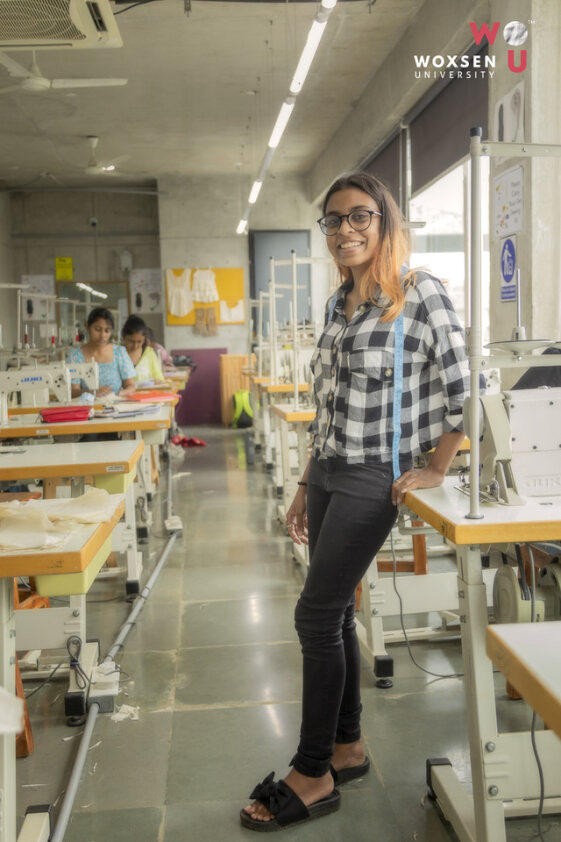 Various aspects are involved in fashion design, such as clothing, accessories, trends, and aesthetics. 
Clothing is crucial as it refers to the materials or fabrics on which new fashion designs are tested. 
Accessories add versatility. They tie the ensemble together. They create interesting details where clothes are simple or plain. Fashionable clothes add personality to your look, so accessories play a crucial role in fashion design. They allow you to express your unique personal style.
Fashion trends are changing ideas and attitudes about how we dress. Trends put forward new ideas and opportunities. Fashion is versatile so that you can differentiate yourselves from others through dress. That is why the search for the new and cool will always be directly correlated with fashion. 
Aesthetics are different styles of dress, such as vintage, arty or even goth. It refers to the look you create with clothing, accessories and beauty. Aesthetics can also refer to casual styles, formal dress or office wear, as these are all still types of looks you create with clothes. Aesthetics evoke positive emotions. 
Scope of growth in the fashion design industry
There are many job opportunities in fashion design, such as stylist, fashion designer, retail manager, personal shopper, retail buyer, textile designer, and makeup artist, among many others. Apart from regular fashion designing, you can go for research work on cloth production and textile designing. They also have the option to join a fashion house/ garments manufacturing unit/ export unit or have their showroom or a label of their own in the market. 
So, the scope of growth is huge, with many opportunities. With the growing population, the demand is huge in this industry, and thus, with proper knowledge and skills, you can have a good career in the fashion design industry. But yes, all these are only possible if you have the right degrees. With good fashion, designing degrees come good jobs in the fashion industry. 
Pursuing a B.Des in Fashion Design at Woxsen University
To secure a good position in the fashion industry and to see growth, it is important to gather knowledge by opting for a B.Des course from the best design colleges in India. B.Des, or B.Design stands for Bachelor of Design. Candidates can pursue an undergraduate degree course in Design after completing Class 12. BDes students can find work in positions like Graphic Designer, UI/UX Designer, Fashion Designer, Design Consultant, Fashion Illustrator, Fashion Stylist or start their studio.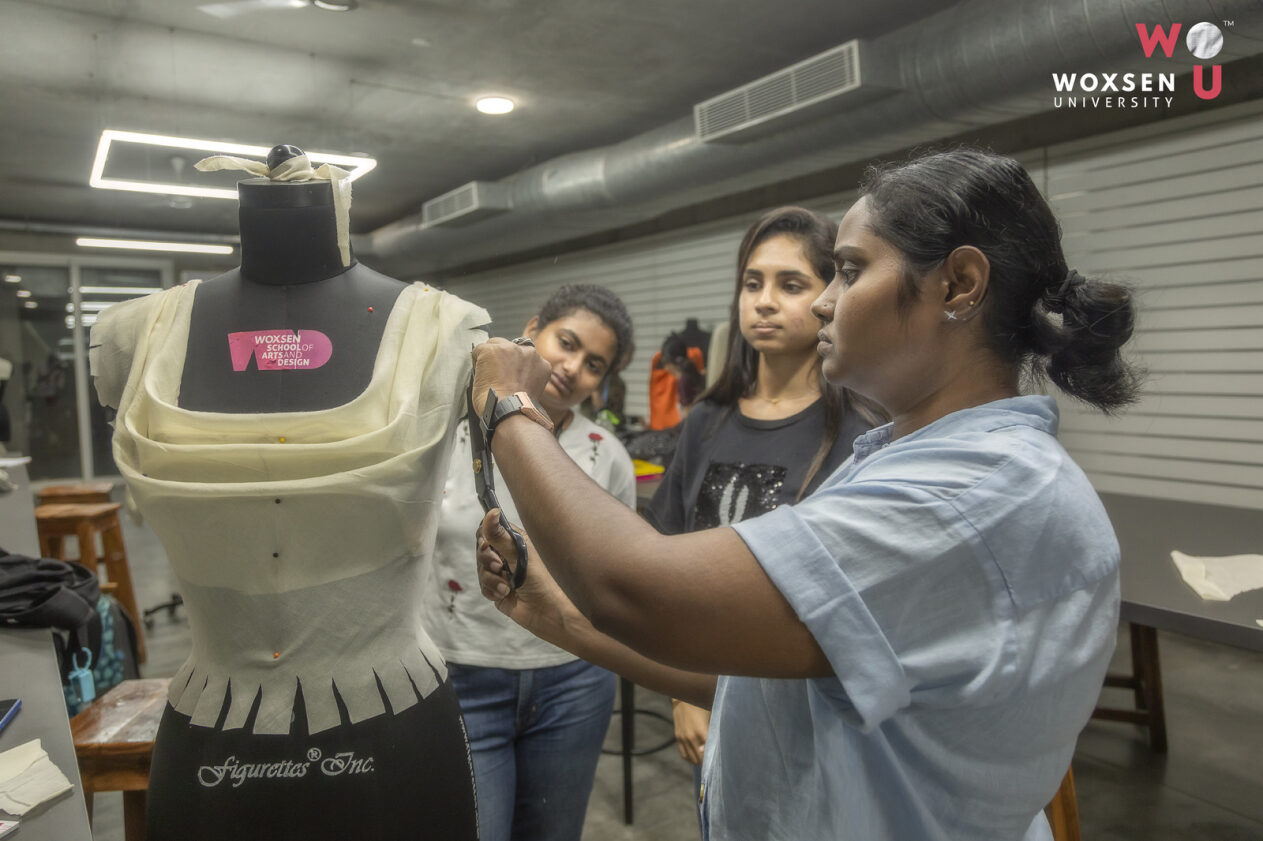 Being one of the best fashion design colleges in India. Woxsen University can play a huge part in paving a strong path for candidates who dream of achieving a good position in the fashion design industry and seeing their steady growth. Woxsen School of Arts and Design, Hyderabad, ranks 2nd in 2023 in India. Its students have witnessed amazing placements: the highest CTC went up to 12.5 LPA, the top 20% average CTC was 11.2 LPA, and the overall average CTC was around 6.6 LPA. Here, students are trained to be successful designers with distinct organizational, economic, market, social, and research skills. 
Unique Features of the B.Des in Fashion Design Program at Woxsen School of Art & Design
Opportunities for international exchange and a modern learning method with leading institutions and universities.

The curriculum is contemporary and innovative, with scenario-based teaching and learning processes. 

Guest lecturers, curriculum advisors, design project sponsors and mentors from all over the world participate in enriching the knowledge of students first-hand.

Accomplished mentors and industry experts are present as faculty members. 

Applied learning methodology for real-world application of theory and high-impact learning. 
Comprehensive Curriculum
In the Woxsen School of Art & Design, you, as a candidate, will get a 4 year undergraduate degree program with a full course divided into 8 semesters. The curriculum is aligned with the fashion industry, allowing students to prepare for the contemporary space while keeping in touch with the culture, heritage, and various design techniques. It is a meticulously designed program considering advanced skills in modules like knitwear design, luxury fashion accessories, technical and smart textiles, digital pattern making and grading, fashion styling, product photography, and costume design through exhaustive workshops, internships, and industry projects. This is why Woxsen is the best fashion-designing university in Hyderabad.
Students get hands-on learning experiences in Woxsen School of Art & Design, like their Fashion Design Lab, Drawing Studios, and 3D Studio. Students can use the Fashion Design lab to research, innovate, visualize, explore, experiment, develop, and test their prototypes. The drawing studio is a spacious classroom-like studio that students use for sketching. Students use the space of the 3D studio to get hands-on training and take inspiration from various 3D printed models available at this studio.
Navigating the Fashion Industry and Career Opportunities
The industry is characterized by many large and small players competing for market share. The rise of e-commerce has also increased the intensity of competition. Some of the key points that can help designers to control their careers despite the competition are:
Get a fashion design course from India's best schools and colleges. 

Develop your skills by learning new things. 

Be persistent, work hard, stay focused, and be active on social media platforms to keep yourself updated about new trends. 
Tips to Navigate as a Fashion Designer in this Competitive Industry
Build your portfolio. Your portfolio is your calling card as a fashion designer. It should showcase your best work and demonstrate your creativity and skills. Make sure to include a variety of designs in your portfolio, from sketches to finished garments. 

Networking is an important part of any career, especially in the fashion industry. Get to know other fashion designers, both in your area and online. Attending fashion events, participating in fashion shows, and connecting with people on social media. 

The fashion industry is constantly changing, so staying up to date on the latest trends is important. Read fashion magazines, follow fashion bloggers, and attend fashion shows. Keeping a tab on social media is a must. 

The fashion industry is looking for designers who are creative and original. Don't be afraid to experiment with new ideas and push the boundaries of fashion. Be confident in your work. 
Fashion Design Graduates can look forward to diverse career opportunities, including
Design Director

Style Director

Fashion Director

Design Manager

Fashion Curator

Design Consultant 

Fashion Blogger

Fashion Critic 
To sum it up, the key takeaways from this blog are –
The Fashion Design Industry is an ever-evolving market with huge career opportunities. 

To be in this industry, you must gather knowledge and skills in everything related to fashion. 

Doing graduate courses is necessary to ensure your strong foothold in this competitive industry.

You are competing not just to be a designer, as many job titles exist in the fashion design industry. 

A good school and college can shape your career and help you navigate through the competition in this industry. 

The most important point is Woxsen University's role in shaping young fashion designers who dream of giving the world a new meaning of fashion and style.

The unique and elaborate curriculum in the 4 years undergraduate B.Des course includes huge exposure to mentors worldwide. This gives immense confidence to the students to build their careers. 
Click here to Know more about B Des at Woxsen: