Hello, all! This is probably the first time I am talking about intimate hygiene on my blog. I have done so many skincare and cosmetics review but this time I thought I should share something that has been a taboo for years. In 2019, still, there are women who shy away from talking about feminine issues like unpleasant vaginal odour or irritation in the pubic area and believe me that's doing more harm than good! Today, I will be reviewing the Everteen Intimate Hygiene Wash and tell you why you should include this in your daily feminine hygiene routine.
Price- ₹180 (Buy Here)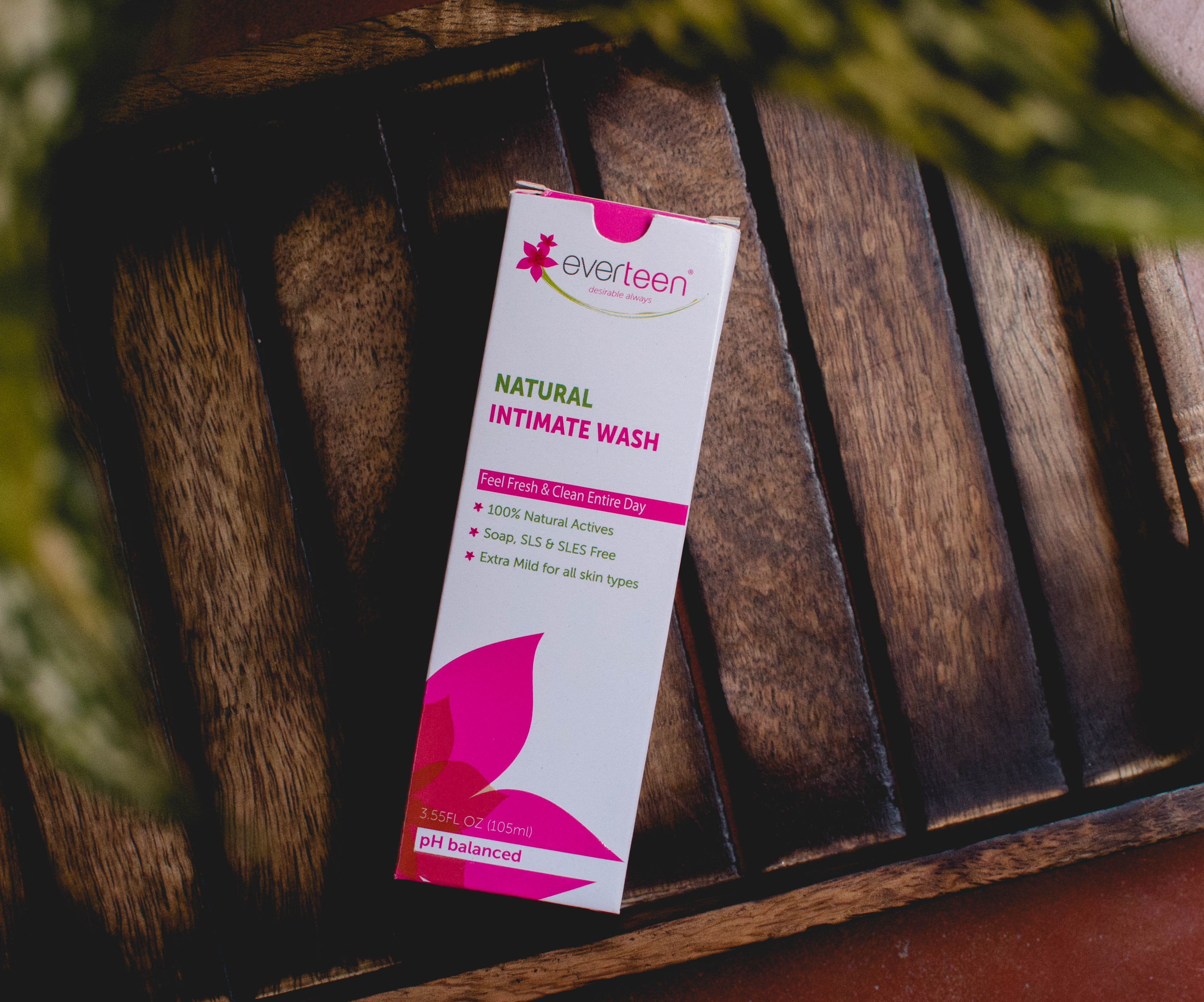 Product Description-
Everteen Natural Intimate Wash is scientifically designed to promote the body's natural vaginal balance and maintain complete vaginal hygiene. It prevents unpleasant and unnatural odours, protects the natural pH balance of the vagina, relieves vaginal itching & burning.
Prevent unpleasant and unnatural odours: Unpleasant or bad smell from the vagina can be very embarrassing for you so much so that it may affect your intimacy with your partner. This fishy or foul smell can be frustrating sometime as it may leave you feeling unclean and gross as if everybody can smell it. Vaginal odour can be caused by a host of issues like pH balance disruptions or overgrowth of micro-organisms such as anaerobic bacteria or yeast. Everteen with the cleansing properties of its natural ingredients prevents unpleasant and unnatural vaginal odours so that you stay fresh and confidently clean all day.
Protect the natural pH balance of vagina: A normal vaginal pH balance of 3.5 to 4.5 is important for maintaining good vaginal hygiene. At this optimum pH level, your vagina contains a balance of necessary bacteria and some yeast cells. If the balance of bacteria is disturbed, this can lead to infection and inflammation resulting in itching, irritation and abnormal discharge. Everteen with the revitalizing properties helps in maintaining the optimum level of pH balance of your vagina.
Relieve vaginal itching & burning: Itching & irritation in an area as sensitive as vagina can be very uncomfortable & painful and it can affect your quality of life. Vaginal itching occurs when delicate vaginal tissues become sore, dry or itchy that is often caused by irritating substances, vaginal infections, or menopause. Everteen with its antibacterial and antifungal properties helps in preventing the infection and give you relief from consistent itching or burning in the vaginal area.
Ingredients of Everteen Natural Intimate Wash
The natural ingredients of Everteen have antibacterial and antifungal properties which help in reducing the infection and hence prevent vaginal odour and vaginal itching.
Ficus Glomerata:
Ficus glomerata is mentioned in all ancient scriptures of Ayurveda, Siddha, Unani and Homoeopathy as a remedy for the vaginal disorder. The herb possesses potent inhibitory activity for more than six species of fungi (cause fungal infection) and antimicrobial properties which inhibits the growth of E-coli bacteria.
Butea Frondosa:
Also, know as Palash covers a broad spectrum of antibacterial and antifungal activity
Sphatika:
Know as alum, constrict blood vessels & delivers soothing and freshening effect.
Aloe Vera:
Promotes cell regeneration with anti-inflammatory & moisturizing actions.
My Experience with Everteen Intimate Hygiene Wash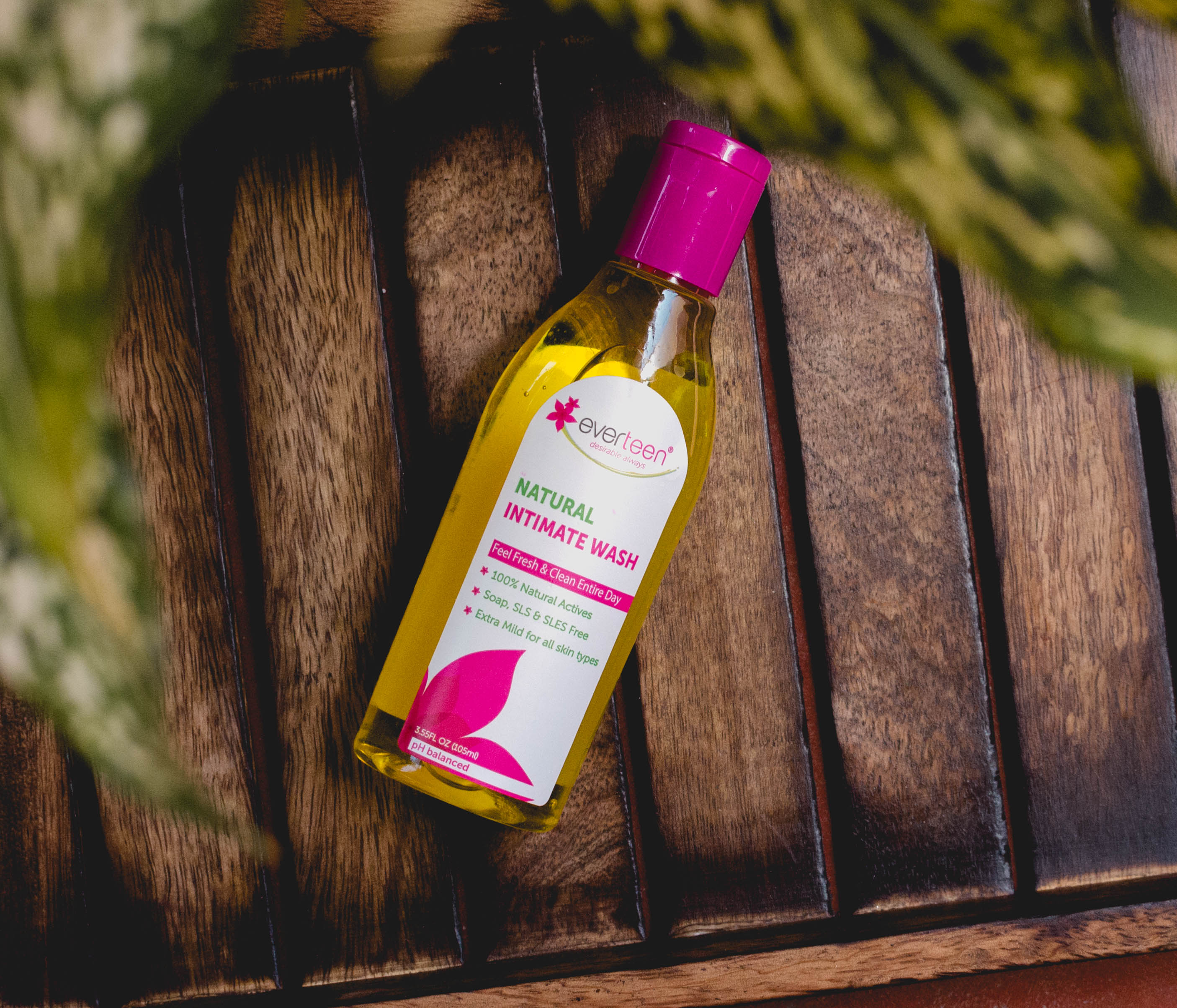 I have been using this product since I received it and I can only say that you must use it and see it for yourself. I am really impressed by the quality of the product for the price it retails for.
The flip-open cap ensures that the product stays untouched and hygienic. A little product goes a long way. A couple of drops lathers pretty well. A bottle would last you for 3-4 months (or more) if you use it every other day.
The fragrance of the product is very mild and fresh.
It thoroughly cleanses your lady parts, leaving a long-lasting fresh feel throughout the day.
The mild soap formula doesn't cause irritation and prevents bad odours.
Its anti-bacterial and anti-fungal formulation, Everteen Intimate Hygiene Wash, prevents any type of vaginal infection and treats constant itching and burning sensation.
Overall, I think this is a decent product considering the price tag. It is absolutely safe to use. You must check it out yourself to know the benefits.
---
That's it for today's post. I hope you found this article helpful. Make sure to share it with your friends and family if you did. Your comments encourage me a lot. So, pour in your thoughts in the comments. Do subscribe to our Newsletter so that you get notified whenever there is a new post on the blog! Will talk to you in my next post. Till then, be happy and keep smiling! Follow me on Facebook, Instagram & Twitter and also Subscribe to my YouTube channel for beauty & fashion related videos and vlogs.