Hi, guys! Today, I am going to review the new Lakme Enrich Lip Crayons for you. It's been quite some time since Lakme has launched these affordable lip crayons in the market. I am probably the last one to review these. You must have already read tonnes of reviews on these, so, I am going to keep it short and simple.
Lakme has launched 10 different shades of this really cute lip crayons among which I was sent 5 shades to try out and review. These are priced at Rs 185 which is really affordable. You also get a sharpener with each lip crayon for free. Isn't it a great deal?
Price- Rs 185/- for 2.2 g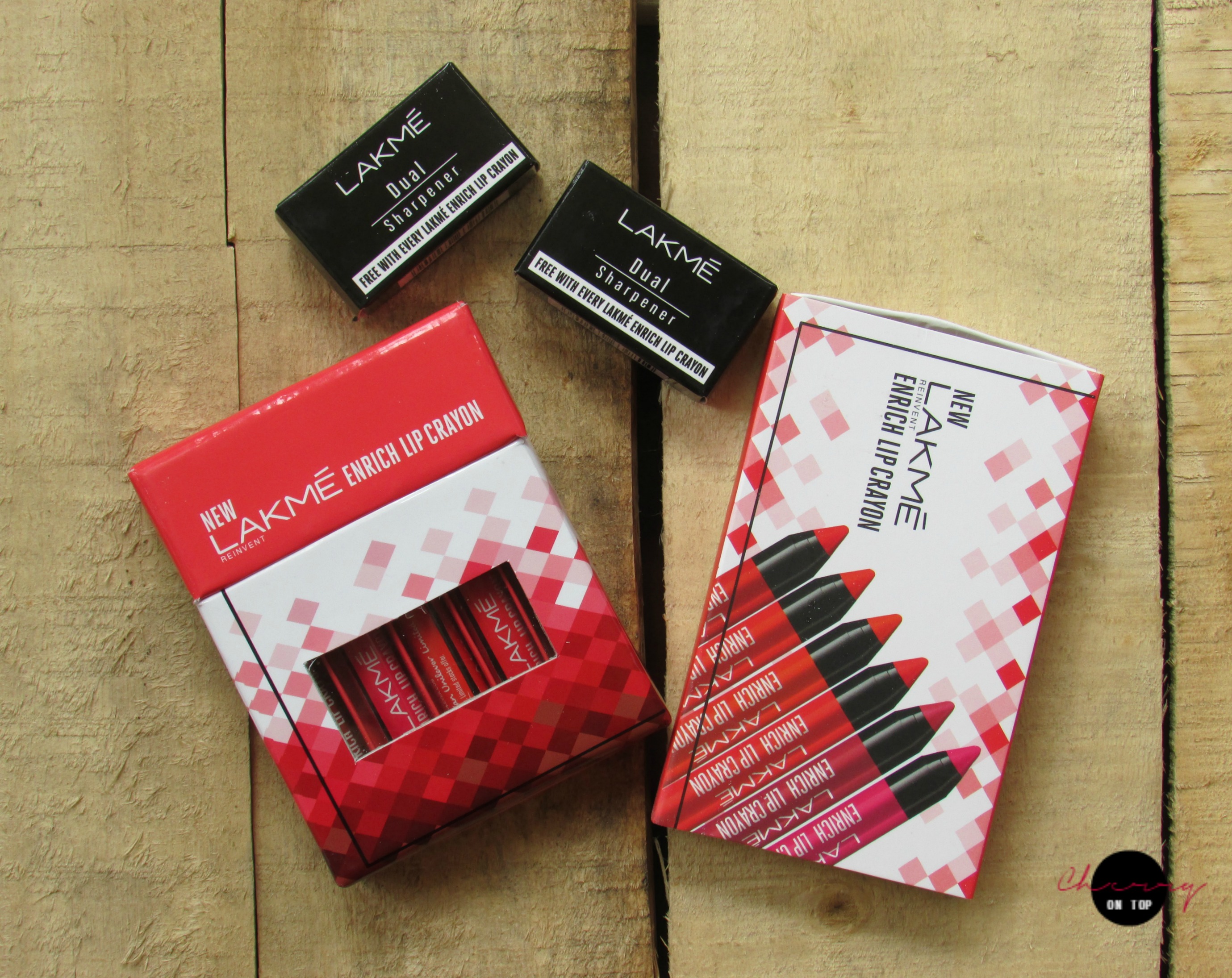 Description of the Lakme Enrich Lip Crayons-
"The Lakme Enrich Lip Crayon is a newly formulated lip colour crayon, for a soft texture and smooth matte finish. Get soft and colourful lips every day, in 10 different shades of your choice. The Lakme Enrich Lip Crayons contain a high level of mineral powders, giving your lips a soft matte finish. It also contains a rich mixture of olive oil and jojoba oil which condition your lips.
Get smooth and matte finish lips with this lip colour crayon by Lakmé that is infused with mineral powders. It has a soft texture and is available in 10 gorgeous shades that suit all Indian skin tones. It also has a rich blend of olive and jojoba oil that simultaneously conditions your lips. For your convenience, the all new Lakmé Enrich Lip Crayon comes with a sharpener.
Sketch your lips, and make them your canvas with the new Enrich Lip Crayons.
A newly formulated lip colour crayon, for a soft texture and smooth matte finish.
Enriched with a highly pigmented formula, it delivers an intense colour payoff.
A rich mixture of olive oil and jojoba oil conditions your lips.
Natural shea and cocoa butter extracts soften and nourish your lips.
Get a sharpener free with every Lakme Enrich Lip Crayon (Offer valid till stocks last)."
How to Apply- 
Step 1: Open the cap and start applying the product from the centre of your upper lip.
Step 2: Worked from the centre towards the outer edges of your lip, following the contours of your mouth.
Step 3: Glide the product across the entire bottom lip.
Step 4: This step is optional but you could use a tissue to blot out the extra product.
Shades-
The Lakme Enrich Lip Crayons range has a collection of 10 different shades. There are pinks, peaches, mauve, coral, red and nude. I am totally impressed by their vast shade range despite being so inexpensive. The shades I got are the following-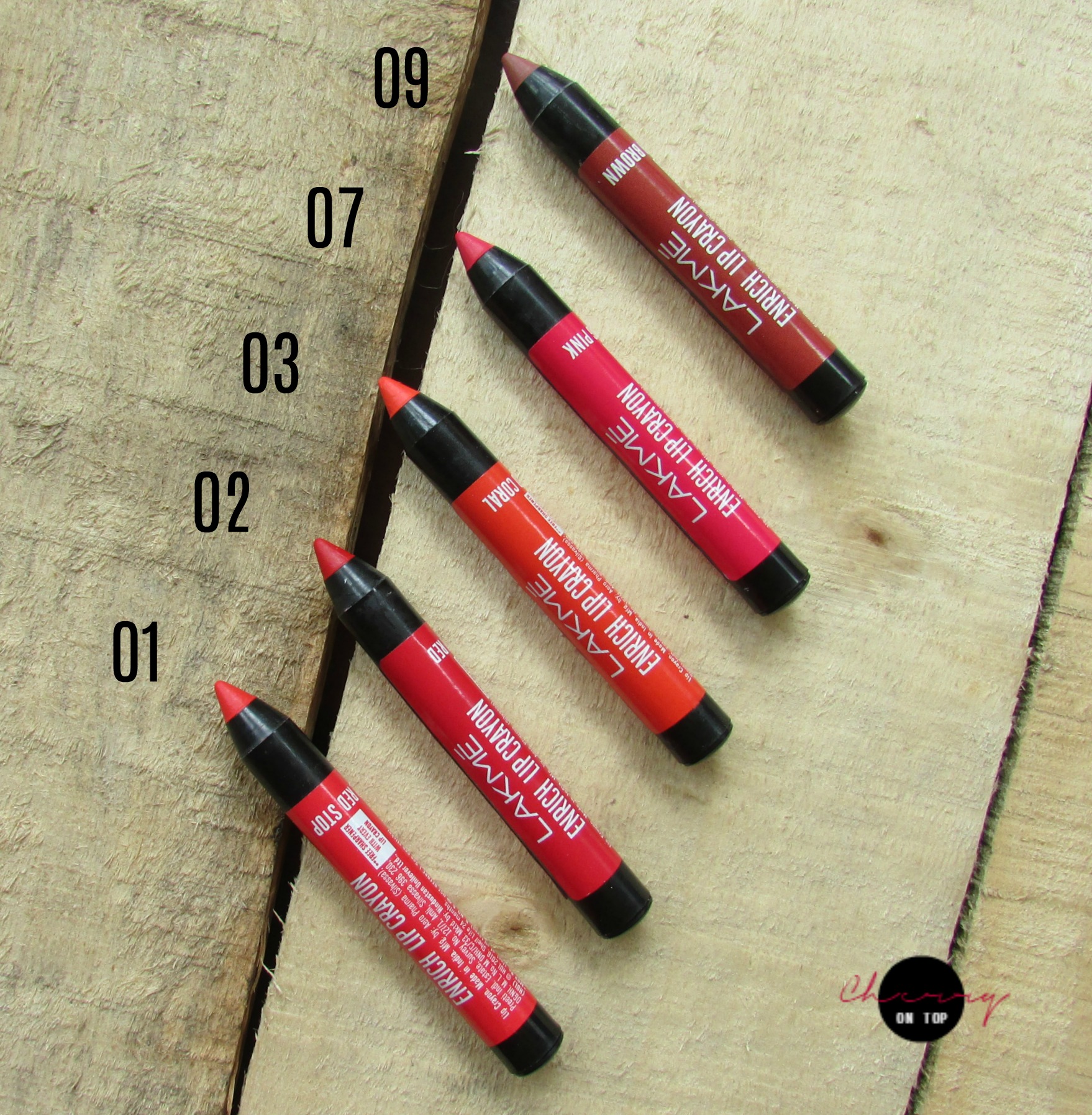 01 Berry Red
This one is the perfect red lipstick as it has some blue undertones to it. You'll love it if you are looking for a budget true red matte lipstick. This one applies evenly and is very pigmented. A steal, I would say! It would look good on every Indian skin tone.
02 Red Stop
Another shade that would suit all Indian skin tones, Red Stop is a perfect orange-toned coral red lipstick.
03 Candid Coral
Candid Coral is a bright coral shade. This is such a pretty shade, perfect for summers. You must check this one out if you are looking for a budget-friendly coral lipstick.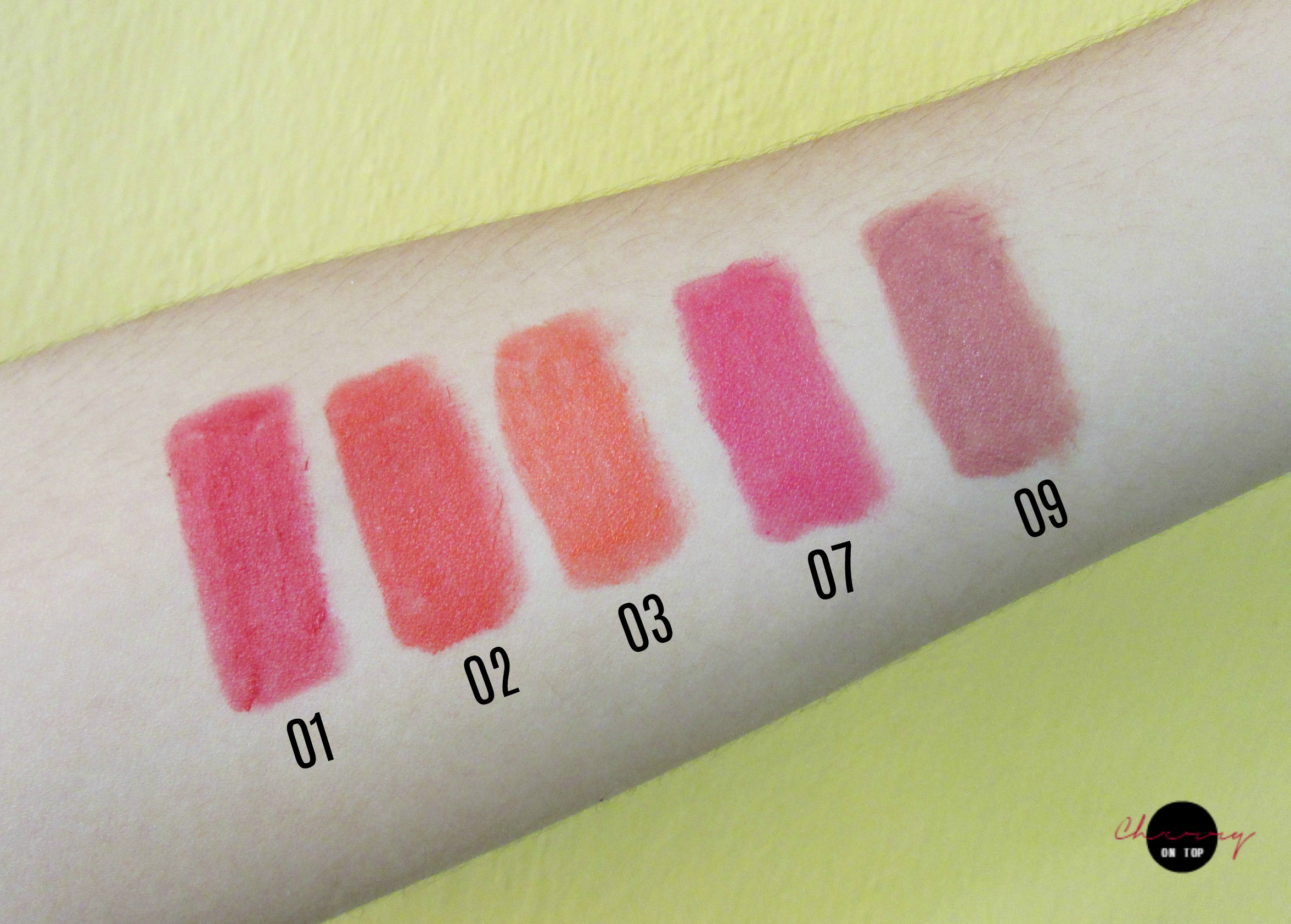 07 Shocking Pink
This is a pretty fuschia pink in my opinion. It isn't shocking as the name suggests. This colour has a slight hint of red in it. This is my favourite shade in this collection. This shade would suit almost all skin tones.
09 Cinnamon Brown
Cinnamon Brown is an everyday neutral/nude brown shade. It would be great for 'no-makeup makeup' looks. For me, it is an MLBB shade. This would suit fair to medium skin tones. It would wash out dusky skin tones.
Texture- 
The Lakme Enrich Lip Crayons are said to be matte, but the finish is actually semi-matte. It is a creamy formula that sets into a semi-matte finish. The product is quite sturdy, it doesn't break while applying.
Staying Power-
These lip crayons stay on my lips for a good 4-5 hours without eating or drinking, which is good for a Rs 185 lipstick. The lip colours fade away from the centre of my lips as I eat or drink.
My Experience with  Lakme Enrich Lip Crayons-
Overall, I am quite happy with the lipsticks. First of all, they are super comfortable on the lips. The application isn't very smooth. Make sure to moisturize your lips well before the application or it can tug and pull your lips while applying. The lip crayons don't feel dry on the lips nor do they dry out your lips. They are not completely transfer-proof, the deeper tones have more tendency to transfer than the lighter ones.
Finally, we have a range that is conceptualised keeping college-going girls in mind. The price tag is so affordable that anybody can have their own Lakme Enrich Lip Crayons. I would highly recommend you guys to try at least one from the range. It is worth it.
---
That was it for today's post. I hope you found this post helpful. Make sure to share it with your family and friends if you did. Pour in your thoughts in the comments. Your comments encourage me a lot! Do subscribe to our Newsletter so that you get notified whenever there is a new post on the blog. Will talk to you in my next post. Till then, be safe & keep smiling! Follow me on Facebook, Twitter or Instagram for regular updates. Add me on Snapchat for more fun and a sneak-peek of my life.
Disclaimer- The product was sent by the brand in exchange for an honest review.