Blessed are those who did not have to go through a phase where everything seems to be falling apart, to be drifting away in front of their naked eyes, to be losing themselves but completely unable to do anything about it. Sometimes, people don't even know what is happening with them because of very little or no awareness and they seem to fall into pieces silently inside themselves. As I am writing this, even I am finding it extremely hard to put the feelings into words. That, my friend, is Anxiety and what I have written here is probably 0.5% of what people actually have to go through in anxiety.
In 2017, I was going through anxiety and now that I am recalling the time, I know the reasons behind them. It is so essential to know what are the things that are making you anxious and face them and fight them with utmost confidence. Now, I did not need to write all these in this post because that would be completely irrelevant but whenever I am talking about my anxiety issues, I find myself obliged to let you know what I feel about it so that everyone out there feels that they are not lonely. Anyhoo, let's continue with this post.
When I was going through anxiety, I found a few things that made me feel a little better. One of them was an introduction to Indie music. I was browsing aimlessly through YouTube and I found a video containing a playlist of aesthetic music. Being a sucker for everything aesthetic, I immediately played the video and the very first song I listened to was Sometimes by Goth Babe. That song was so soothing it left me with a sense of tranquility and contentment. Then my YT homepage was full of suggestions and recommendations of indie pops and I was consuming each one of them like crazy. I did not stop there and kept exploring lo-fi songs, reverbed songs, and whatnot. Basically, that was a time I was longing to drift away from the reality and thoughts that were weighing me down. Personally, I feel the above-mentioned types of music give you that freedom to achieve quietude. They give you a break from reality which in turn makes you feel at peace for the time being.
It's been a year since I created a playlist on Spotify to calm down my restless days and sleepless nights. Exactly a year ago, I created my very first Spotify playlist and named it CALM. What else could be more appropriate! Today, I am going to share that with you, with people who are feeling stressed, burnt out, and/or anxious. The playlist includes songs that have a slow tempo and relaxing beats. Most of them are vintage and aesthetic that best suits my preference.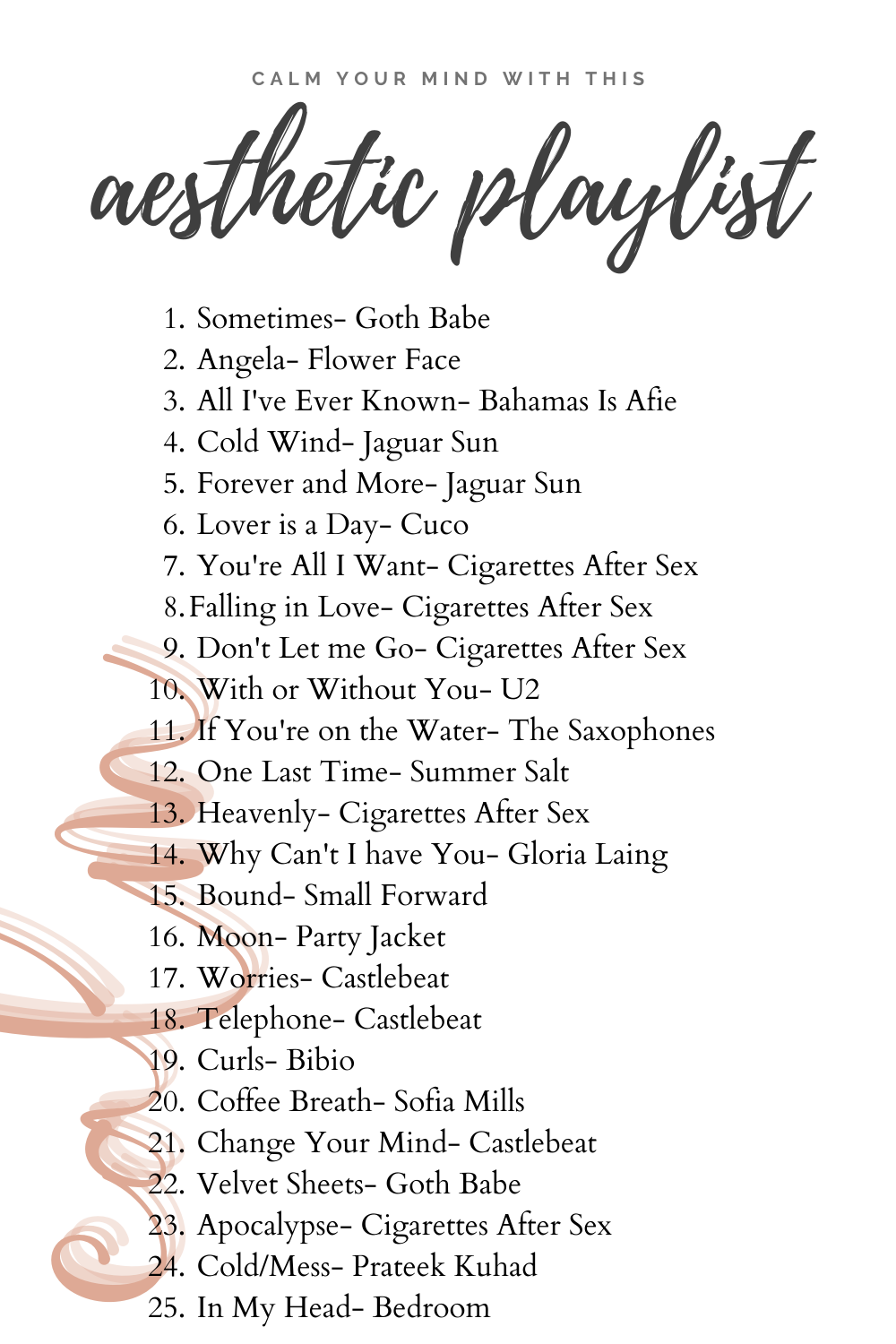 As I mentioned earlier, my very first encounter with western Indie music was with the song that is listed on top of my Spotify playlist. Then it grew long and long. I still add songs that are appropriate for the list. So, this playlist is updated regularly. If I had to choose two bands I have been enjoying listening to, that would be Goth Babe and Cigarettes After Sex. I have started liking Prateek Kuhad's songs as well. There are still so many songs to explore and add to my favouite playlist. I hope it heals you too like it did to me.
Have you listened to any of the songs from my Spotify Playlist? Let me know your thoughts when you do!