Wearing sunscreen every day before stepping out of the house is important in the skincare routine. The best sunscreen SPF 50 protects your skin against harmful UV damage and keeps it checked. It also helps slow down signs of ageing and reverse issues like dark spots and hyperpigmentation.
The key is to opt for a safe, gentle, effective, and toxin-free sunscreen that can be used regularly without any concerns. So, through this blog, we will share nine important facts about the sunscreen no one told you about!
Most of us know about using sunscreen in the summer's scorching heat. But it is also important to opt for a sunscreen with a higher grade of Sun Protection Filter (or SPF). SPF is key to the sunscreen's functionality because it protects you against UV damage and hyperpigmentation. Many skincare experts also recommend wearing sunscreen regardless of your skin type and weather conditions.
Sunscreen has been around since the time of Pharaohs in ancient Egypt times. The Egyptians used rice bran extracts and jasmine to protect their skin against sun damage. With time, scientists worked, and the first-ever commercial sunscreen came out in 1936 and this completely revolutionized the skincare industry. Today, most skincare products such as serums, creams, and foundations are enriched with SPF for added protection.
What should you know about your next sunscreen?
Here are some important facts and details to help you select the best sunscreen for yourself.
Fact 1:
Broad-spectrum sunscreens are best
In 2011, FDA issued guidelines for sunscreen to be labelled broad-spectrum. Such a skincare product ensures protection against both UVA and UVB rays.
There are two types of radiation from the sun:
Ultraviolet A or UVA rays: Causes premature ageing of the skin
Ultraviolet B or UVB rays: Causes sunburns and may be dangerous for the skin
We recommend using a broad-spectrum sunscreen right after using an ubtan face cream.
Fact 2:
Sunscreens are not waterproof or sweatproof anymore
SPF is now labelled as:
Water-Resistant: Works for as much as 40 minutes in water
Very Water-Resistant: Works for as much as 80 minutes in water
For swimmers: The American Academy of Dermatology recommends wearing sunscreen every 2 hours or after you are done swimming and have come out of the pool.
Fact 3:
Use sunscreen with at least 30 SPF
SPF stands for Sun Protection Factor, which means how effective your sunscreen is against UV radiation. SPF 15 blocks 93% of UVB rays, SPF 30 blocks 97%, and SPF 50 imparts 98% blockage against UV damage. Experts recommend staying between SPF 30 and 50 for optimal protection. Use it
Fact 4:
Understand how much sunscreen to apply
Many people do not know how much sunscreen is enough. Experts recommend following the 'Teaspoon and Shot Glass Rule' to determine the best sunscreen that would work with your skin.
Note: This rule states that you should use one teaspoon of sunscreen for your face and neck. You should use an amount equal to a shot glass for the exposed areas of the body.
Fact 5:
Sunscreen is safe to use
There is a general myth about the sunscreen ingredients not being safe for the skin, but this is not true. All healthcare professionals recommend using sunscreen for optimal protection against harmful ultraviolet rays. The key is to opt for a sunscreen that is not chemically enriched and thus does not contain any harmful chemicals.
Fact 6:
Spray-on sunscreens may not always be effective
Though the idea keeps you away from the hassle of applying sunscreen, it may not be as effective. The AAD states that if you want to use spray-on sunscreens, you should apply enough amount and smear it thoroughly to cover all areas of the skin.
Fact 7:
Sunscreen comes with an expiration date
The AAD requires all the best sunscreens to retain their content for three years. Sunscreen comes with an expiration date on the label. So, if your sunscreen feels different in colour or consistency, it is a telltale sign that it has expired.
Fact 8:
Children less than six months should not be applied sunscreen
Infants are known to have more sensitive skin than adults. To protect an infant's skin from sun damage, you can make them wear shades or protective clothes and a wide-brimmed hat before going out in the sun. Consulting your child's paediatrician would also help.
Fact 9:
Sunscreen should be applied even on overcast days
Eighty per cent of the sun's rays can pass through the clouds, even on overcast days. So, you should wear sunscreen even in cloudy and overcast weather conditions. Sunscreen is an important part of the skincare routine worn throughout the year, including winter. The sun's UV rays are present in the atmosphere even in overcast weather conditions, so not using sunscreen can cause sun damage.
Choosing the best sunscreen for your skin
It is not always easy picking the best sunscreen that gives you protection against UVA and UVB rays. However, most non-comedogenic sunscreens these days come packed with nourishing ingredients to hydrate the skin.
Face creams also have SPF, but that does not mean you should skip sunscreen altogether. Always wear sunscreen if you are stepping out. Besides, we suggest starting with hypoallergenic sunscreen if you have sensitive skin.
Here is our favourite pick from the brand we trust the most for skincare:
Mamaearth Ultra Light Indian Sunscreen with SPF 50 PA+++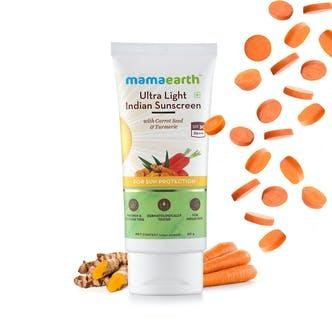 Mamaearth Ultra Light Sunscreen is a special formulation to protect your skin even in the harsh Indian summers. This best sunscreen is enriched with Carrot Seed Oil, Orange Oil, Turmeric, and Cananga Oil ingredients.
It protects your skin against UVA and UVB rays for as long as 6 hours. In addition, this super lightweight formula does not leave your skin dry right after the application. It also reduces tan and discolouration due to prolonged exposure to the sun. It is suitable for all skin types because it does not contain harmful chemicals or toxins.
Summing Up!

Wearing sunscreen is not only a cosmetic concern. This skincare product protects your skin against the risk of certain cancers by 50%. In addition, exposure to the sun can profoundly affect your skin's health and potentially cause premature ageing. So, it is important to get the best sunscreen for oily skin concerned against the damage done by the ultraviolet rays. Remember, when in doubt, wear sunscreen!