Hi, guys! Spring is right around the corner and there are a lot of people who are planning to re-organize their wardrobes. I remember, last year I did a post on organising your Spring/Summer wardrobe? I that post I had mentioned only western clothes and accessories. I know there are a lot of women who prefer wearing Indian wear for any and every occasion. So, I thought of going out of the box and post some ethnic outfit ideas for them. I personally love BIBA kurtas, so I have picked up my favourites from their latest collection. These kurtas are best for any time of the day, be it daytime or night time. Some of them are great options for work/office wear.
I have six different kurtas of six different styles and colours to show you guys. All of them are suitable for both day and night time. These kurtas are so perfect for spring and summer. So, let's start-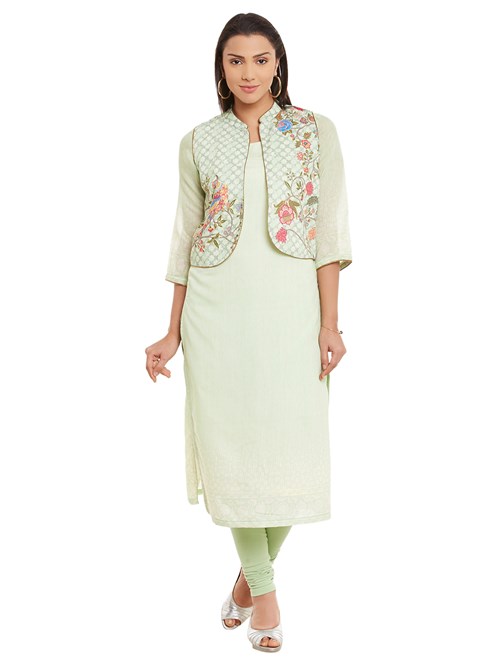 My first pick is this beautiful pastel green kurta with an embroidered jacket. This looks so chic and sophisticated and yet so festive. You can easily wear this to work. The floral embroidery makes it very feminine and perfect for spring.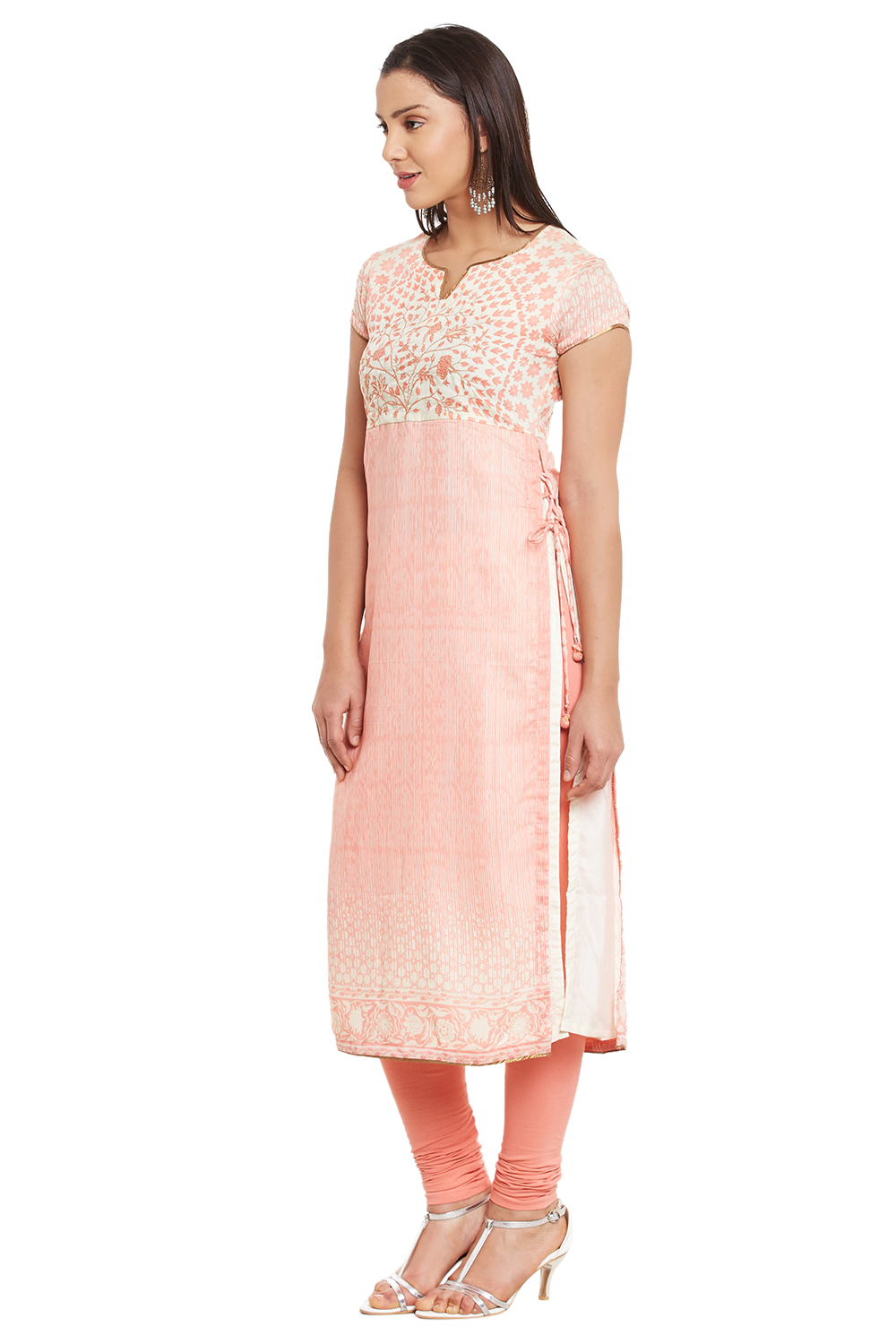 My next pick is again a pretty pastel peachy-pink kurta that has a unique tie-up style on both sides near the waist. It has a very high side-slit and layers that make it quite apt for special occasions like dates. This blush pink colour looks very feminine and perfect for daytime uses. You can pair this up with leggings or palazzos.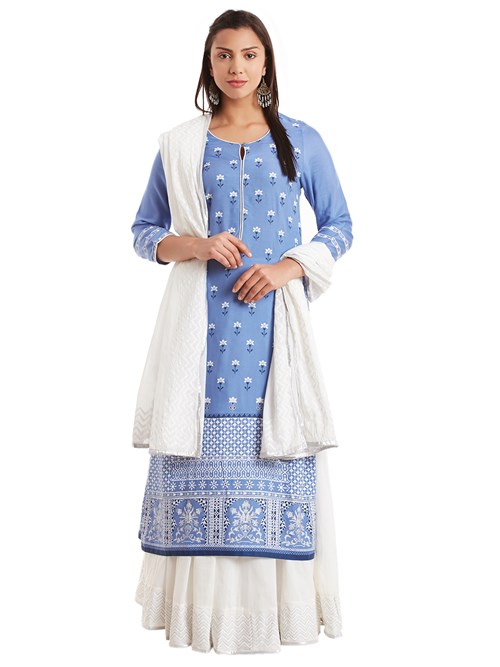 I love the colour blue. It is my favourite colour. How could this beautiful straight blue kurta go unnoticed while I browsed through their collection! I love the ensemble that the model have on her. If I was to style this up I would have definitely go with something like that. This kurta is again perfect for work. Because of its soft colour, it is also perfect for summers. Just wear some silver jhumkas with this and you are good to go!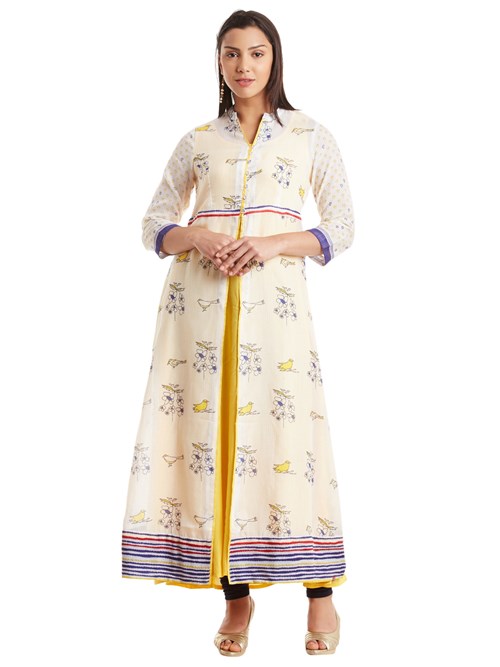 My fourth pick is this pretty white and yellow layered kurta. This kurta also has some nature inspired prints on it which is again perfect for spring. Both the print and the design of this kurta is very unusual which attracted me the most. This can easily be worn for lunch and dinner dates.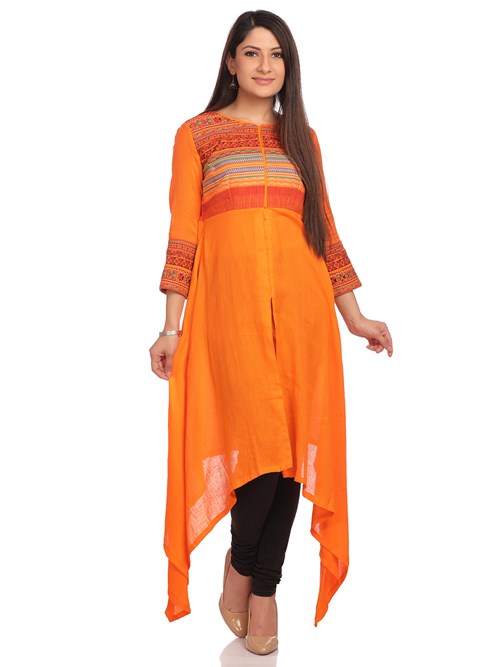 I wanted to give you an option of bold colours for those who love to play with colours and love bright shades. This asymmetric kurta is a great option for young girls for many day and night time occasions and also for college.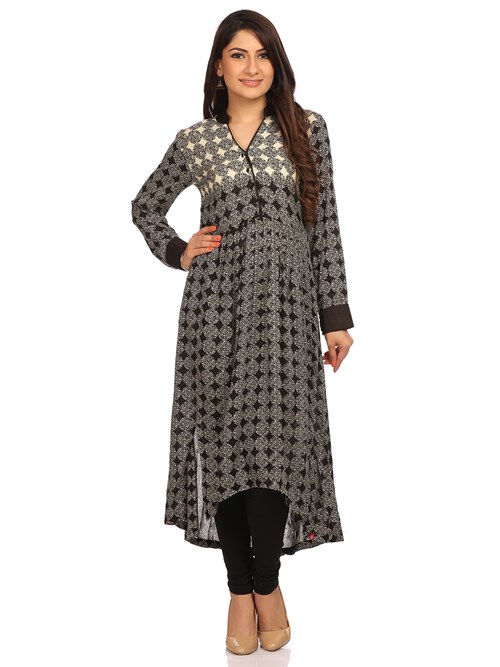 How can I write an outfit guide without a black outfit? Black is a colour that suits everybody. You can always wear this kurta for college, work, shopping or even for traditional functions. This kurta has a good length, an asymmetric design, full sleeves and comfortable fit. I personally like it a lot.
Sometimes it is really hard to buy kurtas online because you are never too sure of the sizes, materials and fits. BIBA is a brand that I totally trust. They have the best fit ever no matter what!
So, guys!  What do you prefer the most- ethnic or western?
---
That was it for my Spring/Summer guide for ethnic outfits. I hope you found it helpful. Make sure to share this post with your family and friends if you did. Let me know which kurta you liked the most and why. Your comments mean a lot to me.  Do subscribe to our Newsletter so that you get notified whenever there is a new post on the blog. I'll talk to you in my next post. Till then, be safe & keep smiling! Follow me on Facebook, Twitter or Instagram for regular updates. Add me on Snapchat for more fun and a sneak-peek of my life.