Hi, guys! Today, I am back with another Faces product review. This time I am going to review the newly launched two shades of the Faces Ultime Pro Intense Gel Kajal. Faces has come up with four new shades of their most amazing gel kajal range- Blue, Brown, Grey and Green. Since I used their black variant, I didn't hesitate to try the two new variants which are 01 Green and 03 Blue.
Description- "Let your eyes speak your style as FACES Canada now introduces Ultime Pro Mystic Kajal in vibrant colours to line your lids.  An extension of the much-loved and supremely rich FACES Ultime Pro Intense Gel Kajal, the luxurious Ultime Pro Mystic kajal comes in four incredible shades. The multi-purpose Ultime Pro Mystic kajal can be used as kohl, eyeliner, and as an eye shadow with the help of the smudger, to reinvent your look in a jiffy. To add, the smudger also achieves the desired smokey eye look with elan.
The vivid bright FACES Canada Ultime Pro Mystic Kajal has a luxurious, intense formula combining silky matte texture. It softly glides over the eyelid allowing you to achieve an intense colour in one easy swipe and is long-lasting with a stay of more than eight hours. Whether you are looking to create a smouldering smoky eye or a well-defined cat eye, Ultime Pro Mystic Kajal can do it all. Besides, it is dermatologically and ophthalmologist tested and approved.
Go all out with glamorous eyes, for FACES Ultime Pro Mystic Kajal in four exciting shades namely,  green, brown, blue and grey, are a refreshing twist to the conventional black kohl, and are a must have fashion and beauty accessory.
It's all in the eyes. And the possibilities are endless.The ultimate eyeliner wardrobe—no matter what eye look you're after, you'll reach for this quartet daily. And what's more is you also get a sharpener worth Rs. 125 for free!"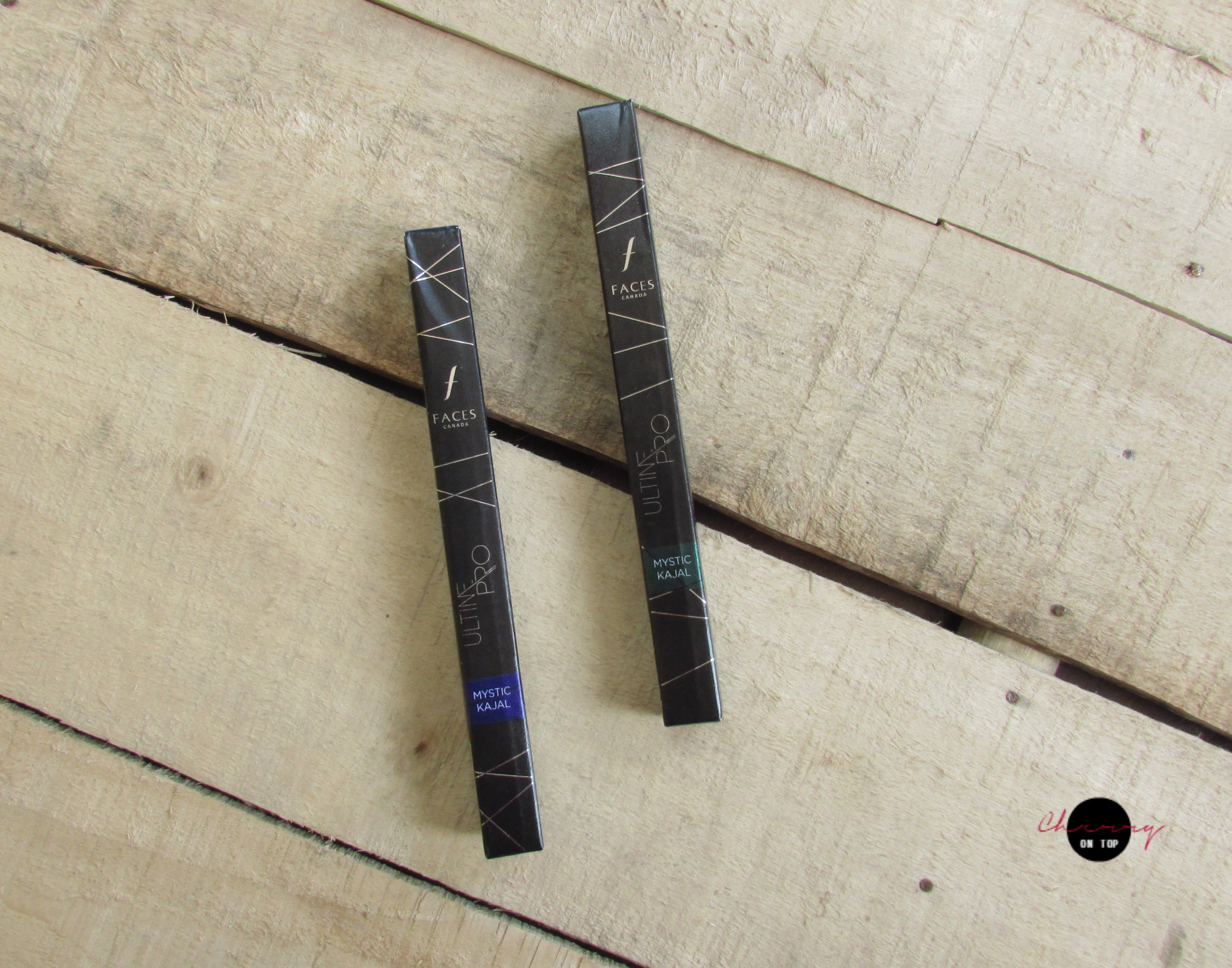 Price- Rs 599/- each
I won't talk about the texture and wear time here in this post as it's similar to the Faces Ultime Pro Gel Kajal in black that I have already reviewed on my blog.
REVIEW: Faces Ultime Pro Gel Kajal in Black

Sponge Tip for blending
Packaging- The packaging of these new variants are same as their black variant which I have already reviewed. You can tell the colour of the pencils from its packaging as the blue one comes with a blue packaging and green one with a green packaging. There are two tips of these pencils, one is the pencil tip and another is the sponge tip that is made to blend the shades.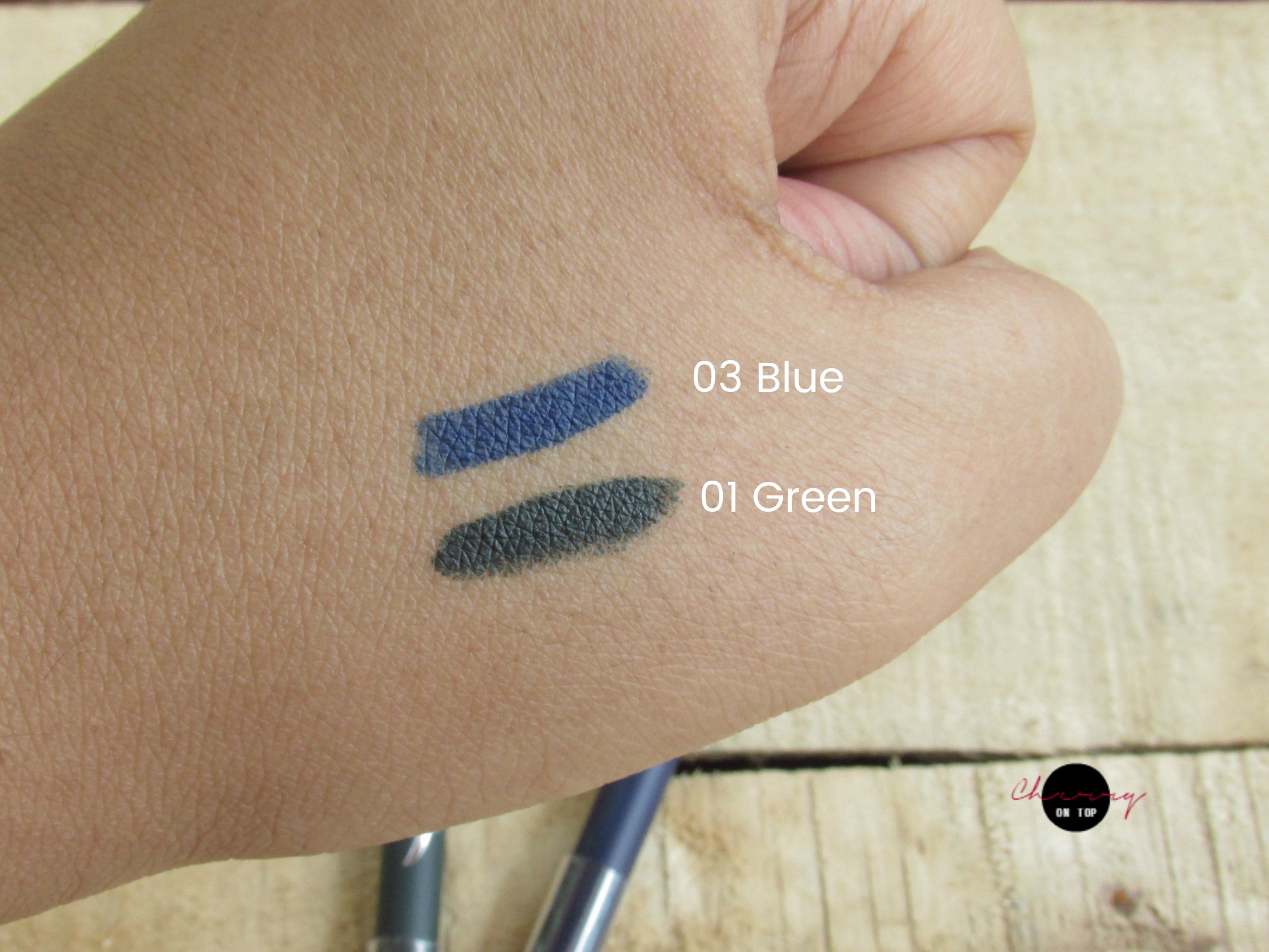 Shades- 01 Green is a pretty deep green shade and 03 Blue is a navy blue shade. Both the colours would go well with Indian eye colours, especially with brown eyes. They are not over the top so anybody can rock them!
Pigmentation- I am super impressed with the pigmentation of these new gel kajals. Both of them provide an intense opaque finish in just a single stroke.
My Experience with Faces Ultime Pro Intense Gel Kajal- Green & Blue
As I said earlier, I am in love with these gel kajals. They are supremely pigmented, soft and smooth in texture and the formula is really creamy. The application is really smooth because of the creaminess. It glides easily on the lids, no tugging or pulling is required. The formula is totally blendable and blends into a completely matte formula. The sponge tip does a great job in blending the kajal evenly. These pencils are not totally waterproof but they easily come off with a makeup remover. The only thing to remember is that the tips of the pencils are breakable due to the softness. So, don't put a lot of pressure while applying.
Overall, I have really enjoyed every time I used these pencils. I was already impressed with the formulation and again fell in love with the new shades.
---
That was it for today's post. I hope you found this post helpful. Make sure to share it with your family and friends if you did. Pour in your thoughts in the comments. Your comments encourage me a lot! Do subscribe to our Newsletter so that you get notified whenever there is a new post on the blog. Will talk to you in my next post. Till then, be safe & keep smiling! Follow me on Facebook, Twitter or Instagram for regular updates. Add me on Snapchat for more fun and a sneak-peek of my life.
Disclaimer- The product was sent by the brand in exchange for an honest review.