After months of exhausting summer and blazing sun, monsoon comes as a respite. However, for a lot of us, the onset of monsoon brings with it a sense of despair. If you feel so, don't worry, it's not just you. Many of us feel lethargic to work, go out, do our daily chores, and even eat.  In this condition, we need to cheer ourselves up, do what makes us the happiest, and enjoy the moments like they're never going to come back. Makeup and dress-up are something that most women love and they make them cheerful. Bright, eye-popping colours can help you beat the gloomy monsoon with a feel of freshness. So, here is my list of 17 beautiful bright makeup ideas that will get you rid of the monsoon melancholy.
1.
View this post on Instagram
This gorgeous eye makeup with eye-popping green, yellow and orange shades is the perfect daytime drama for you. All the colours bring out the brightness and keep away the monsoon blues. All you need is a matte bright eyeshadow palette to create this look.
2.
View this post on Instagram
This look is personally my favourite. This subtle smoky eye makeup is wearable at the same time very attractive. This could a great choice for beginners as it takes very little effort to achieve this dreamy look.
3.
View this post on Instagram
This one is again a wearable look that you can achieve even if you are a beginner. The inner corner pop of blue is noticeable in this look and it also kind of a statement trait. The use of subtle shimmery eyeshadows makes this a great choice for parties and clubbing.
4.
View this post on Instagram
This eye makeup has a stunning burst of cool tones like pink and blue that surely complements the weather outside. It's not just a statement look but also completely achievable. Make sure to finish the look with lots and lots of mascara so that your eyes pop a little more.
5.
View this post on Instagram
This one again is a bewitching eye makeup with loads of reds, peaches and brown. This magical look can turn any dull day into a fairytale. It is required to keep your lips and face makeup subtle so that your eyes do all the talking!
6.
View this post on Instagram
Who doesn't like blue eye shadows? Not me, for sure! Blue eye makeup is like my go-to glam. Not only that, blues, turquoise, greens complement the heavy downpour and the lush greenery outside. It's like a great contrast that instantly makes the mood. You can either use cream eyeshadow or a pigmented blue kajal to create the base and intensify the blue shade. You can follow this blue smoky eyes tutorial I uploaded long ago.
7.
View this post on Instagram
Purples, lavenders and lilacs are in trend right now. Not only are they some of the most vibrant of colours but being cool tones they also complement the current atmosphere. The winged liner has made the eye look super chic.
8.
View this post on Instagram
This eye makeup with a pop of bright pink shade is perfect if you like those Barbie doll eyes. The complementing sharp winged liner is a great add on to the look.
9.
View this post on Instagram
This mustard and orange cut-crease look could be your choice if you love experimenting with your makeup. It surely is time-consuming but the end result is definitely a conversation starter. Don't forget to finish the look with some voluminous and fluttery fake eyelashes.
10.
View this post on Instagram
Another look with all shades cool-toned. From icy blue to matte lilac, this look has everything you need for a bright and colourful makeup look. Remember to blend your eyeshadows well to achieve the perfect finish.
11.
View this post on Instagram
The vibrant blue reverse smoky eye is nothing but the definition of bright! This look is stunning AF if you carry it well. The razor-sharp winged eyeliner is doing great justice to the entire look. This is undoubtedly one of the most beautiful bright makeup ideas of 2021.
12.
View this post on Instagram

This stunning bright orange and minty green is a great combination of warm and cool. If you are eyeing something fancy, this look could be your go-to!
13.
View this post on Instagram
A purple lover? This one is made for you! This is a nice cocktail of all shades purple. It definitely has the power to sweet out the gloominess outdoors.
14.
View this post on Instagram
If you love to play with colours and you enjoy that little drama in your eye makeup, this is surely going to take your breath away.  I absolutely loved the mix of colours and those big bold eyelashes.
15.
View this post on Instagram
The pop of parrot green eyeshadows in this look complements the lush greenery the monsoon has created outside. It has some sort of freshness and vividness that most of us fall for. This is also very easy to achieve and recreate.
16.
View this post on Instagram
Again a beautiful bright fuchsia pink shade with a deep pink graphic liner that is enough to get you rid of your monsoon woes. With a lot of blending here and there and a hint of shimmer in the middle of your eyelids, makes it easy to recreate as well.
17.
View this post on Instagram
This bold icy blue liner look is great for those who love it bolder and brighter. With multiple coats of black mascara, this look has the power to attract lots of curious glances.
Let me know which of these enticing colourful and bright makeup ideas will you be trying and why?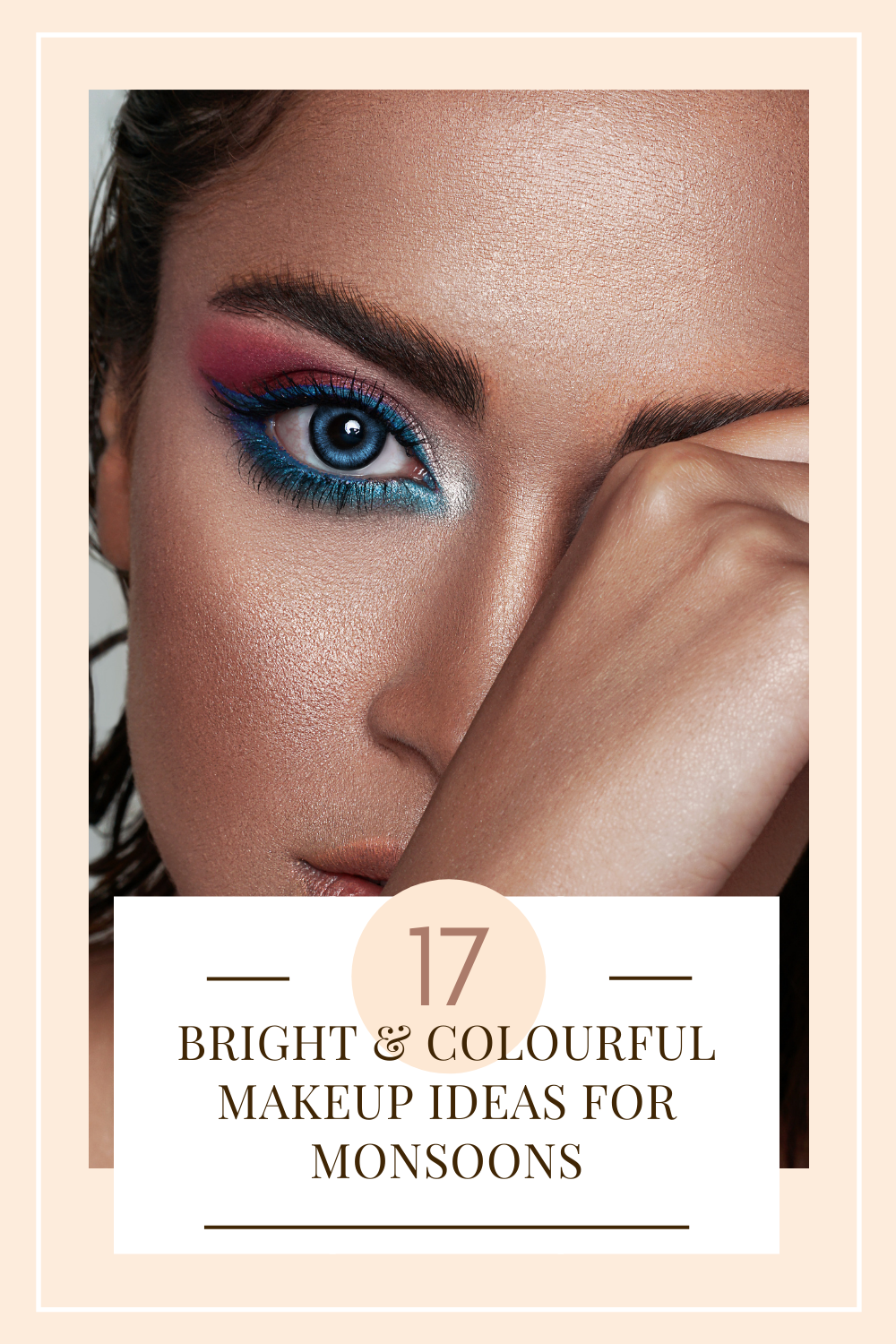 ---
That's it for today's post. I hope you found this article helpful. Make sure to share it with your friends and family if you did. Your comments encourage me a lot. So, pour in your thoughts in the comments. Subscribe to our Newsletter so that you get notified whenever there is a new post on the blog! Will talk to you in my next post. Till then, be happy and keep smiling! Follow me on Facebook, Instagram & Twitter and also Subscribe to my YouTube channel for beauty & fashion related videos and vlogs.