The wedding season is approaching, and getting into the perfect dress is often one of the priorities of the ladies. Friends get married or celebrate birthday parties during the holidays, and fortunately, you can find a lot of options and make a statement without needing to steal the bride's thunder.
Knowing the theme, your size, body type, color, and budget can help. Nowadays, you can't run out of options if you really want to be in style, and some accessories will make everything more affordable. Here are some tips to help you hunt for the right dress that can be useful for every season.
The Rise of Boutique Wedding Guest Dresses
Charming alternatives to mainstream options are boutiques where you can get more personalized attention and be fashionable at the same time. They aren't often getting the vibe that you would want to see from an off-the-rack option, and instead, they offer something unique.
Various retailers are offering these dresses, but know that they were not created equal. Buy only from trusted and high-quality suppliers like The Mint Julep Boutique – Boutique Dresses that can provide you with the craftsmanship that you deserve. Floral Midi or Puff-Sleeved Maxi are there, and they can be pre-ordered. That little black dress is something that can flatter your silhouette and make you feel like a million bucks, so don't miss out on your options.
Bright purples with florals are for casual themes, and if you're not necessarily a bridesmaid, you can still mix in with the overall theme and specify your size. You can also express your style effortlessly. A wide range of designs are available, like Bohemian chic or vintage-inspired glamor, so you can look and feel confident for the entire wedding.
Know that many brides also appreciate supporting small businesses when shopping for their guests' attire. With this said, when you buy from the right shop, not only will you look fabulous at the wedding, but also contribute directly to independent designers who pour their heart into creating beautiful pieces.
Different Types to Know About
You can never go wrong with the classics, such as the A-line silhouette. Timeless styles like these feature a fitted bodice that cinches at the waist before flowing out into a flattering skirt and can be perfect for those who want to accentuate their curves while still maintaining an air of elegance. You can read more information about the A-line on this page here.
For modern and trendy outfits, consider opting for a sleek sheath gown that has a form-fitting design. You can expect it to hug your figure in all the right places, creating a sleek and sophisticated look that is sure to turn heads.
Opting for a bold and vibrant maxi or midi dress can also be worthy of your consideration since they come in an array of eye-catching colors and prints, making them perfect for adding some personality to your attire. Something more feminine and romantic can translate to lace or floral print because these delicate fabrics add texture and visual interest to your ensemble while exuding femininity and charm.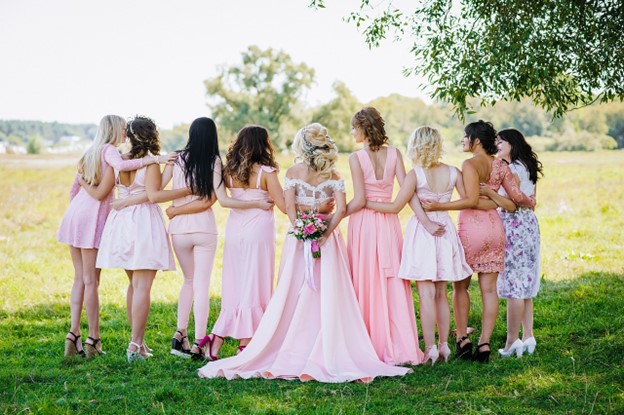 Other Helpful Tips
Always prioritize the dress code of the wedding, and the invitation can generally give you an idea about this very important information. You don't want to stand out and be the sore thumb in the eyes of the crowd, so make sure to get this right the first time. Think about your personal style and body shape, and choose something that flatters your figure and makes you feel confident and comfortable. If you're unsure, don't be afraid to ask for assistance from the boutique staff since they are experts in helping customers find their perfect fit.
Seasons and the location are also taken into account, and if it's a summer beach wedding, opt for a light and flowy fabric like chiffon or silk. On the other hand, if you're attending a fall or winter wedding, choose heavier fabrics like satin or velvet, which you can find more info at this link: https://www.collinsdictionary.com/dictionary/english/velvet.
How to Style and Accessorize Well
Find the delicate balance between elegance and personal style, and you'll be all right. Start by considering the silhouette of your dress. You can pair the silhouette shapes with delicate accessories such as dainty earrings or a simple necklace. For dresses with more volume or embellishments, opt for minimal jewelry to let the dress take center stage.
Color palettes should be taken into consideration, too, and if your dress is in a bold or vibrant shade, opt for neutral accessories that complement rather than let it compete with what you're wearing. Inversely, a plain gown may mean getting a statement necklace or earrings so you can achieve a quiet elegance.
Shoes can truly elevate your overall look, so consider matching them to either the color of your dress or choosing metallic shades like gold or silver for an added touch of allure. You can also play around with different hairstyles and makeup looks that enhance your features while complementing the style of your boutique wedding guest dress.