Ever since the Covid-19 situation has hit us hard, I believe there are more consumers of hand creams than ever in this country. Washing your hands with soap and water repeatedly and moreover, excessive use of alcohol-based products are definitely as harmful to the skin as they are good for our overall health. So, a hand cream has become a must in your daily lives. It must have taken a permanent position in most of our nightstands. Hand creams are undoubtedly the best you can do to pamper your hands but, what if I tell you about a product that not only moisturizes your hands but also fights germs and works as a sanitizer? I am talking about the Dot & Key Hand cream and Sanitizer. Today, I will be reviewing their Lavender variant.
Dot & Key Lavender Hand cream and Sanitizer is a great moisturizer for dry hands that also soothes and kills 99.9% germs with its unique alcohol-free formula. 
Before starting with the review, let me share some information on sanitizers especially keeping the Novel Coronavirus in mind which will be helpful for you to understand the efficacy of this product. Since most of you might be here to know whether or not this hand cream/ sanitizer will effectively fight coronavirus or not, please read this part carefully.
Can Alcohol-free Hand Sanitizers kill Coronavirus?

By now, all of us know a sanitizer containing 60% or more alcohol content works best to kill the Novel Coronavirus but does an alcohol-free sanitizer do the job? Well, alcohol-free sanitizers contain a special ingredient called benzalkonium chloride which is a quaternary ammonium compound and it is a conventional antimicrobial commonly used in ophthalmic preparations such as eye drops and lens solutions as a preservative. It is also used as antiseptic and disinfectant in a higher concentrated form. Benzalkonium Chloride is a detergent that denatures proteins and causes lysis of cytoplasmic membranes and is, therefore, a potent broad-spectrum antiseptic. Which pretty much sums up that it has the ability to kill Coronavirus but definitely not as effective as a soap or isopropyl alcohol, ethanol or n-propanol.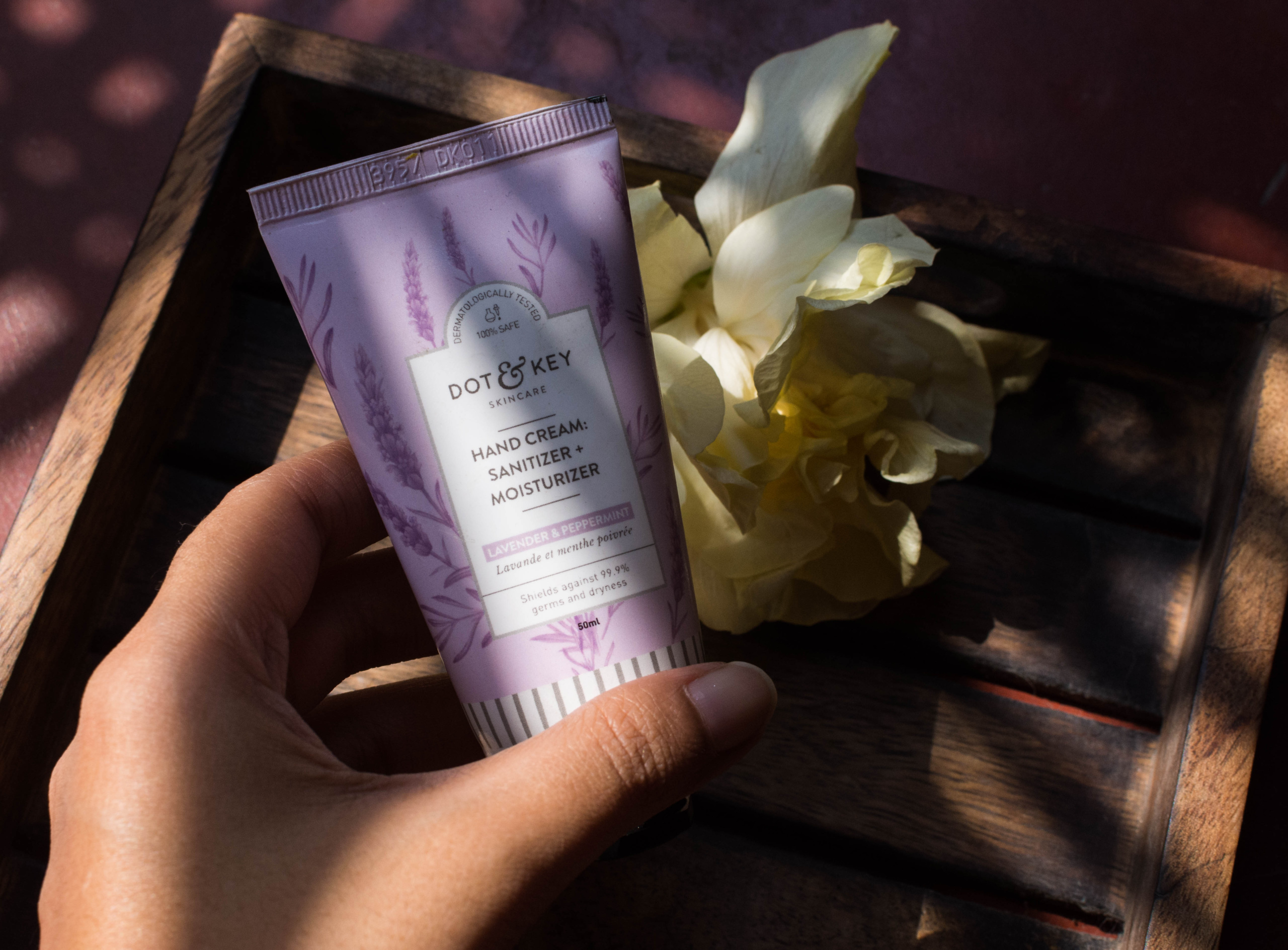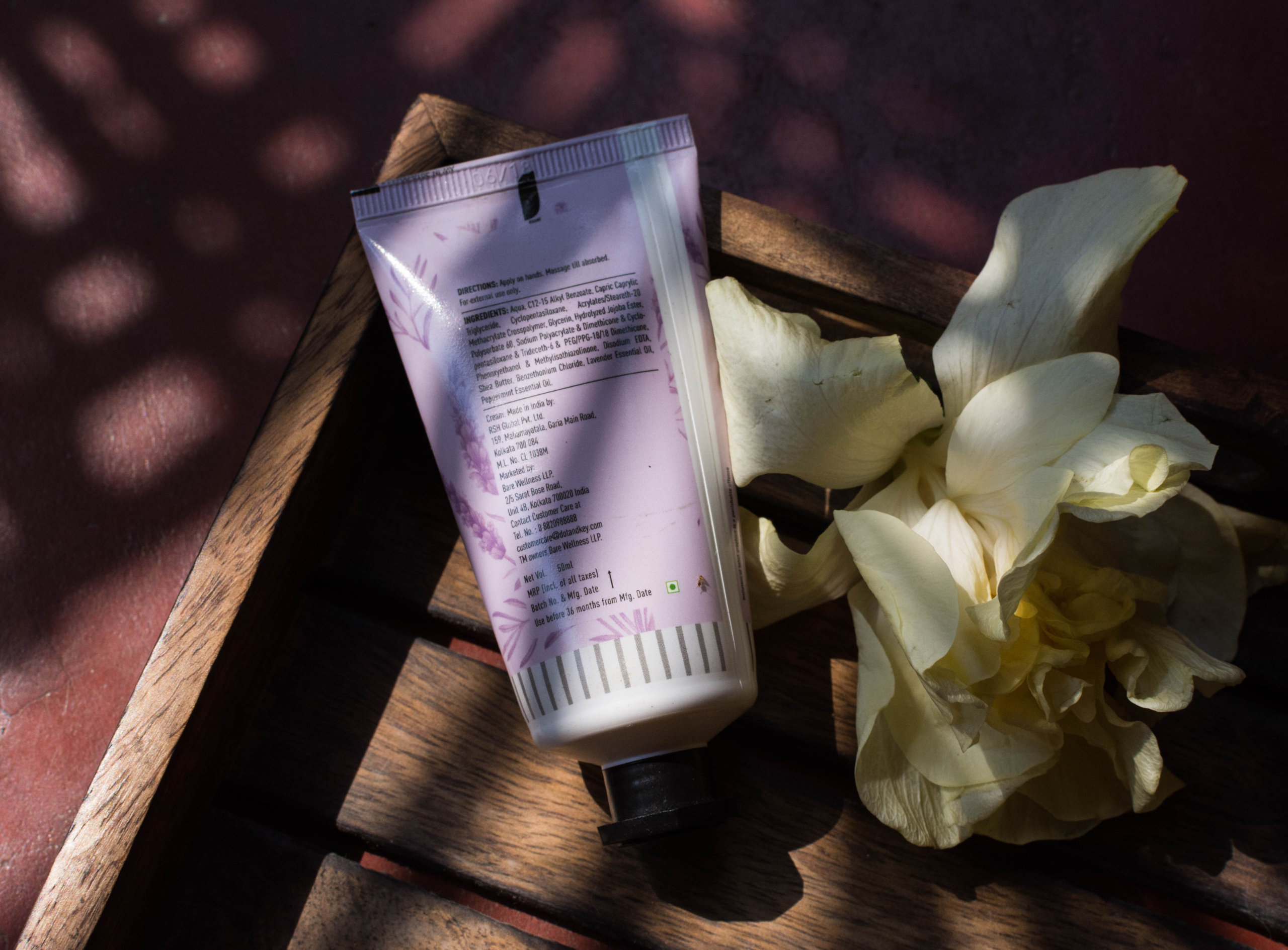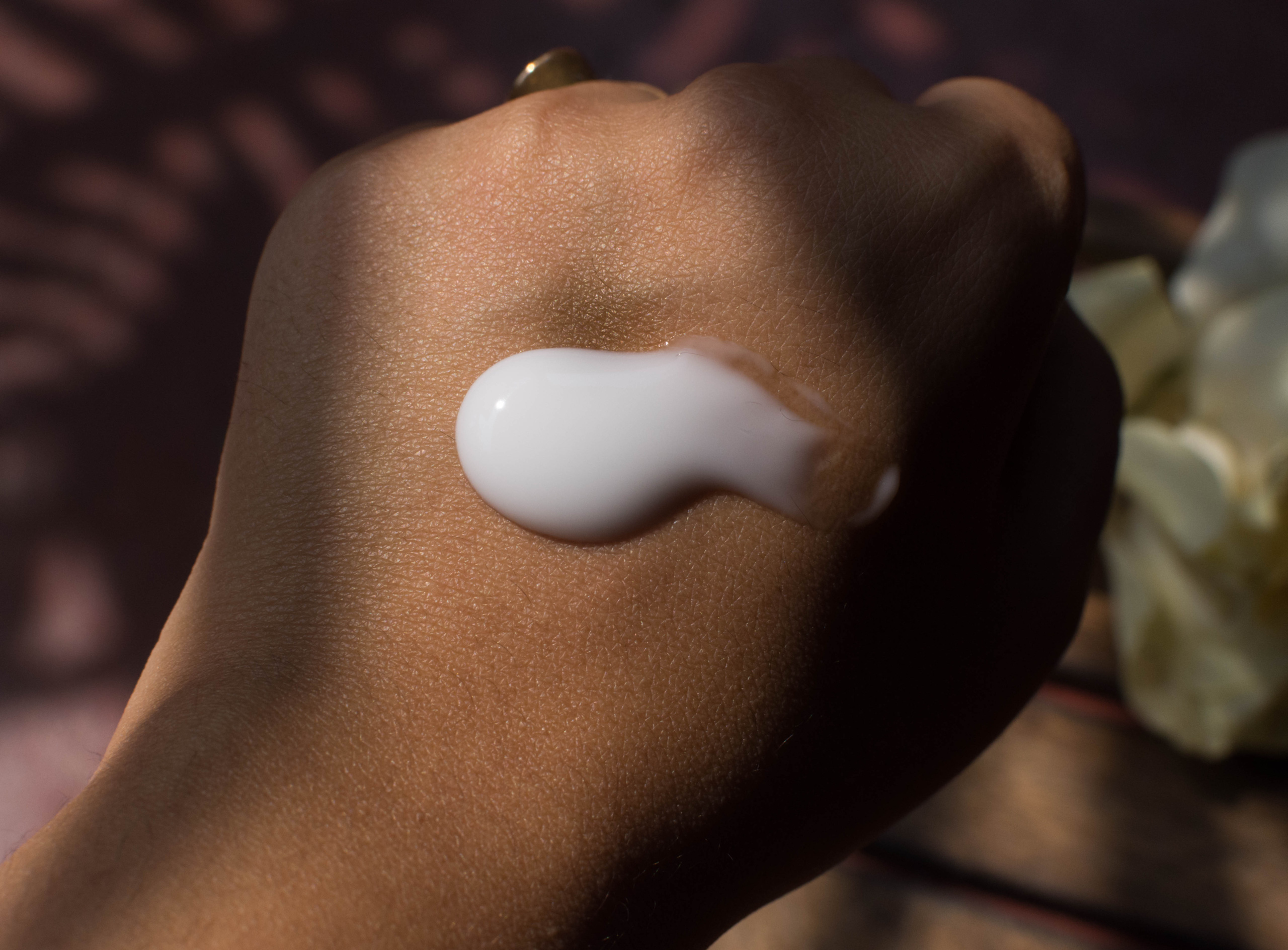 Price- ₹ 395/- for 50ml
Buy Here- Nykaa, Amazon, Dot & Key website
Packaging-
Dot & Key Hand cream comes in a cute plastic tube and a black screw-on cap pretty similar to L'Occitane or Boroline tubes. The colour of the tube is correspondent to the fragrance or variant. For example, the Lavender variant comes in a soft lavender-coloured tube. 
All the information including the MRP, Mfg date, batch number and the complete ingredients list is mentioned on the tube itself. The tube comes in a cardboard packaging that is completely pastic-free.
Description-
If you've ever sanitized your hands and cringed at how dry they become, you're not alone. The good thing is, they'll never feel that way again – not with Dot & Key Hand Cream doing double duty as hand sanitizer and moisturizer. Its active ingredients kill 99.9% germs, and its alcohol-free sanitizer formula ensures your hands don't dry out in the process. Even better, the jojoba and shea actives it contains intensely nourish your hands so they feel soft and supple.
Infused with calming lavender and zesty peppermint essential oils, it leaves behind a delicately pleasing fragrance, even as it cleanses and hydrates. With its pocket-friendly size, it's the perfect go-to for pure, baby-soft hands on the go. All Dot & Key products are dermatologist tested and 100% skin safe, Cruelty-Free, Vegetarian Friendly and free of nasty chemicals like Parabens, Alcohol, PABA, Phthalates & Sulphates. We assure safe, gentle and effective skincare.
Key Ingredients:
Non-Alcohol Sanitizer Actives: Contains active antibacterial ingredients like benzethonium chloride which kill 99.9% germs, and its alcohol-free formula ensures your hands don't dry out in the process.
Shea Butter: An excellent moisturizer, its fat content is responsible for its emollient and humectant properties. It locks in the moisture and keeps skin hydrated for long. Helps soften the skin on hands and feet too.
Texture-
This product has a lotion-like texture- not too thick, not too runny. This texture helps it get absorbed into the skin quite fast and effectively. It provides enough moisture to your hands than any other lotion would do.
Dot & Key Hand cream and Sanitizer Review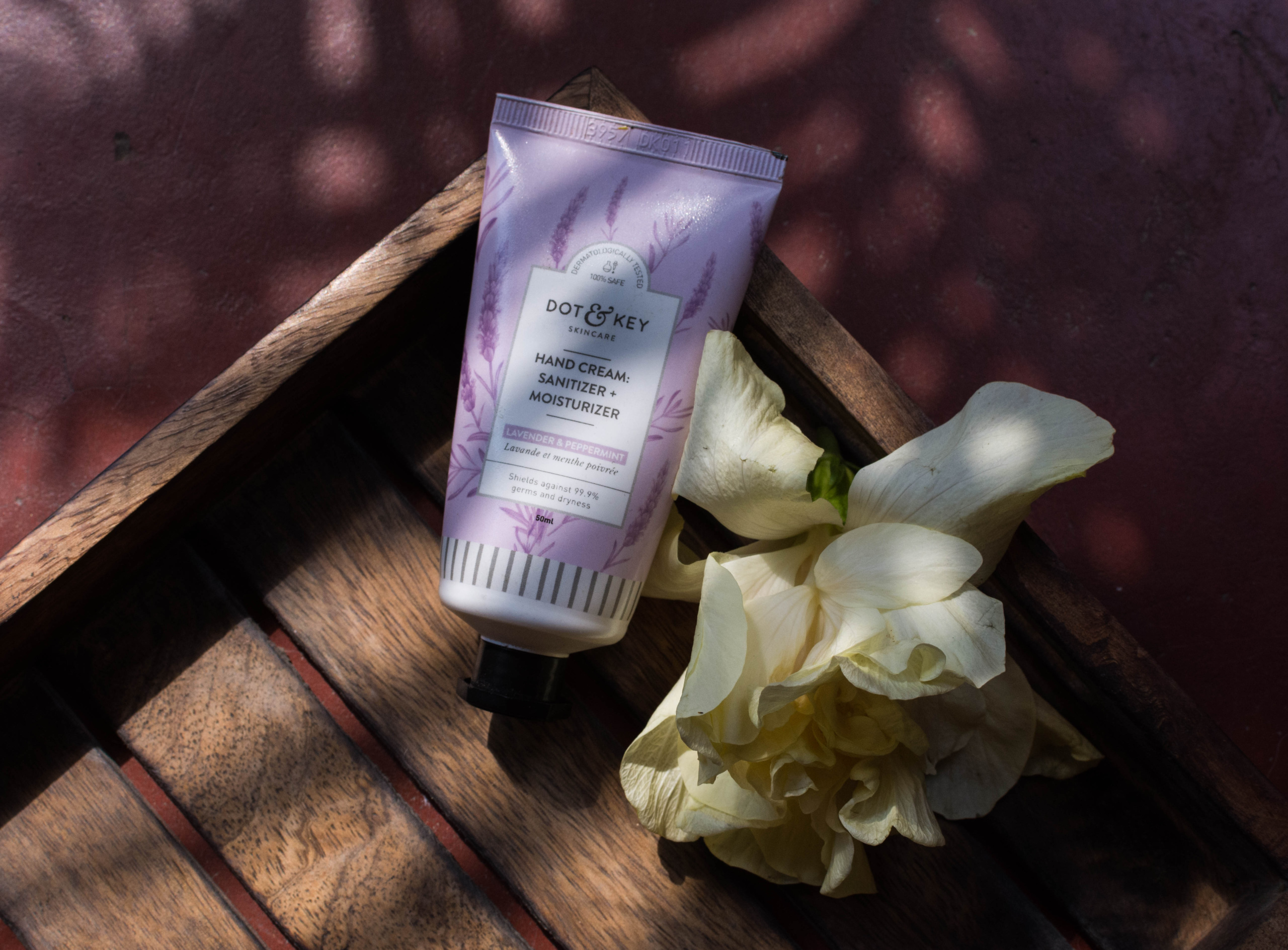 My experience with Dot & Key Hand cream and Sanitizer- Lavender & Peppermint has been great. I use it as a hand cream as it gives intense hydration to dry hands. Also, the light texture of this cream allows you to penetrate deep into the skin, providing it with nourishment that it requires and at the same time, it does not feel sticky or oily. 
I am not quite sure if I would recommend you this as a hand sanitizer because this is a time we should not take any risks. If you are looking for a product solely for sanitizing your hands, you should go for something that has 60% or 70% alcohol in it because that will be most effective. However, the Dot & Key Hand cream and Sanitizer would be a good option for sanitizing your hands if you are at home and want to do your makeup or skincare with sanitized hands.
Although I love the formula so much and considering the fact that you require a very little amount of product for both your hands, I still feel it is quite expensive for a 50ml tube. 
What is your favourite hand cream at the moment?
---
That's it for today's post. I hope you found this article helpful. Make sure to share it with your friends and family if you did. Your comments encourage me a lot. So, pour in your thoughts in the comments. Subscribe to our Newsletter so that you get notified whenever there is a new post on the blog! Will talk to you in my next post. Till then, be happy and keep smiling! Follow me on Facebook, Instagram & Twitter and also Subscribe to my YouTube channel for beauty & fashion related videos and vlogs.