Exfoliating my skin regularly is somewhat like a de-stress session for me. Scrubbing actually rejuvenates my skin instantly and it also helps it breathe properly. I have shared my love for exfoliation time and again on various platforms. Today, I am going to talk about another scrub that very quickly made a special place in my kitty. I am talking about the Chocolite Face & Body Scrub by Ethicare Remedies.
Product Description-
Chocolite scrub is made with natural herbs that moisturise, rejuvenate and nourish your skin. It helps to lessen wrinkles and blemishes from your skin. Its massage tightens your loose skin by leaving it soft and smooth. Indulge in this lavish, deeply moisturising, non-greasy treatment infused with natural extracts and attractive fragrance.
This unique chocolate scrub helps in removing dead skin cells through exfoliation. It rejuvenates your face for polished and glowing skin.
Price- ₹449 for 100ml
Purchase here– eMegamart.com
Benefits-
Antioxidant, anti-inflammatory properties help in skin regeneration, reduces inflammation minimizes wrinkle formation, and provide anti-ageing benefits to the skin.
Its skin-friendly ingredient helps to keep skin healthy, glowing, and just flawless
It hosts a range of potent antioxidants that protect skin from drying out, sunburn, and skin cancer.
Promotes new cell growth & skin-conditioning effect with its antioxidants and minerals.
Prevents blemishes & removes tanning.
Exfoliates and leaves the skin polished and refined.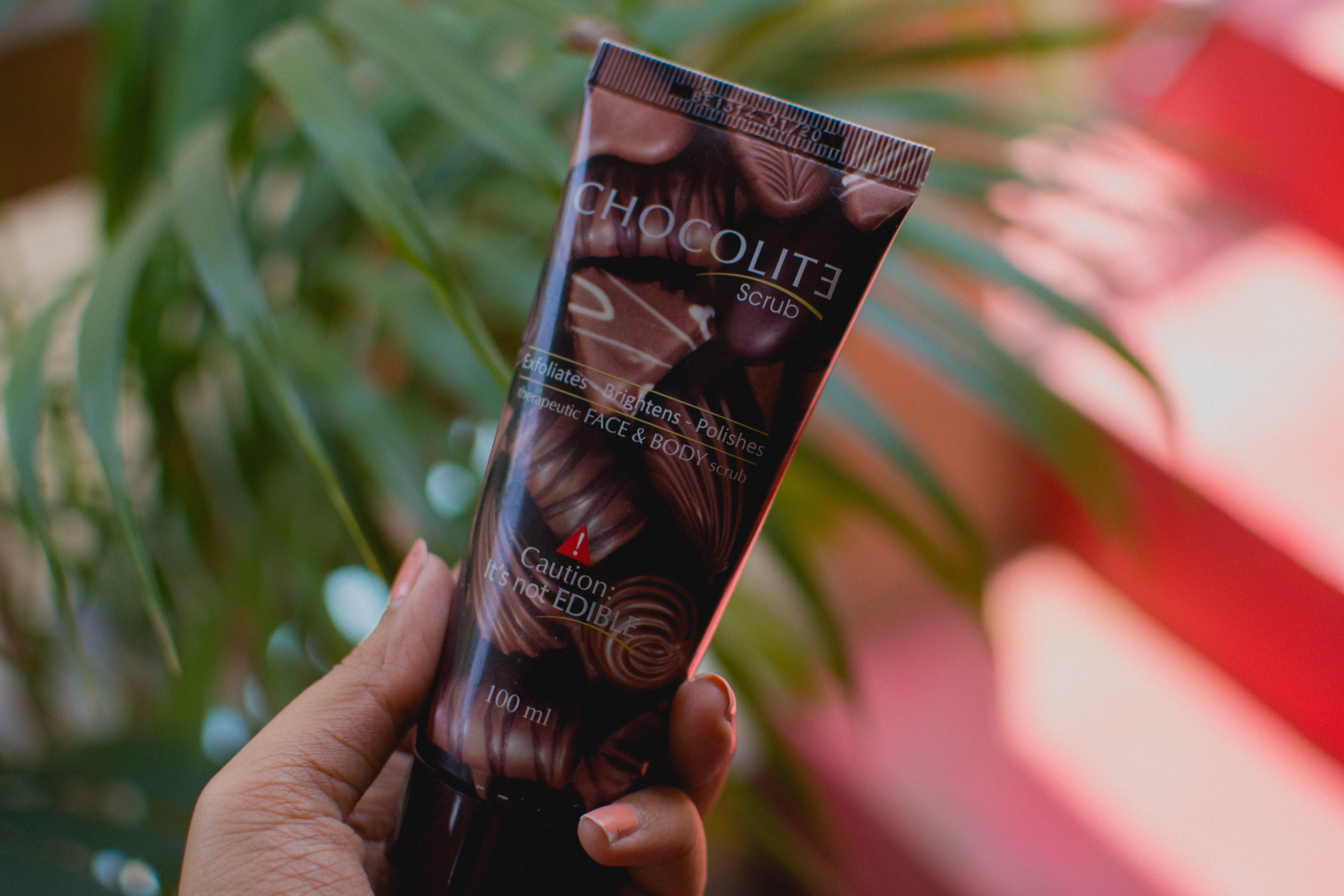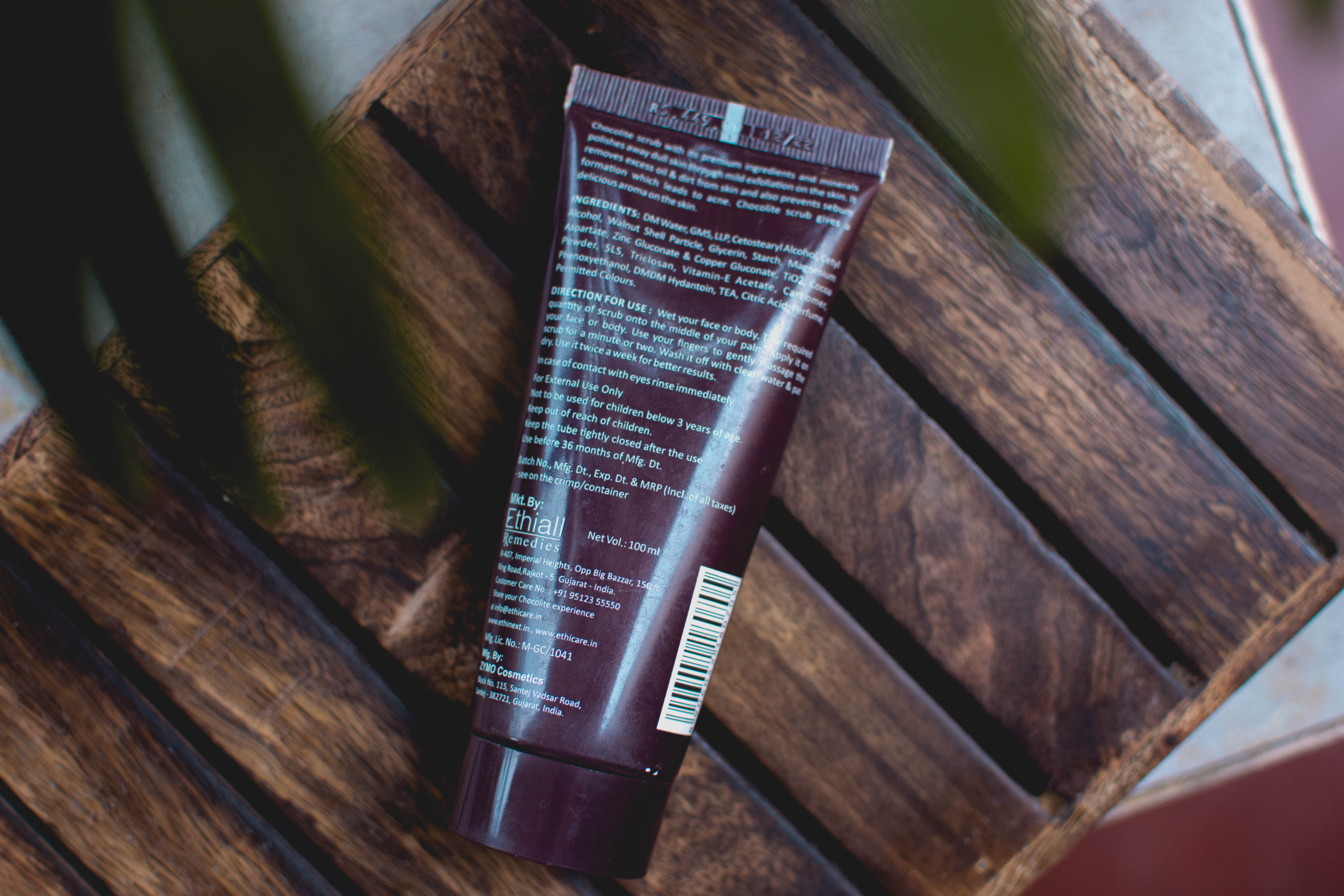 Ingredients-
Cocoa powder, Magnesium Aspartate, Zinc Gluconate, Copper Gluconate, Triclosan Vitamin-E Acetate, Walnut Shell Particle.
Packaging-
Chocolite scrub comes in a chocolatey brown plastic tube with a screw lid. The packaging is absolutely sturdy and there is no worry of spillage while travelling. The no-fuss packaging is very convenient and pleasing to the eyes.
Texture, Consistency & Aroma-
This scrub is quite thick in consistency. You have to rub it between your fingers to bring it to a thinner consistency so that it spreads evenly across the skin. It is full of micro exfoliants which are not abrasive at all. It smells like pure cocoa which feels very relaxing and therapeutic. This is the reason why I love using it on my pamper days.
My Experience with Ethicare Remedies Chocolite Scrub
It's been one and a half months or more since I have been introduced to the Chocolite Face & Body Scrub and I have been a lover of this ever since. One of the main reasons is the smell of this product. It helps me relax after a hectic day or week. I like to incorporate this into my pamper night routine. This scrub is loaded with finely ground exfoliating beads that are very mild on the skin. It scours away all the dead-cells, dust and grime from the skin surface very efficiently and without irritating the skin layer. I dislike the scrubs that are too harsh on the skin rather I prefer those that are mild but gives me that powerful exfoliation experience. The Chocolite Scrub perfectly does that. This has made my skin look polished and glowing. It effectively and easily removes blackheads also which otherwise is quite a task. The antioxidants in it make sure your skin looks rejuvenated and youthful with regular use. It also removes tanning and makes the skin look brighter after a few uses.
This product is non-comedogenic that means it doesn't contain any ingredients that can clog your pores. This makes this product safe for people with acne-prone skin. This texture and consistency of this product make it appropriate for using on the body as well. I prefer using it on my face after a thorough cleanse with an anti-acne face wash.
---
That's it for today's post. I hope you found this article helpful. Make sure to share it with your friends and family if you did. Your comments encourage me a lot. So, pour in your thoughts in the comments. Subscribe to our Newsletter so that you get notified whenever there is a new post on the blog! Will talk to you in my next post. Till then, be happy and keep smiling! Follow me on Facebook, Instagram & Twitter and also Subscribe to my YouTube channel for beauty & fashion related videos and vlogs.