Though these days we get to hear all the lectures on body positivity, we still don't seem to get over our body image issues quite well. Even if there are thousands of styling tips on Pinterest, our self-esteem falls short when we fail to look appealing in a dress we thought of wearing. To break the vicious cycle of feeling doomed about our bodies, we need to look for the right ways. 
We all have different body types and complexions. Therefore, we need to go for specific styling tips that emphasize our body shape. Subsequently, there are four primary body shape measurement guides – 
Shoulders: Wrap the measurement tape loosely on the higher ends of your shoulder.

Bust: Wrap the measurement tape around the fullest part of the bust, but don't squeeze it too much.

Waist: Measuring the waist size can be a bit tricky. The waistband doesn't go right where your waist is. Wrap the measuring tape where your waist is the narrowest, generally a little below the navel. 

Hips: Again, you need to measure the fullest part of your hips. Wrapping up the measurement band around your butt, a little below your hip bones. 
The Body Shapes
After you're done measuring your body shape, determine which is the right shape of your body. Here are a few styling tips for each body type: 
The Inverted Triangle Shape:
People who have this body type must go for outfits that accentuate their bottom halves, like A-line skirts or dresses and wide-legged pants or boyfriend jeans. They should also avoid boat-neck necklines, wide straps, and halter-neck tops. Celebrities like Angelina Jolie, Demi Moore, and Rene Zellweger have this body type. 
The Rectangle Shape:
This body type is also known as the 'athletic' body type and celebrities like Kate Hudson and Gweneth Paltrow have this kind of figure. The best styling tip for people with this body type is to amplify their waistline. Any soft fabric is worn with a belt, or mid-waisted trousers and belted jackets are all great options.
The Apple Or Round Shape:

The round shape body type can be a tough one. Individuals with this body type have a broader upper body and a waistline with no definition. The best styling tips would be streamlined and straightforward tops and jackets. Tailored tops, well-fitted but not too skin-tight jackets will do wonders. Don't go for shoulder embellishments, and try to bring out your legs. Legs are great in this body type, so pencil skirt, straight jeans all look fabulous on a round-shaped body. Try keeping your upper and lower body in the same ratio while choosing an outfit.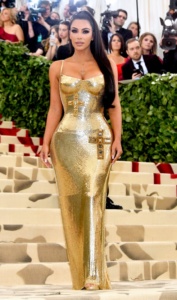 The Pear Or Regular Triangle Shape:
This body type is identified with a wider lower half. Kim Kardashian or Jennifer Lopez have this body type. People with this body type can go for tops that highlight their upper half. For example, necklines like the sweetheart or boat neck necklines allow their shoulders to look wider. They can also try to add volume to their upper body by wearing layered tops. However, ditching long or crop shirts is amongst the essential styling tips for them. 
The Hourglass Shape:
Though Marilyn Monroe is the most celebrity having the perfect hourglass body, celebrities like Beyonce and Dita Von Teese also have this body type. You'd want to wear clothes that bring out your waistline in a perfect way. The waist is the slimmest part of this body type. One must avoid baggy clothes. If one wants their bust to look less fuller, you can go for a boat neck or scoop neck. Wearing turtleneck tops can cause the opposite effect.
Conclusion
Looking for outfits according to one's body type can be challenging. First, they need to take measurements of their body and then look for specific fashions for their body type. The overall job can be very tough, but the result is almost always fascinating. 
---
That was it about today's post. Hope you liked reading our styling tips for every body type and gathered some information from it. Catch you up in my next one. Bye!