Hello, beauties! Thank you for taking your time out to read my post. At the beginning of this year, I promised myself to start writing in new categories on this blog so that you guys do not get bored of the content I share. I did a small analysis of the content and I noticed that despite this being a beauty and fashion blog, I post more beauty related posts than fashion posts. This year, I am determined to post more fashion related posts for you. This thought gave me a beautiful idea. We all envy the closets of our favourite stars or the outfits they wear in a particular movie. So, I thought of decoding their styles for you and find you similar but inexpensive items so that you get inspired by or replicate the outfits yourselves. The internet is full of these types of articles. I love reading them and even got inspired by some of them when I was a teenager. So, I thought of creating the same for my own lovely readers. From now on, I will be decoding celebrity styles in different movies and post them under the 'Celeb Style' category. Today's post will be all about decoding Shraddha Kapoor's style in the movie Ok Jaanu.
I loved Shraddha Kapoor's style in Ok Jaanu. The movie is out and a lot of you must have watched it. I haven't watched the movie yet. I have watched the trailer a couple of times and loved Shraddha's signature style in the movie. From her makeup to her wardrobe, it is all about basics and casuals which I loved because it is quite similar to my own style. I always prefer wearing casual and comfy clothes whenever I go out. In this post, I will list some of the outfits that Shraddha wore in the movie and will also link the similar items that you can find online. So, let's start-
1. Basic White Tee/Shirt & Blue Denim
The two things you should always have in your wardrobe is a basic white tee/cami and shirt and a pair of blue jeans and you are sorted. These items come in handy in every situation. You can dress them up or down, mix and match, pair it with anything. Here are the similar items that I found. (Direct links to the items provided below.)
Get the Look:
White Shirt// 2. Blue Skinny Fit Jeans// 3. Basic White Cami
2. Overalls/Jumpsuits/Playsuits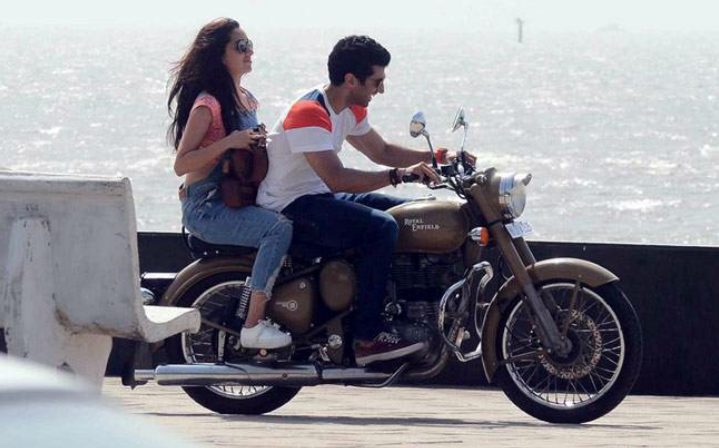 Jumpsuits/Playsuits/Overalls give your wardrobe another element. These things are fun and suitable for any casual event. They are extremely comfortable to wear that's mostly why they are liked. Here in this snapshot, Shraddha is wearing a cute pink crop top, a denim overall and a pair of wedged sneakers. Here are the similar items that I found- (Direct links to the items provided below.)-
Get the Look:
Crop Top// 2. Denim Overall// 3. Backpack// 4. Wedged Sneakers
3. Chequered Shirt Dress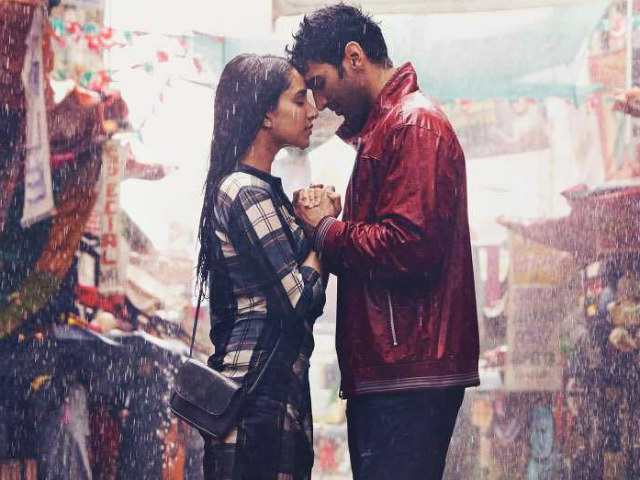 Shirt dresses are another cool thing in your wardrobe. They can be chic and sporty at the same time. 2016 was all about shirt dresses and t-shirt dresses. I loved Shraddha's chequered shirt dress in one of the posters. Here are the similar items that I found (Direct links to the items provided below.)-
Get the Look:
4. Graphic Tee & Flared Skirt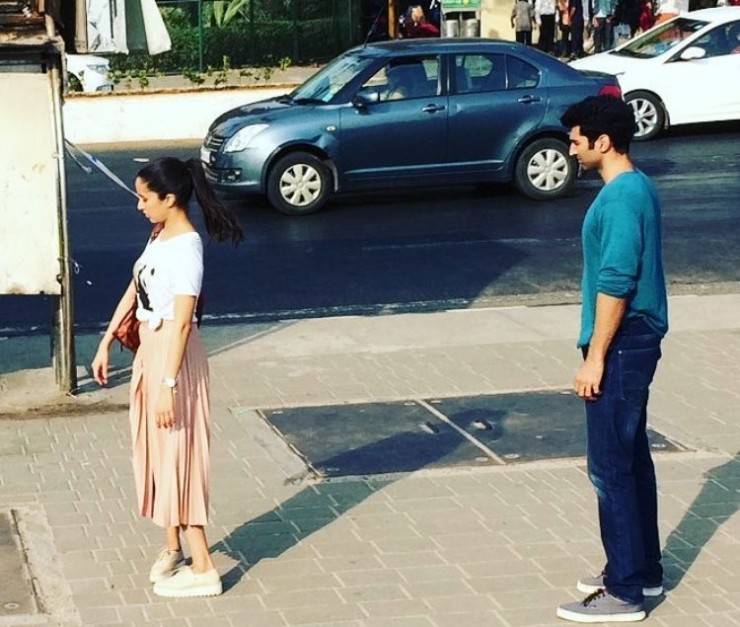 The next outfit I am going to talk out is this cute graphic tee and flared, pleated skirt combo. I am not much into skirts but whenever I see these type of combo I love it. It is very basic, very casual yet it has something chic and classy that makes it perfect for a lot of events. Here are the similar items that I found- (Direct links to the items provided below.)
Get the Look:
Graphic Tee// 2. Pleated Midi Skirt
 5. Classic Black and White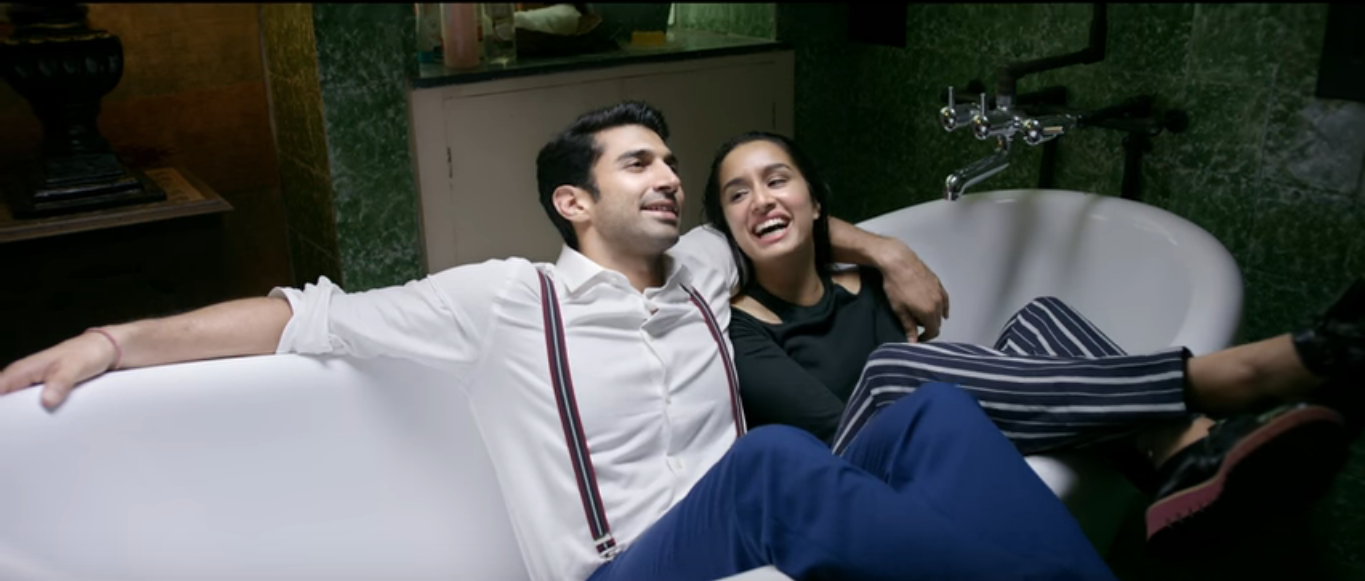 How could we conclude without giving a tribute to the classic black and white combo! Black and White does not only give a retro look but also it has the edge and class we always look for in an outfit. No matter what occasion it is, not matter what place it is, work or party, nothing can beat black and white. One of the poster's had this killer outfit by Shraddha Kapoor and I am absolutely digging it. In this picture, Shraddha is wearing a black cut-out top and a pair of black and white vertical striped trousers. As we cannot see the outfit properly, let's assume she has worn a crop top and straight cut trousers. Here are the similar items that I found- (Direct links to the items provided below.)
Get the Look:
Cut-out Crop Top// 2. Oxfords// 3. Striped Trousers
As I said earlier, I loved Shraddha Kapoor's Signature look in Ok Jaanu. I loved how she has maintained the minimal yet chic style. I also loved the fact that all the outfits shown in this movie can easily be found in everybody's wardrobe. Through this post, I tried to help you find the similar outfits worn by Shraddha keeping is as much budget-friendly as possible. Let me know which of these outfits you liked the most.
Will you be re-creating any of her looks?
---
That was it for today's post. I hope you liked it. Make sure to share this post with your family and friends if you did. Do subscribe to our Newsletter so that you get notified whenever there is a new post on the blog. I'll talk to you in my next post. Till then, be safe & keep smiling! Follow me on Facebook, Twitter or Instagram for regular updates. Add me on Snapchat for more fun and a sneak-peek of my life.