I have been travelling a lot for the past couple of months. Be it long vacations or short trips, I am someone who enjoys train journeys more. If you are quite familiar with Indian train journeys then you know how hard it is to maintain hygiene while travelling. Thank God, I had the Himalaya PureHands hand sanitizers with me to save me from consuming bacterias and other germs.
Dirty hands can lead to a lot of diseases, especially related to stomach and intestines.  Hand sanitizers are a must-have whenever you are going out of your home. These are the best discovery ever!
Recently, I was sent 5 variants of the Himalaya PureHands Hand Sanitizers and today I am going to review the range for you.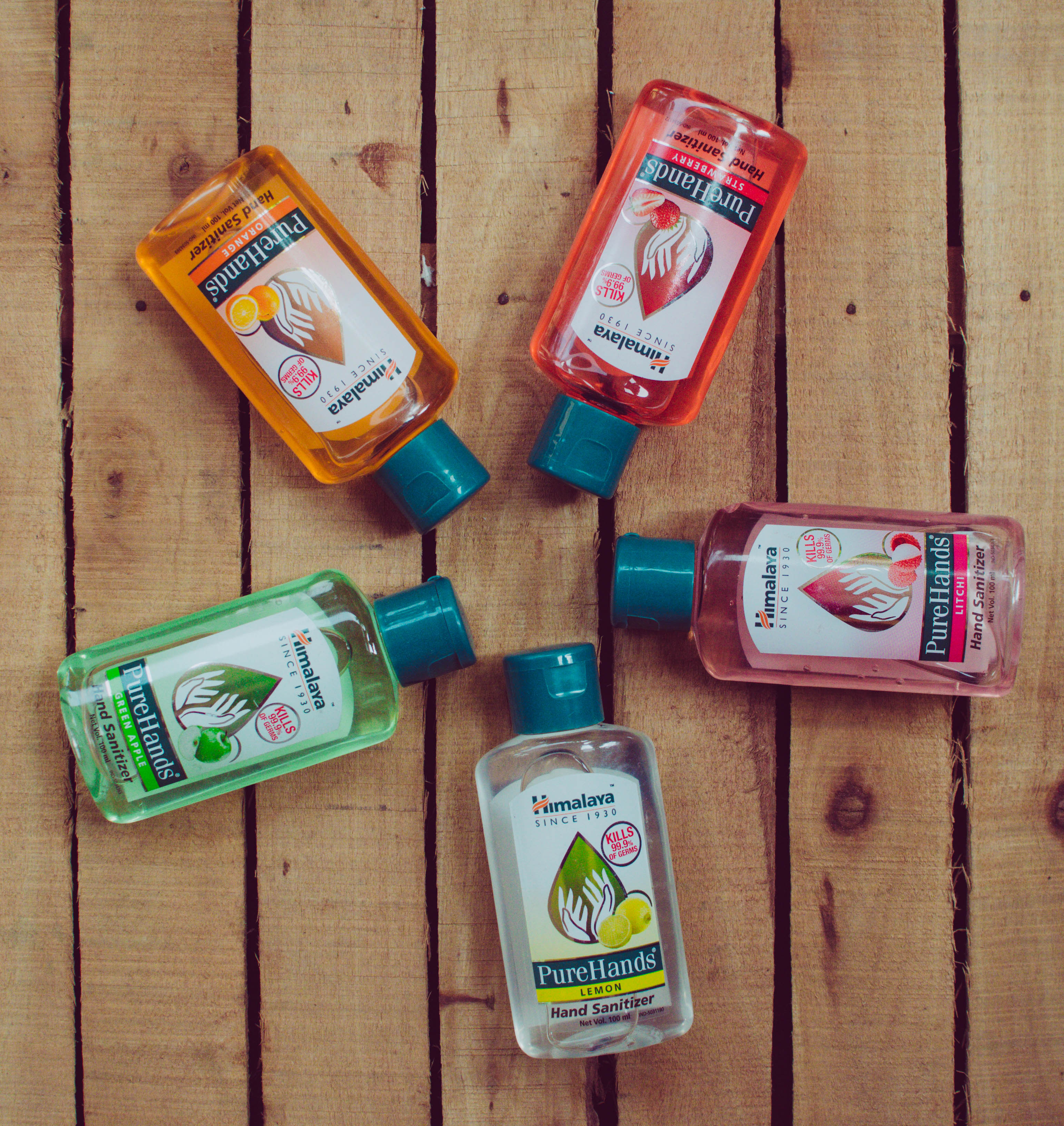 What it does:
The first of its kind, Himalaya's PureHands is an effective, herbal, alcohol-based hand sanitizer, which kills 99.9% of germs, prevents infection, and ensures total hand hygiene.
PureHands contains extracts of herbs like Coriander, which have potent antimicrobial properties and Lime, which is a natural bactericidal. In addition, the active ingredients of Neem, which are antibacterial, fungicidal and antiviral, safely keep viruses, bacteria and fungi at bay.
Key ingredients:
Hrivera is a strongly aromatic herb, which has antibacterial, deodorizing and cooling properties. It also softens hands.
Coriander is derived from the oil of a herb called Oil Coriandrol. The fruits of the herb possess antimicrobial and astringent properties.
Lime is a rich source of vitamin C. It protects the skin from oxidative damage and helps prevent itching. The oil of lemon warms the skin when applied externally. The juice also has bactericidal and astringent properties.
Ushira is an astringent and antibacterial herb. When applied externally, it removes excess heat from the body and provides a cooling effect.
Neem extracts possess antibacterial, antiviral and antifungal properties. The tree stem, root and bark have astringent, tonic and antiperiodic properties. Neem is used to treat skin diseases.
Directions for use:
Squeeze approximately 0.5 ml (coin-sized drop) of the gel on your palms. Rub well over the palms, back of hands, fingernails and grooves briskly, until dry. No water is required after use.
Price: ₹90 for 100ml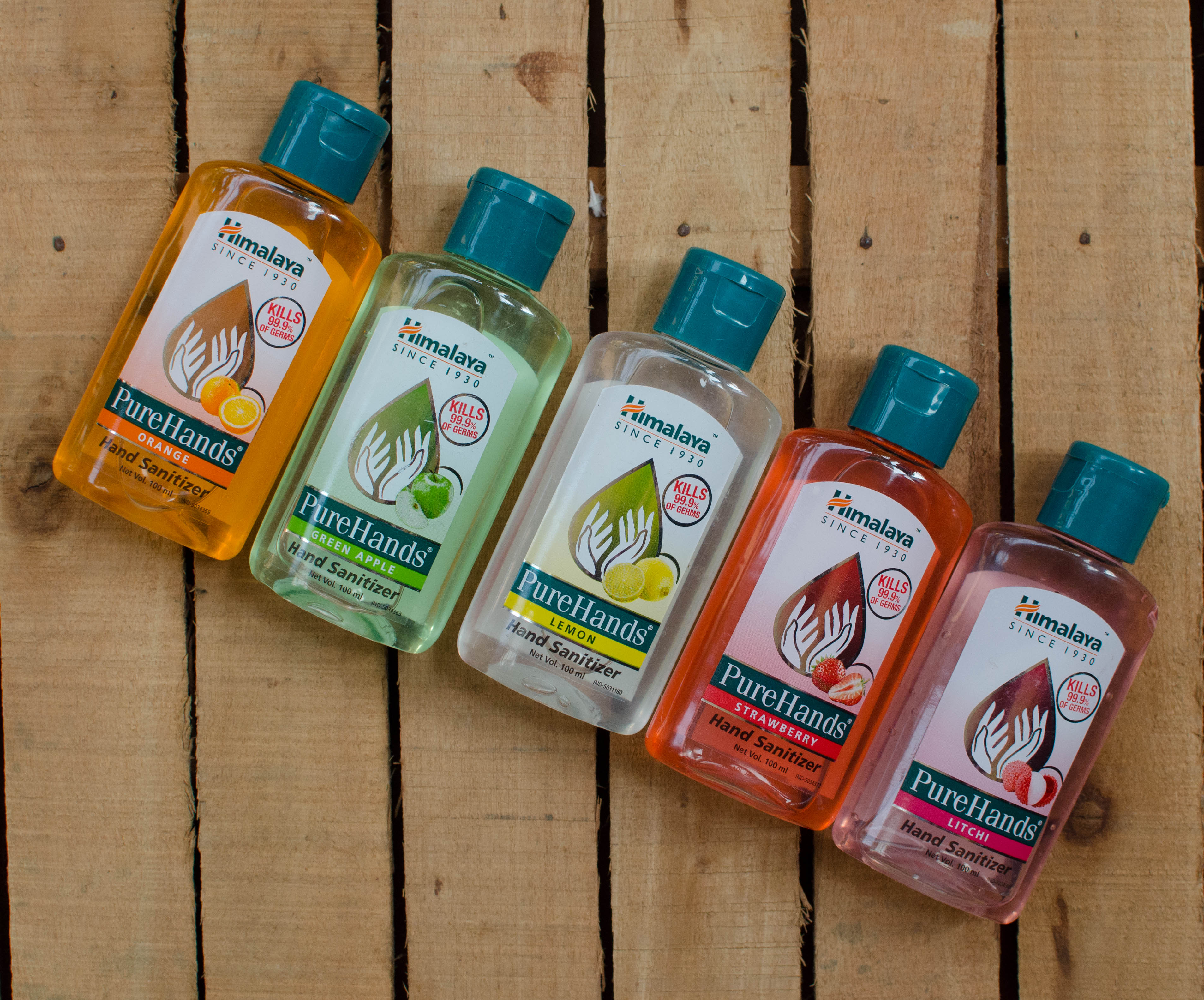 Variants: Himalaya PureHands sanitizers come in 5 fruity variants- green apple, litchi, strawberry, lemon and orange.
My Experience with Himalaya PureHands Hand Sanitizers
Himalaya PureHands Hand Sanitizers come in little 100ml plastic bottles with flip-open caps. The bottles are transparent so that you can keep a tab on how much product you're left with. The labels are colour-coordinated with different variants. Overall, the packaging is pretty convenient and travel-friendly.
The 5 variants of the sanitizers smell very fruity like they are intended to do. The fragrances are a little bit on the stronger side in my opinion which is ok because it works well to get rid of any remaining smell of the food you've eaten. Among the five my most favourite is the Litchi one (the one I am using non-stop since I got them) and least favourite would be the Green Apple one.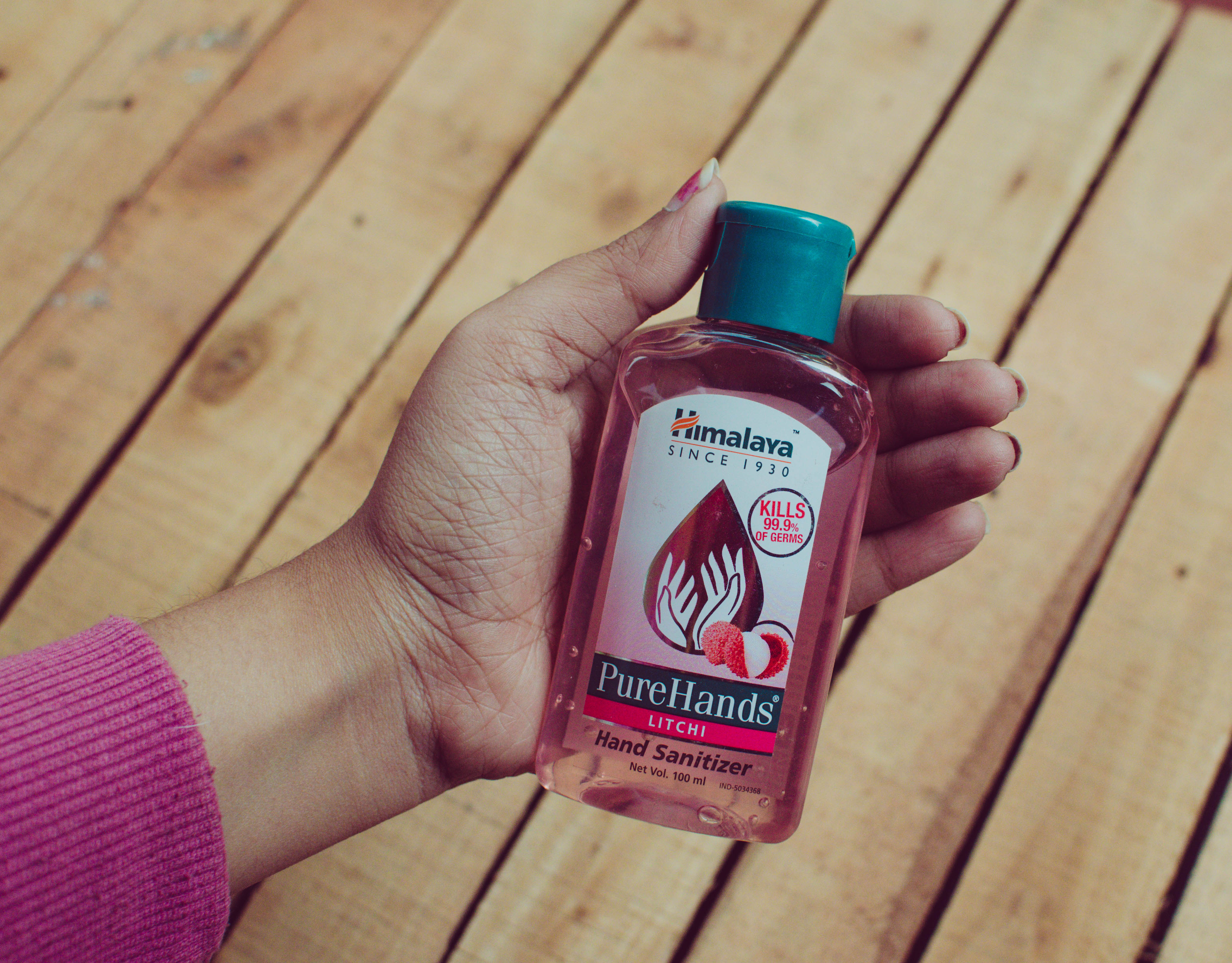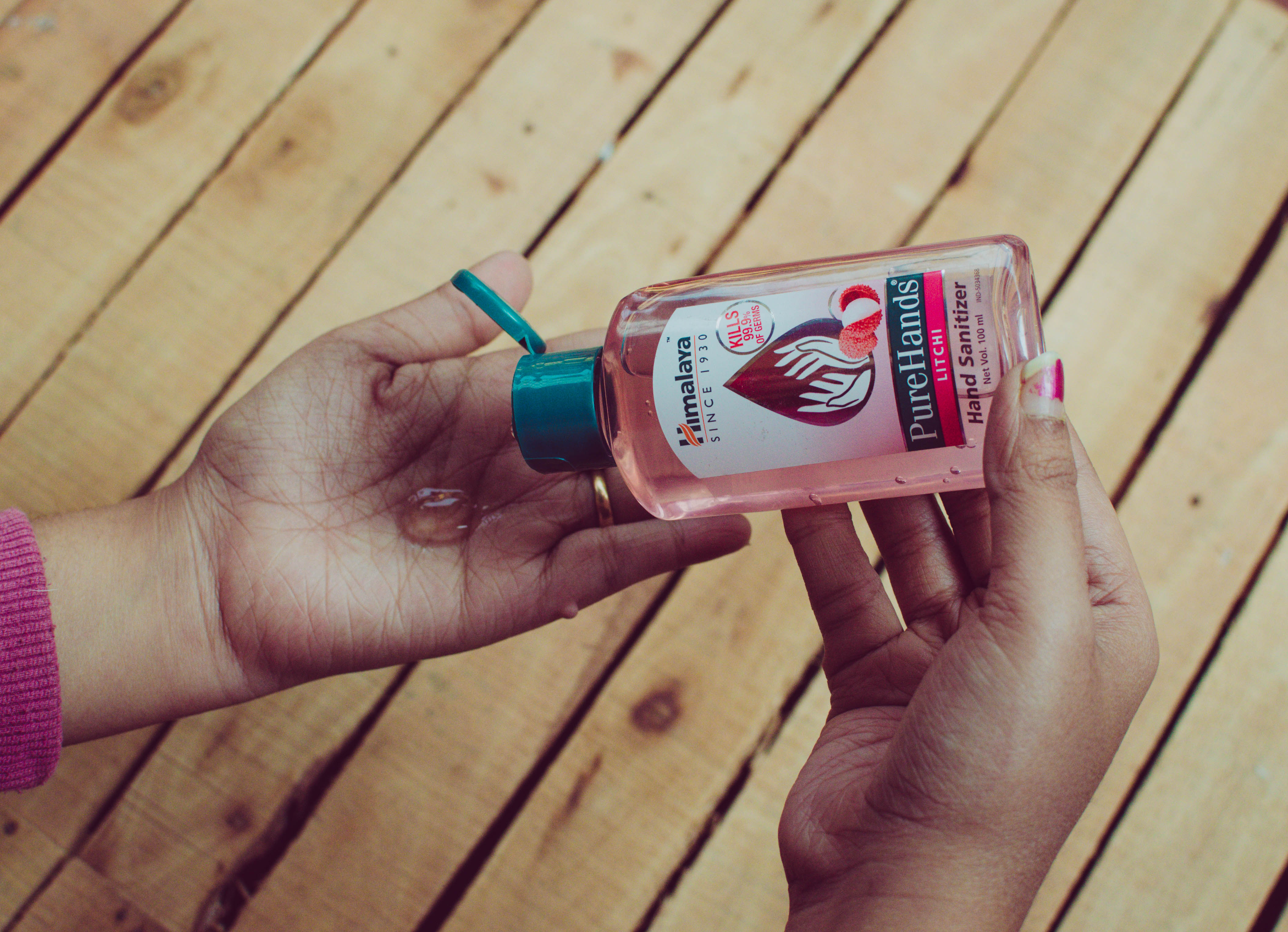 The product has very thick, gel-like consistency so you need a very less amount to work on your palms. A drop is enough for me. Also, it absorbs quickly in your skin without making it dry despite containing alcohol. It doesn't cause stickiness either.
I think the Himalaya PureHands sanitizers are priced at a decent rate for the quantity and quality. They are made of 100% natural ingredients which makes it safe to use on children* (*under adult supervision).
I highly recommend you guys to try them out!
---
 That was it for today's post. I hope you found this post helpful. Make sure to share it with your family and friends if you did. Pour in your thoughts in the comments. Your comments encourage me a lot! Do subscribe to our Newsletter so that you get notified whenever there is a new post on the blog. Will talk to you in my next post. Till then, be safe & keep smiling! Follow me on Facebook, Twitter or Instagram for regular updates and also Subscribe to my YouTube Channel!