Hi, guys! Happy Tuesday to all of you. This is going to be the first OOTD of 2017 and I am really excited about it. I have not done an outfit post in a long time so, I think it would be exciting to you too! Today's post is in association with Indian Bow Tie Company which is a brand that makes the quirkiest bow-ties from different fabrics and they are extremely stylish.
Let's start this post by writing a little bit about the brand, Indian Bow Tie Company. As their website says, "Indian Bow Tie Company is an exclusive brand based out of Jodhpur, India. We offer you a wide range of hand-made bow ties. We're a bunch of people just trying to provide a solution to anyone looking for the perfect bow tie for any occasion." All their bow-ties are handmade and exclusively designed. You get a vast range of products to choose from. These bow-ties are made of different materials like cotton, satin and wood. Their products are so versatile that you can pull them off for any occasion from casual to formal and add some edge to your outfit. You can also customise your bow-ties as per your own taste. Check out their website to find a few for yourself!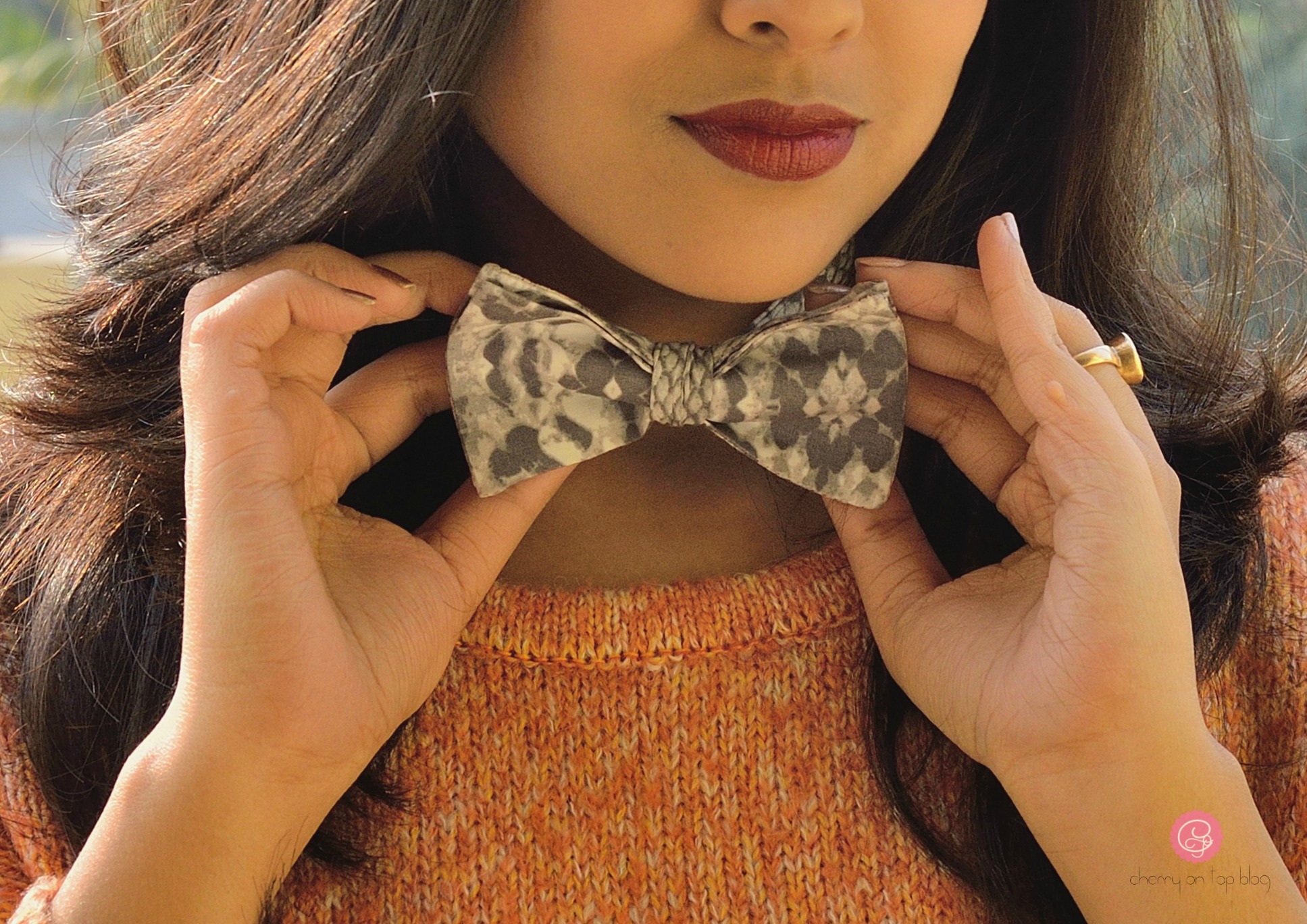 In this post, I am going to show you how I styled my bow-tie that I got from the Indian Bow Tie Company. First of all, let me tell you a little bit about this bow-tie. So, this bow-tie is from their new collection which is the 2016 collection. I really love the snakeskin pattern on this. This particular design had been everywhere throughout 2016- from shoes to purses to dresses. I feel this design gives a very edgy and classy look to the entire outfit. This snakeskin bow-tie is made of pure cotton fabric and has buttons on the two sides as closure.
Now, to my outfit. I wore this full-sleeved oversized sweater and paired it up with a pair of slightly faded blue jeans. I really loved the colour of the sweater. I had worn too much black for the past two winters so I thought of bringing back some lively colours to my life (read closet). I love baggy, oversized sweaters. They are the comfiest thing in the world. This particular sweater has thickly knitted and keeps you warm and cosy.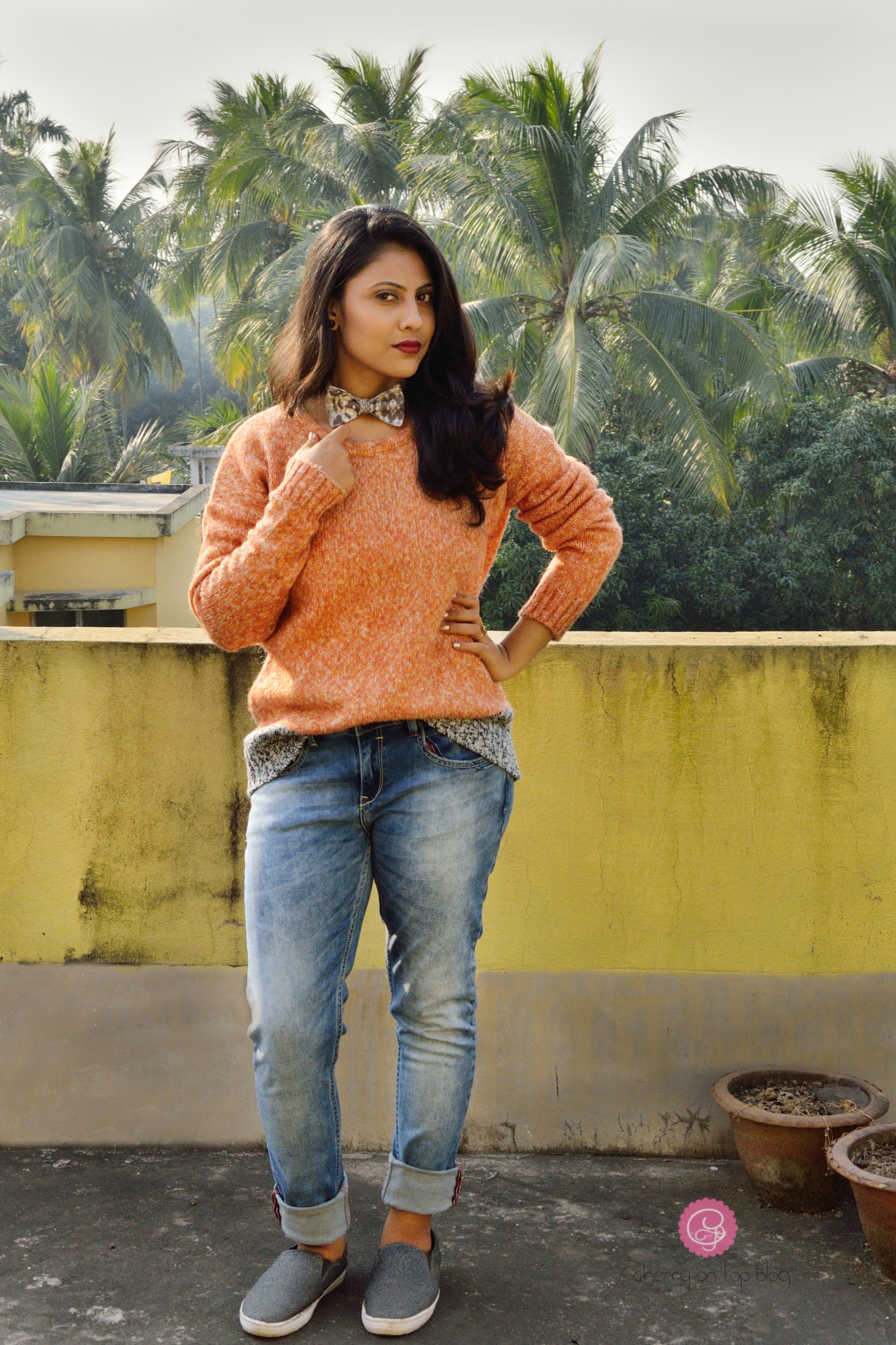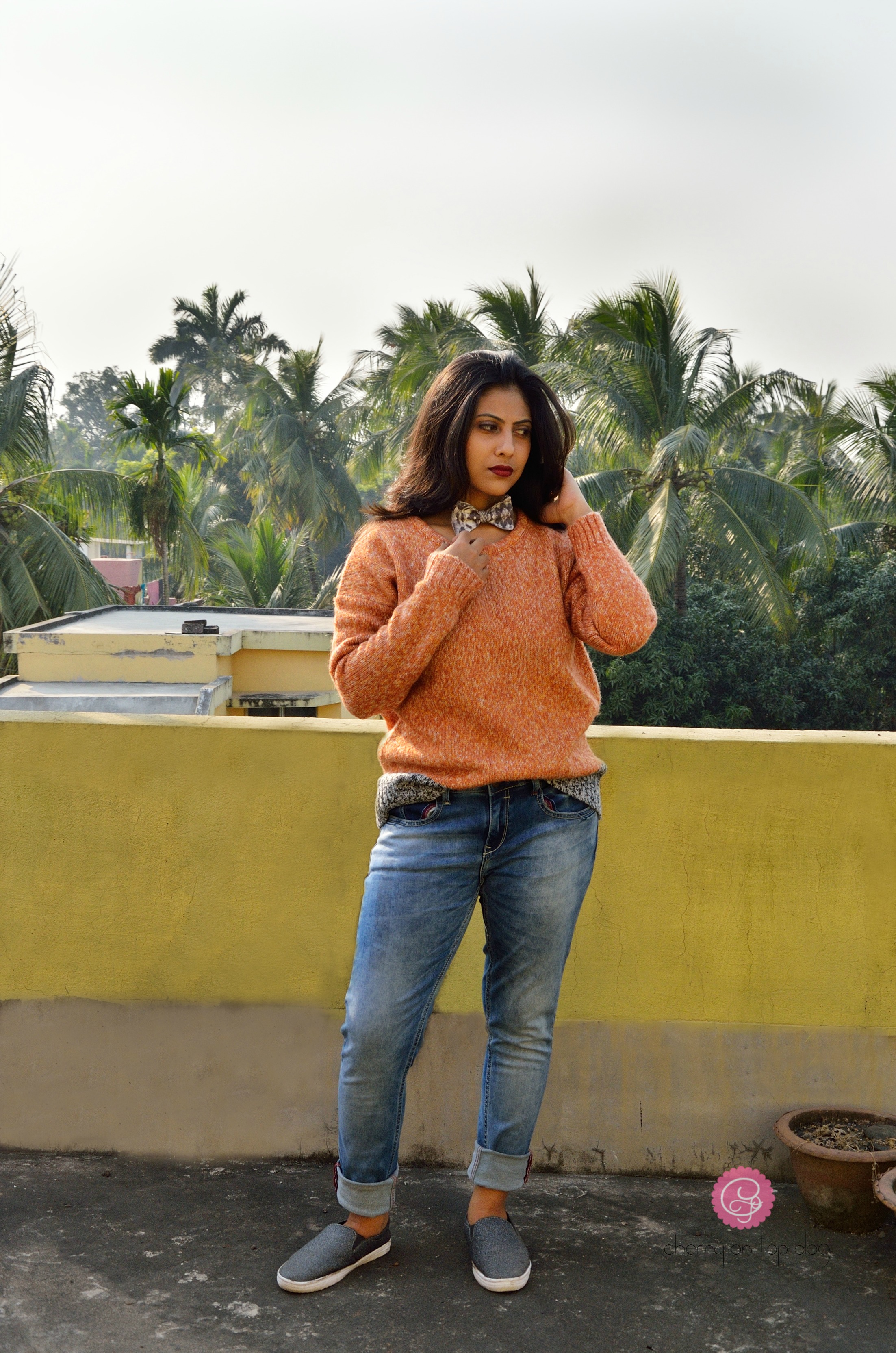 The jeans have a great fit. They are not too tight or too lose. They are just perfect for me.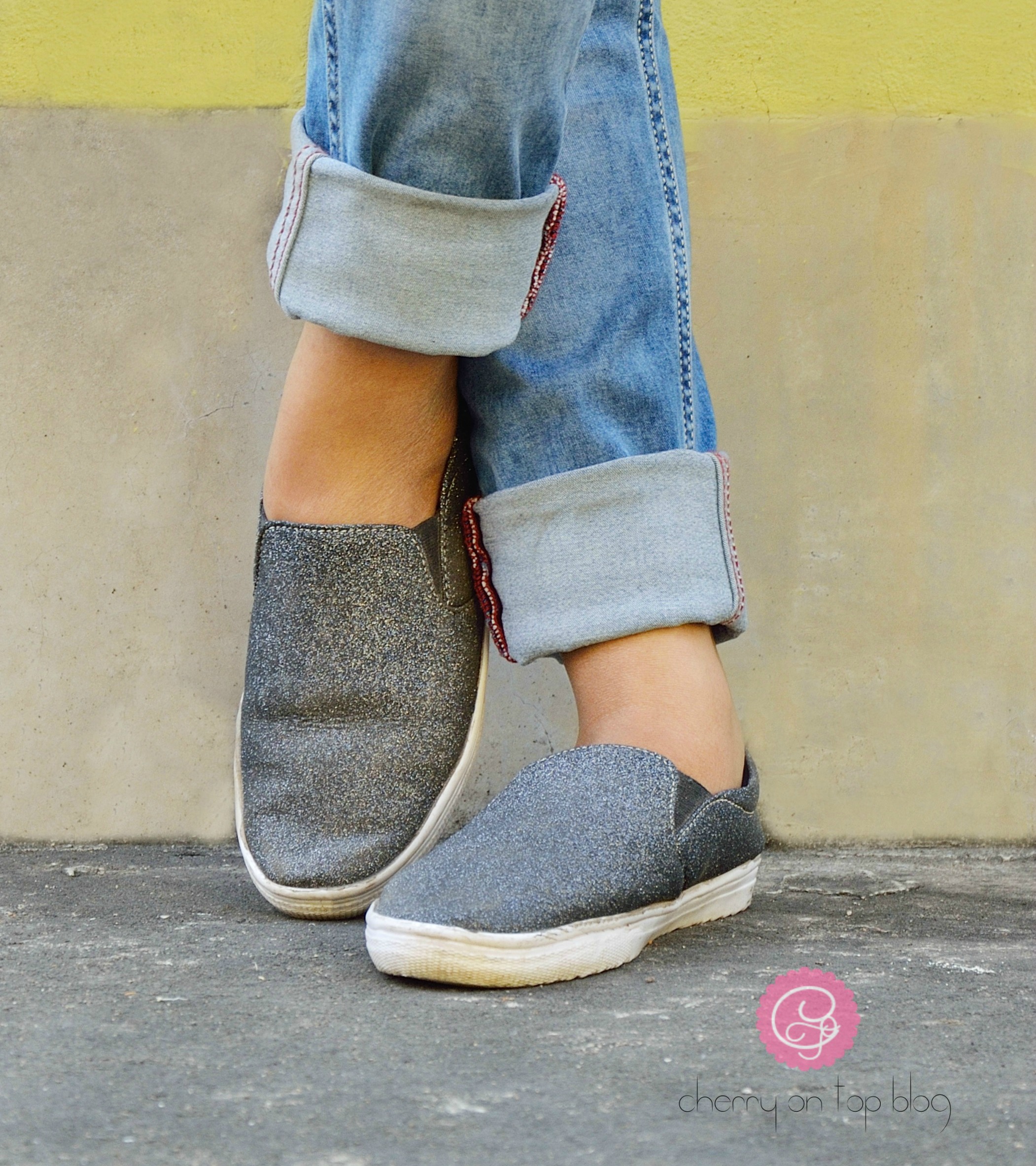 The shoes I am wearing are just regular sneakers that have some glittery effect to them. These are the shoes that I literally lived in since I got them.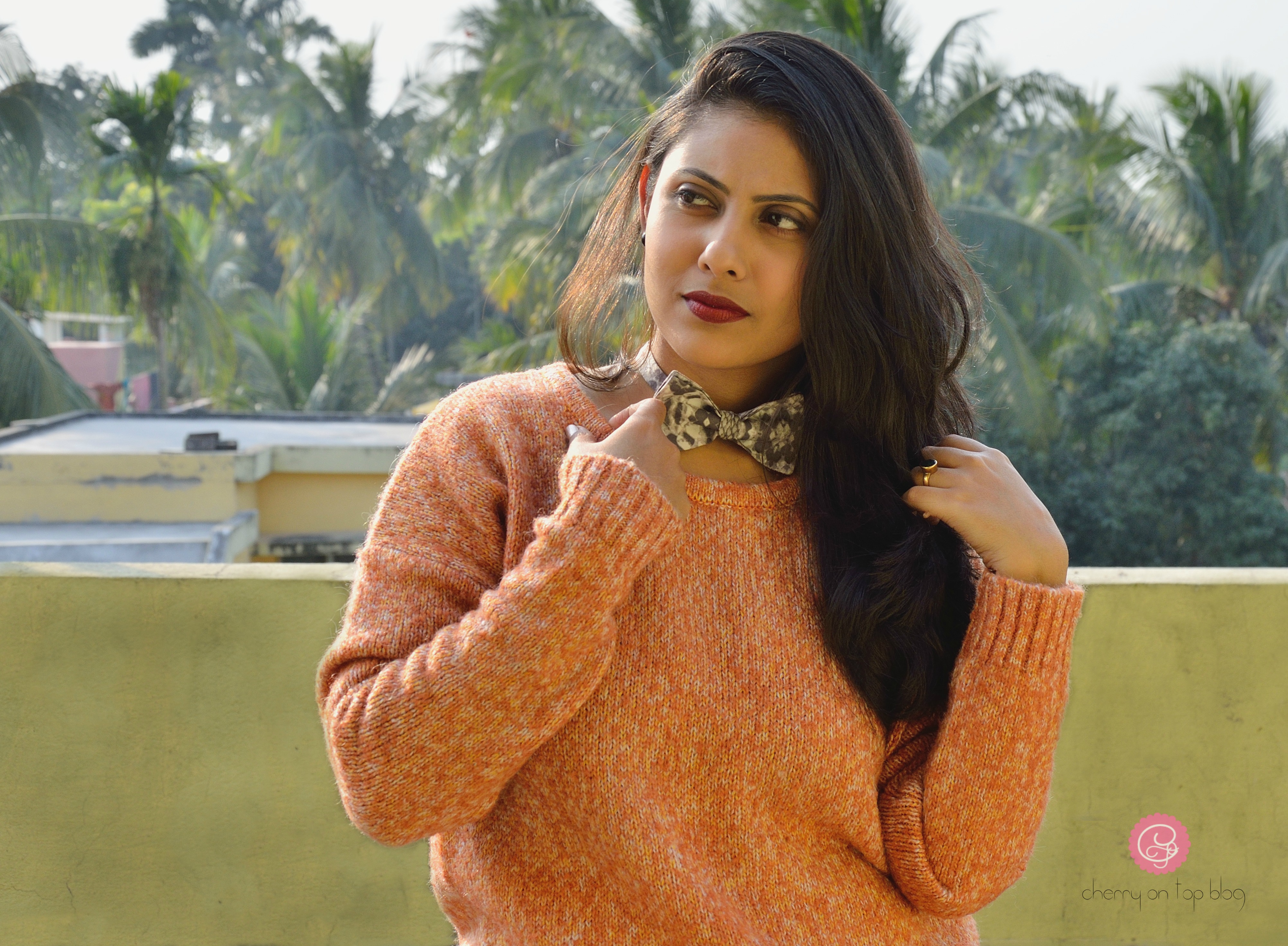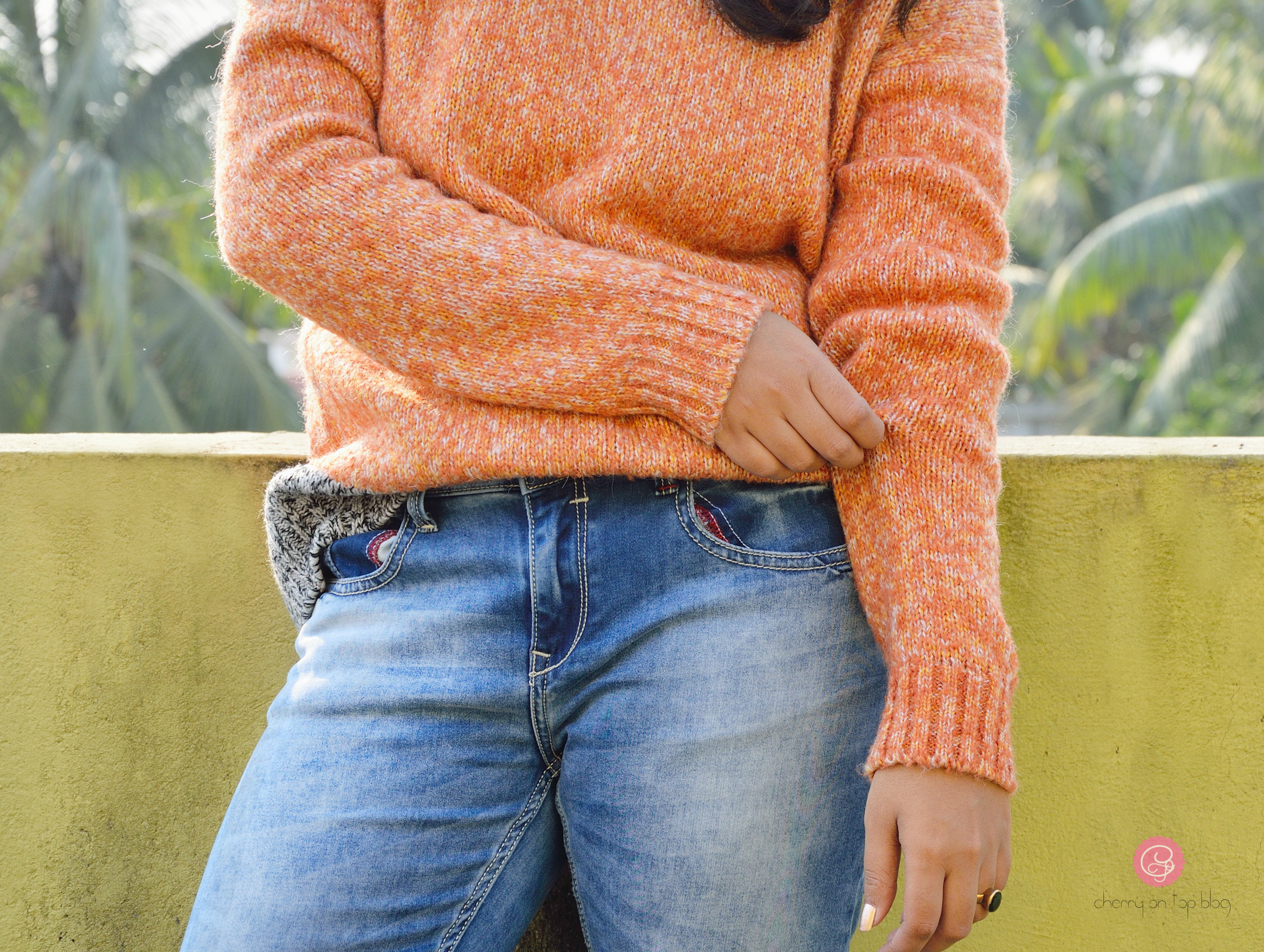 The best thing about the Indian Bow Tie Company bow-ties is that they can be used in so many different ways. You can wear this with a basic shirt or a shirt dress to give it an oomph or you can wear it as a choker. It's totally up to you. We have always seen a bow-tie as a formal accessory, mostly related to men's fashion, but that's not the story. There are so many ways women can flaunt a bow-tie, that too with style and class.
~Outfit Details~
Sweater- Shuffle (Jabong)
Jeans- Lee Cooper (Brand Factory)
Shoes- Amazon
Bow-tie- Indian Bow Tie Company
---
That was it for today's post. I hope you liked it. Make sure to share this post with your family and friends if you liked it. Do subscribe to our Newsletter so that you get notified whenever there is a new post on the blog. I'll talk to you next week in my next post. Till then, be safe & keep smiling! Follow me on Facebook, Twitter or Instagram for regular updates. Add me on Snapchat for more fun and a sneak-peek of my life.