With just a couple of kurtis and a few pairs of leggings or trousers, your dressing needs can be sorted for a few months, and you will also not worry about looking great in what you have worn. Kurtis is one of the most preferred dress type for many Indian women because they are not just comfortable, but also versatile.
They are not just a darling to the middle-aged women, but you will find old ladies, college girls and children also loving them in equal measures. The rayon Kurtis, in particular, is one of the most preferred Kurtis amongst the Indian women and with it comes to a wide range of types and styles that allows every woman the pleasure to look at their very best during any occasion. But for you to enjoy having your Kurtis on at all times, and to tap into the power of their versatility, it is imperative to know how to style them the correct way.
To help you out, here is a look at some of the rayon Kurtis types and the various styling options you can use so that you can always be amazing every time you have them one:
Tail cut rayon Kurti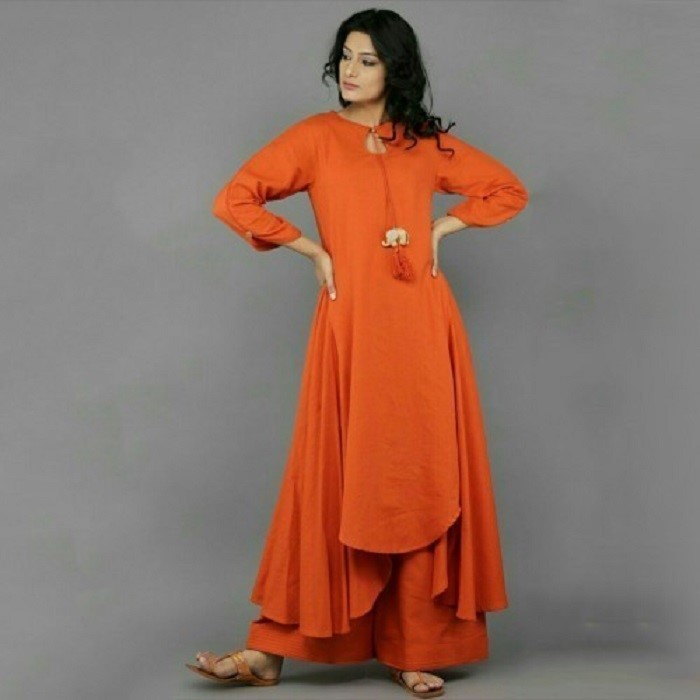 If you have any asymmetrical Kurtis, then you will find great similarity between them and the tail cut Kurtis. Just as the name suggests, these Kurtis are designed with a slightly longer back which creates the impression of them having a tail. This particular design makes them ideal for anyone who desires to bump up their style instantly and immediately become the centre of attraction.
It is best suited for young to middle-aged women who are tall, petite or have body shapes such as triangle, pear or hourglass shapes. It works well for occasions such as parties and casual events, but if you are attending a formal or an official event, then the tail curt Kurtis may not be the most suitable choice. On accessories, it works well with jeggings, leggings or any bottom that has a full length.
High low cut Kurtis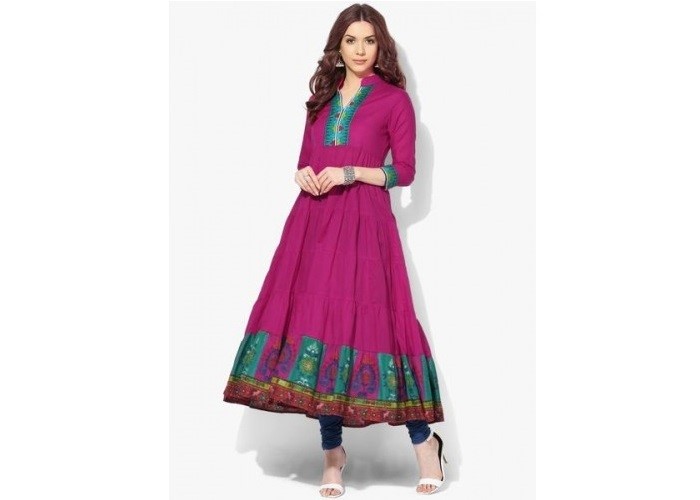 High low cut kurtis is another variation that falls under the asymmetrical bucket classification, though they don't have any specific definition, only that they feature a straight hemline. This is the right kind of Kurtis for you if you are a young or a middle-aged woman of any body type. It is ideal for wearing if you are attending either formal or informal events. Due to its versatility with bottom combinations, it is a popular choice for many college girls in India and other places around the world. As far as the accessories go, you can use it with leggings that are either tall or just at ankle length. They will also work very well with printed treggings and jeggings.
Flared Rayon Kurtis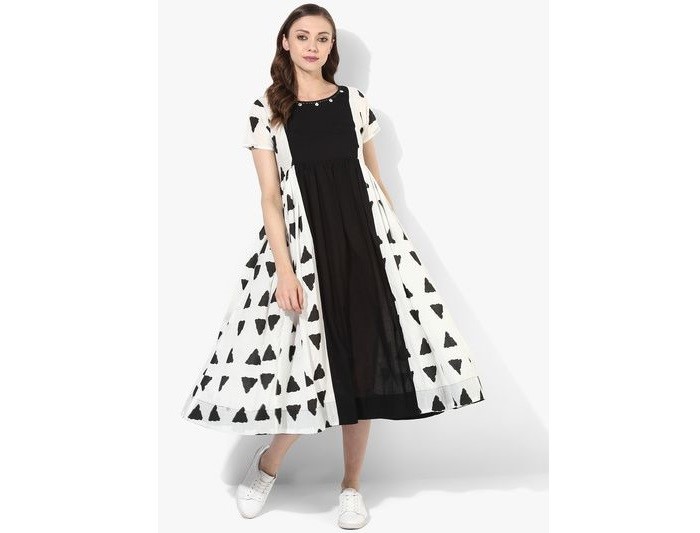 If you like flared dresses, then you will instantly fall in love with the flared rayon Kurtis. It is the right kind of Kurti if you are in love with chic and elegant looks. With their designs, they can gracefully swing both ways and this makes them ideal for both informal and formal wears. They have a hemline which opens up on either side and this gives them a little bounce you walk in them.
As one of the most attractive Kurtis designs, they are very popular with young and middle-aged women who are tall and have body types such as triangles, round or pear. For the accessories, they will work well with leggings, jeggings and anything long enough past the ankles. Whether you need a daily wear or something for college or office, you will not be disappointed with the flared rayon Kurtis. Stylecaret will help you find your Kurtis with the best prices.
 Kaftan style Kurtis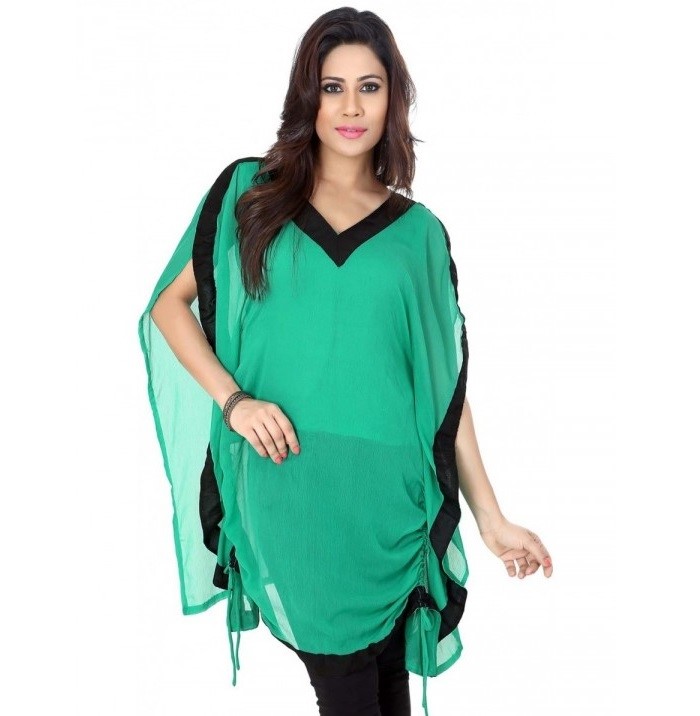 Kaftan or poncho style clothes were a great hit during the 1950s and somehow, the trend never died and now it is very strong in the Kurtis fashion industry. This design is not only comfortable but also airy and ideal for those who wish to conceal any unflattering flab. With its design, small bodies may seem to disappear in it, but if you have a small body and you find one that fits well, then you will be very pleased with them.
The Kaftan style Kurtis is most preferred to by young and middle-aged women who are tall and have a triangle, pear, and round shaped bodies. You can use it for both formal and informal events, but if you are attending an official event and you have a small body, you should avoid it because it will make you appear casual due to its size relative to your body size. For the accessories, you can always use it with full-length leggings.
Front slit rayon Kurtis
If you want a regular Kurtis to have a little twist of elegance, then you can consider going for the front slit Kurtis. What makes this design stand out is the position of the slits. For the normal Kurtis, the slits are always on the sides, but with this one, the slits are right in the front. If you pair it with palazzos, you can be guaranteed that your heads will be turning when you pass. The design bests suit young to middle-aged women who are tall and depict body shapes such as petite, pear, triangle or hourglass shapes. If you have a round body type, however, this may not be the most ideal type of wear, especially if you are attending a formal event. But as the office, party or daily wear, they will never disappoint you.
Shirt style rayon Kurtis
Shirt style rayon Kurtis is extremely popular because they are not only comfortable but also very stylish. If you are fond of wearing your boyfriend's shirts, then you can relate to this kind of Kurtis. They are a wonderful choice if you are looking for a blend of contemporary and traditional. They are well suited for young and middle-aged women with any body type. They are ideal for daily wear, college and for the office, but due to their simplicity, they may not be the right choice for going to parties. On the accessories, you will never go wrong when you pair them with treggings, jeggings, leggings, and the normal jeans.
Disclaimer: Guest Post
---
That was it for today's post. I hope you found this post helpful. Make sure to share it with your family and friends if you did. Pour in your thoughts in the comments. Your comments encourage me a lot! Do subscribe to our Newsletter so that you get notified whenever there is a new post on the blog. Will talk to you in my next post. Till then, be safe & keep smiling! Follow me on Facebook, Twitter or Instagram for regular updates and also Subscribe to my YouTube Channel!