Since the season of dryness and roughness has come, I have started taking more care of my skin nowadays. My skincare essentially consists of three primary things, cleansing, toning and moisturizing. These are the three steps I never skip on. Another thing that is very important for me is a good exfoliator. I usually like to scrub my face twice a week but I feel these days that is not enough. So, I switched on to a more powerful exfoliant than my usual one. Today, I'll be talking about my recent favourite Vanya Anaarshine Pomegranate Face Scrub.
Price- ₹845 for 30g
Available on- Flipkart and Vanya Herbals Website
About Vanya Anaarshine Pomegranate Face Scrub
Pomegranate Face Scrub is a deeply nourishing blend of pomegranate peel, orange peel, milk powder, and natural cane sugar. It uniquely formulated to resist acne and oxidation while gently exfoliating and hydrating skin.
Ingredients-
Pomegranate peel – Pomegranate peel is rich in antioxidants, Vitamins, minerals, that provides the necessary nutrition to the skin. It also works as a natural sunblock, astringent, anti-ageing agent, and UV protector.
Orange Peel- This citrus fruit contains vitamin C and acts as a natural astringent which helps you to fight with various skin problems.
Natural Cane Sugar – Naturally exfoliates dead skin and is said to fight against toxins and prevent ageing of the skin.
Milk Powder – Gently helps in skin rejuvenation, cleansing and hydration. It gives a youthful glow and smooth skin.
Mandarin oil – is added for good aroma to the scrub. It also adds to the cleansing & rejuvenating properties of the scrub.
Bergamot Oil – it is one of the commonly used ingredients in aromatherapy. It's aromatic & soothing. It has anti-acne properties.
Packaging-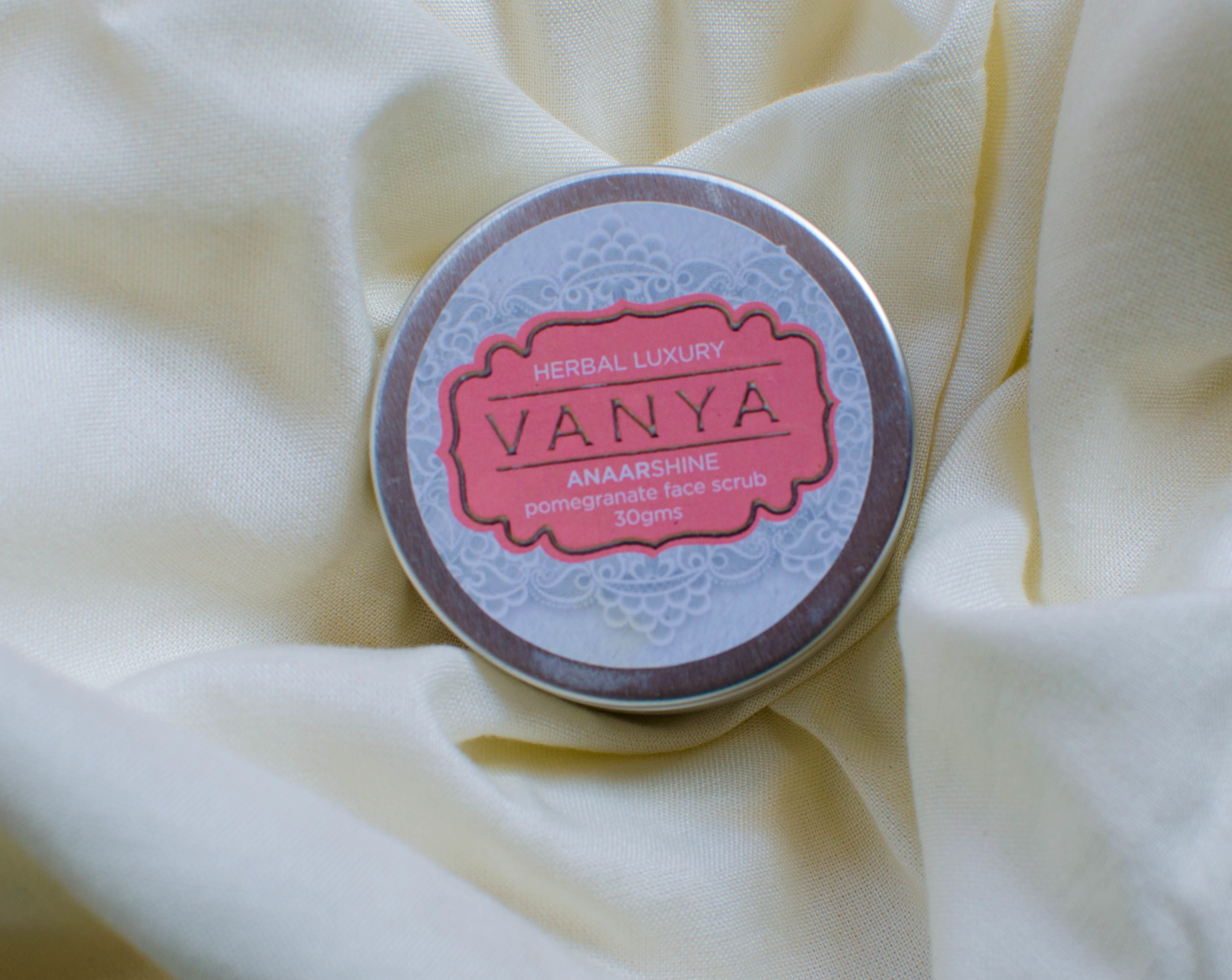 The Anaarshine scrub comes in a metallic jar with a screw lid. The packaging is definitely not hygienic. You'll have to use a wooden spatula to be safe. This, on the other hand, is completely spillproof and thus very travel-friendly.
How to Use-
Damp your face first. Take a dollop of the scrub, mix it with some rose water or plain water and apply by massaging it in a circular motion on the face and neck. Wash off with water and pat dry your face. It is recommended to use this scrub once or twice a week.
Texture & Consistency-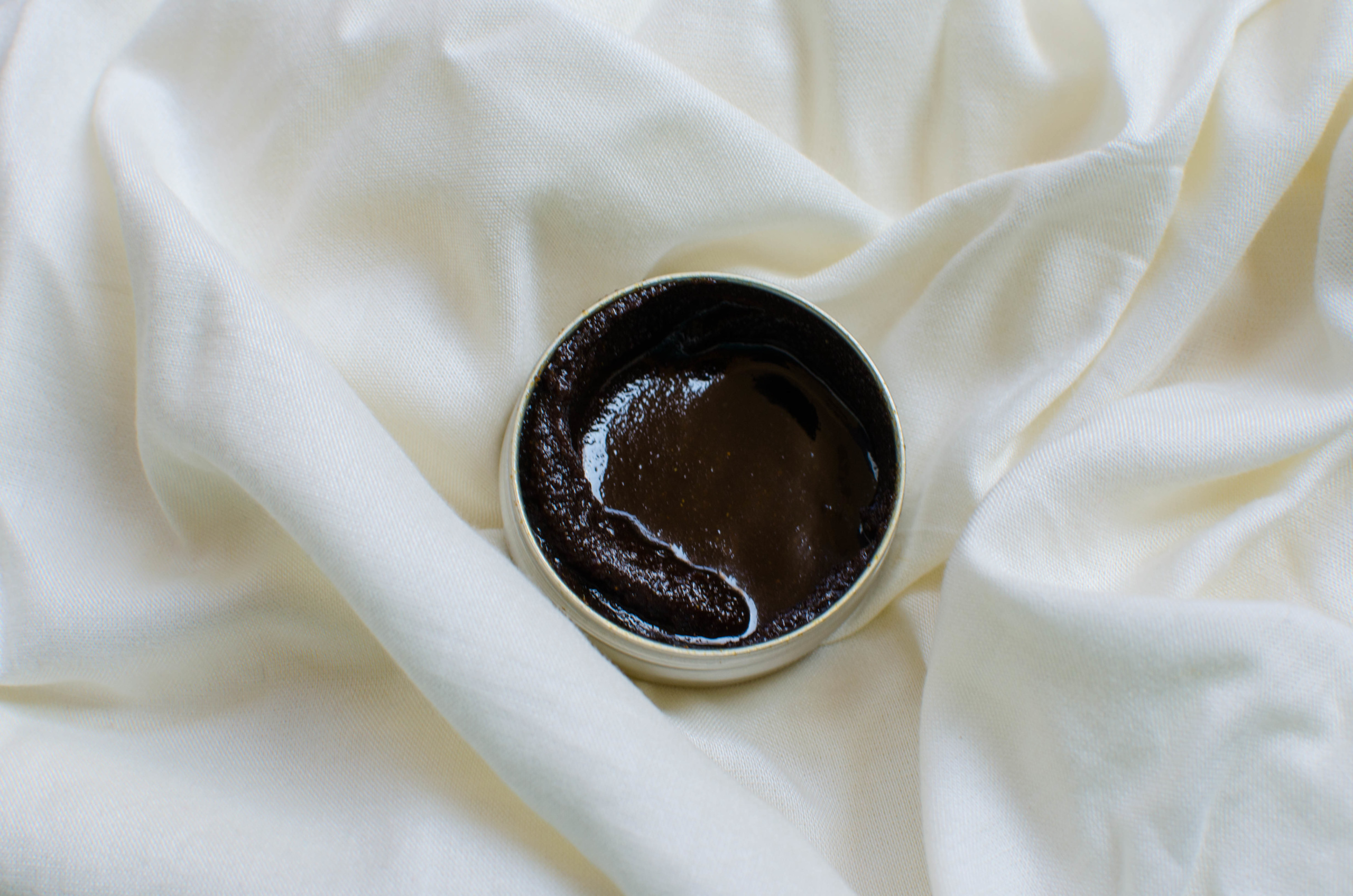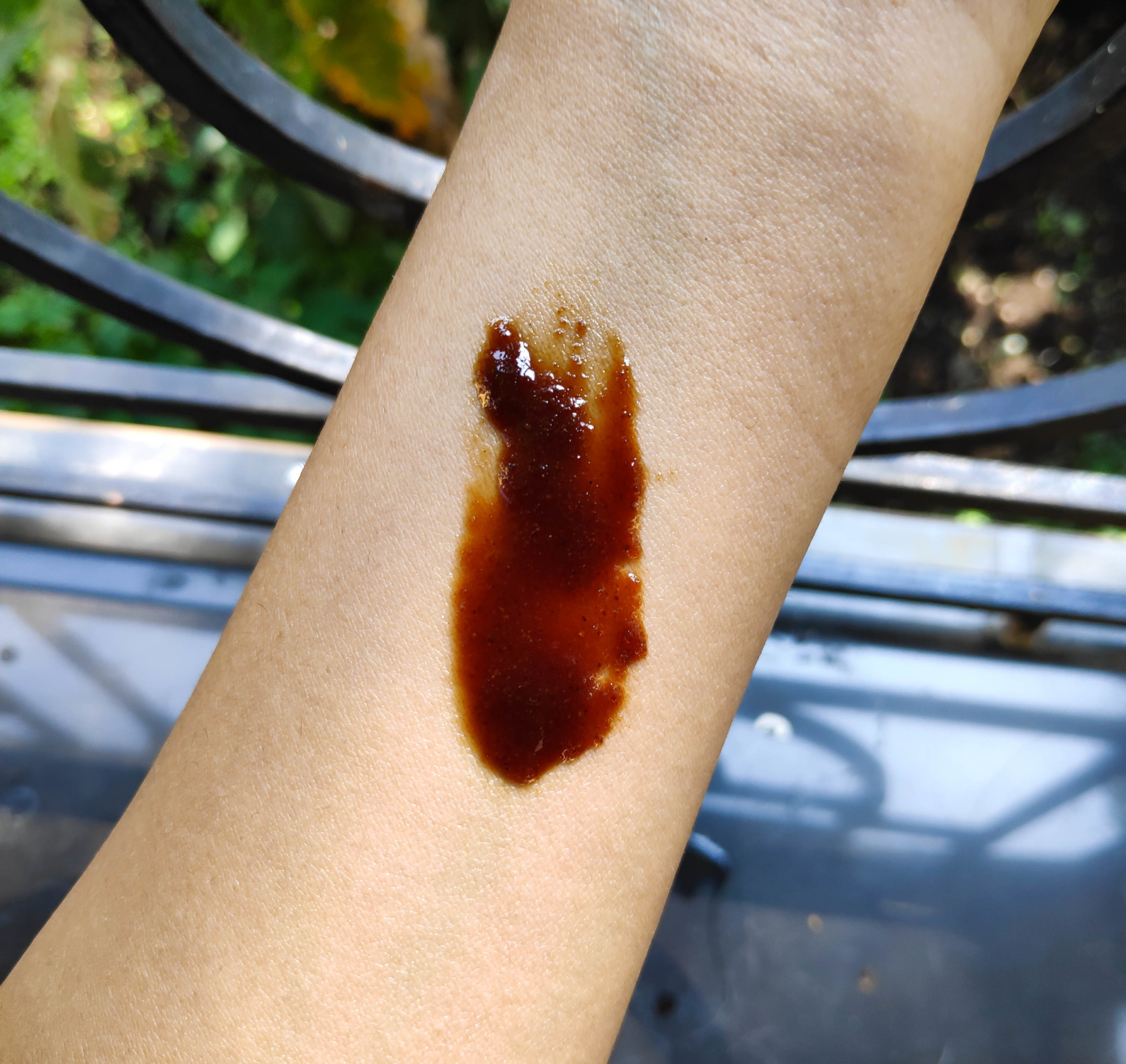 The texture of the scrub is quite granulated. The good thing is that the granules are very gentle on the skin. The consistency of it is very sticky and concentrated. It's not a cream, nor a gel but it is quite comparable to the consistency of jaggery. It is not at all sticky on the face once you add water to it. It also does not make your skin greasy.
My Experience-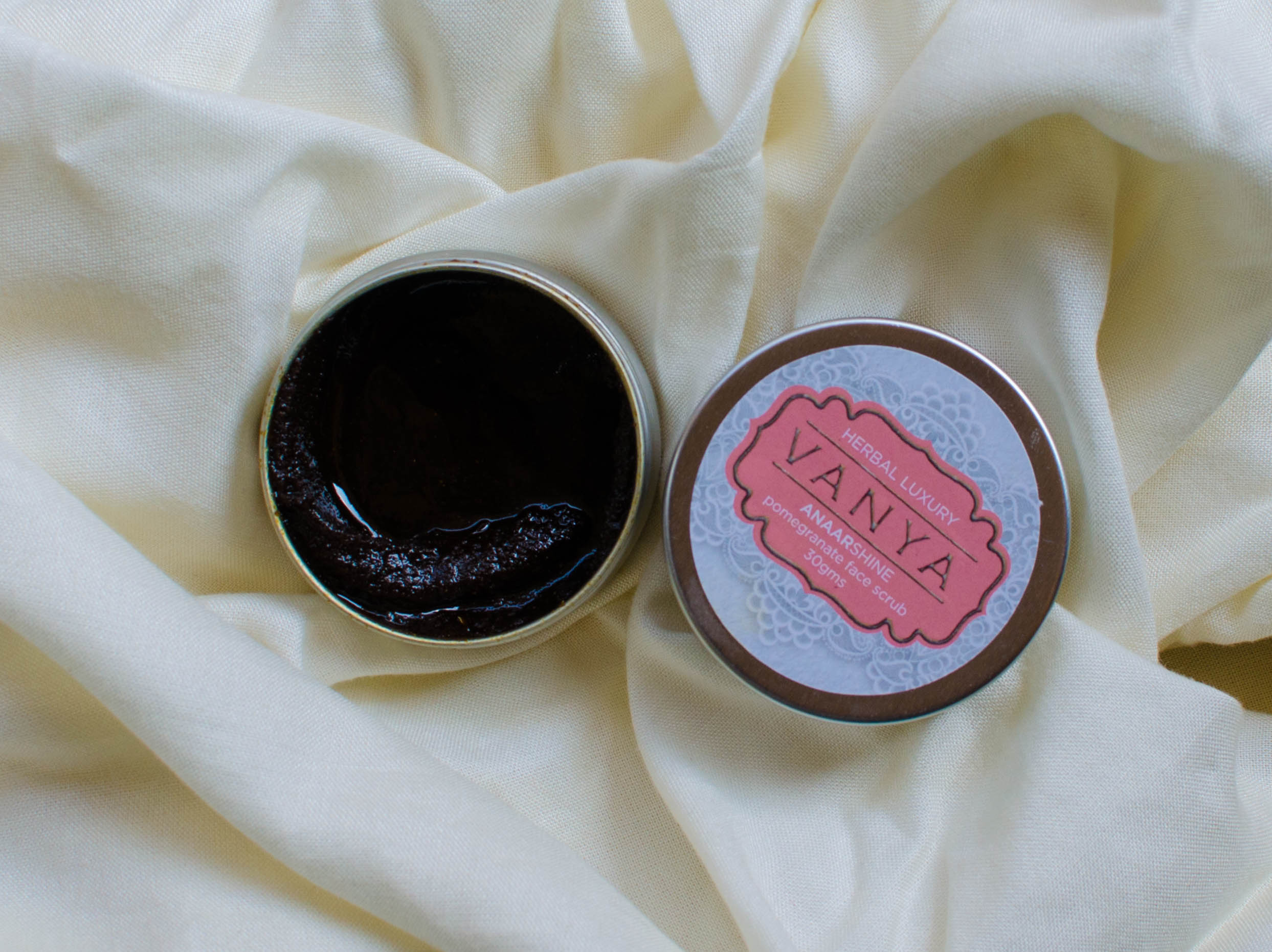 I am a fan of scrubs that are gritty but not harsh on the skin. Vanya Anaarshine Pomegranate Face Scrub is exactly how I like it to be. The scrub looks very gritty in the jar but when you apply it feels smooth and very gentle on the face. Being a very mild scrub, it can be used daily.
The product might seem quite expensive for the amount you get but it is in a highly concentrated form as mentioned earlier so you'll need a very little amount to scrub you entire face a neck. You just need to dilute it with some water and you'll get enough product to use at a time.
Using this scrub daily will bring some glow to your face and it will appear brighter. My final verdict is that Vanya Anaarshine scrub effectively scrubs off the dead cells on your facial skin and also it is hydrating, it does not cause stretchy or irritated skin.
Have you used anything from Vanya Herbals yet? What are your thoughts?
---
That's it for today's post. I hope you found this article helpful. Make sure to share it with your friends and family if you did. Your comments encourage me a lot. So, pour in your thoughts in the comments. Subscribe to our Newsletter so that you get notified whenever there is a new post on the blog! Will talk to you in my next post. Till then, be happy and keep smiling! Follow me on Facebook, Instagram & Twitter and also Subscribe to my YouTube channel for beauty & fashion related videos and vlogs.