Face masks are such a stress buster. During the lockdown, I have inclined more and more towards them as they felt so calming and rejuvenating that it won't be an exaggeration if I say they kind of acted as a respite from the crazy world. In the past seven months, I have tried many face masks amongst which a couple have become my ultimate favourites. One of them is the Deyga Rose and Mulethi Face Pack. I'll discuss everything about it as elaborately as possible as I always do.
About Deyga-
Deyga is an Indian brand that pledges to deliver a 100% organic solution to all our skincare and personal care problems based on their 6 pillars which are-
Cruelty-free
100% Pure
Safe for skin
Handcrafted with love
Sustainable
Traditional Recipes
Description
Made with powerful ingredients such as rose and mulethi, our natural face pack is the perfect way to rejuvenate dull, lifeless skin. It nourishes the skin using the power of natural ingredients and provides a healthy, bright glow. This face pack can also help even the skin tone and provide a nourished, soft, and supple feeling to the skin.
Ingredients-
Native Rose grains- acts as a great anti-oxidant
Mulethi- helps brighten up your complexion 
Oatmeal- naturally cleanses and gently exfoliates the skin
Skin cherishing Essential oil
Price- 490/- for 200g
Shelf life- 8 months from the date of manufacturing
You can purchase the Rose & Mulethi face pack here.
Packaging-
This face pack comes in a sturdy transparent glass jar with a  metal screw-on lid.  Although the packaging makes it less appropriate for travelling the glass they have used is very good quality and also, it makes it eco-friendly. The transparency of the jar allows you to keep a tab on the amount of product you're left with.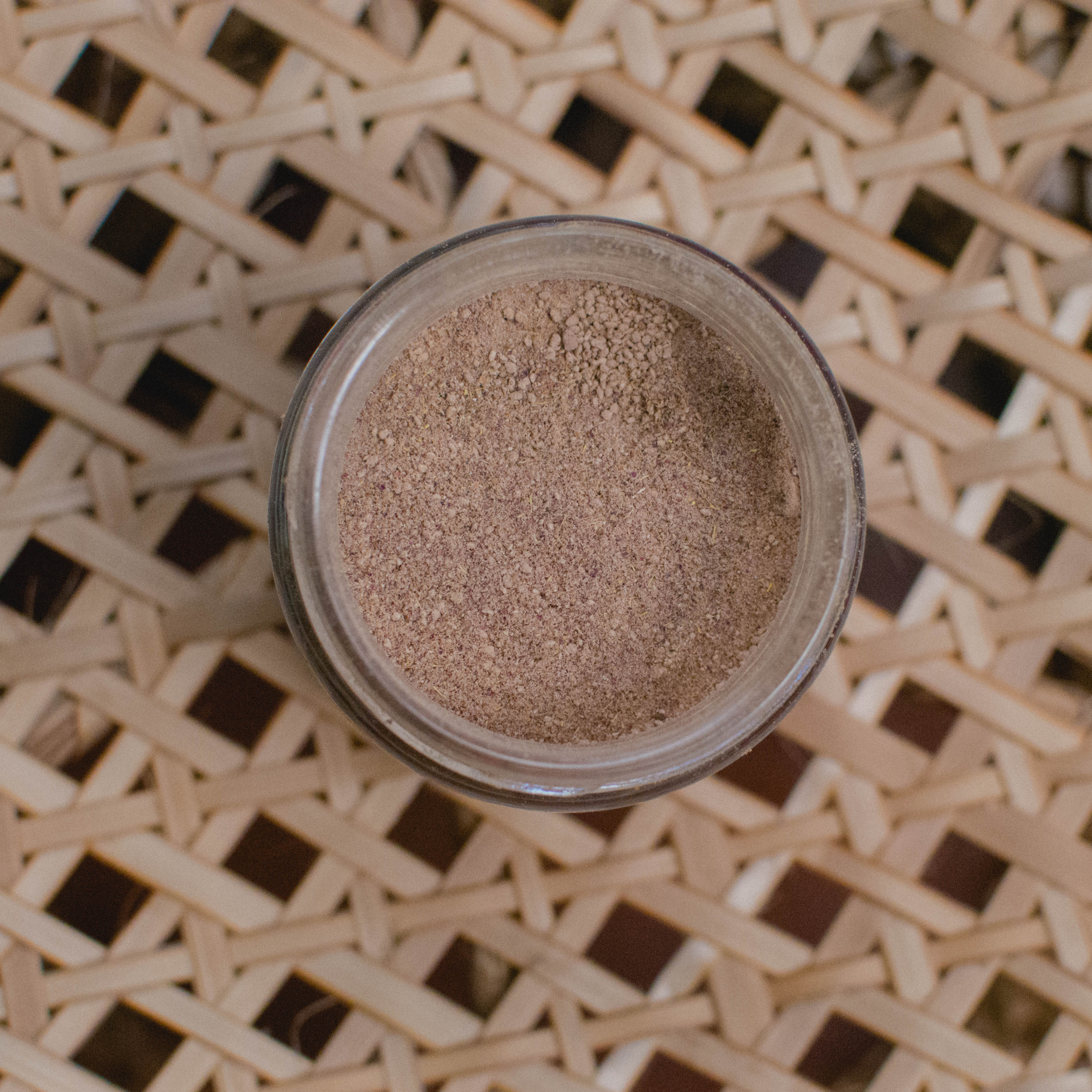 Texture & Smell-
The rose and mulethi face pack comes in a fine dust form and the fragrance is a mild rose fragrance. They haven't used any artificial colours or perfumes in this product so what you get is absolutely natural.
How to Use-
Take about a tablespoon or two full of the Rose and Mulethi pack in a bowl, mix it with some milk or rose water and make a paste out of it. Apply the paste thickly and evenly across your face, leave it for about 15 minutes or until 80% dry and wash it off using gentle circular massaging strokes.
My Experience with Deyga Rose and Mulethi Face Pack-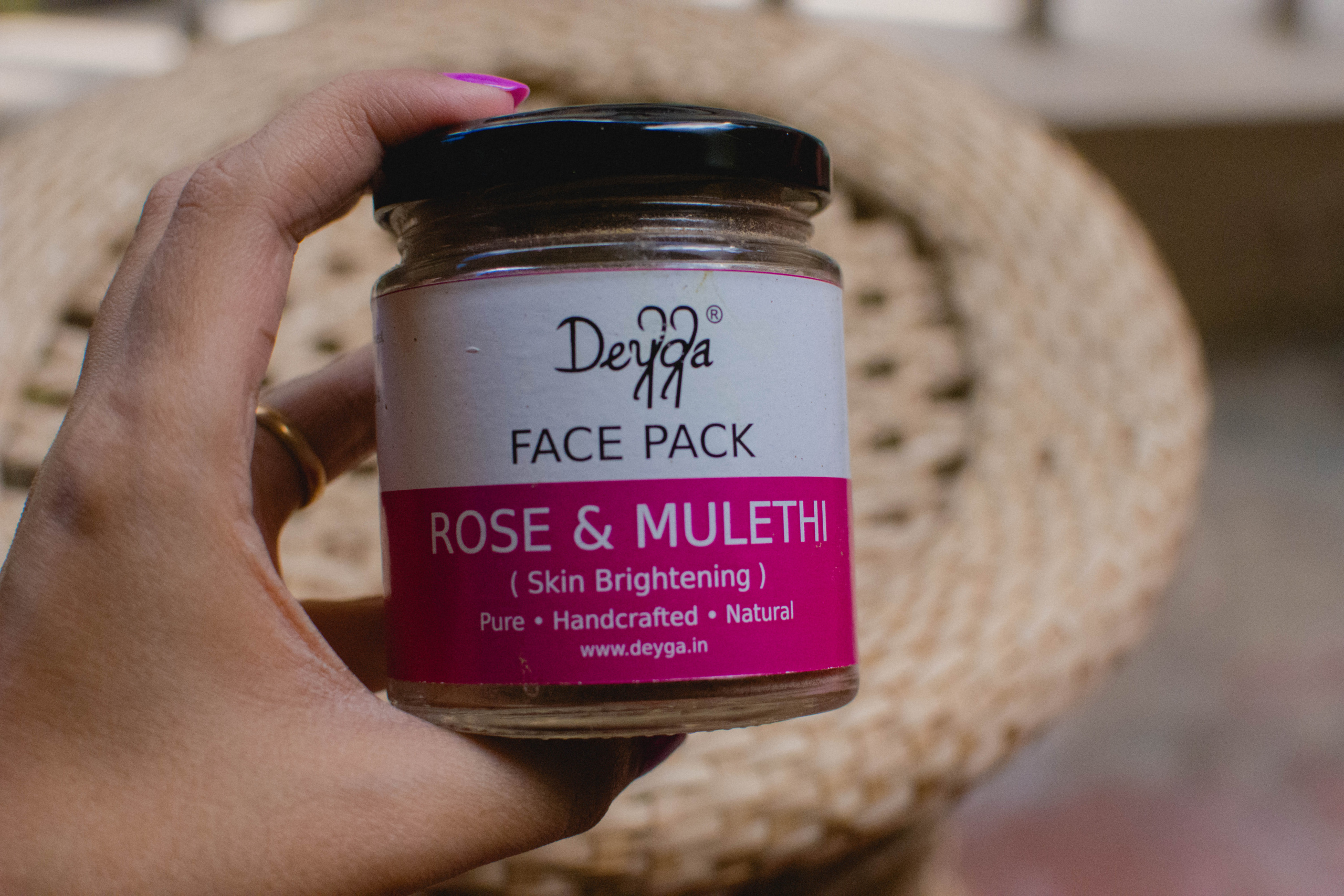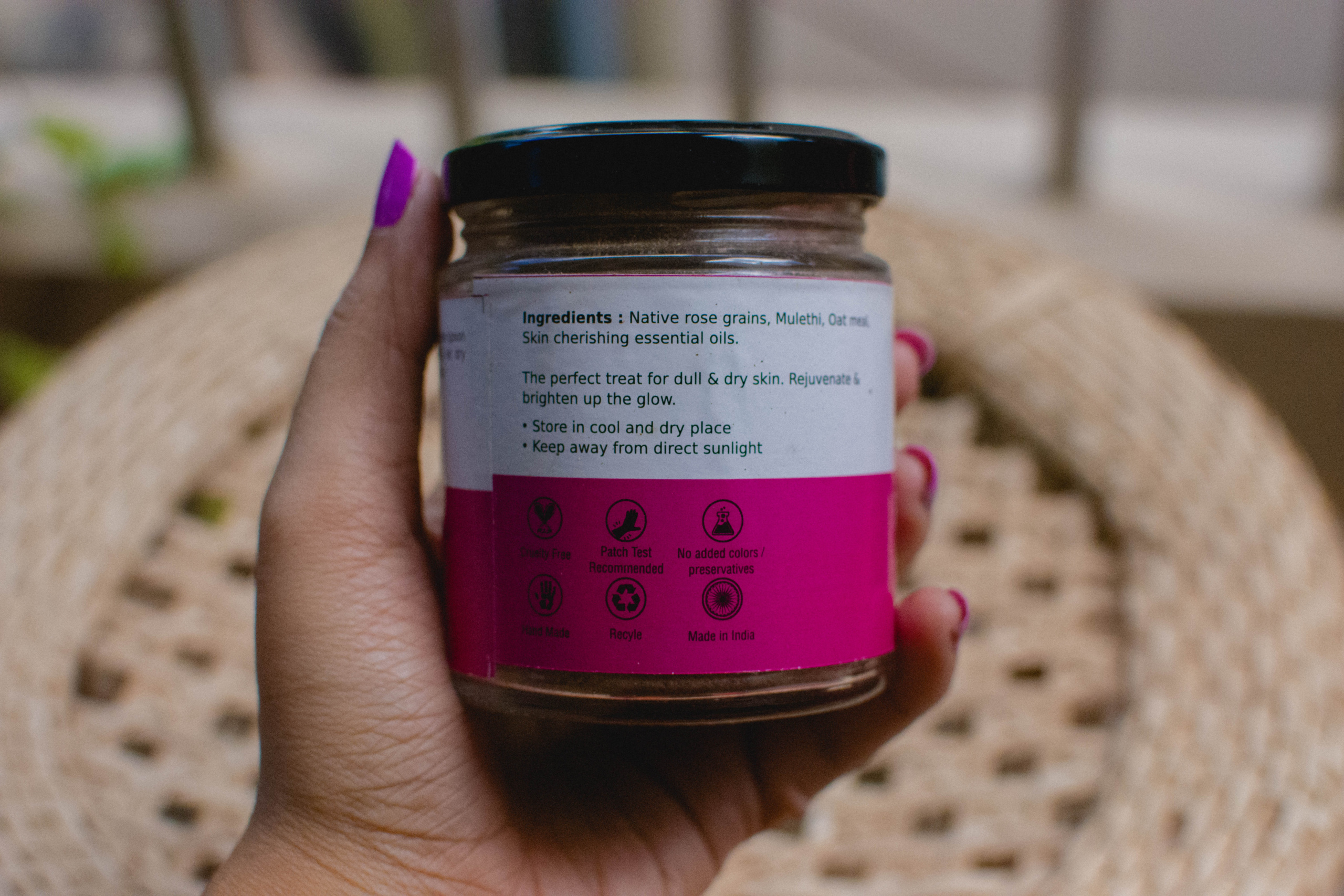 I absolutely love rose as an ingredient in my skincare products. It took me a really long time to actually notice the benefits of rose on my skin. I would say it was somewhat an acquired liking but I am glad I fell in love with this powerful ingredient.
The first thing that attracted me towards the Deyga Rose and Mulethi face pack is its impressive ingredients list. This brand never fails to excite me. It's been a month since I have been using it and it did not cause any breakout or skin irritation on me. I like to use this on days my skin needs some extra TLC and it beautifully does that. It provides me with a healthy glow, clears the skin and evens out the skin tone with regular use. It also makes your skin look youthful and the best thing is that it provides the skin with the perfect amount of moisture. This mask makes my skin baby soft which I absolutely love. You have to use it for at least two weeks to see the effectiveness. This is very normal with any natural skin care product. You can use it up to twice a week as it is completely natural and organic.
One should definitely check this product as well as the brand out for their eu natural ingredients and effectiveness. The ingredients they use are 100% organic, 100% Indian, handmade and cruelty-free. Also, this product is for all skin types. If you have sensitive skin, you must do a patch test beforehand.
Overall, this product is something you must give a try if you are fond of natural and organic skincare or you are planning to start your natural skincare journey. I absolutely love this product and the brand in total. You can check out their entire collection here. I must not compare, but I feel Deyga products could be the closest dupe of the Juicy Chemistry products that too in a decent price range.
---
That's it for today's post. I hope you found this article helpful. Make sure to share it with your friends and family if you did. Your comments encourage me a lot. So, pour in your thoughts in the comments. Subscribe to our Newsletter so that you get notified whenever there is a new post on the blog! Will talk to you in my next post. Till then, be happy and keep smiling! Follow me on Facebook, Instagram & Twitter and also Subscribe to my YouTube channel for beauty & fashion related videos and vlogs.