Hey guys, hope you all are doing well. Today, I will be sharing my views on a range of products that I have been enjoying using for the past few weeks. It has been almost over a month since I started using the SkinCafe lip care products that they had sent me and now I think I am ready to share my final words. I know I took a long time but, that is how I work, I take too much time to review skincare products in order to understand the pros and the cons well and share a crystal-clear view on any product.
I am a lover of handmade skincare products. It gives me a feeling that I am doing something that is the best for my skin. When I received the package from SkinCafe, I was more than excited to try them out. I got three beautiful products from SkinCafe- Choco Chip and Cookies lip scrub, English Trifle lip butter and a Strawberry Shortcake tinted lip balm. Before starting with the review, let me tell you a few words about the brand.
SkinCafe.in is a brand that makes and sells handcrafted lip care products. They have a huge range of products across three categories i.e. lip scrubs, lip butter and tinted balms. All their products are named after some popular desserts. When you go to their website you would probably think that you have come to an online patisserie (check it out yourself, here). All their products are made after you place an order ensuring that you get the freshest products every time you place an order. I really liked this. Their products are cruelty-free, vegan and free from parabens. What more one could ask for? All the ingredients they use are listed on a separate page to avoid any vagueness and to ensure that there is always clarity between the manufacturer and the buyer.
Now that we know enough of the brand, let's jump into the review-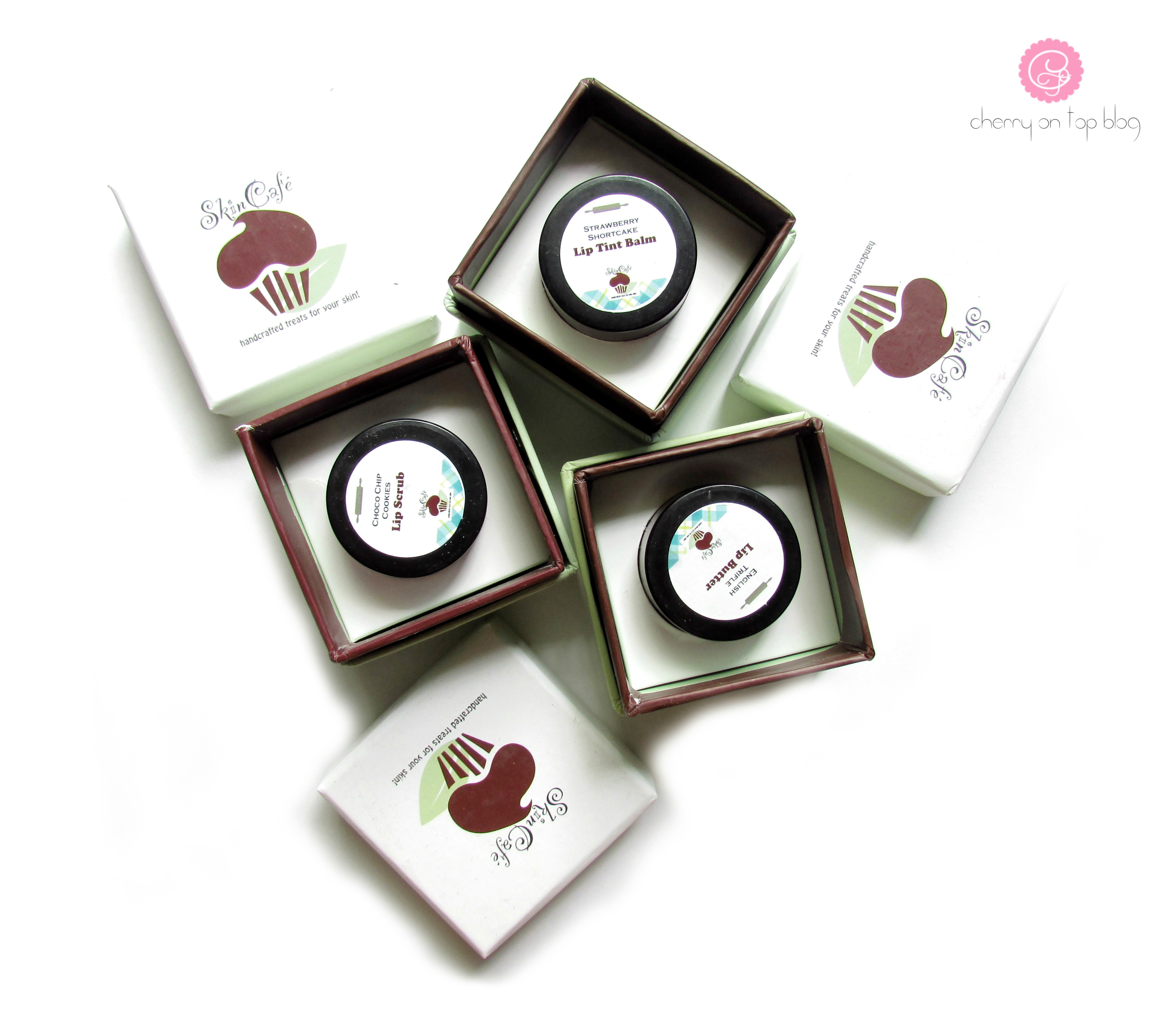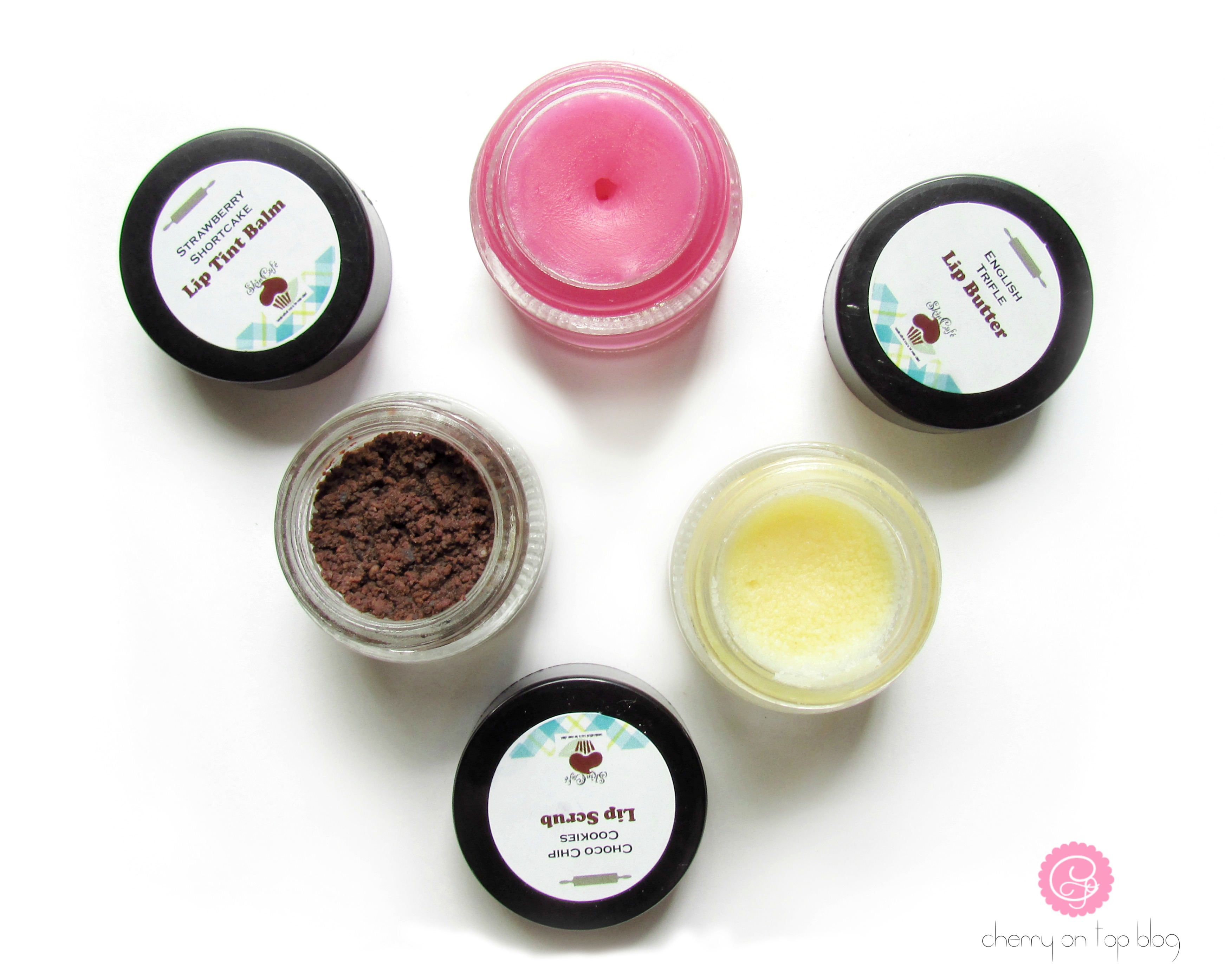 Packaging- I am not going to lie, the packaging is the first thing that made me excited to try out the products. Each product comes in a cute little box with the illustration of a cupcake on each of them. It can give a tough competition to any luxury confectioner. As you open the box, you notice a small glass jar that contains the product. The packaging for all their products looks exactly the same. All of them come in glass jars with a plastic lid and labels. They all come in glass jars that are biodegradable but I did not find them the best things to travel with.
SkinCafe Choco Chip and Cookies Lip Scrub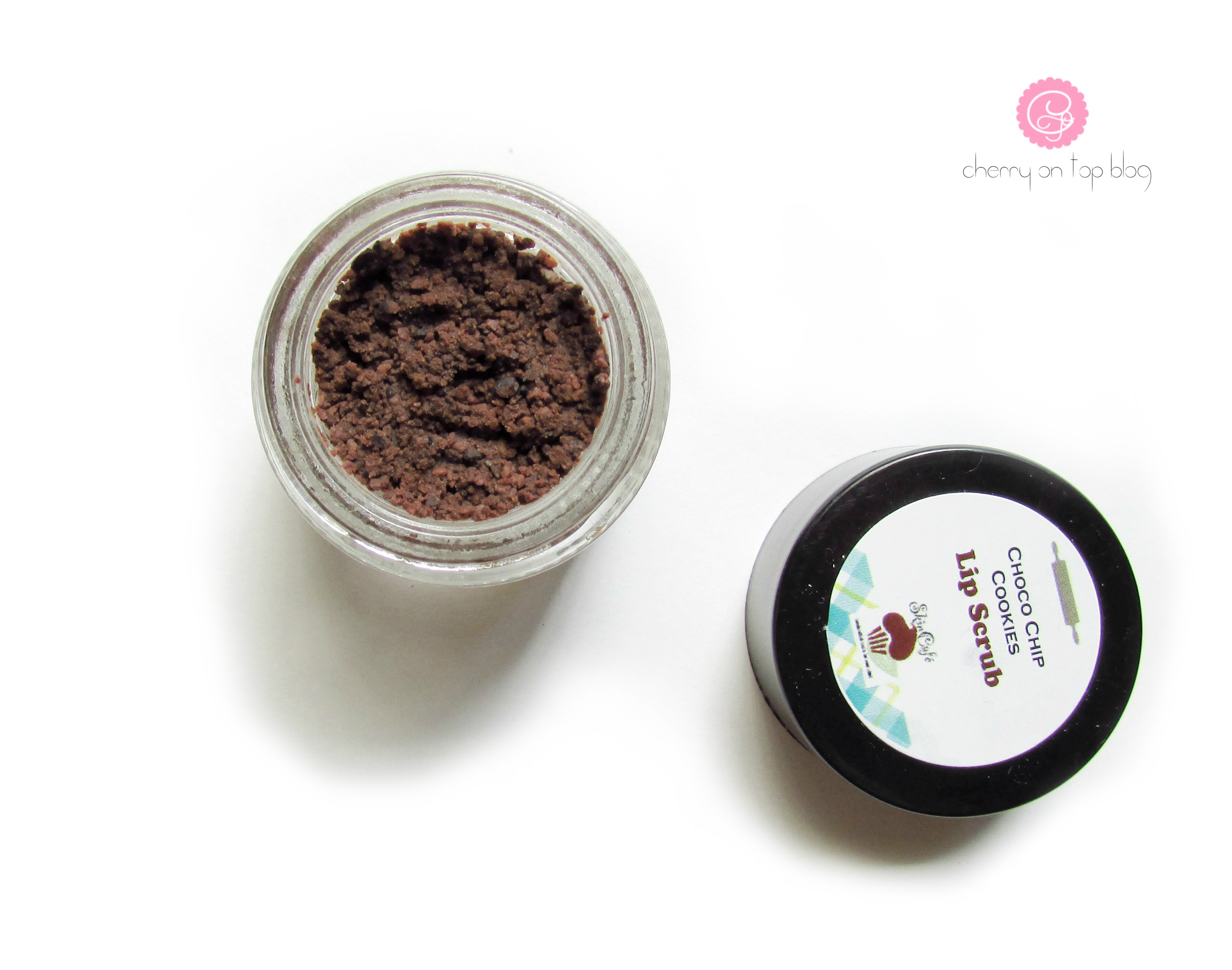 Price- Rs 950/- (9g)
Ingredients- Cocoa Nibs, Jojoba Oil
The SkinCafe Choco Chip and Cookies lip scrub is a product that works really well for chapped lips. There was a time when I was suffering from severely chapped lips even in summers. A regular scrubbing with this Choco Chip and Cookies has helped to reduce the dryness a lot. One can definitely notice softer and plumper lips right after using the scrub. I wet my lips first and then scoop out a little of the scrub with my fingers onto my palm and then massage it very gently onto the lips. If you ever feel that the scrub is dry, which happened to me at first, you can mix a drop of olive oil or coconut oil with the scrub and then apply it. The best thing about this Choco Chip and Cookies lip scrub is that it contains very fine scrubbing particles that do not feel harsh on the lips. More than that, this scrub smells divine, exactly like dark chocolate. It's quite impossible to not lick it once. I tried that and believe me it does not taste like dark chocolate!
SkinCafe English Trifle Lip Butter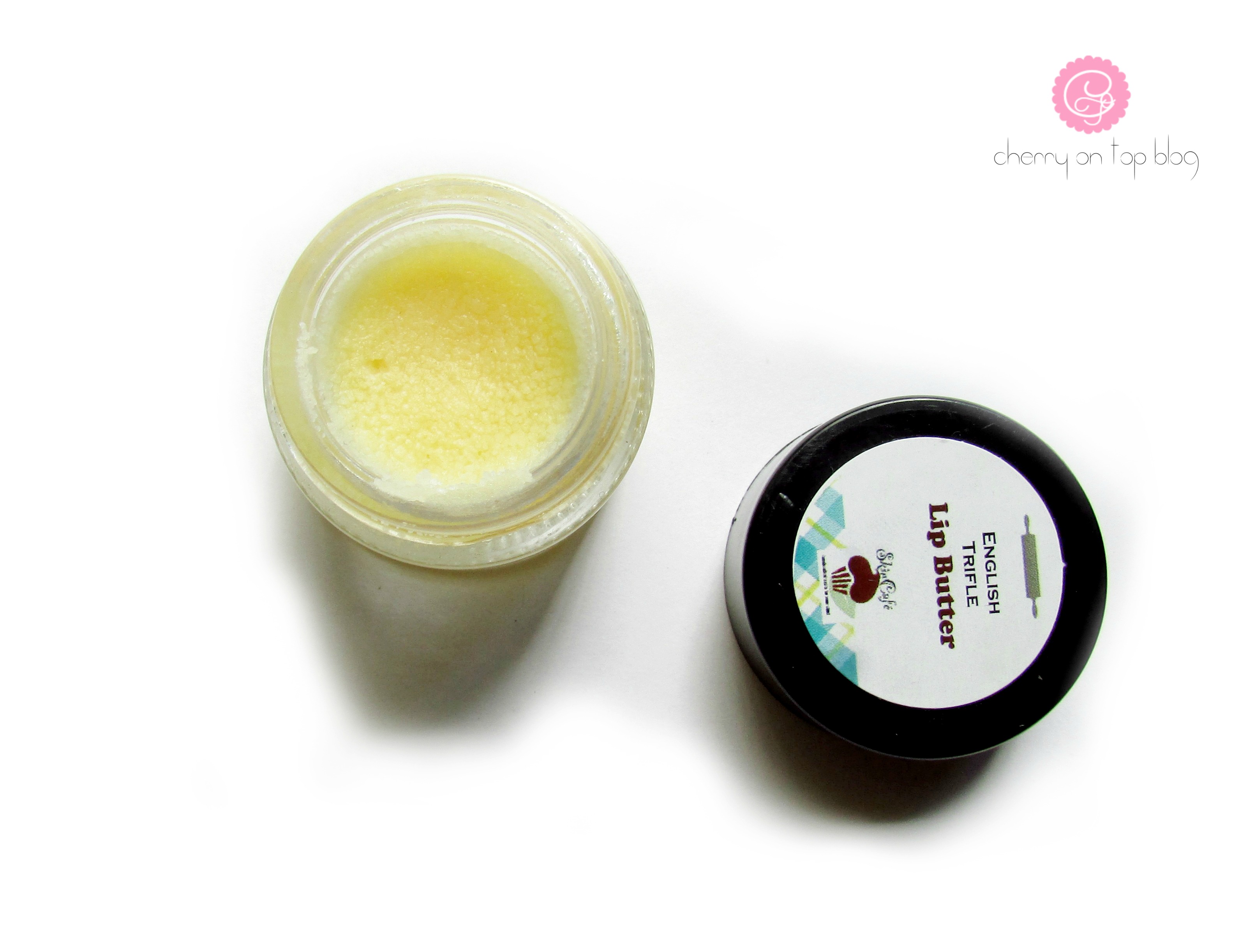 Price- Rs 850 (9g)
Ingredients- Candelilla Wax, Cocoa Butter, Sweet Almond Oil and Banana infusion.
I never found a lip balm that has the perfect consistency as butter in order to keep my lips hydrated for the longest time. It was only until I discovered this English Trifle lip butter from SkinCafe. This product does not only make my lips soft but also it keeps them moisturized for a long time. It stays on my lips for good 4-5 hours. Sadly, it does not survive a meal. This product has become my salve for the drier days. I would suggest you guys to try this at least once and you will know what I am trying to say. I never tried English Trifles so I don't know what to expect from the fragrance of the product but, whatever it is, it smells good. This lip butter does not contain petroleum jelly.
SkinCafe Strawberry Shortcake
Price- Rs 900 (9g)
Ingredients- Beeswax, Mango Seed Butter, Avocado Oil and Strawberry infusion.
The Strawberry Shortcake Lip Tint Balm from SkinCafe is supposed to be a tinted lip balm as you can tell from the name. This balm has a buttery consistency, glides on the lips smoothly making them soft and supple and adding a subtle hint of pink colour to them. The colour is not as intense as I had imagined but it's quite natural and perfect for an everyday purpose. This balm makes my lips really hydrated. It smells exactly like strawberries!
Overall, I liked the range of products from SkinCafe. The fact that they are purely vegan, cruelty-free and free from harsh chemicals like parabens, excites me a lot to keep using them forever. I would highly recommend their products. They are worth a try. A regular use of this range of products has changed my lip care regime completely. My lips do not feel dry anymore. The price of the product may be on the higher side but they are totally worth it. If you are sceptical about trying them for the first time and also hesitating to pay such a price for a new brand, then you can try their Lip Care Combos which would be a smart choice. Each these combos contain three products from each category (scrubs, butters and tinted balms). Each combo is a set of three products of 3g each and retails at Rs 900. You can buy SkinCafe products online from their official website.
Have you used any SkinCafe product?
Let me know your views in the comments.
I am always unboxing packages, swatching makeup products and sharing my first impressions on different products on my Snapchat. If you want to be a part of the fun every day, then add me on Snapchat. My username is sayantinee. I hope you enjoyed this post and found it helpful. I have one more post coming soon on your way before I take a short break (my exams!) from blogging. Till then, be safe and keep smiling!