Hi, guys! I am back again with yet another post for you. A lot of you got really excited when I shared a picture of the Juicy Chemistry Tea Tree & Charcoal Face Mask that I bought from Nykaa during their Valentine's Day sale. I have been using it since then and I am so impressed with it that I felt the need to share my thoughts with you guys. So, here I am sharing my review on the Juicy Chemistry Tea Tree & Charcoal Face Mask.
Price- Rs 300 for 25g, Rs 550 for 50g ( Buy here)
Ingredients- Oatmeal, Organic rice flour, Prunus dulcis (Almond meal), Juglans regia (Walnut), Ocimum basilicum (Basil), Rosa (Rose), Lavandula (Lavender), Mentha (Peppermint), Fuller's earth, Activated Carbon, Mentha piperita (Peppermint essential oil), Piper nigrum (Black pepper essential oil), Citrus bergamia (Bergamot essential oil), Melaleuca alternifolia (Tea tree essential oil), Juniperus communis (Juniper berry essential oil)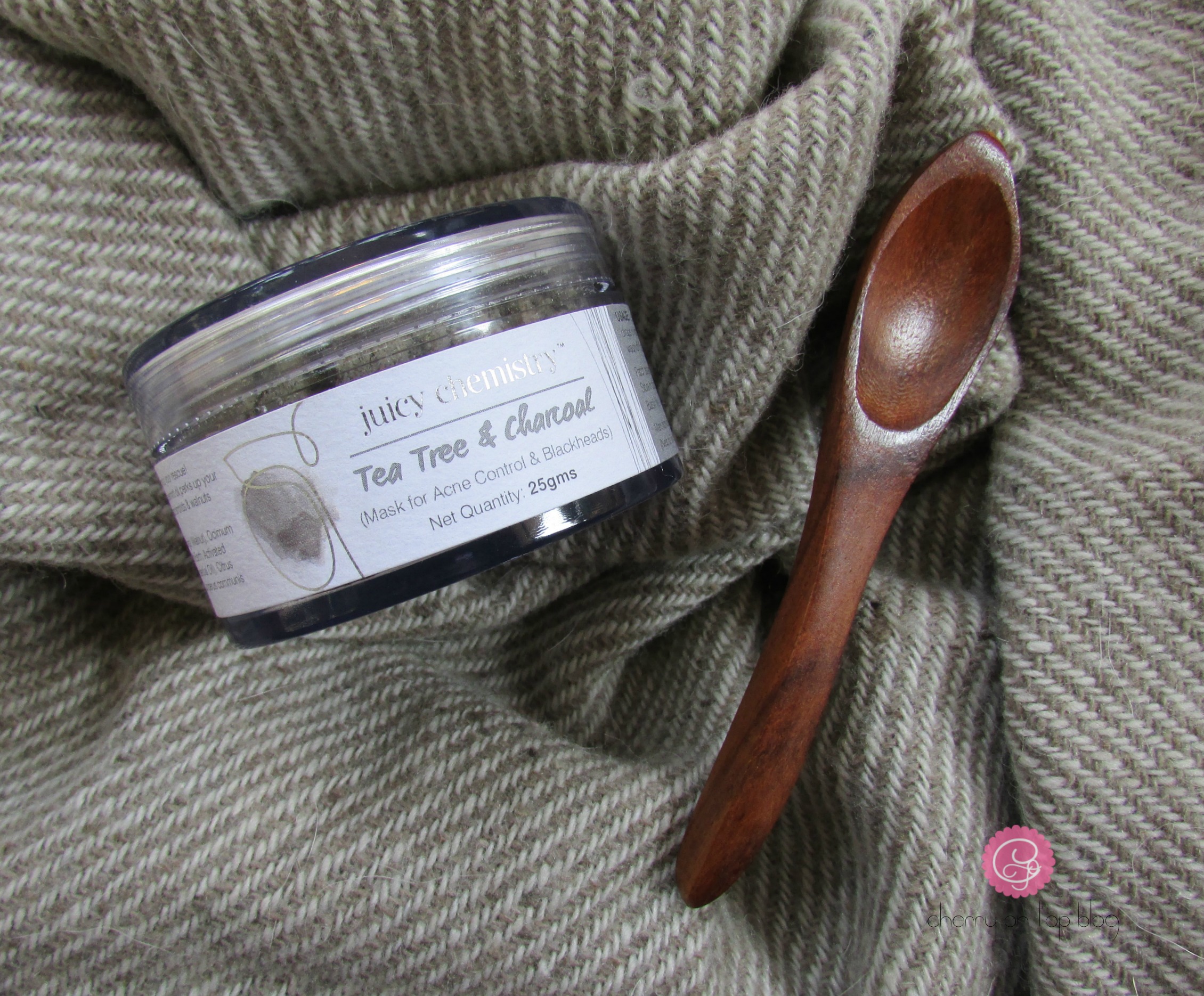 Packaging- Juicy Chemistry Tea Tree & Charcoal Face Mask comes in a simple transparent plastic jar with a screw-open lid. A wooden spoon also comes along with the product. The label on the tub has all the information including ingredients, usage and effectiveness. I really like the simplicity of the packaging. It looks simple but definitely not cheap.
How to Use- Juicy Chemistry Tea Tree & Charcoal Face Mask comes in a powder form. So, you need to make a paste out of it using either water or milk. I like to use it with organic rose water.
My Experience with Juicy Chemistry Tea Tree & Charcoal Face Mask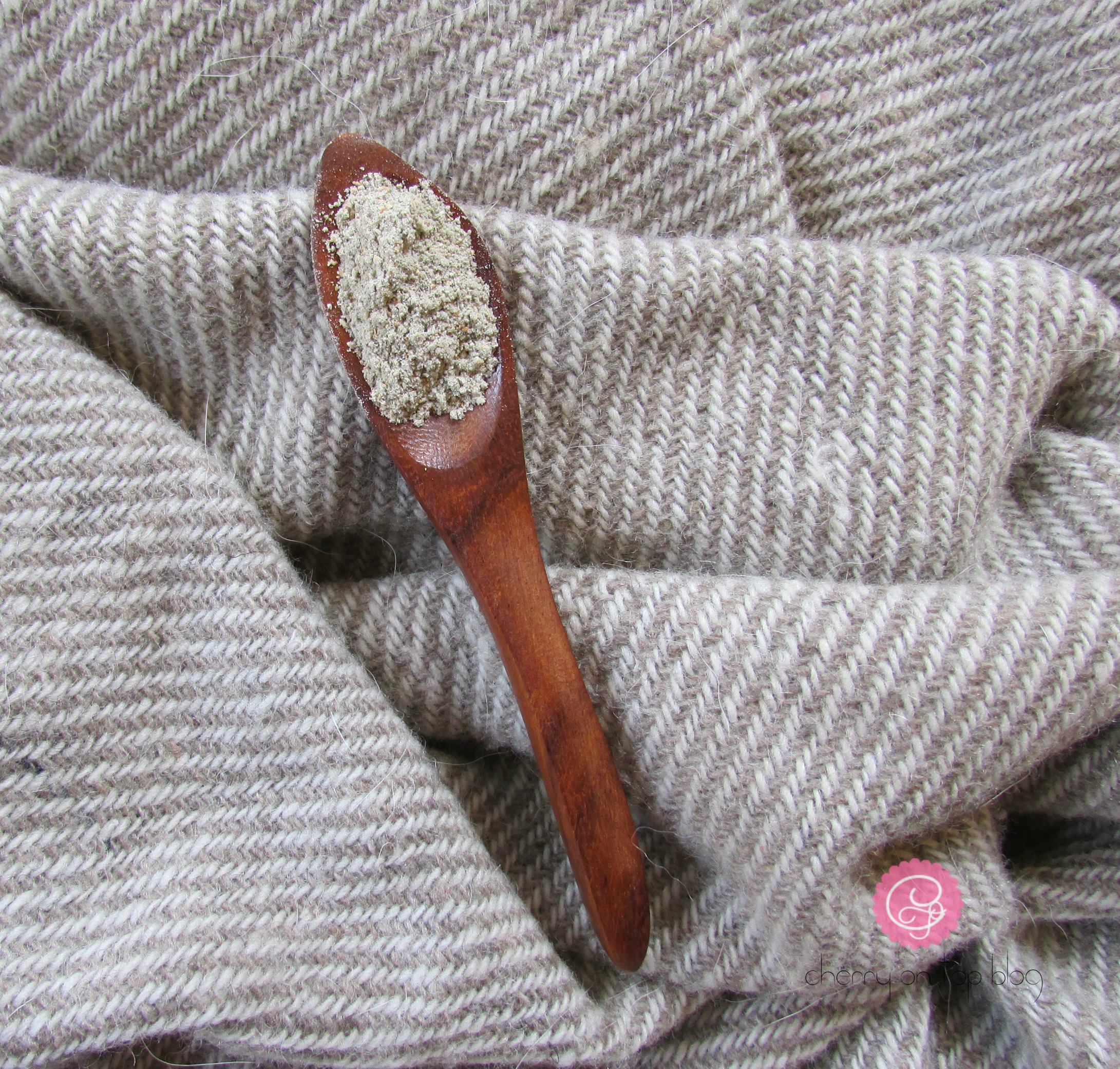 As I said earlier, I have been using this for the past few weeks. I use this pack twice a week and every time I use it I see visible results. I use rosewater to make a paste out of the powder. When the paste is made, you can see that it is a little crumbly. This is because of the finely milled oatmeal and almond. I apply the mask evenly on my face using a spatula and then let it dry until its semi-wet. Then, I just rub it on my face in circular motions and finally wash it off using lukewarm water. I finish it off by splashing cold water on my face.
The oatmeal and almond meal in this mask efficiently exfoliates the skin and removes blackheads. One of the two main ingredients, activated carbon, sucks out any dirt from the pores and unclog them. Another main ingredient is Tea tree oil which is really effective on acne. Its antibacterial property helps fight acne. Then there is peppermint which is great for oily skin as it controls the secretion of excessive sebum and prevents the pores from being clogged and causing acne. My skin is not acne-prone so I can't tell you if this face pack really works on acne or not.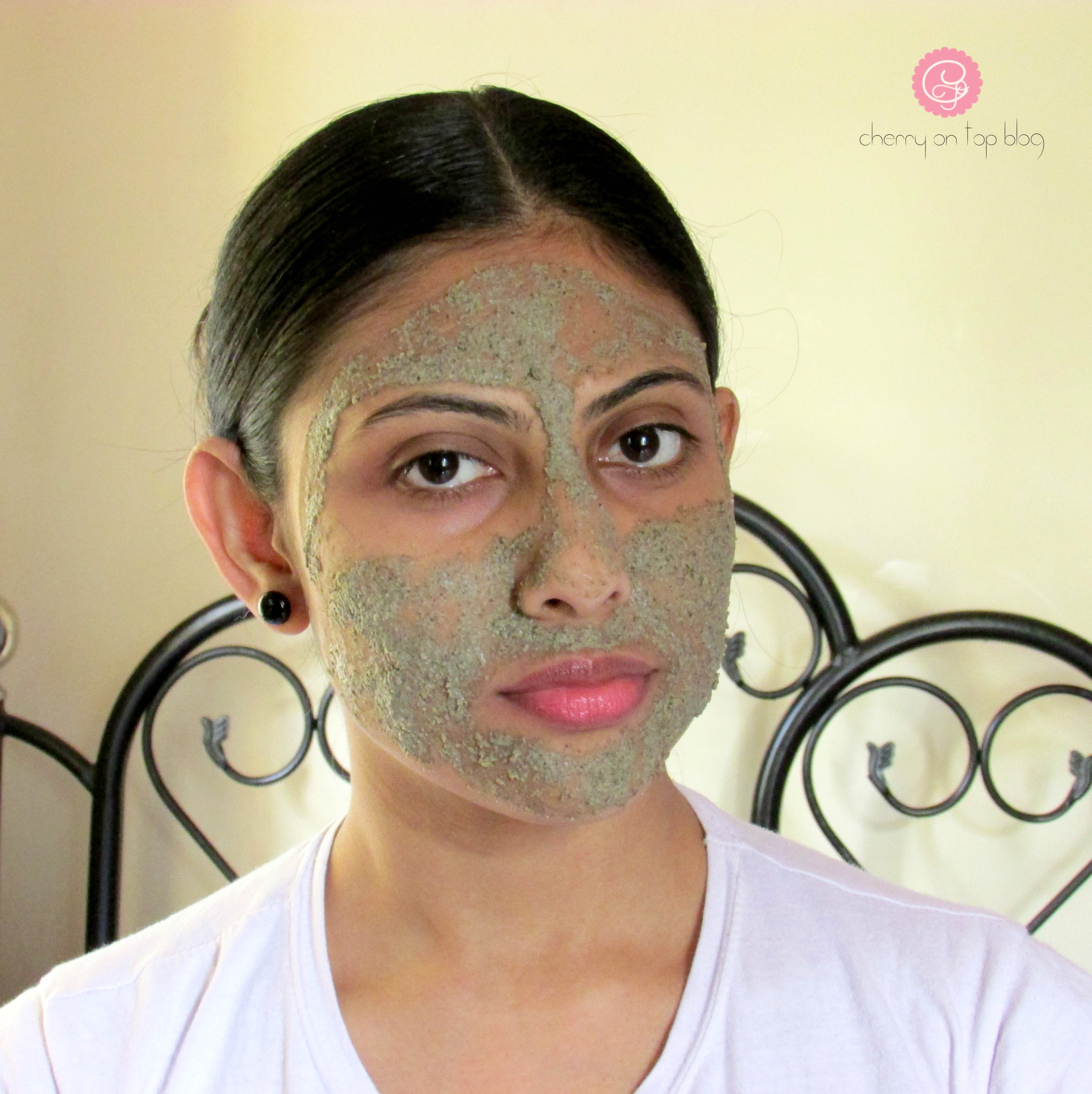 I would highly recommend this mask to you. The smaller size comes for Rs 300 only and you get the benefits of a scrub and a mask in one product. This is definitely a great value for money. This product is all-natural, contains no preservative and good for sensitive skin. Those who have oily or combination skin must try it out this summer. This controls excess oiliness without making the skin dry.
What's your favourite face mask at this moment?
---
That was it for today's review. I hope you found this post helpful. Make sure to share it with your family and friends if you did. Pour in your thoughts in the comments. Your comments encourage me a lot! Also, if you want me to review any particular product then let me know. I would love to do that! Do subscribe to our Newsletter so that you get notified whenever there is a new post on the blog. Will talk to you in my next post. Till then, be safe & keep smiling! Follow me on Facebook, Twitter or Instagram for regular updates. Add me on Snapchat for more fun and a sneak-peek of my life.