Summer is bidding goodbye and Monsoon is right around the corner. At this juncture, I thought I should prepare my Monsoon Fashion Wishlist. When I peeked into my closet, I found absolutely nothing that I could call perfect for monsoons. Currently, my wardrobe is filled with summery, breezy clothes and pastel pieces. I thought I should make a change to the colour palette. Monsoon calls for vibrant, bright colours. It's now time to bid adieu to pastels. Your monsoon wardrobe should take inspiration from the coolness and greenery around.
Monsoon calls for bright colours. It's now time to bid adieu to pastels. Your monsoon wardrobe should take inspiration from the cool, cosy weather, the green and blue that is ruling the season right now. Monsoon fashion is all about being comfortable, wearing fabrics that resist water or that dries quickly and of course, the colours should be vibrant. In monsoon, the sun doesn't shine brightly so wearing a pastel piece won't serve the purpose. You must recreate the bright environment with your clothes. Even if you choose to wear soft shades, make sure your accessories are bold in colour for that spark nature is missing.
Last week, I got to know about the huge discounts TATA CLiQ is offering on all their products. I didn't waste much time and went through their entire collection. Soon, I picked up 5 pieces that are the must-haves to gear up your Monsoon fashion game. Let me show you the items I chose-
Jumpsuits

A jumpsuit is a game changer during monsoons. It looks cute, fashionable and most importantly doesn't get ruined if you accidentally step into a puddle. You can pair these up with a shrug or a casual shirt to layer it as you might feel cold on days when there is a heavy downpour. You can always wear flipflops with a casual jumpsuit to make it even more monsoon-appropriate.
This cute Blue Maria Jumpsuit is from New Look. It was originally priced at Rs 1799 but you get it for Rs 539 only because of the Pre End of Season sale on TATA CLiQ.
Shorts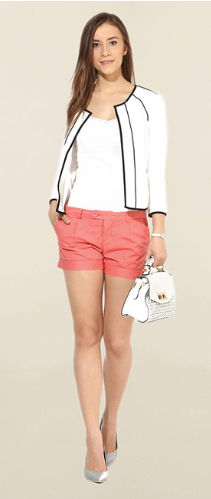 With the goal of keeping your legs bare, another thing that you can invest on is a good pair of shorts. They can be your best friend for summers. A pair of vibrant coloured shorts goes well with many things. You can pair it with tank tops and wear a shirt over it, you can wear it with cold-shoulder tops or you can pair it with a kurta for a beachy, boho look. Accessorise your shorts with chappals or strappy sandals or if you love experimenting, you can give rubber booties a try.
These coral shorts are from Vero Moda. It was originally priced at Rs 1895 and currently at a 60% discount.
Shrugs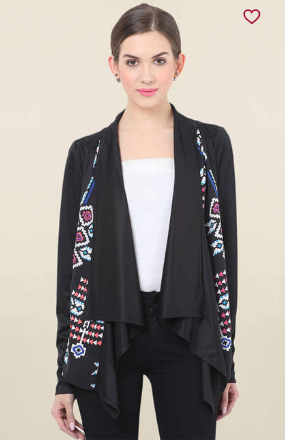 This is to make yourself really comfy when it's cloudy and rains for hours. Shrugs will keep you warm if your hands tend to feel cold. Also, it keeps your hands covered on a no-shave day.
This beautiful black printed Honey & B shrug was originally priced at Rs 1299. It's at a  30% discount right now after which the price is Rs 909.
Bold-coloured Shoes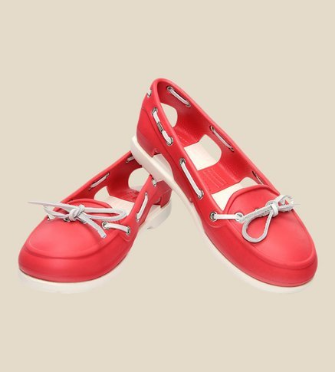 As I said earlier, accessorising yourself with bold coloured stuff is actually going to make you stand out. The Sun God is not at his full fury so you might recreate the aura around yourself. If you are not comfortable with experimenting with your clothes, you can definitely experiment with your accessories. A bold, vibrant bag or a pair of bright coloured shoes can totally change the scenario and supersede the dullness around.
These red coloured Beach Line Red & White Boat Shoes are perfect for turn any dull monsoon day into bright, sunny day. It will add the perfect pop of colour to your outfit.
Backpacks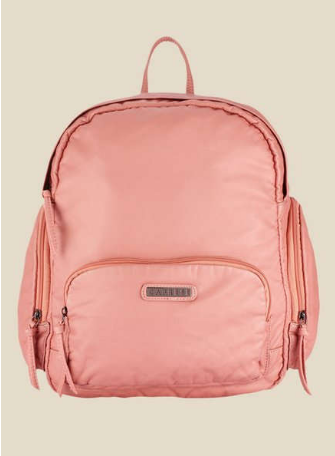 Backpacks are a must-haves during these sodden months. You might have to carry and umbrella with you even if you don't need to use it. Basically, you need to keep your hands free. So, you need to carry a bag that holds all of the things you are carrying, because let's be honest, in monsoons, you are carrying more stuff than you carry the rest of the year. Backpacks are best as they come in a variety of materials, they have enough space to carry your world and they don't occupy your hands.
I really like this Pink coloured backpack a lot from Caprese.
As I mentioned earlier, TATA CLiQ is having huge sales on all the top brands like New Look (flat 70% off), Levis (flat 40%), Red Tape (flat 50%), Vero Moda (up to 60%), Caprese (flat 50%), Globus (Flat 70%), Crocs (up to 60%) and so on. The deals are so alluring that you don't want to miss them. If you are planning to revamp your wardrobe and your monsoon fashion, here is your chance to do so. At this huge sales festival, you will definitely get something for you. It could be a great opportunity to gift your friends or relatives also.
This was my complete monsoon fashion wish list that I am planning to try accomplishing. I don't like Monsoons much because of the dullness around. I am more of a bright, sunny day lover. The best way I find positivity during monsoon is by dressing myself up in bright clothes and accessories. Although, at any given point of time, I would choose light coloured, pastel coloured clothes I also think bright colours make me happy and confident from within. Which of the things you think you should get for this monsoon?
What is your idea of monsoon fashion?
---
That was it for today's post. I hope you found this post helpful. Make sure to share it with your family and friends if you did. Pour in your thoughts in the comments. Your comments encourage me a lot! Do subscribe to our Newsletter so that you get notified whenever there is a new post on the blog. Will talk to you in my next post. Till then, be safe & keep smiling! Follow me on Facebook, Twitter or Instagram for regular updates. Add me on Snapchat for more fun and a sneak-peek of my life.