Hey, guys! If you remember my recent Snapchat stories then you must know that I have been to the Radiance Salon last week to try the Moroccanoil Hair Smoothing Spa using the amazing products from the new Moroccanoil Smooth range. I had promised you guys to write down my experience on the blog and now I am here with it.
Moroccan Argan oil is something that needs no introduction. Argan oil is produced from the kernels of Argan tree that grows mainly in South-Western part of Morocco. Argan oil is great for your skin and hair that it is popularly called liquid gold. With each use of Argan oil, rich in vitamins, minerals and antioxidants, results in soft, smooth and glowing skin and hair.
Moroccanoil is a brand that pledges to transform beauty industry with all their hair care products infused with genuine Argan oil. Recently they had invited me to try their Smoothing Hair Spa treatment using the new Smooth range. Read to know all the steps to beautiful hair-
As I stepped into the salon, I was seated by the very polite staff and then offered water and beverages which I found really sweet. Then I was introduced to the expert (I forgot his name. I always forget names :/) who was about to turn my unruly mane into beautiful tresses.
Hair Smoothing Spa Treatment Using Moroccanoil Smooth Range: The Process-

The process started with examining my hair. The expert told me that I have a combination hair type- oily scalp and frizzy hair. He advised me to use two different shampoos- one for the scalp and another for the hair. After he was done with examining my hair, he went straight ahead to wash my hair.
Step 1: My hair was washed thoroughly using the Moroccanoil Smoothing Shampoo. It felt so nice because of the mild fragrance it contained.
Step 2: My stylist mixed some drops of Moroccanoil Treatment Oil with the Moroccanoil Smoothing Mask and made a mask according to the thickness and length of my hair. He then divided my hair into sections and applied some amount of the mask to each section very carefully. He made sure that the product does not go up to the scalp.
Step 3: He then started massaging my head which felt so relaxing and rejuvenating that I almost fell asleep. The massaging ensures that the product is distributed evenly and it also helps in improving the blood circulation which boosts hair growth.
Step 4 (Optional): The fourth step was a 3 minutes steam which my stylist said is not necessary with Moroccanoil products making it convenient for using at home.
Step 5: My hair was rinsed again using the same smoothing shampoo and then my stylist used a pump of the Moroccanoil Hydrating Styling Cream and applied thoroughly to the lengths of my hair to protect my hair from the heat of the blow dryer.
Step 6: Finally, my hair was blow-dried and set to step out of the salon.
Here is a before and after for you-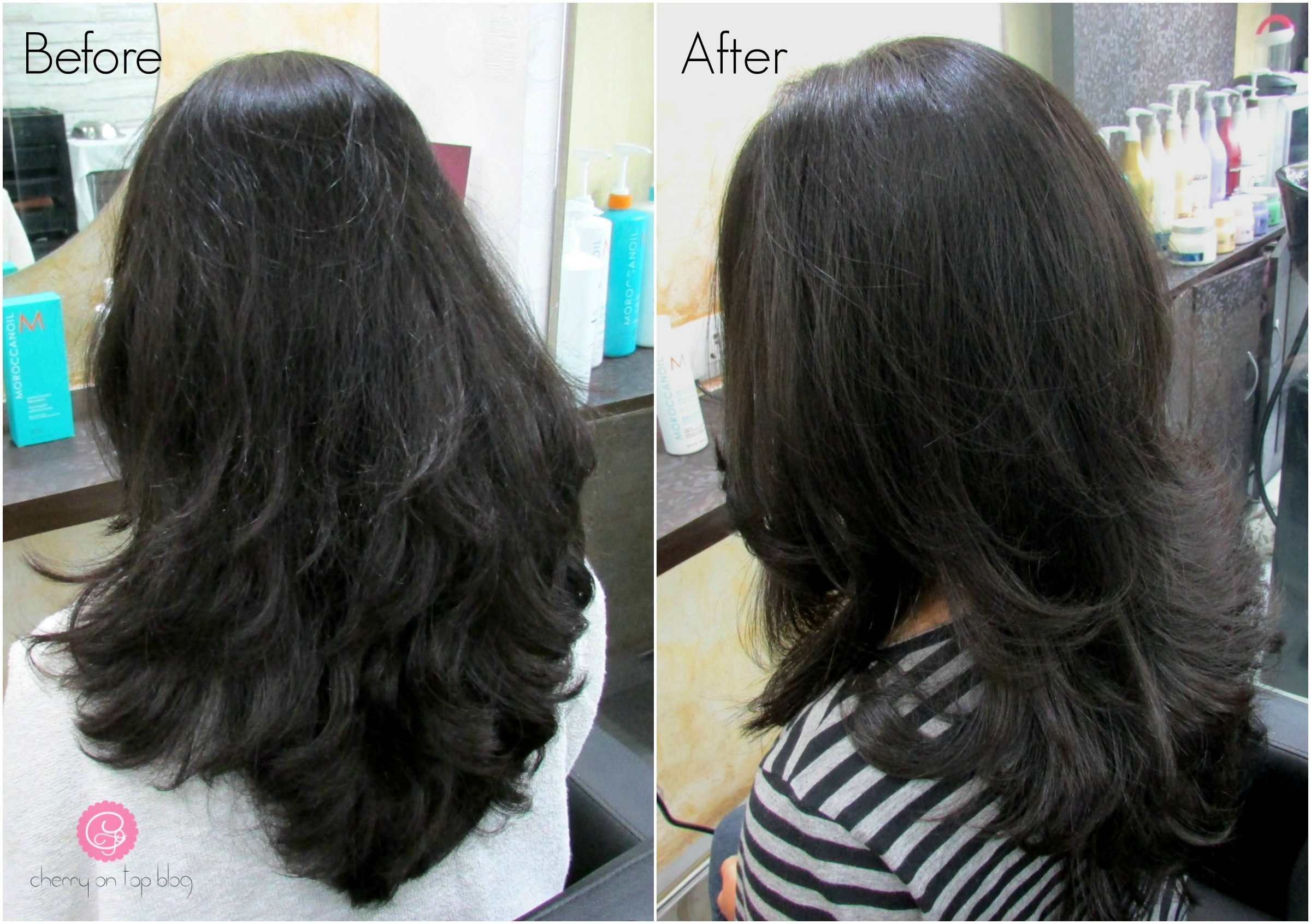 Moroccanoil Smoothing Hair Spa: My Thoughts
I totally loved the experience from start to finish. The way my hair felt after the treatment is inexplicable. It made my hair visibly and touchably soft, airy and really bouncy. My hair smelt divine after the treatment.Moroccanoil treatments do not require steam so you can try it at home. The products are a little expensive but they are totally worth the price you pay. The difference is visible after the first use. Moroccanoil products are free from harsh chemicals like sulphates, phosphates and parabens which makes them safe to use, unlike other haircare products. The new Moroccanoil Smooth Range is enriched in "AminoRenew™ which restores amino acids back into frizzy, unruly hair. This infusion mends broken disulphide bonds, which helps to align the hair shaft— resulting in more manageable hair with a smooth appearance." (Source: moroccanoil.com).
Moroccanoil products are meant for treating all types of hair. They have products for each hair type, treating all kind of hair concerns. These are great for chemical treated hair. My hair felt so shiny, soft, silky, smooth and frizz-free. The effect lasted on my hair for the entire week until the next wash. Even after washing my hair off a few days after the session, it felt soft and smooth. I really loved the whole experience. I would suggest you to give this treatment a try. You will definitely love it.
Moroccanoil Smooth Range: Price

Moroccanoil Smoothing Shampoo- 1800 INR (250ml)
Moroccanoil Smoothing Conditioner- 1800 INR (250ml)
Moroccanoil Smoothing Lotion- 2250INR
Moroccanoil Smoothing Mask- 2790INR (250ml)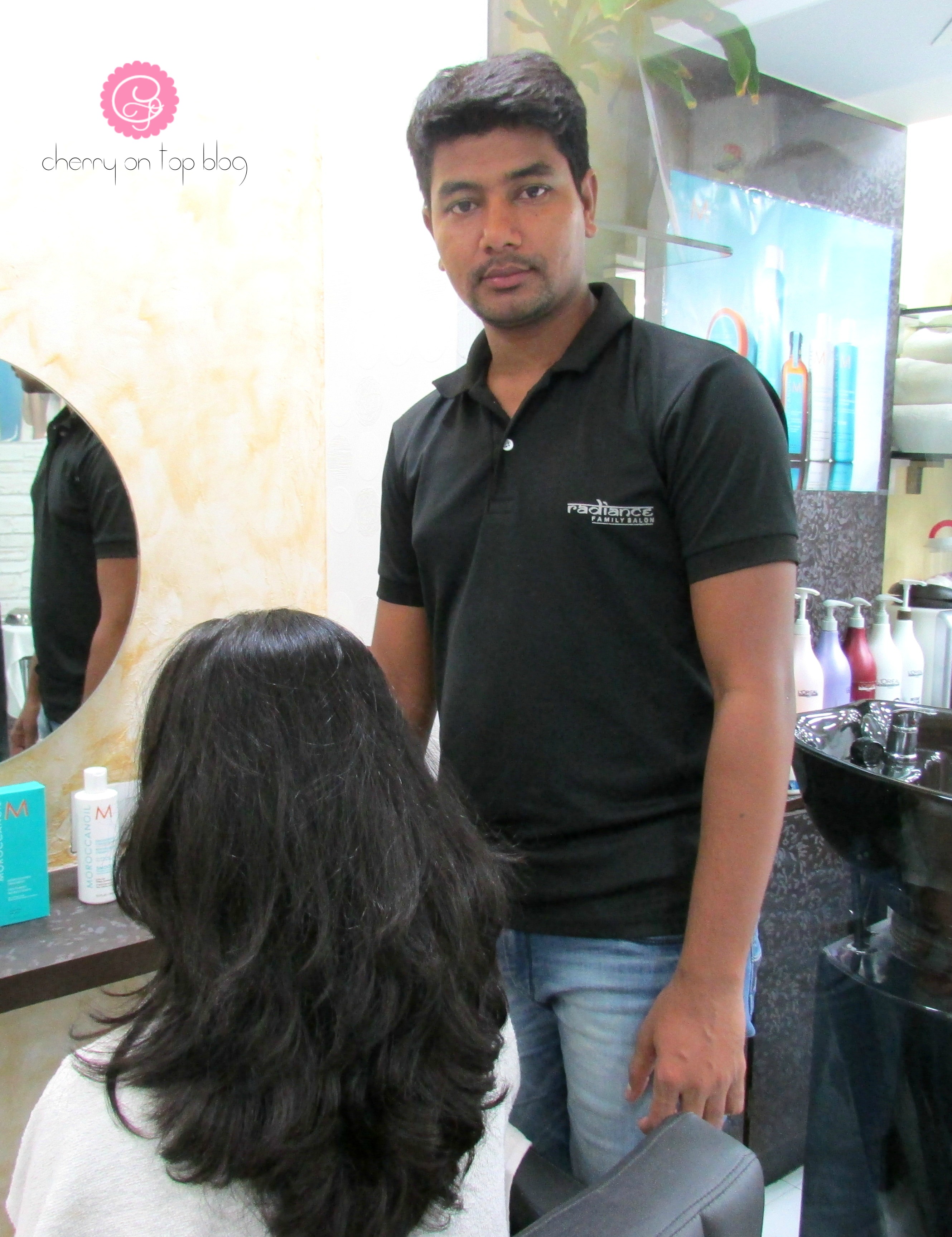 I hope you found this post helpful. Let me know your thoughts in the comments. Until next time, be safe & keep smiling!