Hi, guys! I am back with another post for you. Today's post will be a review on the VLCC Neem Face Wash with Chamomile and Tea Tree. Now, if you know me you must know that anything that has natural ingredients in it turns me on. The same happened with this face wash. I love face washes that have neem in them. I have used tonnes of them. So, when I got to know about this face wash, I knew I had to get it. I have been using it for a couple of days now and I think I am ready to share my experience with you. So, let's start-
Price- Rs 95/- for 100ml; Rs 150/- for 150ml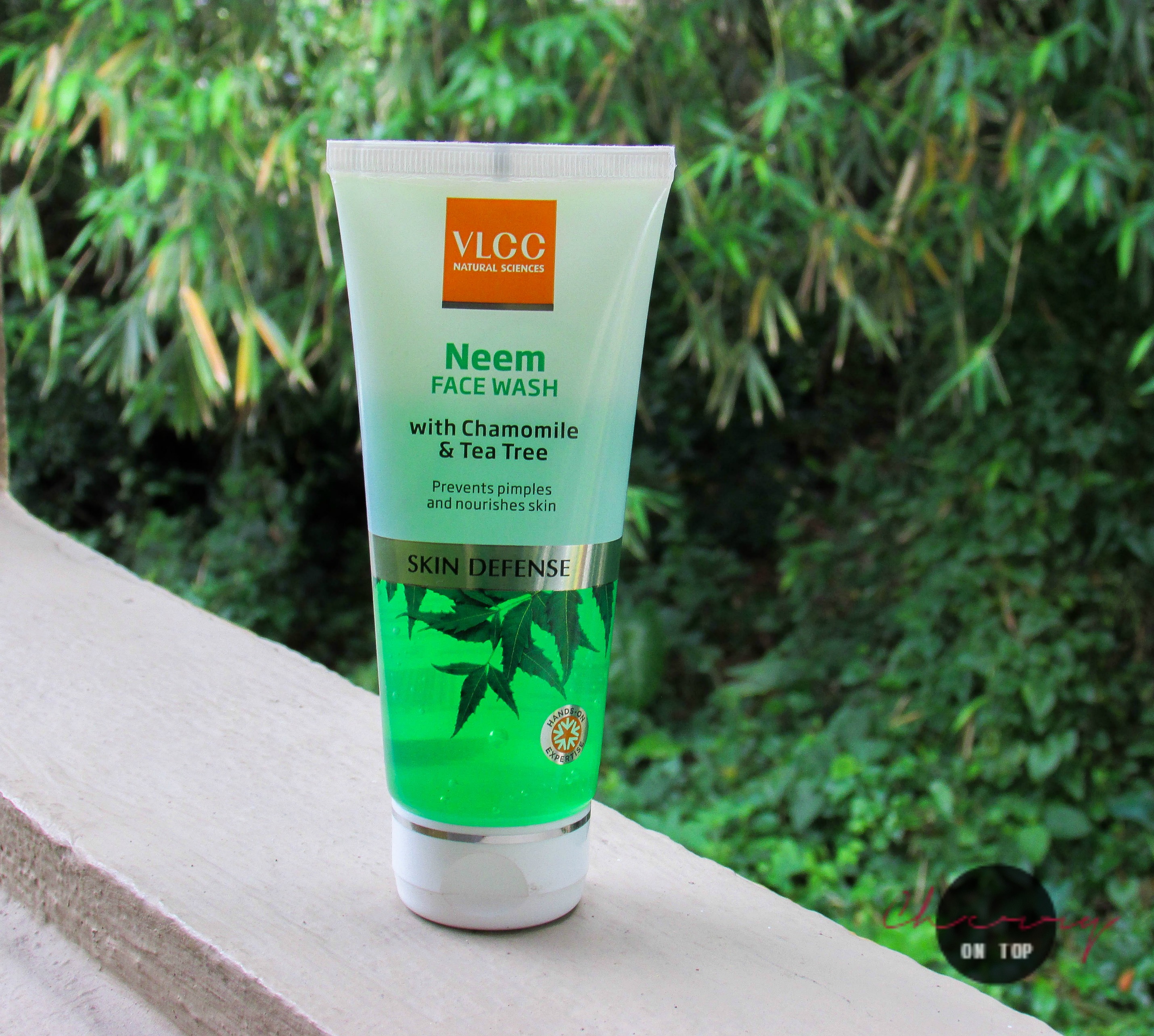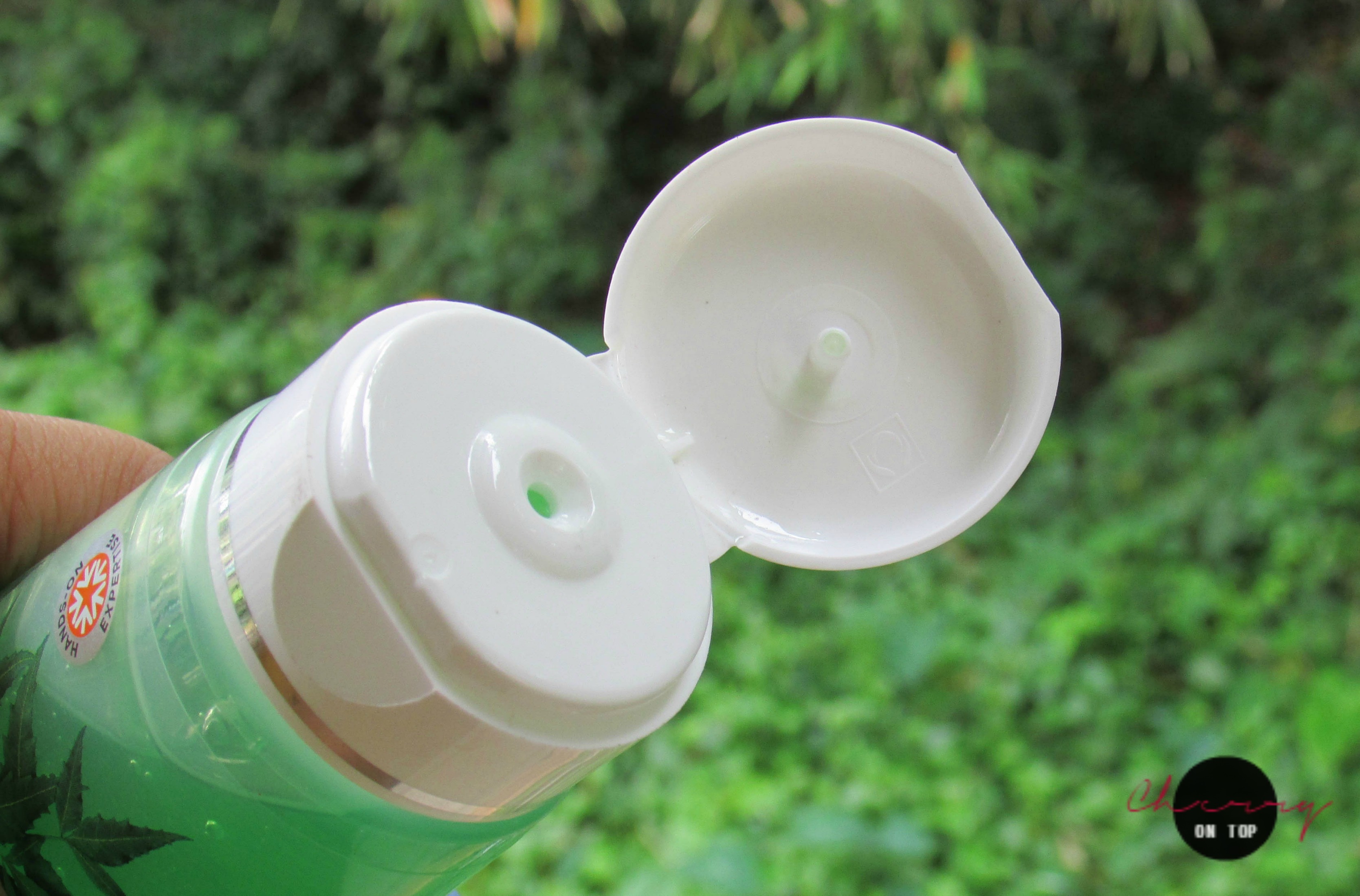 Ingredients- Aqua, Sodium Laureth Sulfate, Acrylates Copolymer, Cocamidopropyl Betaine, Glycerin, Sodium Chloride, Cocamide DEA, Azadirachta indica (Neem) Bark Extract, Melaleuca alternifolia (Tea Tree) Leaf Oil, Chamomilla Recutita (Chamomile) Flower Oil, Daucus carota sativa (Carrot) Seed Extract, Sapindus trifoliatus (Soapnut) Fruit Extract, Eucalyptus Globulus (Eucalyptus) Leaf Oil, PEG-40 Hydrogenated Castor Oil, Potassium Hydroxide, Allantoin, Disodium EDTA, Phenoxyethanol, Methylparaben, Isobutylparaben, Ethylparaben, Butylparaben, Propylparaben, Parfum, CI 19140, CI 42090
Description- Neem face wash, deeply cleanses the face gently and effectively and controls sebum secretion without excessively drying the skin. Contains pure neem extract which effectively treats acne, pimples and prevents their recurrence, while chamomile and tea tree have strong antioxidant properties which help in rejuvenating the skin making it feel sparkling fresh and energised.
VLCC Neem Face Wash Claims
Deeply cleanses the face gently and effectively.

Rejuvenating the skin, making it feel sparkling fresh.
How to Use – Take a pea-size amount, rub it between your palms, lather it up and apply to your face and neck. For best results, use twice daily.
Packaging-  The packaging of the VLCC Neem Face Wash is quite simple. It comes in a regular plastic tube with a flip cap. The tube is transparent so you can keep a track of your product usage. You need to squeeze the tube in order to get the product out. One thing that I like is I could have a control on the dispense of the product. It only lets a small amount of product out at a time. That means, no wastage!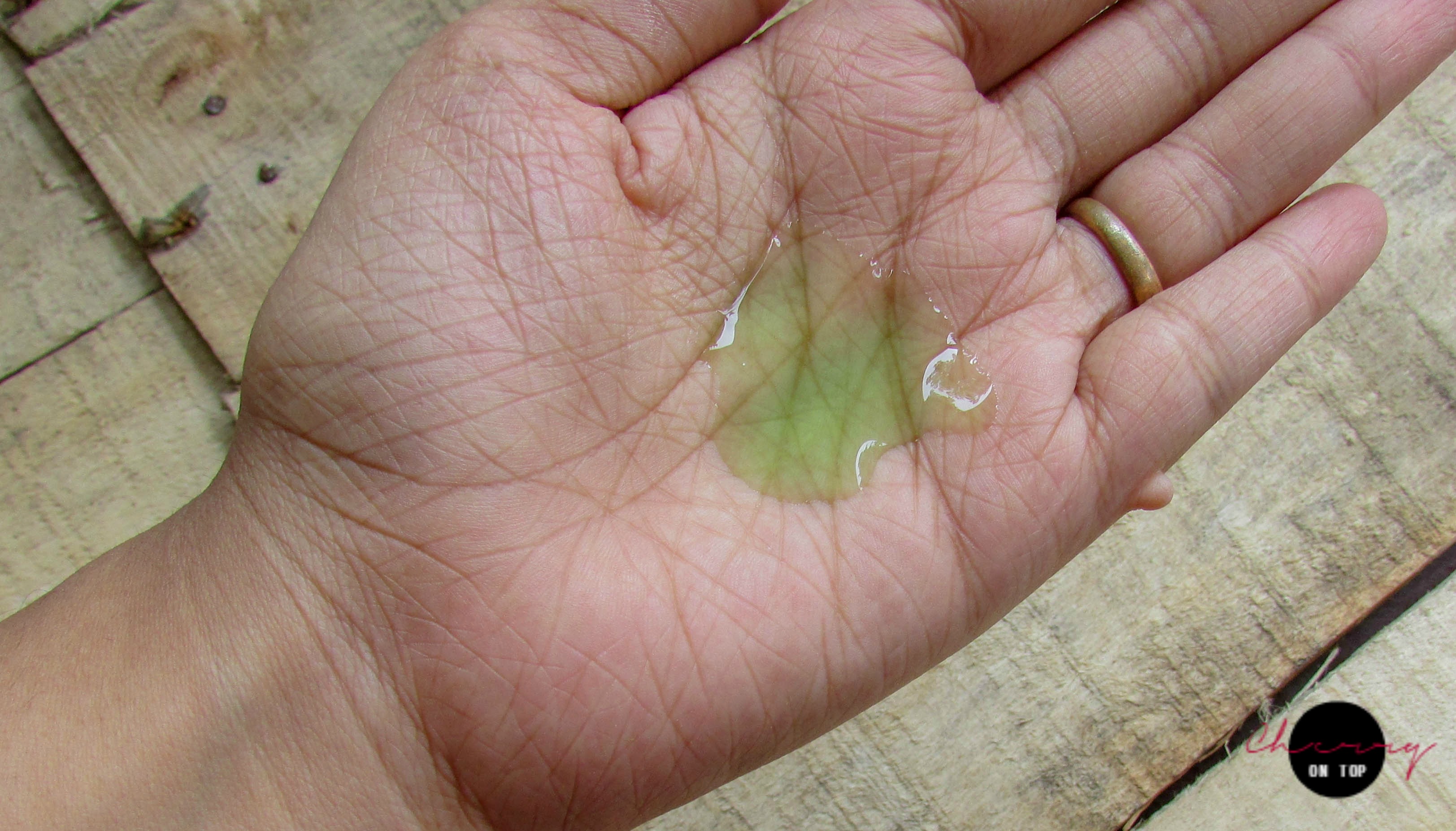 Formula- The formula of the VLCC Neem Face Wash VLCC Neem Face Wash is gel-like. It is quite concentrated, so pea-size amount is more than enough for your entire face and neck. This product is green in colour with resembles it's association with neem. It has a unique soap-free formulation that prevents acne and pimple and also the recurrence of them which is very common in extremely oily skin.
My Experience with VLCC Neem Face Wash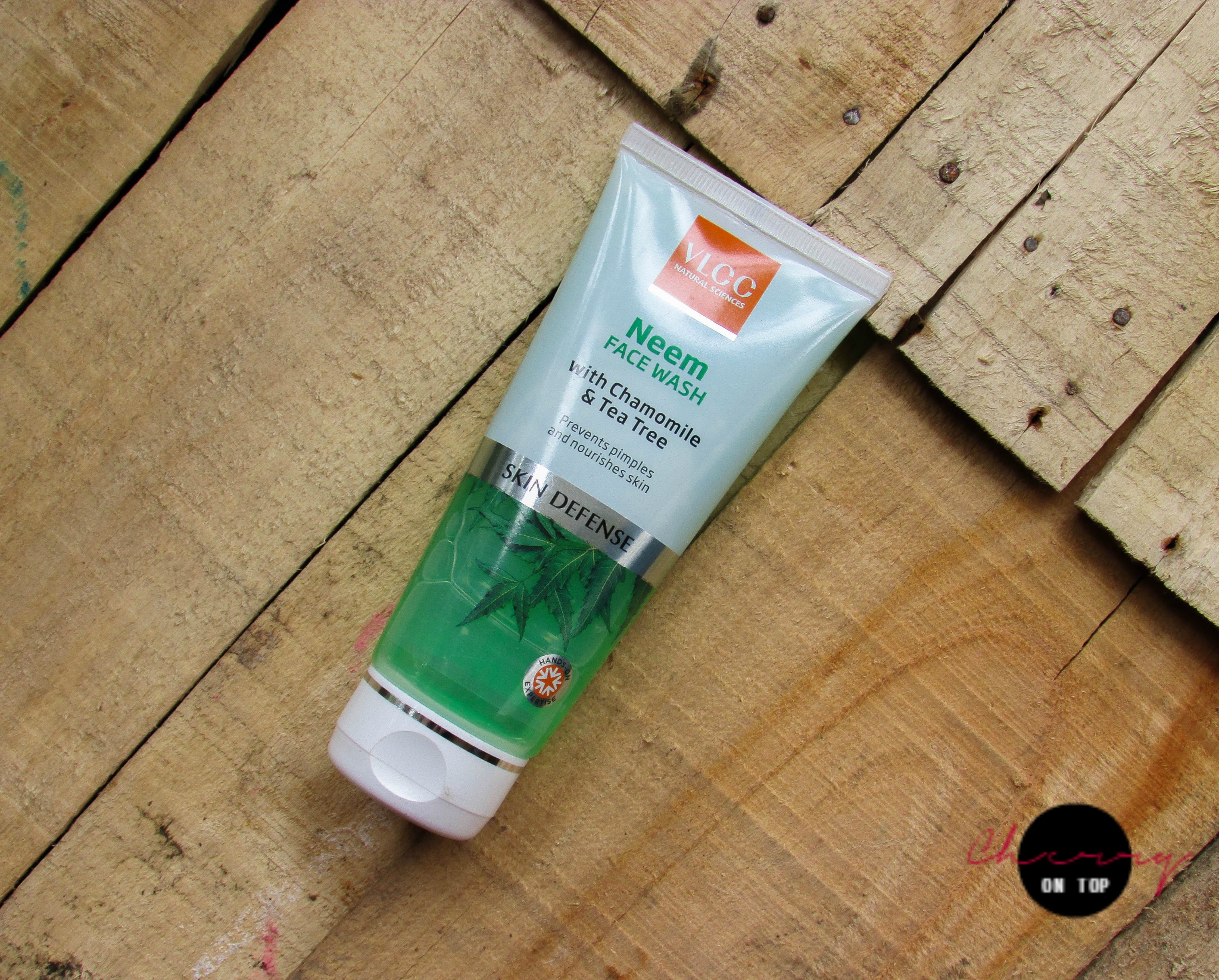 As I mentioned earlier, I have been using it for the past couple of days twice a day and I have seen my skin improving after washing my face with it. I know it is too fast to review a product within two days of time but I could do it as I don't have any acne on my skin right now. At the moment, my major concern is oiliness which VLCC Neem Face Wash has been handling quite effectively.
Talking about the benefit of this face wash, we need to know the benefits of its key ingredients that is Neem, Tea Tree and Chamomile-
Neem, the most effective, easily available ingredient that has been used by every woman in India since time immemorial. Neem has antibacterial properties which help cure acne, reduce acne spots and scars and prevent breakouts. Also, it works on skin rashes and blackheads. I remember my mum used to soak neem leafs in a bucket full of water during summers and we used to bath with that water. It helped in diminishing rashes and prickly heat.
Chamomile is known as an anti-ageing agent for your skin. It also works wonders on skin irritation.
Tea tree, another great ingredient for your skin. A correct amount of tea-tree helps you get rid of acne or lighten acne scars. Tea tree is an anti-fungal agent that works on any infection. Its anti-oxidant property leaves the skin look and feels fresh and rejuvenated.
With my first wash, I knew that this is a good cleanser for combination skin. This product lathers up so well despite being a soap-free face wash. It takes out all the dirt and grime and excess sebum from your skin leaving your pores to breathe. It keeps oiliness at bay for a long time, for about 4-5 hours which is a boon for ladies with oily skin. As I do not have much acne on my skin, I cannot comment on the pimple prevention point. But, after using it twice daily for two days, it has reduced that one pimple I have on my forehead which I am very happy for. It leaves my skin soft, supple and oil-free after every wash. Also, the skin feels fresh and looks glowy. Seeing that, it can be called the best face wash for women.
It smells so fresh, quite like neem. VLCC Neem Face Wash is nature in a tube.
Have you used VLCC Neem Face Wash yet?
---
That was it for my VLCC neem face wash review. I hope you found this post helpful. Make sure to share it with your family and friends if you did. Pour in your thoughts in the comments. Your comments encourage me a lot! Do subscribe to our Newsletter so that you get notified whenever there is a new post on the blog. Will talk to you in my next post. Till then, be safe & keep smiling! Follow me on Facebook, Twitter or Instagram for regular updates. Add me on Snapchat for more fun and a sneak-peek of my life.
Disclaimer: Sample sent by the brand in exchange for an honest review.