Along with the Christmas comes India's most favourite season and that is the Big Fat Indian Wedding Season! We all must have pre-decided our outfits for that special occasion even if it's not your own wedding. We all want to look perfect in such an event. Keeping that in mind, I thought I should talk about something beyond the conventional lehenga or saree. Today, I will talk about some of the Global Desi Festive Tops that you can easily carry for a classic Indian wedding without going overboard. It's the age of fusion and we shall do it like a pro.
All the tops that I am going to show you can be very well paired with brocade long skirts, fusion palazzos or culottes. They can also be worn as a blouse to a saree that you might have stolen from your mom's wardrobe.
It's the age of mixing and matching, having a fusion of everything and creating your own style. Why not try it now! Here is the list of festive tops for women that have caught my eyes. Sharing it with you is the best thing to do-
1. Red Velvet Off-Shoulder Top-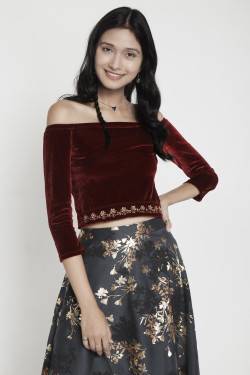 Off-shoulders are so on trend right now. Be it western wear or Indian, off shoulders are everywhere. Keeping that trend in mind, I picked this top where two most popular trends go hand in hand- off-shoulder and velvet. The maroon colour and the gold detailing look so festive and up for this season. BUY HERE
2. Red Bell-sleeved Top-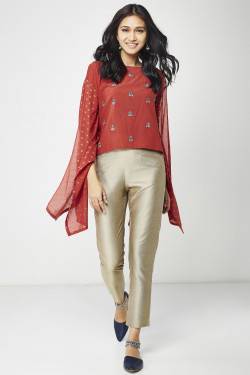 I have picked another red top and I think it's one of the most beautiful designer tops for women that will be best paired with these type of golden trousers or a pencil skirt. Red is the colour for this season. This is great for weddings! BUY HERE
3. Golden/Champagne Crop Tops:
These types of crop tops are great to be paired with many things. They are completely versatile clothing items. You can wear these are blouses to your sarees. These colours are really versatile and can be worn with almost most of the sarees. These can also be paired with ethnic long skirts. Just take a sheer dupatta with it and you are good to go, or else, you can choose not to wear dupatta. It's completely upto you. Wear juttis or heels whatever you want and rock the party. BUY HERE
4. Black Crop Top-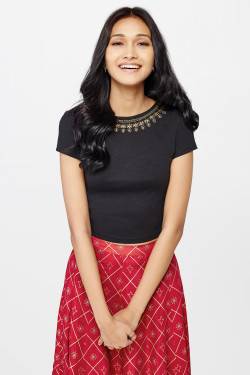 Wherever you go, whatever you do, you cannot go wrong with a black top. That's an absolute must-have for your wardrobe. No matter what the season is, no matter what the occasion is, a black top always comes handy. Black is a universal colour and it goes with almost anything. This particular top can be paired with any skirt, culottes and of course with sarees. BUY HERE
Find all the festive ladies tops online at Global Desi's website.
---
That was it for today's post. I hope you found this post helpful. Make sure to share it with your family and friends if you did. Pour in your thoughts in the comments. Your comments encourage me a lot! Do subscribe to our Newsletter so that you get notified whenever there is a new post on the blog. Will talk to you in my next post. Till then, be safe & keep smiling! Follow me on Facebook, Twitter or Instagram for regular updates and also Subscribe to my YouTube Channel!