Hey, everyone! Finally, my exams are over and I am ready to dedicate myself solely to blogging. I have missed blogging so much in the past few weeks. So, I am back again with a new post for you guys. Today's post is going to be a review on the two perfumes I received from Neesh, one is their Rose E Mohabatt and the second one is Belle D' Oud. So, without wasting any time, let's jump into the post-
About Neesh
Before starting with the actual review let me share a few words about the brand, Neesh. Neesh is one of the fast-growing perfume
brands in India, creating something unique with their passion and has established a signature style. Their unique packaging, unmatched fragrance, and unparallel quality within such an inexpensive price tag, make them stand out from the rest.
Neesh perfumes come in 12 variants, 6 for men and 6 for women. Here are the names-
Men's Collection- Oud-E-Khaas | Moha-Beau-T | Eau-De-Mehfil | Attar-E-Neesh | Attar-E-Nazakat | Atar-E-Ishq
Women's Collection- Zaafran-E-Hindustan | Sultana | Rose-E-Mohabatt | Oud-De-Venice | Belle-D-Oud | Amour-De-Oud
They have three different categories of perfumes- light (ingredients like citrus, fruits. flowers etc.), medium (ingredients like tea, honey chocolate etc) and strong (ingredients like vanilla, must, wood, mukhallat etc) to help you choose according to your preference. The samples I got are from the light/medium family.
I am very bad at describing scents but still will try to do as much as I can. Please don't be mad at me 😛
Prize- 340 INR
Rose E Mohabatt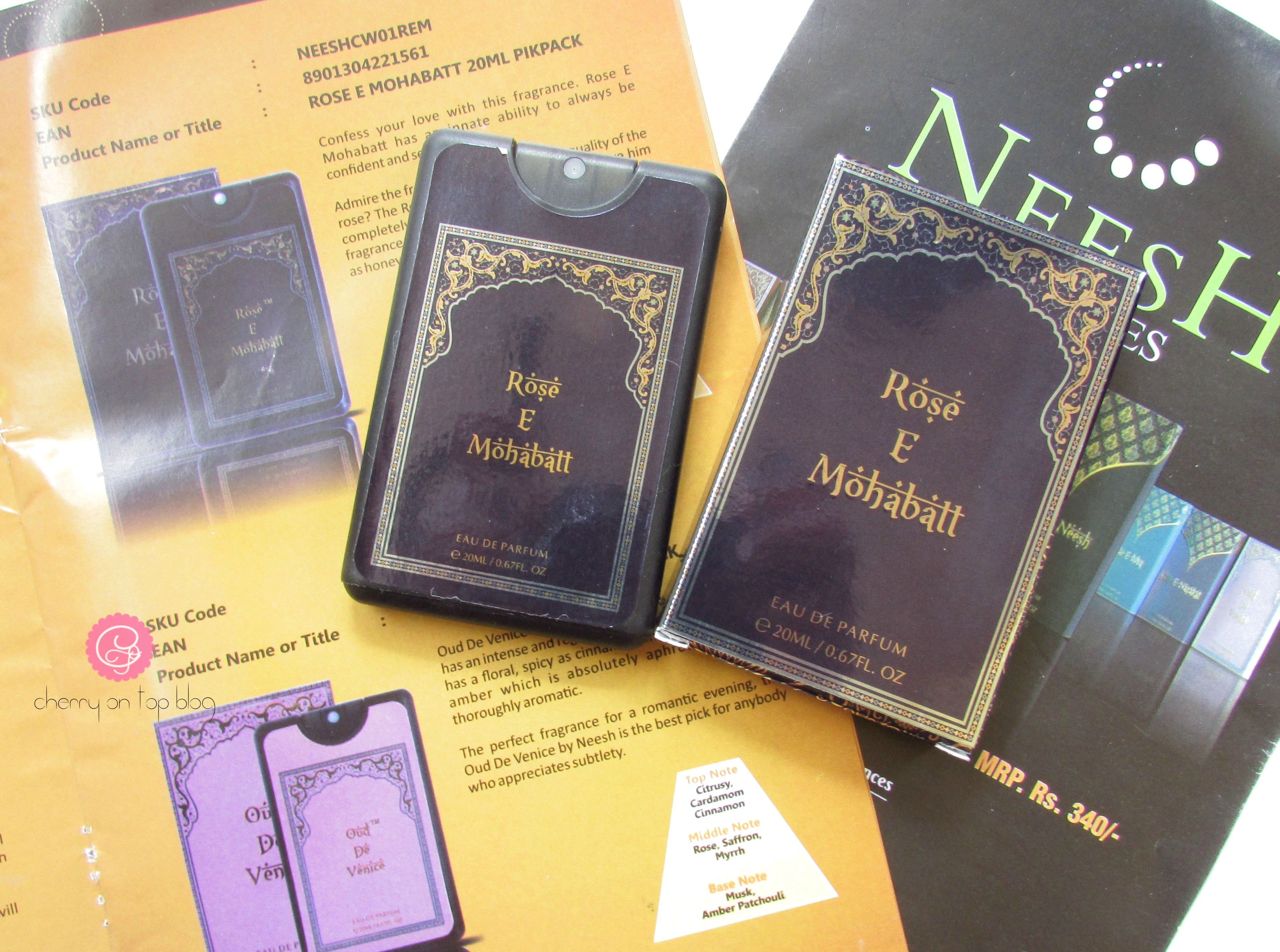 Rose-E-Mohabatt is my favourite of the two I received. It has a very sweet and warm scent to it which I found very feminine and delicate. The base note has Amber and Musk and this perfume is a perfect balance of these two. It's more ambery than musky if that makes any sense!
Top Note– Honey-Suckle, Saffron
Middle Note– Rose, Lavender, Myrrh, Styrax.
Base Note– Musk, Amber, Labdanum
Buy here.
Belle D Oud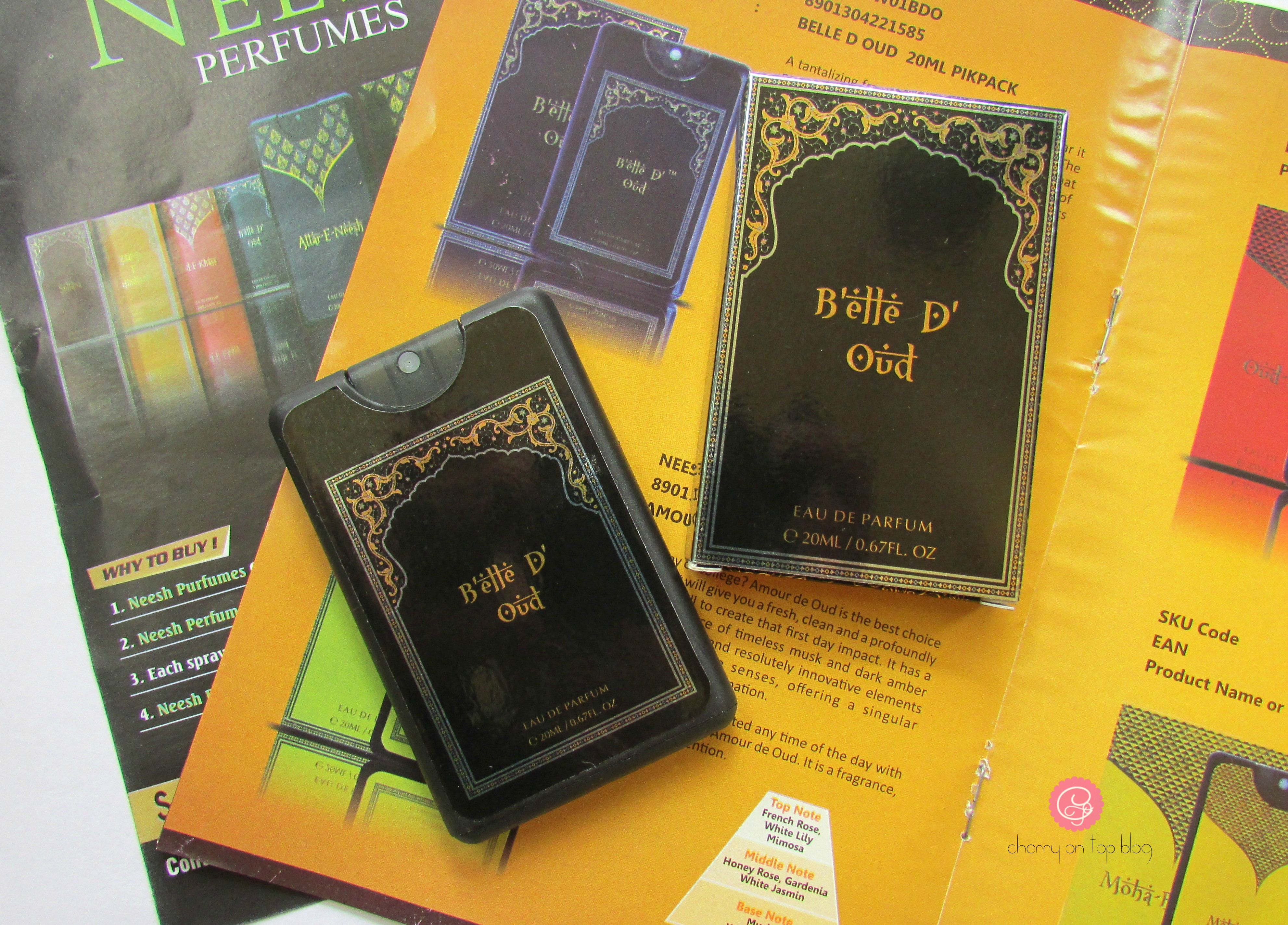 Belle D Oud is also a nice fragrance but it is a bit strong for my taste. It has the essences of floral, fruity and also musky and amber notes. The fragrance is fresh and feminine, a little stronger than Rose E Mohabatt.
Top Note– Honey, Berry, Iran Saffron
Middle Note– Indian Rose, Exotic Prune
Base Note– Musk, Dark Amber
Buy here.
Overall, I like both Rose E Mohabatt and Belle D Oud, the first one being my favourite. The fragrances I received are very feminine and last for a long time, at least 9-10 hours on me. Note that no perfume lasts on me for more than 5 hours. I am really impressed with the longevity. Neesh Perfumes are brilliant combinations of attar and high-quality global scents. Thus, they have an oriental feel and warmth in them. I love that. All their perfumes come in 20ml pikpacks, which are very travel-friendly because they can be carried everywhere for the fact that they are not packaged in glass bottles. These perfumes fit in your pocket and purse very easily. Each spray of Neesh perfumes costs only Re 1.
They also have gifting options for both men and women. You can find out more about them on their website www.neesh.in. I would suggest you to try at least one perfume from their range. I am sure you will like them. These perfumes are available on Flipkart, Amazon, Snapdeal and eBay. I hope you liked my review. If you did then please do share this piece of information with your friends and family. See you guys in my next post. Until then, be safe & keep smiling.
Disclaimer- Products sent by brand in exchange for an honest review. This post contains affiliates links.