Hi, guys! Hope you all are doing great. It's been long since I have posted anything about my recent skincare discoveries and that is not okay as I have always shared my new finds with you. Today, I'll be talking about the Nature Sure Olive Oil and the countless olive oil benefits for skin and hair. Recently, I have started adding different oils to my skincare and haircare regime and I feel it is one of the best changes I have ever made in my life. Olive oil is one of the first oils to be introduced to my routines. I am going to tell you what to expect from olive oil and how it has benefitted me.
Olive Oil is a plant-based oil, derived from olives thus it is completely vegan. It is mostly and popularly used in cooking and as salad dressings and is considered the most nutritional and healthy oil, but it has various other benefits too.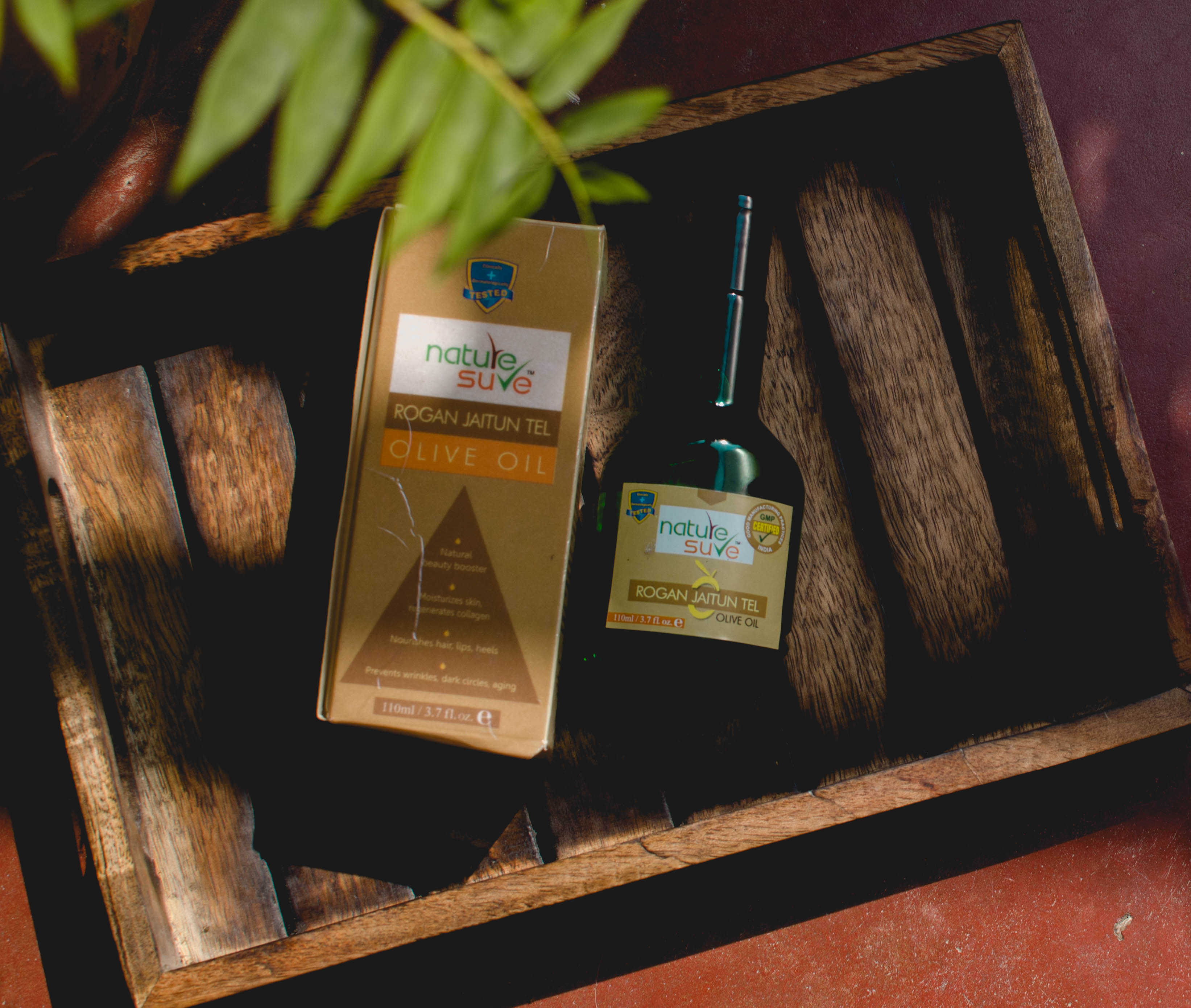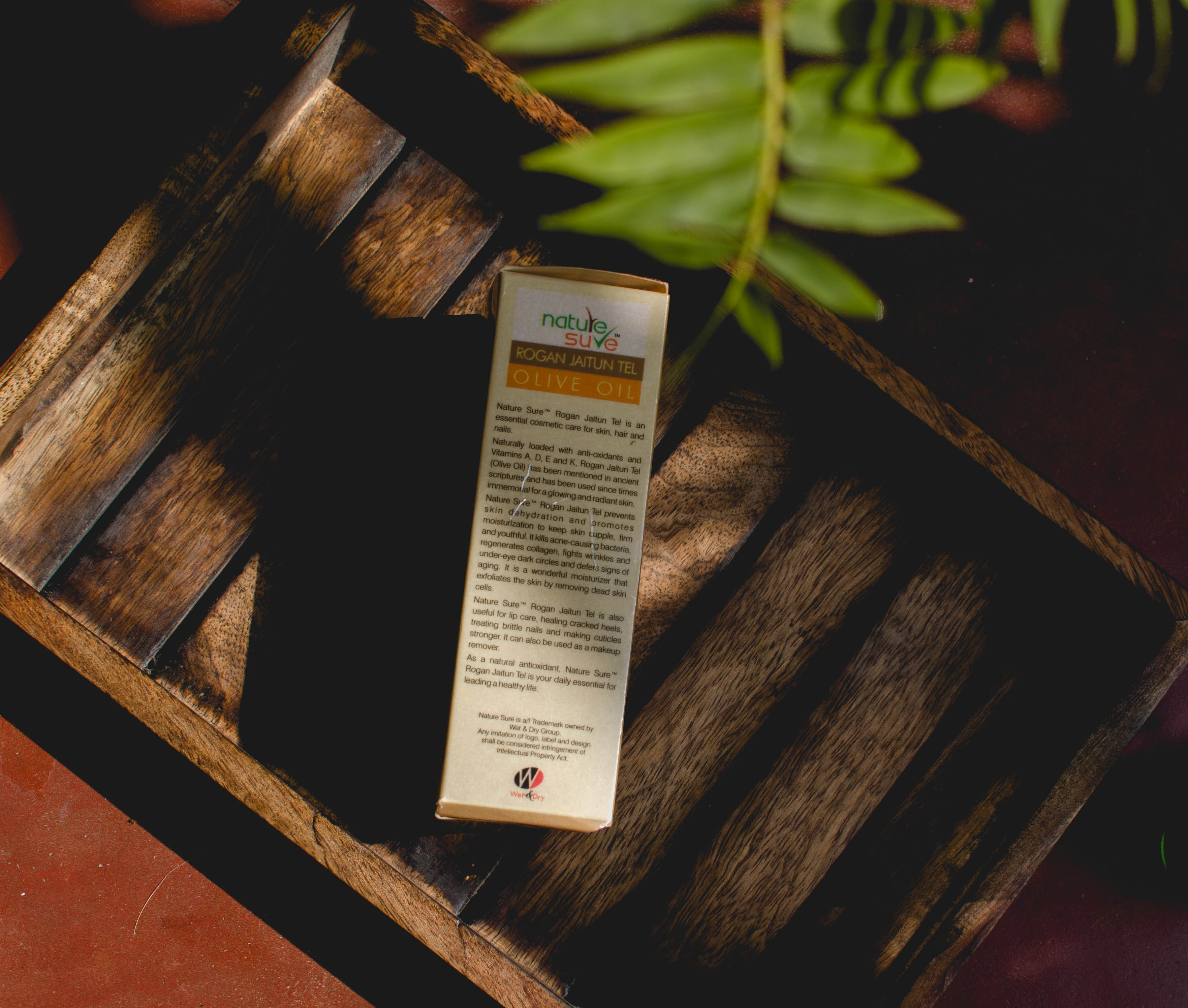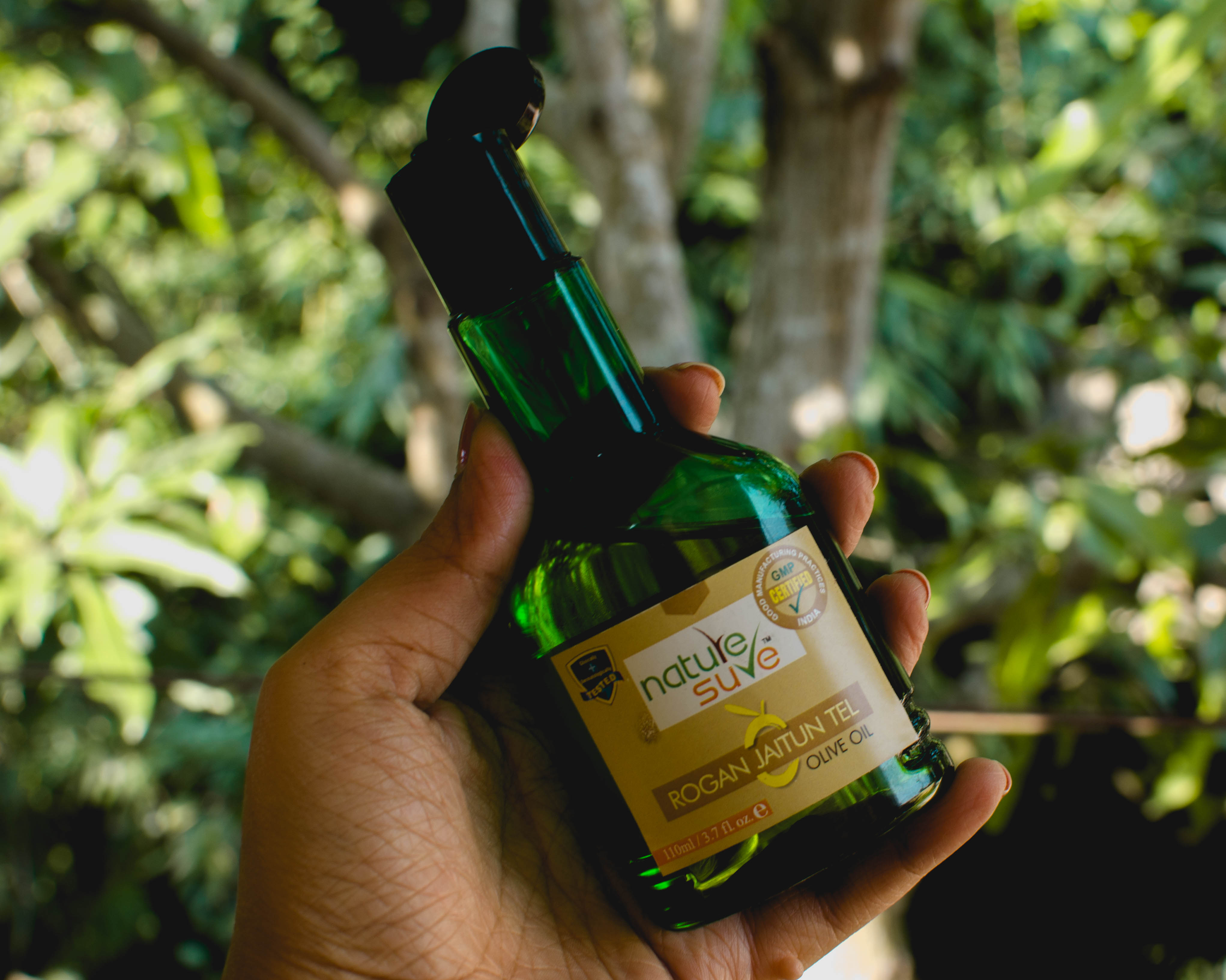 Olive Oil for Skin
There are various proven skin benefits of olive oil and today I'll be talking about those that have worked magic for me.
Moisturizes Skin-
Olive oil can be used as a great moisturizer for dry skin. If you have dry facial skin and body, massage olive oil before going to sleep or before you take shower. Wash with lukewarm water and apply moisturizer. I was suffering from severe dry patches around my mouth and using Nature Sure Rogan Jaitun Tel religiously for a couple of weeks helped me cure those. It does not only moisturizes your skin but also gives a healthy glow to it. It also gently exfoliates the skin by removing dead skin cells.
Anti-ageing Benefits-
Olive oil is rich in various antioxidants and Vitamin E which protects the skin by limiting the production of free radicals and that eventually delays skin ageing.
Acts as Makeup Remover-
Oils are the most amazing makeup remover. I have recently discovered my love for olive oil and coconut oil when it comes to makeup removers. Earlier, I used to freak out thinking about applying oil to my face but I now have realised that it is very easy to completely wash off the oil from your face post-application. Oils, especially olive and coconut removes waterproof makeup very effectively without irritating your skin or your eyes. After you are done with removing your makeup, you can either wash your face with a mild cleanser or you can use a cloth soaked in warm water to gently give your skin a rinse. The former is for oily/combination skin people and the latter is for dry skin girls.
Olive Oil for Hair
Olive oil is great for your hair as well. It can be used in many ways to benefit your hair and scalp.
Anti-dandruff-
You can use olive oil to get rid of your dandruff and itchy scalp. A massage with olive oil mixed with some lemon juice can keep dandruff at bay and also it will clear out existing dandruff. You can do this twice a week if you have severe and recurring dandruff issue.
Smooth Hair-
Olive oil can be used as a base for different hair masks and it can also be used on its own. A regular massage with olive oil will promote hair growth, will make the hair smooth and soft and at the same time, it will add shine to the hair. Vitamin E in olive oil boosts healthy hair growth.
About Nature Sure Olive Oil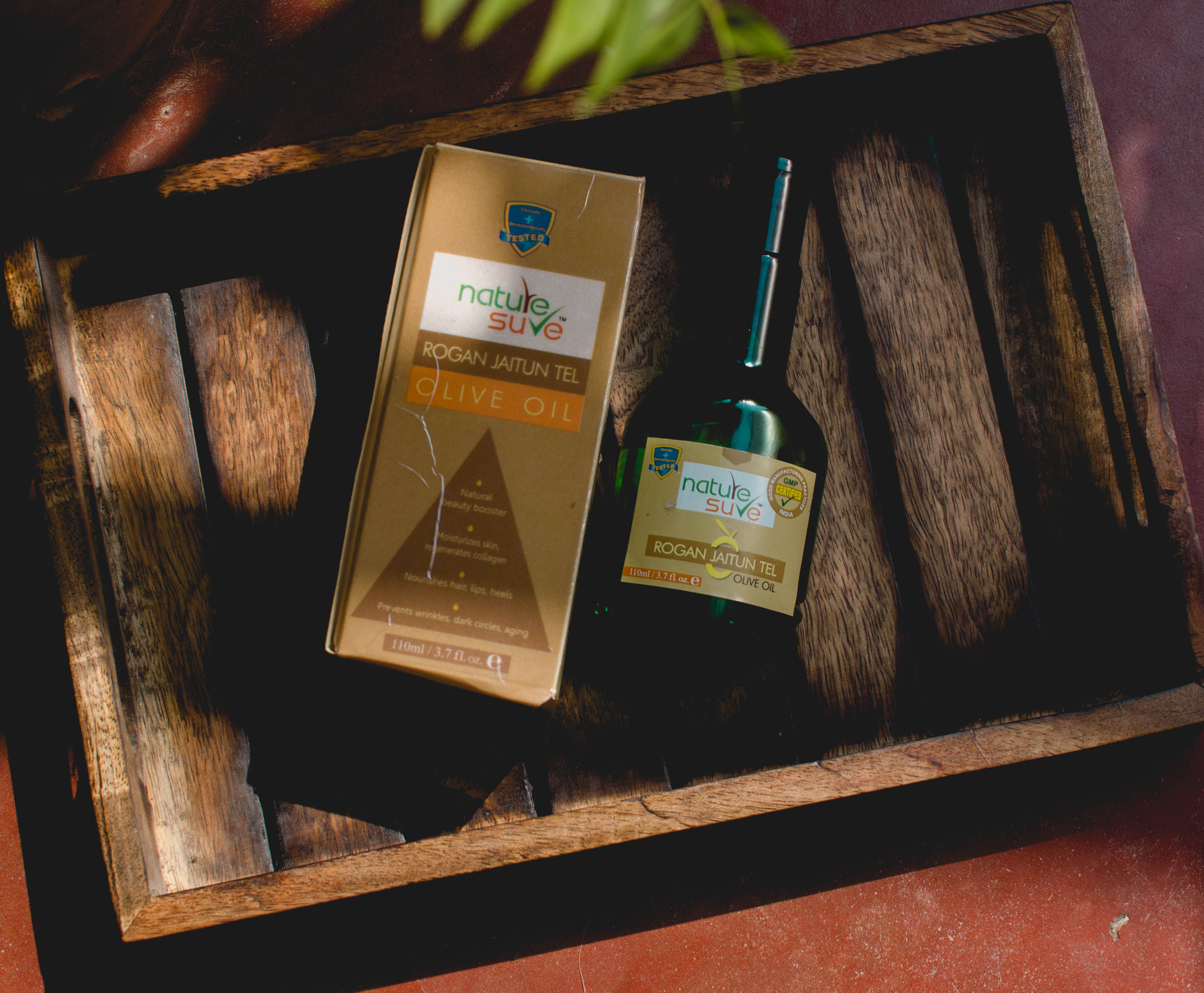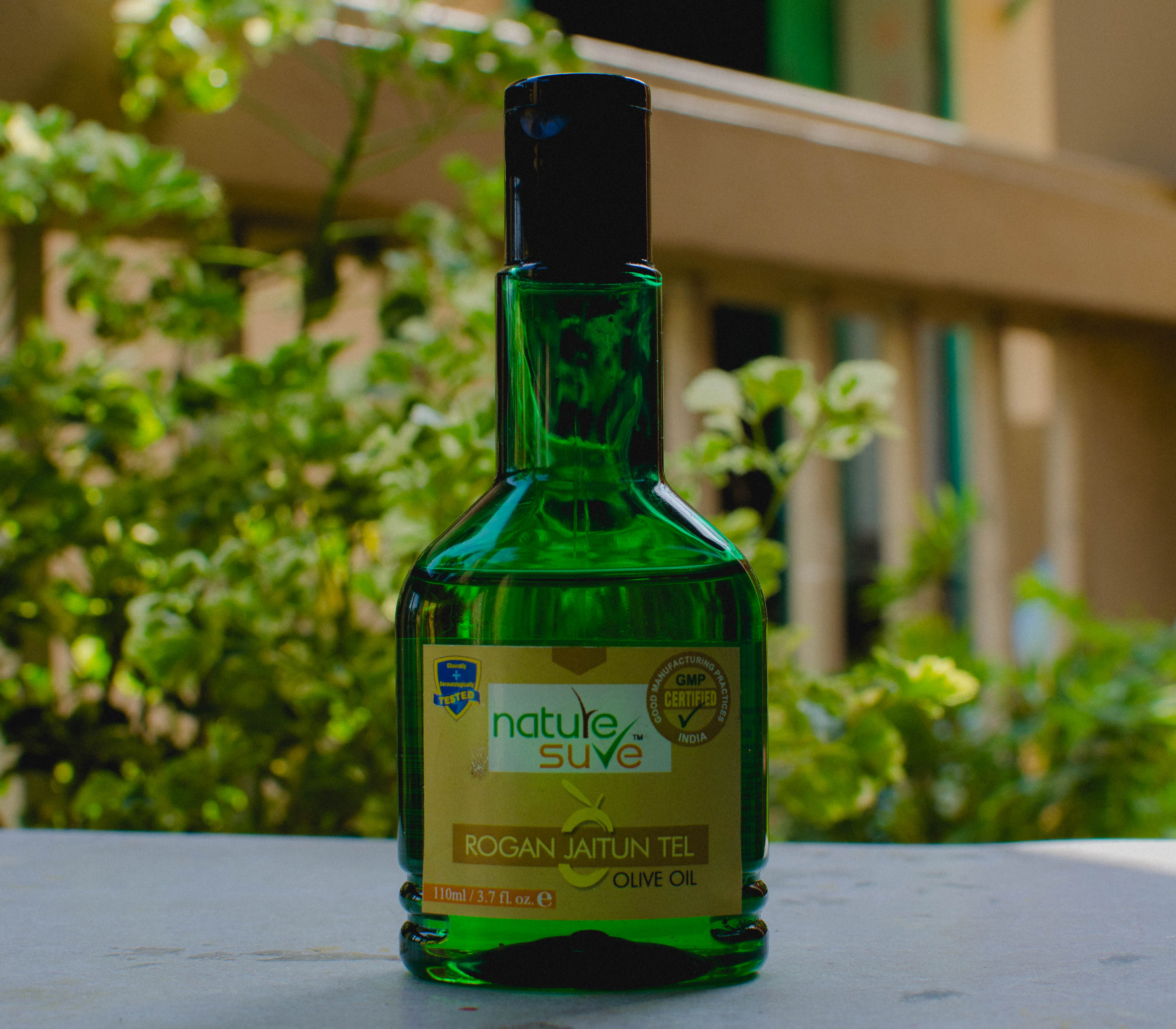 Now that we have learnt about the countless benefits of olive oil for our skin, hair and health, let us know more about the olive oil I have been using for months. Let's know more about Nature Sure Rogan Jaitun Oil.
Nature Sure Rogan Jaitun Oil (Pure Olive Oil) is packed with anti-ageing antioxidants which makes it the perfect remedy for skin, hair and nails. The benefits of this oil are numerous as it restores the damaged skin and prevents premature skin ageing. It prevents clogging of pores and acts as a wonderful moisturizer. It exfoliates the skin by penetrating deep into the skin and removes dead skins. The massage by Oil provides soft and smoother skin.
How to Use Nature Sure Olive Oil-
Use Nature Sure Olive Oil directly or blend it with almond or coconut oil.
Rub it gently on your hair and skin.
Take shower after 30 minutes of applying on hair.
Apply overnight if using on skin.
You can also massage it on to your scalp if you have dry scalp.
Wrap your hair in a shower cap, let the oil soak in for 15 minutes or more for the most effective conditioning.
Price- ₹267
Buy here

About Nature Sure-

Owned by Wet & Dry Group, Nature Sure is a young and dynamic company focusing on the health and wellbeing of people. The company is born out of a passion to create unique products and solutions for the evolving needs and desires of modern consumers. They research about these emerging needs and desires emerging out of the changed lifestyle of current and future generation and develop solutions so that people enjoy their self at best.
I would highly recommend you guys to try out this amazing Olive oil by Nature Sure. The product is 100% safe to use on the skin as it is in its purest form.
---
That's it for today's post. I hope you found this article helpful. Make sure to share it with your friends and family if you did. Your comments encourage me a lot. So, pour in your thoughts in the comments. Subscribe to our Newsletter so that you get notified whenever there is a new post on the blog! Will talk to you in my next post. Till then, be happy and keep smiling! Follow me on Facebook, Instagram & Twitter and also Subscribe to my YouTube channel for beauty & fashion related videos and vlogs.
Disclaimer- The brand was kind enough to send the product to me in exchange for an honest review.