Hello, beauties! Today, I am back with another review. You know how much I love taking care of my skin. I think it's more like an investment than just a routine. A few months back, I got to try two products from an all-natural, Indian ayurvedic skin and hair care brand called Amrutam. One of them was a hair care product (which I'll review very soon) and the other was a skincare product called Amrutam Face Clean-Up which is what I am going to review in this post.
Price- ₹1,199 (Buy here)
Packaging-
Amrutam DIY Face Clean-up comes in a plastic bottle with a metal screw cap and with a plastic stopper cork to prevent spillage. The packaging is very sturdy and convenient to carry when you are travelling. I wish they had included a pump dispenser for easier use.
Product Description-
This product is a do-it-yourself face and skin repair. It can also be called an at-home clean-up that deep cleanses your pores by extracting dirt from the skin and rejuvenates it from within. It has anti-bacterial and anti-fungal properties which help in acne prevention and dark spots.
How to use:
Place a small amount of Face Clean-Up in your hands. Massage into skin in a circular motion with fingers to get all areas. Leave on for 20 minutes for deep pore cleansing. Wash with warm water and pat dry. Enjoy soft, balanced skin!
Usage:
2-3 times a week.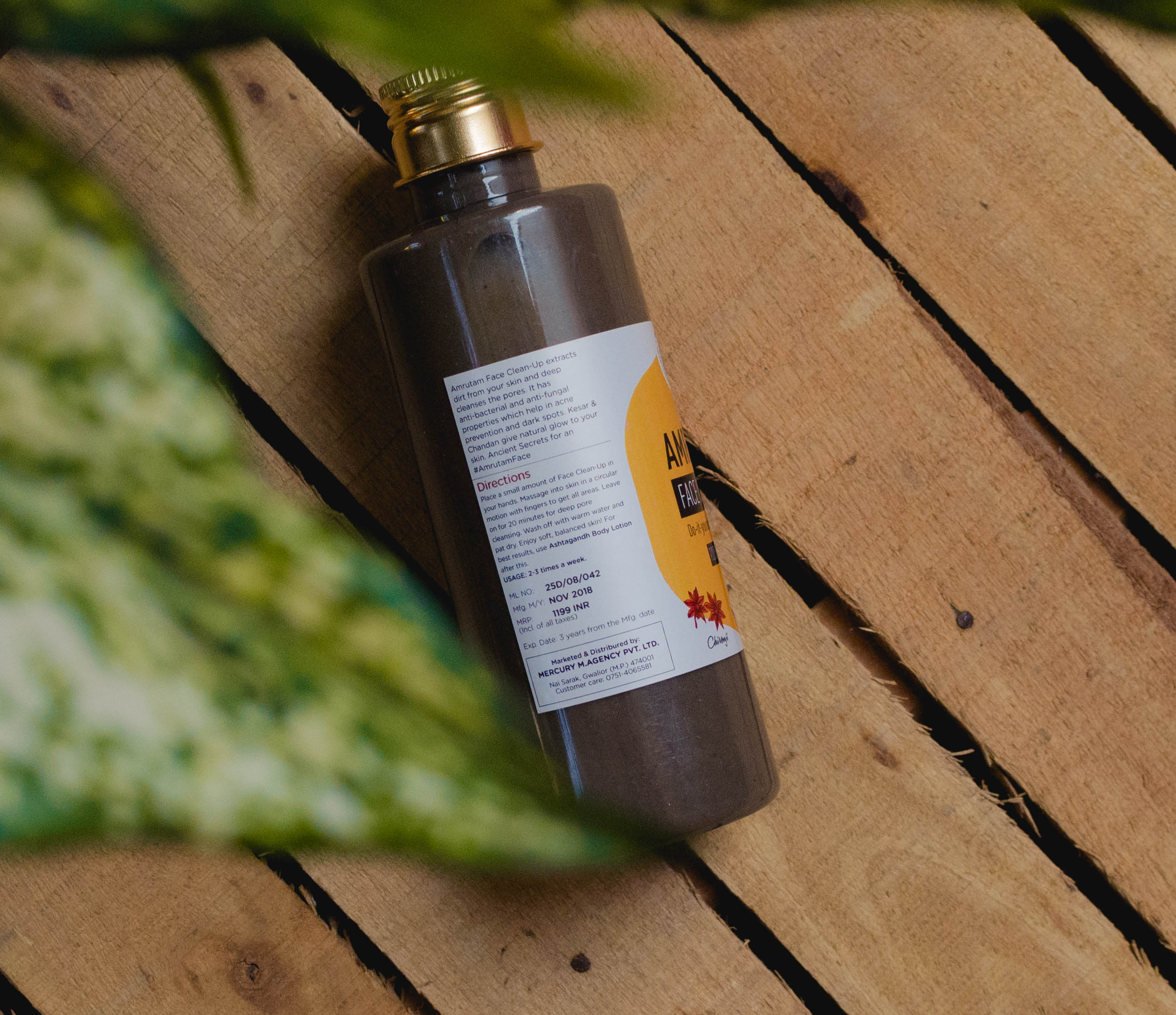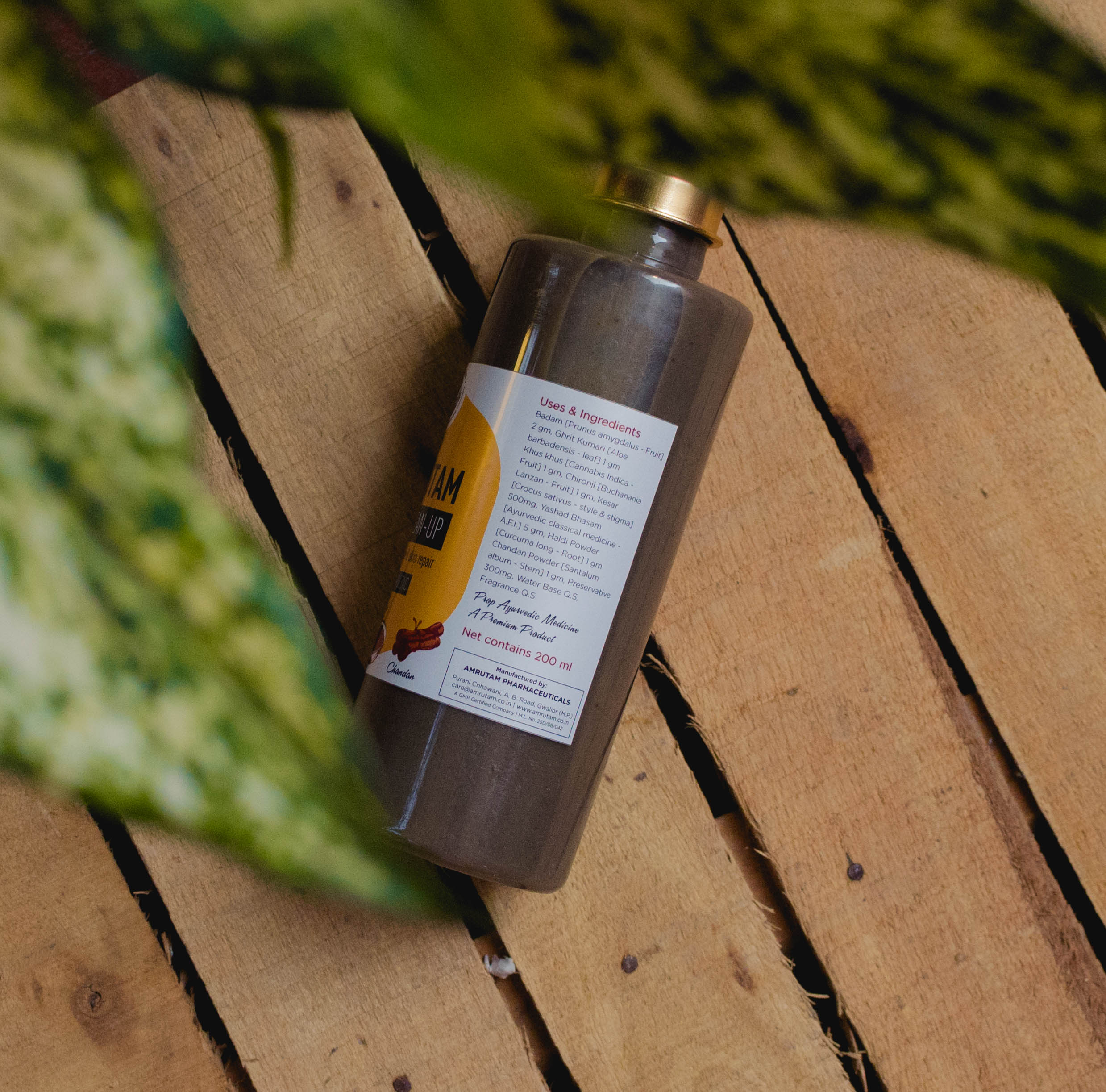 Ingredients:
Badam (Prunus amygdalus – Fruit) 2 gm, Ghrit Kumari (Aloebarbadensis – leaf) 1 gm, Khus khus (Cannabis Indica -Fruit) 1 gm, Chironji (Buchanania Lanzan – Fruit) 1 gm, Kesar (Crocus sativus – style & stigma) 500mg, Yashad Bhasam (Ayurvedic classical medicine -A.F.I.)  5 gm, Haldi Powder (Curcuma long – Root) 1 gm, Chandan Powder (Santalum album – Stem) 1 gm, Natural Preservative 300mg, Water Base Q.S, Fragrance Q.S
Almond helps in the anti-ageing process as they contain Vitamin E and other antioxidants in them. They help in eliminating the harmful free radicals from our body and help our skin maintain its young lustre and glow. 

Aloe Vera is a wonder plant for our skin and overall health as well. It is beneficial in the treatment of acne, moisturizing the skin and act as an anti-ageing agent for our skin.
Poppy seeds or Khus Khus will help with achieving clear skin, treatment of eczema and inflammation and they also work as a wonderful moisturizer.
Chironji with its rich vitamins and minerals is very important for healthy skin. It's highly effective in the treatment of acne and pimples as well.
Kesar is a luxurious ingredient we add in Amrutam Face Clean Up, because of its numerous benefits for your skin. Saffron has been used anciently by Romans and Egyptians as well as a healing agent, it is told that Cleopatra used to use Kesar in her baths because of its cosmetic properties. It helps in the treatment of dry skin, improves skin texture, tones your skin, treats acne and dull skin and also helps in skin lightening.
Yashad Bhasma is an ancient ayurvedic bhasma formulated with aloe vera and zinc oxide, it is highly beneficial in the treatment of acne, pimples and scars.
Product Texture-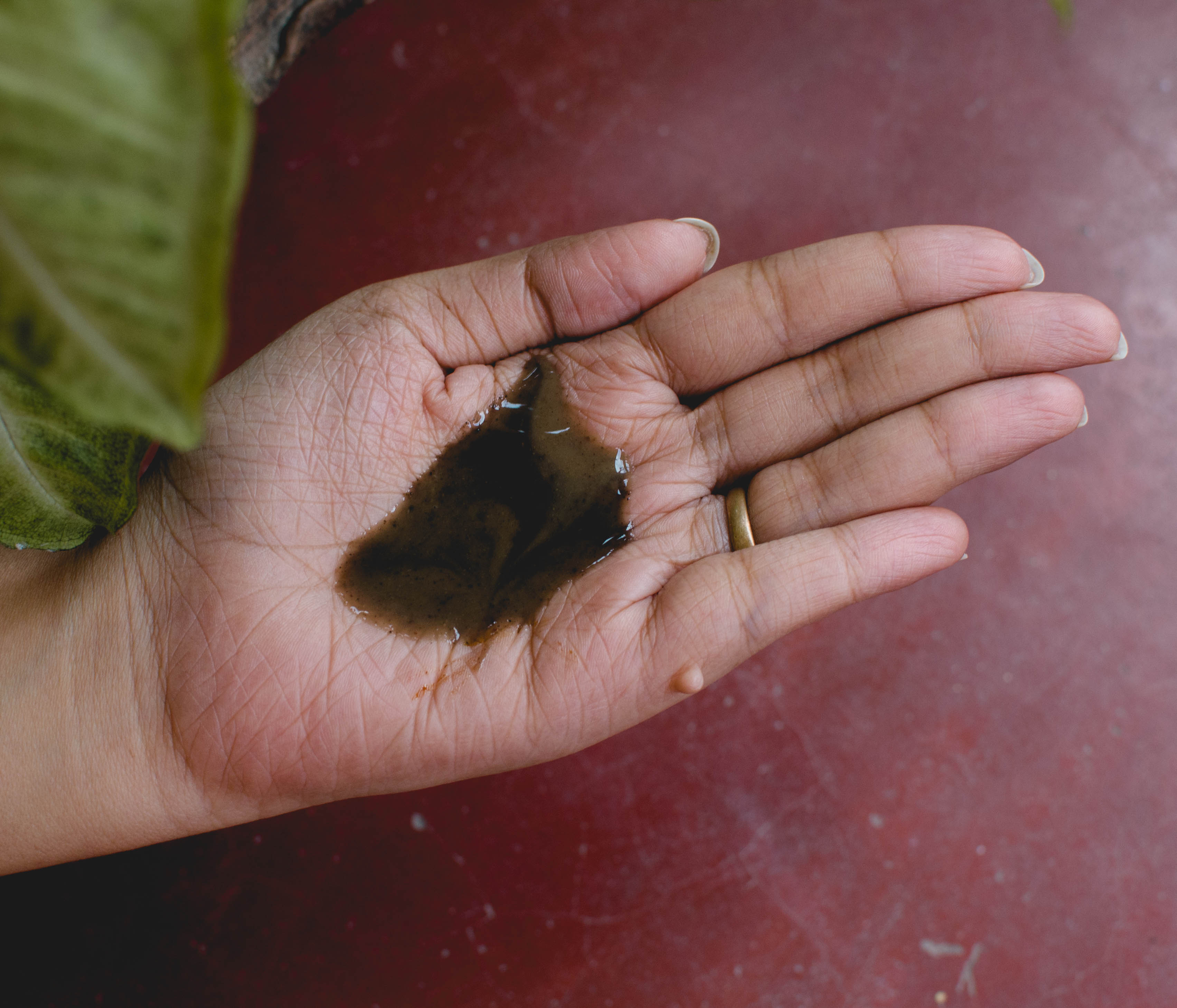 The texture of Amrutam Face Clean-Up is very runny, slurpy texture. I think the aloe vera in it makes it a little slurry and viscid. The liquidity of the products helps in spreading the product all across the face very easily.
My Experience with Amrutam Face Clean-Up
I know how happy my skin feels when it is treated with natural ingredients. That's why I always prefer playing around with natural skincare products. When it comes to Ayurveda, I have not tried too many brands but those I've used has left me satisfied. So, when I got the chance to try out Amrutam Face Clean-up, I did not hesitate to say yes to the collaboration because from my past experiences, I have a huge trust in Ayurvedic products.
Before starting with the review, let me tell you what was my skin condition before I started using this product. I started using it in January. Usually, my skin is very dry and dull during winters. I also had an issue of roughness on the skin due to the lack of moisture. I did not have a breakout issue or pigmentation or scarring.
After the very first use, the roughness of my skin was 98% gone and it felt so smooth on touching which was so unusual for my skin during winter. It did not make my skin dry or dehydrated after the whole procedure, instead, it added balanced moisture to the face. It also eliminated the dullness to quite an extent and added a healthy glow.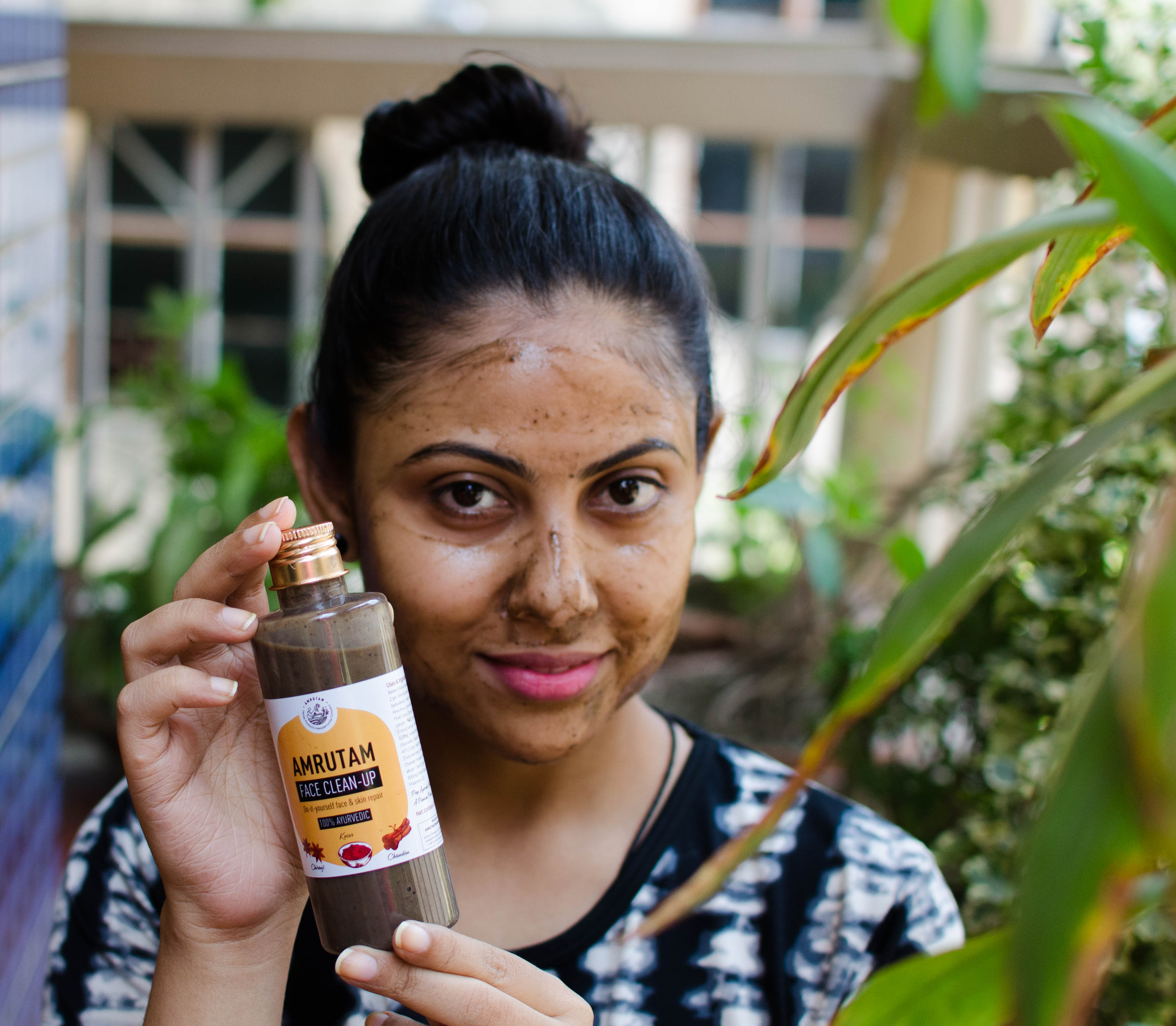 I have used this even during summers and it did not break me out or made my skin oilier (because I have combination skin and my t-zone becomes super oily in summers.) Even in summer, this product has made my skin glow from within.
I would highly recommend you guys to give this product a shot if you are feeling really fancy and want to take your skincare game a notch higher. The ingredients are 100% safe and it works pretty well without the damaging your skin. I would also like to emphasize on reading the instructions carefully. This product will only work for you if you follow all the steps correctly.
---
That's it for today's post. I hope you found this article helpful. Make sure to share it with your friends and family if you did. Your comments encourage me a lot. So, pour in your thoughts in the comments. Subscribe to our Newsletter so that you get notified whenever there is a new post on the blog! Will talk to you in my next post. Till then, be happy and keep smiling! Follow me on Facebook, Instagram & Twitter and also Subscribe to my YouTube channel for beauty & fashion related videos and vlogs.
Disclaimer- The brand was kind enough to send the product to me in exchange for an honest review.