The benefits of Argan oil is something that everybody is familiar with. It has been named Liquid Gold for true reasons. It is great for your skin and hair and it has been proven to give magical results if applied on a regular basis. The fatty acids and Vitamin E in argan oil help moisturize the skin and hair, adds glow and nourishment. Today, I will be sharing with you my experience with  Speaking Tree Argan Carrier Oil.
Price- Rs 390 for 15ml
Available at- Amazon, Flipkart, MyNutraMart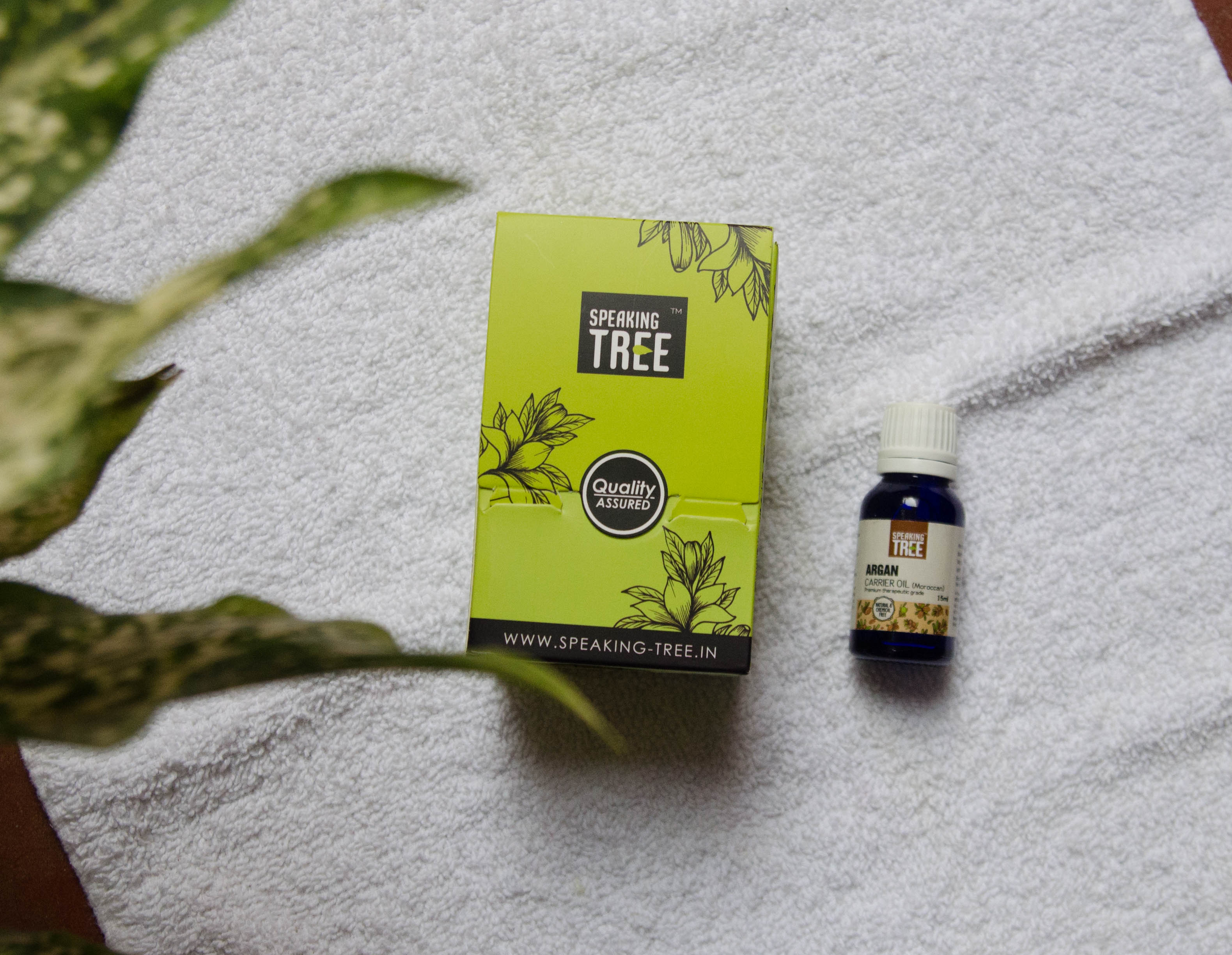 Packaging- Speaking Tree Argan Carrier Oil comes in 15 ml glass bottle with a plastic cap. They have European dropper cap included in their packaging. Inside the outer packaging comes a glass roller bottle as well.
Key Ingredients- Speaking Tree Argan carrier oil is 100% natural and organic. It contains premium therapeutic grade Moroccan Argan extracts which are beneficial for the skin.
Benefits-
It heals and treats dry, brittle cuticles and nails.

Anti-aging: Reduce facial blemishes.

Fights dry skin, eczema, psoriasis, acne & stretch marks.

Soothes burns and sunburns.

Protects against harmful effects of UV rays.

Useful in treating dry, brittle, frizzy & damaged hair.
How to Use-
Mix with brown sugar to use as an exfoliating facial scrub.
Apply one drop to moisturize your face at bedtime for morning glow.
Rub 2-3 drops of warm oil to improve elasticity & prevent stretch marks.
Massage nails & cuticles to keep them healthy.
Use as a leave-in conditioner for hair.
My Experience with Speaking Tree Argan Carrier Oil-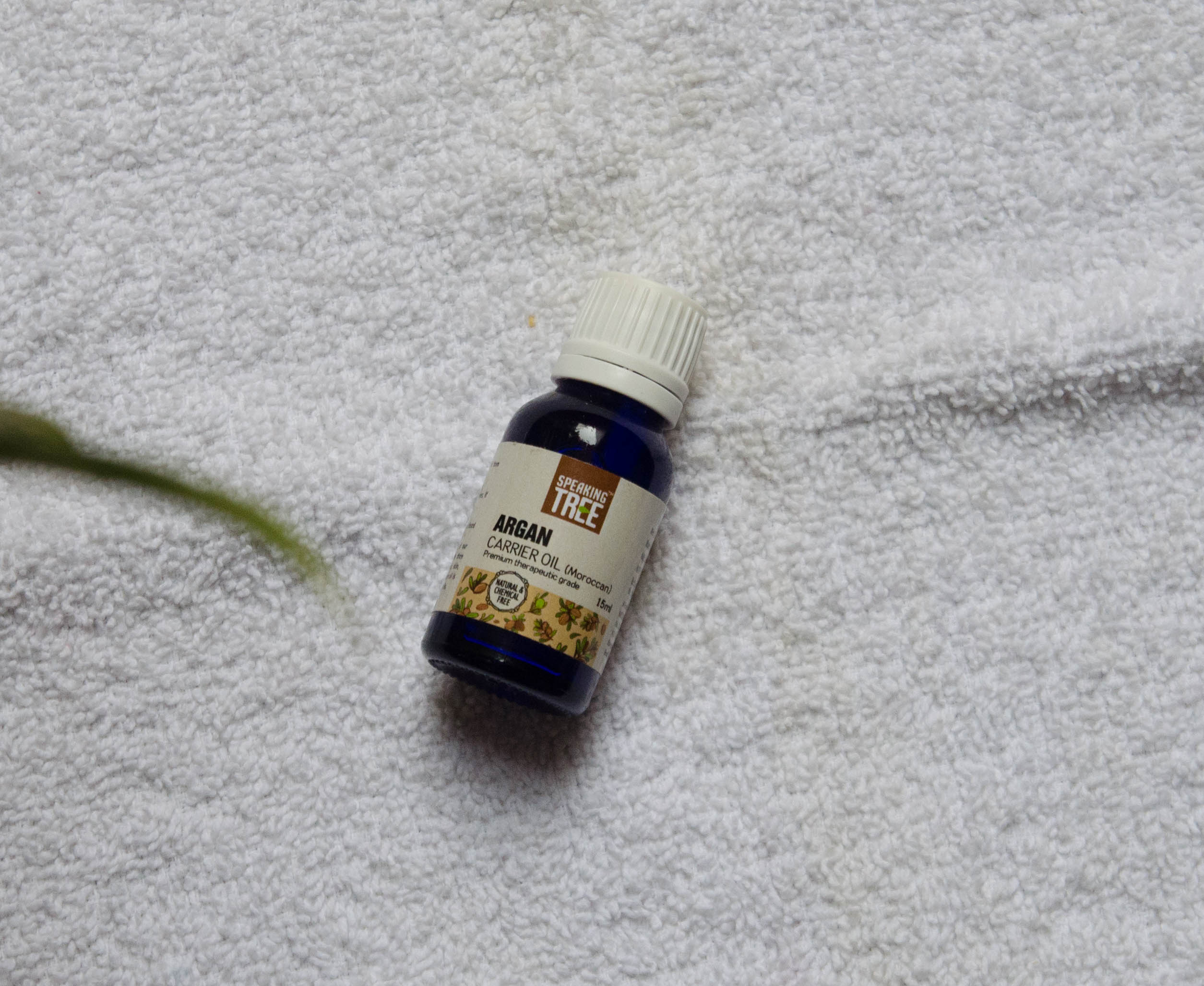 My experience with Speaking Tree Argan Carrier Oil is my first experience with Argan Oil itself. Before that, I never used any argan oil. I had heard a lot about the benefits and magical properties of Argan oil before so, I was really excited to try it myself.
As I am currently using Speaking Tree Lemon Essential Oil for my face, I do not use the Argan oil for my skin. I use it for my hair. For the last few weeks, I have been using it as a leave-in conditioner. I just take a couple of drops of the Argan oil and apply to the ends of my hair after washing it with my favourite shampoo.
As Argan oil is non-greasy, it nourishes my tresses without making them oily.
If you are looking for a budget-friendly argan oil then I would highly recommend you to try Speaking Tree Argan carrier oil.
Have you ever used Argan oil?
---
That was it for today's post. I hope you found this post helpful. Make sure to share it with your family and friends if you did. Pour in your thoughts in the comments. Your comments encourage me a lot! Do subscribe to our Newsletter so that you get notified whenever there is a new post on the blog. Will talk to you in my next post. Till then, be safe & keep smiling! Follow me on Facebook, Twitter or Instagram for regular updates and also Subscribe to my YouTube Channel!