You guys all know my undying love for scrubs. I also categorize them according to my preferences. Some I like on a daily basis, some on the days I pamper my skin and some for special occasions. Today, I am going to talk about the Vasu Sugar Scrub– a new face scrub that I recently came across. This scrub belongs to the last category I mentioned earlier. This particular product is a new addition to my skincare stash, however, the brand is not. I have previously used their Kumkumadi Thailam facial beauty oil. Will talk about it some other day. Today's product in focus is the sugar scrub and I am already excited to know your views on this.
I know many of you have used sugar scrubs before but I want to know how many of you used them for your facial skin. I am wondering because I have always been sceptical about using any sugar-based exfoliants on my face as I always feared they might be too rough for the skin. I remember one such incident where I used a homemade sugar scrub on my face and I got dry patches on certain parts of the skin.  I have used them for my body many a time though. Had I not used the Vasu  Sugar Scrub, I might never overcome this fear. This is probably the mildest sugar scrub you'll find in India, or maybe the only one. Believe me, I am not exaggerating.
Price-
Originally ₹750 but now at 50% off ₹375 (for 50g). Available on-
Amazon- https://amzn.to/3d387Fv
VasuStore: https://www.vasustore.com/vasu-kumkumadi-tailam-sugar-scrub-age-revitalizing
Ingredients-
The Vasu Sugar Scrub is full of some extraordinary ingredients that make it a unique formulation. They say it is enriched with the power of 22 herbs. The key ingredients are-
Natural Sugar & Black Sand– that effectively exfoliates dead cells, dirt, grime and sebum leaving the skin squeaky clean and also helps it breathe properly.
Kumkumadi Thailam– is a unique ayurvedic blend of herbs that not only provides you with a brighter looking skin but it is also a secret recipe for a radiant glow in the skin. Apart from these, it also has some great anti-septic, anti-fungal and anti-bacterial properties. Kumkumadi oil is the ancient anti-ageing secret for the skin.
Vitamin E– is a source of powerful antioxidants that fights free radicles and helps in reducing the signs of ageing. It also makes the skin brighter by fading out the blemishes to a great extent.
Packaging-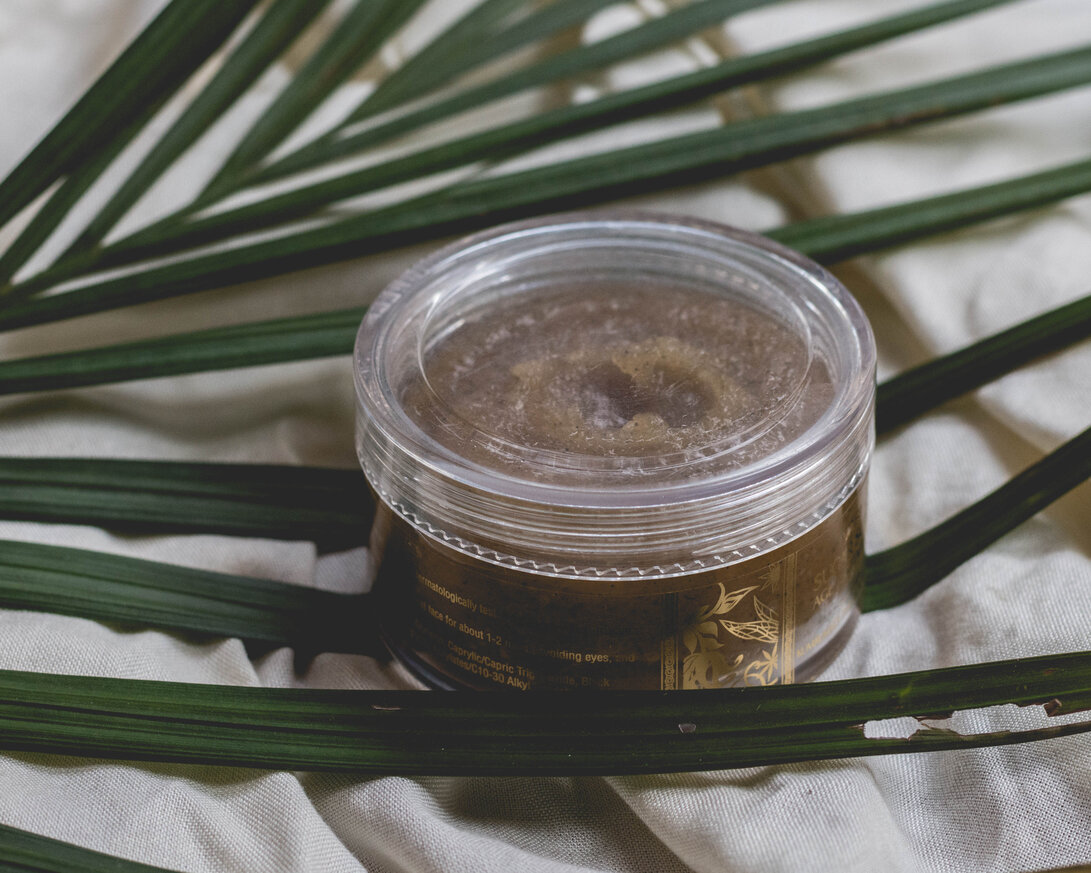 The packaging of this product is very basic, just the way I prefer. It comes in a transparent plastic jar with a screw lid. The transparency of the jar allows you to keep a check on how much product you're left with. It also has a stopper lid inside that helps to make it secure enough for travelling. Although the plastic packaging is easier and safer to handle and to carry with you, I still wish if they can come up with a glass packaging. Overall I like it because it's travel-friendly, doesn't spill or leak.
Texture & Fragrance-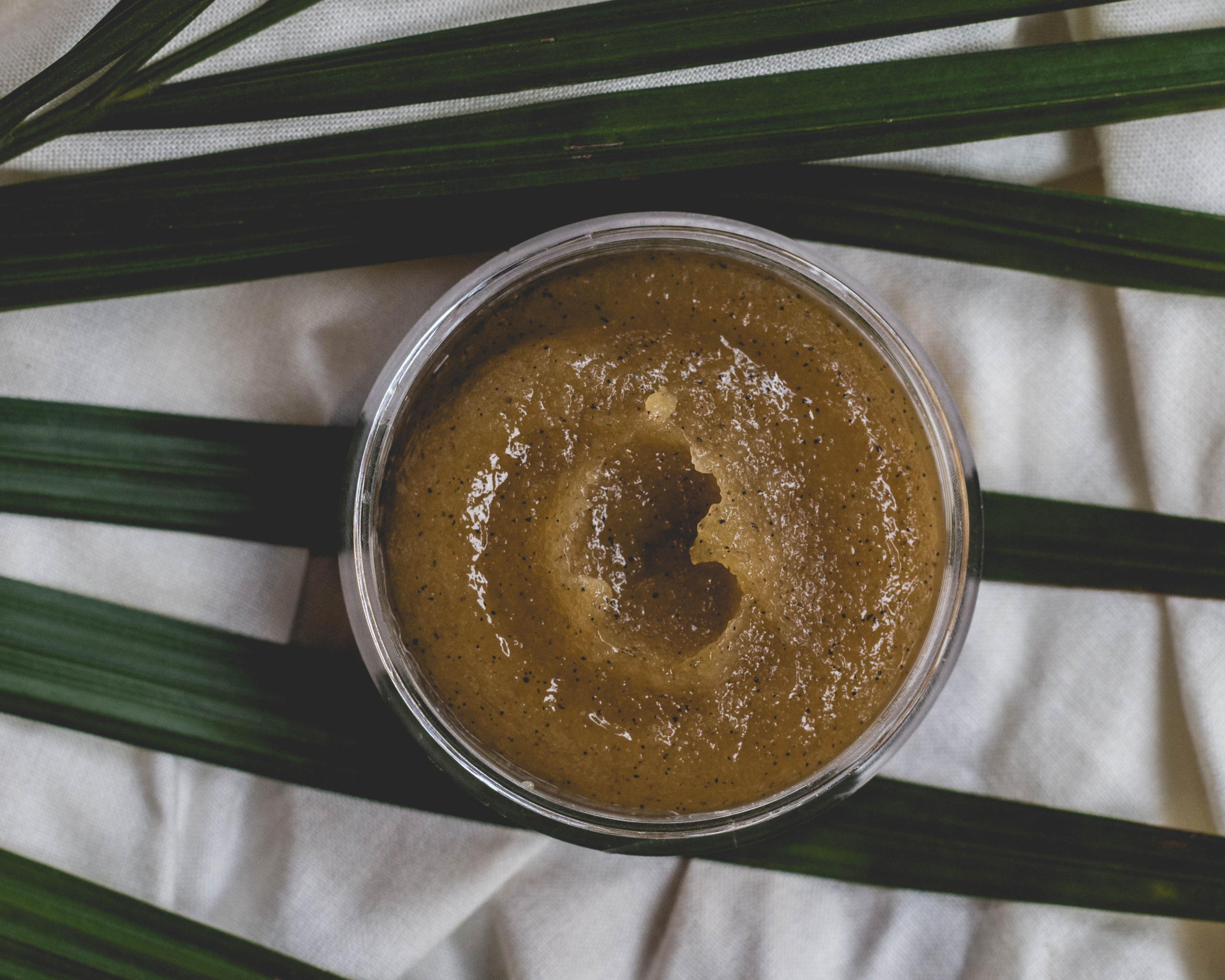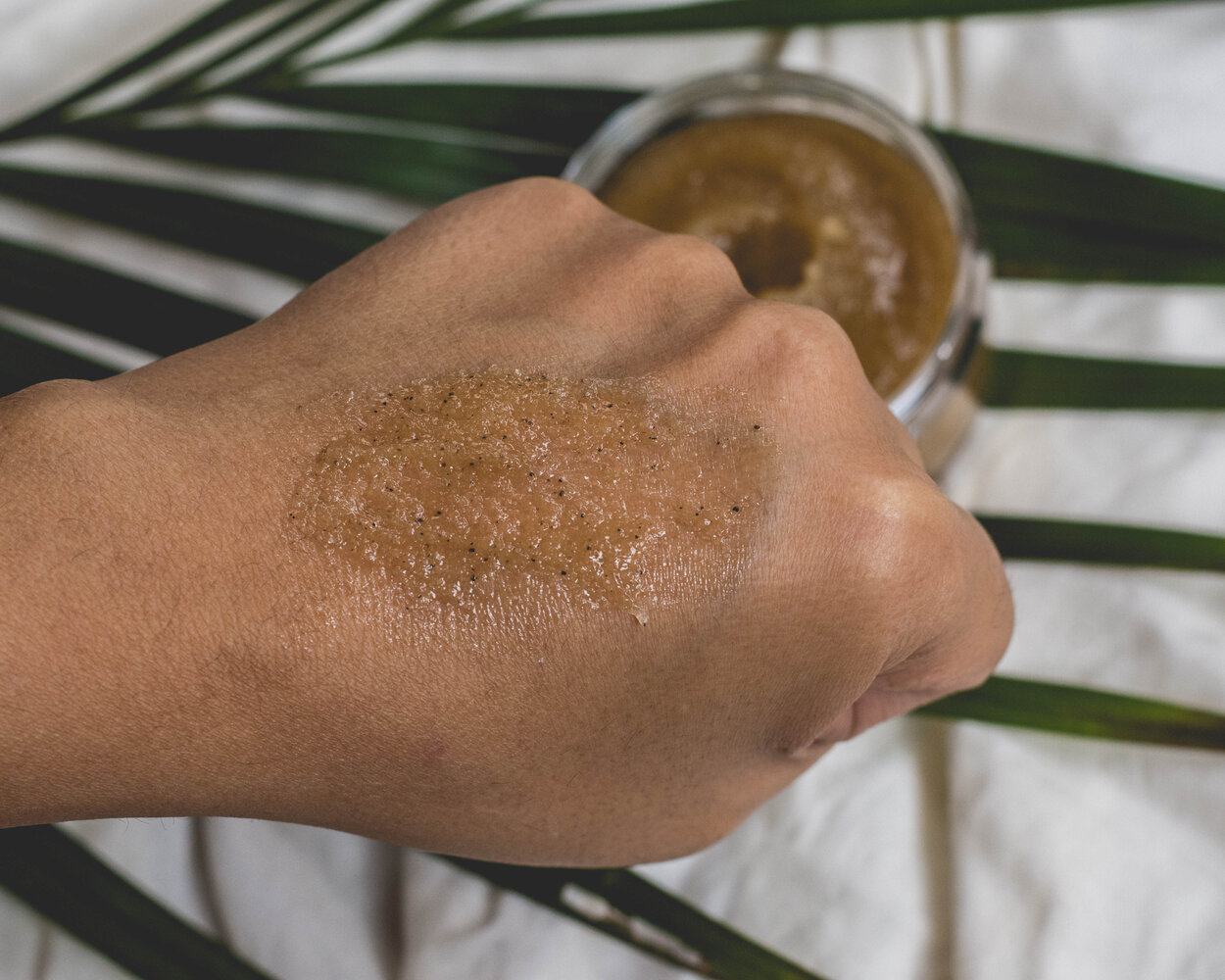 The texture of this is very unique, something I experienced for the first time in my life. It is a sand-like texture but you can feel the mildness of it once touched. The consistency is thick and sticky consistency but I spread effortlessly on the skin.  It is a light golden-brown colour with visible sugar granules and some black particles which I assumed must be the black sand.
The fragrance is a very soothing ayurvedic smell. As far as my nose could perceive, the product smelled mostly of saffron, sandal and a little bit of honey and I am quite convinced as the first two are generally present in Kumkumadi oils. Kumkuma- the main ingredient in Kumkumadi oil is saffron. These make the product quite aromatic and it is something that doesn't bother you.
How to Use Vasu Sugar scrub-
Wet your face and neck,
Take a dollop of the scrub on to your palm and rub it between your palms to spread the product evenly before applying.
Gently massage your face with the product in circular motions focusing the nose, chin or any other problematic areas on your face.
Rinse your face thoroughly with cold water.
About 1-2 minutes of massage would be sufficient as you won't want to over-exfoliate your skin. You must use this product on wet skin as the consistency is quite thick and it won't spread on the skin evenly only to make it tough to massage properly. You are advised to use this scrub once or twice a week for better results.
My Experience with the Vasu Sugar Scrub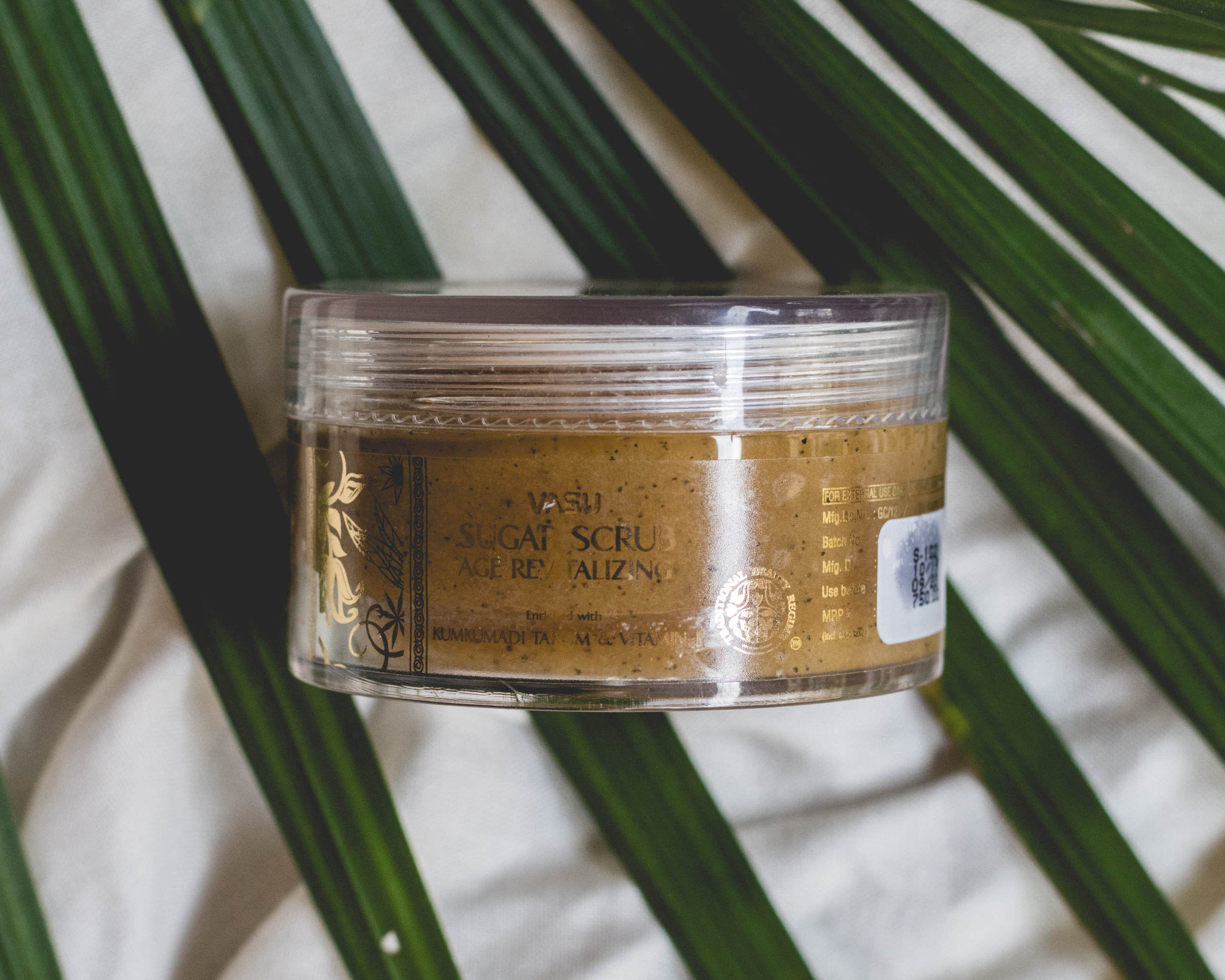 I have already told you my experience with sugar scrubs before Vasu Sugar Scrub came into my life. Now, I am going to share my experience after using this product for almost a month. First of all, I am in love with the texture of this. It is exactly how I like my exfoliators to be, loaded with scrubbing particles. If you and I have the same taste in scrubs, you'll love this product to the core. It comes in a 50g jar but that lasts for long as a little goes a long way.
The sugar granules in it remove dead cells and impurities very effectively without being harsh on the skin. It's very mild and gentle which is quite unusual for sugar scrubs. This product contains the goodness of Kumkumadi oil that is well-known for its magical properties that adds a youthful glow to the face and is a natural anti-ageing agent. Apart from these, the product is free from any toxins and harmful chemicals, it's a completely plant-based product, cruelty-free and dermatologically tested.
I use it on the days my skin needs some TLC. I take some of it and apply gently on to my skin. It dissolves on the skin after massaging for a few seconds and turns into a runny form of exfoliant. After washing my face with water, my skin instantly feels clean and rejuvenated. It makes the skin brighter and comparatively tighter with regular use.
Reasons to love this scrub
Eliminates dirt, grime, and sebum

Provides intense moisturization

Gentle yet effective

Reduces the appearance of fine lines and wrinkles

Enriched with the power of 22 herbs

Made In India

40 Year of Excellence

& Available in 40+ Countries
I will highly recommend this to anyone who is looking for a good sugar scrub that doesn't irritate the skin and at the same time provides intense moisturization.
---
That's it for today's post. I hope you found this article helpful. Make sure to share it with your friends and family if you did. Your comments encourage me a lot. So, pour in your thoughts in the comments. Subscribe to our Newsletter so that you get notified whenever there is a new post on the blog! Will talk to you in my next post. Till then, be happy and keep smiling! Follow me on Facebook, Instagram & Twitter and also Subscribe to my YouTube channel for beauty & fashion related videos and vlogs.