Winter is now gone and summer has already in its full glory. It is the time when you should take extra care of your skin and body. You all know how particular I am with my skincare routine. It has grown for the best with each passing day. From carefully choosing the right product and researching every ingredient that goes into the skin, I am extremely serious about it. The problem I face the most in this transitional time is dry and lifeless along with some tanning on my forehead. Coffee is one of my favourite ingredients that work wonders for these problems. It might not be the greatest of beverages but it certainly does take care of many of the skin concerns that we usually have like tanning, dryness, and skin-ageing. Recently, I have included VLCC Coffee Sugar De-tan Exfoliating Scrub & Rejuvenating Arabica Coffee Peel-off Mask to my pamper skincare routine and they have so far been great for me.
I have been a fan of VLCC since I started using them when I was a teenager. I love how they choose their ingredients responsibly and delivers only natural, paraben-free products that are effective too.  The two products mentioned earlier have already become my favourites because of their efficacy and the ingredients that are natural and formulated for all skin types. Here is my detailed review of both.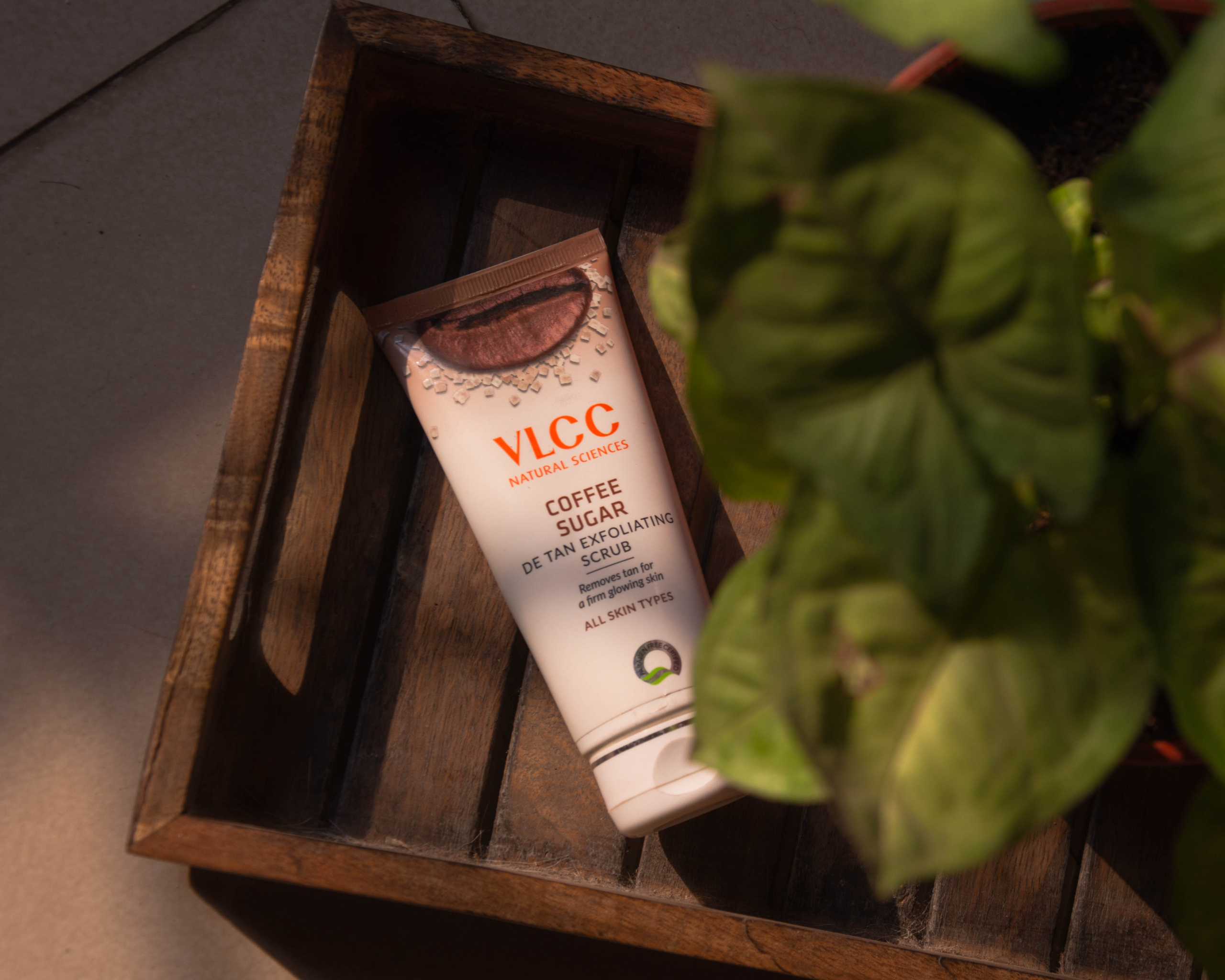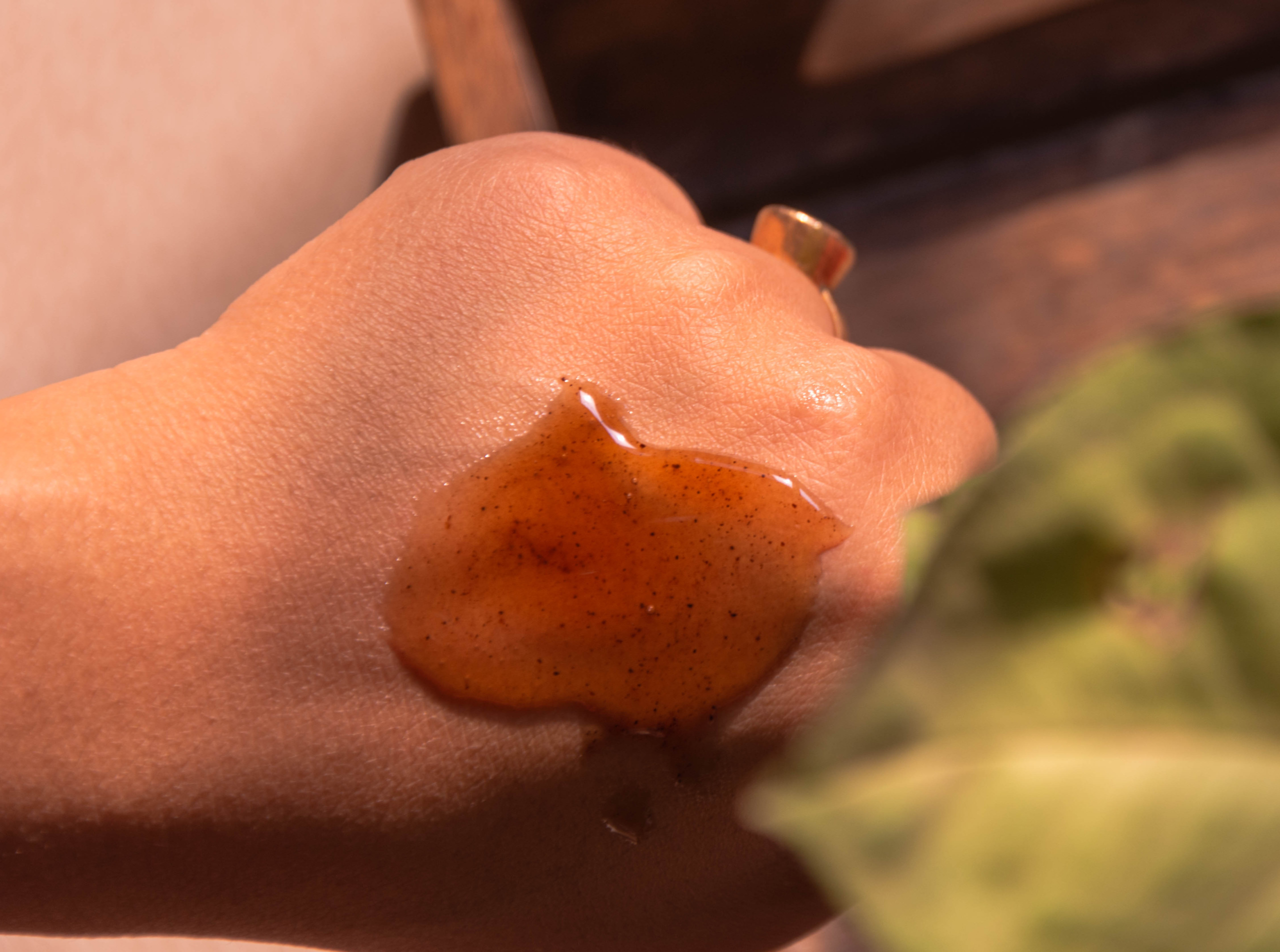 Coffee and sugar are two of my favourite ingredients for my scrubs. They are natural, effective and surprisingly gentle on the skin. Apart from being a great beverage, coffee is also known for its beauty benefits. The caffeine in coffee helps stimulate blood circulation which reduces puffiness or inflammation. It also works great to remove tanning, tighten and brighten the skin, improve skin texture, reducing wrinkles and signs of ageing.
Formulated with Arabica Coffee, Sugar Crystals & Himalayan Pink Salt, this product starts showing the results from its first use. It gently removes the dead cells from the surface and reveals the brighter looking skin lying underneath it instantly. It makes the skin smoother, brighter and softer. I easily get tanned on my forehead and my nose and the tan is the kind of patchy tan that we all hate. This scrub helps clear that out and evens out the complexion. If I have to rate it, I will give is a 9/10.
Price- ₹399 for 90g
Packaging- VLCC Coffee Sugar De-tan Exfoliating Scrub comes in a white plastic tube with a flip open cap. The packaging is extremely sturdy and convenient to travel with.

Ingredients: Glycerine, Sugar Crystal, Coffea Arabica powder, Himalayan Pink Salt, Silica, Hydroxyethylcellulose, Propylene Glycol, Phenoxyethanol, Perfume, Tocopheryl Acetate, Sodium Benzoate, Triethylene Glycol
Texture, consistency & Smell- This scrub has a dark brown gel-like texture that is quite runny.  It feels a little sticky but is not at all difficult to work on to the skin. The product contains fine sugar crystals and coffee particles. It has got a mood-lifting aroma of freshly ground premium coffee.
How to Use- Take a sufficient quantity of scrub and apply on cleansed face. Scrub gently in a circular motion. Rinse thoroughly and pat dry.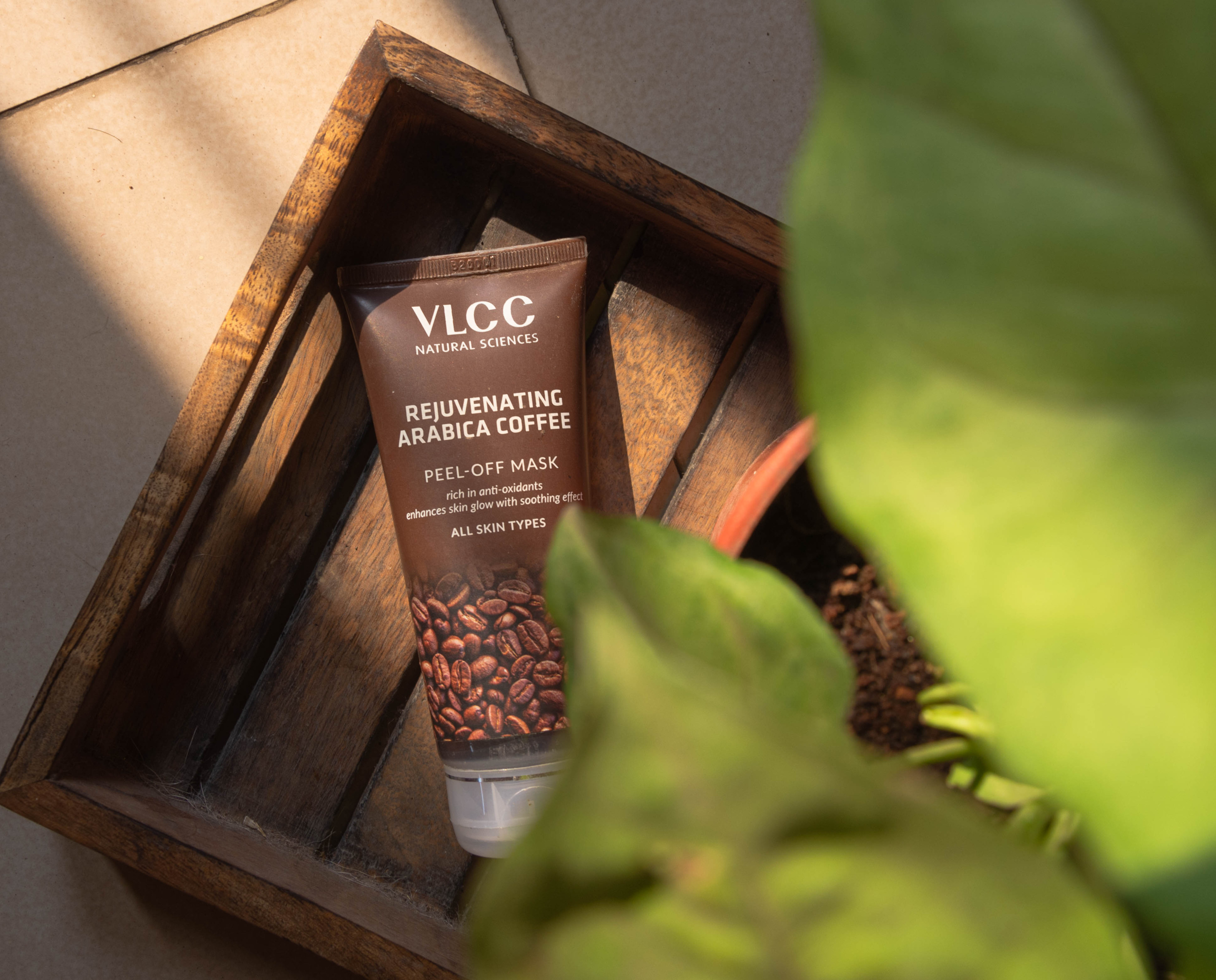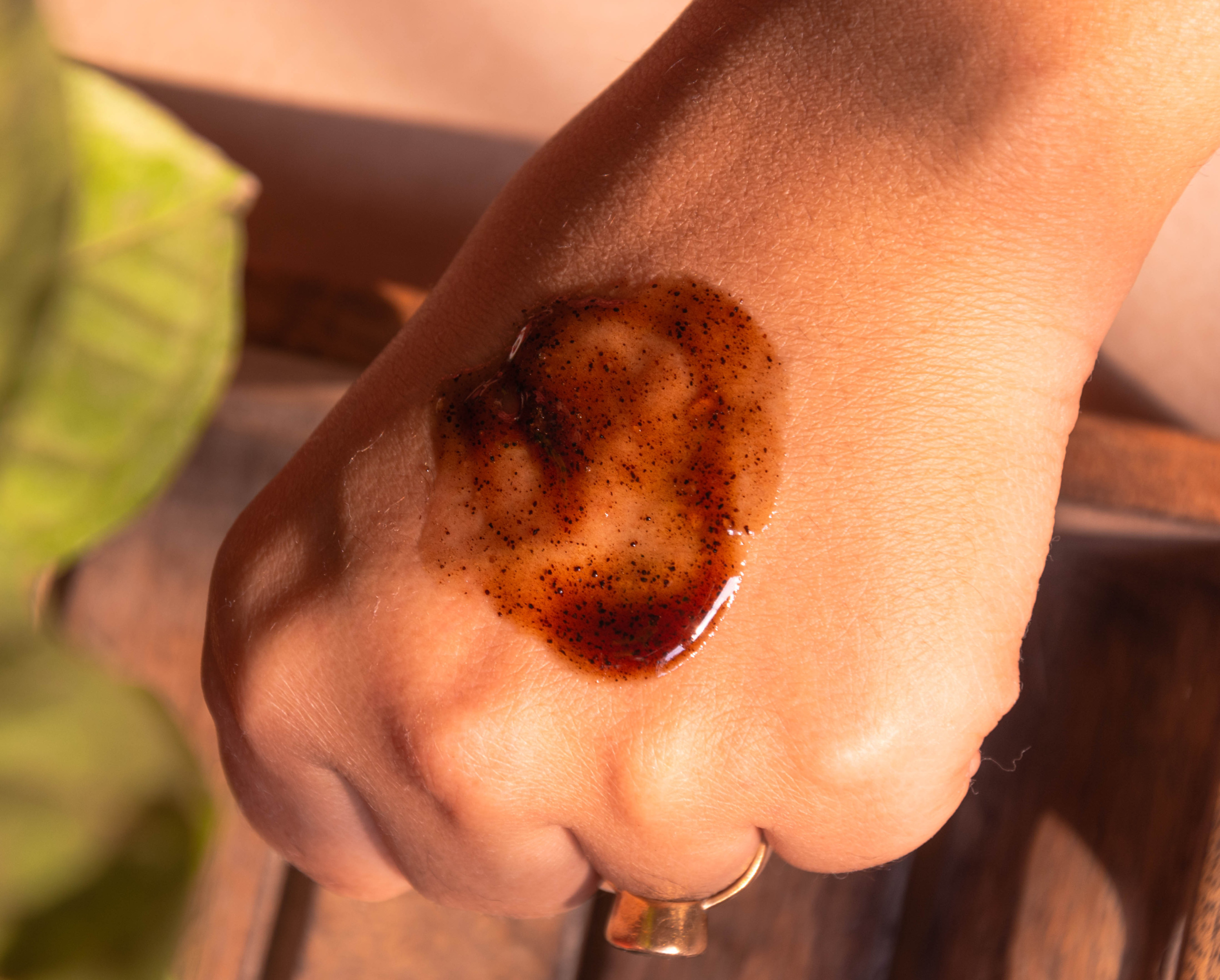 I don't know how many of you would agree with me that peel-off masks are so damn satisfying. Imagine you have an event planned after the office or after a busy day in the kitchen. What would you need to glam yourself up in the shortest period of time? Of course, a peel-off mask! They are quick, they are efficient and most importantly very very relaxing and satisfying. Among the array of various peel-off masks available in the market, you'll hardly find anything with such potent and premium ingredients as the Rejuvenating Arabica Coffee Peel-off Mask by VLCC. I love using this during my pamper days or weekends or if for the shortest glam-up regime to attending a special event. It turns any day into a spa day and I love that.
This mask spreads evenly on to the skin and turns into a peel-off mask from a gel-like formula within 15-20 minutes. It is also very easy and very neat to remove. It peels away the dirt and impurities from the pores and evens out the skin tone while rejuvenating it. The difference it makes is quite noticeable. It instantly brightens up the skin tone by clearing away all the dead cells and tanning off of the surface of your skin.
Price- ₹399 for 90g
Packaging- Same as the De-tan Exfoliating Scrub
Ingredients- Aqua, Isopropyl Alcohol, Polyvinyl Alcohol, Glycerine, Coffea Arabica Powder, Phenoxyethanol, Polyvinylpyrrolidone, Lactic Acid, Caffeine, Perfume, Triethanolamine, Disodium EDTA, Aloe Vera Extract, Triethylene Glycol
Texture, consistency & Smell- The peel-off mask is a light-brown, gel-like texture that spreads evenly onto the skin. Similar to the Coffee Sugar De-tan Exfoliating Scrub, this also smells exactly like coffee and that itself is very therapeutic.
How to Use- Wash face properly and pat dry with a soft towel. Apply Peel off mask evenly over your face avoiding eyebrows, eyes & lips (do not apply a very thin layer). Let it dry for 20-25 minutes. Peel Off from the forehead in a downward direction towards the chin & wash off. For best results, use at least once a week.
You are advised to do a patch test before using any of these.
---
That's it for today's post. I hope you found this article helpful. Make sure to share it with your friends and family if you did. Your comments encourage me a lot. So, pour in your thoughts in the comments. Subscribe to our Newsletter so that you get notified whenever there is a new post on the blog! Will talk to you in my next post. Till then, be happy and keep smiling! Follow me on Facebook, Instagram & Twitter and also Subscribe to my YouTube channel for beauty & fashion-related videos and vlogs.