Hello, everyone. Today's review is all about a range of products that have worked wonders for many women out there. Bio-Oil is a cult-favourite of many women for several years and there is a solid reason behind it. Firstly, they do what they claim, they are not overly priced, the ingredients list is clean, and lastly, the result is satisfying.
Bio-Oil comes in the form of body oils that are suitable for all skin types and caters to almost all skin concerns. Bio-oil is a multi-specialist skincare oil that targets many skin issues such as blemishes, scars, ageing, stretch marks, dry and dehydrated skin, uneven skin tone etc.
My first encounter with Bio-Oil was a few weeks back when I tried three of their bestselling products- Bio-oil Skincare Oil (Natural), Bio-oil Skincare Oil, Bio-oil Dry Skin Gel. After using them for quite a while I can totally get why people keep raving about this brand and their products. I have been dealing with age spots and blemishes on my cheeks and around my mouth. I tried many products in the past few months that helped me get rid of those pesky marks partially but none removed them completely. Then came the time when I was introduced to Bio-oil skincare oil. I used it for more than two weeks and it had started to show visible results. The new marks faded out almost 95% and the older ones also improved a lot.
Both the original Bio-Oil Skincare Oil and the reformulated Bio-Oil Natural works well for my skin, especially during the winter months. Towards the end of winter, my skin feels excessively rough, dry, and flaky and so does my scalp. Bio-oil has a cure for both issues. It could be used both for the skin and for the scalp. It does a great job for dry and flaky scalp. It also works tremendously well for dry and dehydrated elbows and knees.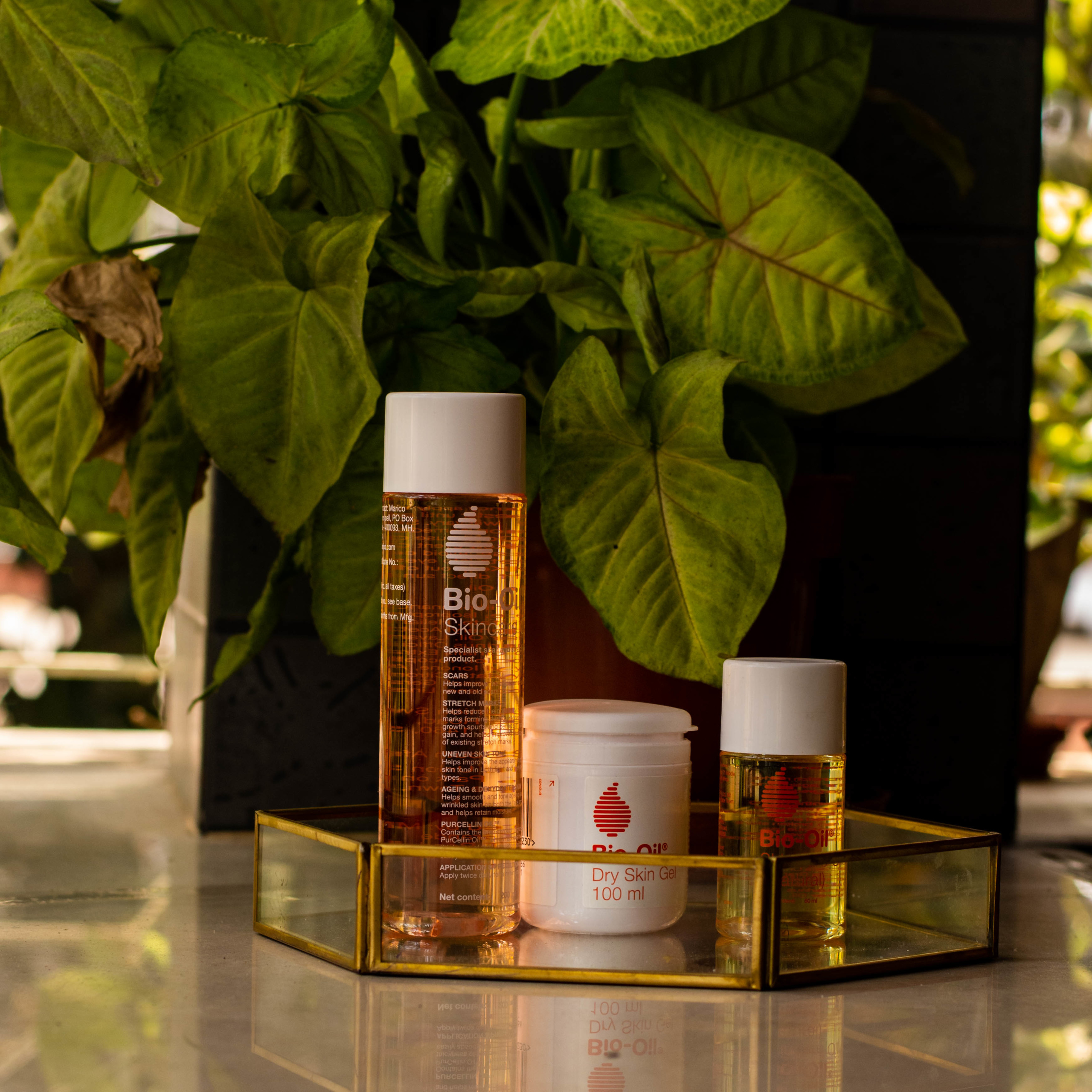 Let's take a look at the ingredients list-
Bio-oil is formulated with various natural plant-based oils that help in retexturizing the skin, evening out the skin tone, and reducing the appearance of scars, stretch marks, and blemishes. Unlike other skincare oils, it doesn't stay on the surface of the skin but it does penetrate into the deepest layers of the skin and work efficiently.
The ingredients list contains-
Vitamin A – helps improve the skin's elasticity, texture and tone
Vitamin E – increases the moisture content of the epidermis, thereby making the skin softer, smoother and more supple
Calendula Oil – a natural antioxidant that has the ability to clarify and stimulate the growth of new skin cells
Lavender Oil – calming and soothing benefits
Rosemary Oil – helps to invigorate and has mild antiseptic capabilities and thus eases congestion, puffiness and swelling of the skin
Chamomile Oil – calms, soothes and is particularly beneficial for sensitive skin
Bio-Oil is hypoallergenic and suitable for sensitive skin. It is not tested on animals.
As per their official website, the benefits of Bio-oil is as follows-
Key uses
Scars
Helps improve the appearance of both new and old scars.
Stretch marks
Helps reduce the possibility of stretch marks forming during pregnancy, teenage growth spurts and periods of rapid weight gain, and helps improve the appearance of existing stretch marks.
Uneven skin tone 
Helps improve the appearance of pigmentation marks and blemishes caused by hormonal fluctuations, skin-lighteners or excessive sun exposure.
Ageing skin 
Helps smooth and tone ageing and wrinkled skin on both the face and body.
Dehydrated skin
Helps supplement the skin's natural oils, stripped away by factors such as extreme weather, water with high chemical content, frequent bathing and the drying effects of central heating and air conditioning.
Now, let's discuss each of the products I got from Bio-oil.
Bio-Oil Skincare Oil –
The Original Multi Specialist Skincare oil is a global favourite and improves the appearance of dark spots, acne scars, ageing, pigmentation, uneven skin tone, stretch marks, scars. Clinically Tested and dermatologically recommended. Quick absorption, Non-Comedogenic and Vegan. Enriched with Vitamin A, E assist in the regeneration of skin oil and essential oils like Chamomile, Lavender Oil are anti-inflammatory and promote healthy skin.
Bio-Oil Skincare Oil Natural –
Bio-Oil Natural is a 100% natural skincare oil. Clinically tested with proven results, to reduce the appearance of scars, spots, pigmentation, uneven skin tone, ageing and stretch marks.
Bio-Oil Natural is made of completely natural seed oils like Jojoba, Chia, Pomegranate, Inca Inchi, Vitamin A and E & essential oils like Chamomile, Calendula, Lavender, Rosemary, Calendula, & Patchouli.
Bio-Oil Dry Skin Gel –
The dry skin gel is the best way to solve dry skin problems as it creates a protective layer to stop moisture from escaping and hydrates the skin giving it an energized feel. Traditional dry skin products (creams, lotions and butter) contain on average around 20% oil, wax or butter for this purpose. With just 3% water, this highly potent formulation blends emollients such as shea butter and humectants like glycerin and urea, along with skin soothing ingredients such as vitamin B3 for an exceptional moisturizing result.
Bio-Oil vs Moisturizing Creams
Oxidization does affect the efficacy of the ingredients used in a certain skincare product. Creams contain water which allows oxygen to oxidize the ingredients and affect the potency of the vitamins inside. Oil, on the other hand, does not contain water thus it does not oxidize. Oils like Bio-oil absorbs into the skin keeping the potency of the ingredients intact.
Bio-Oil is-
Non-comedogenic
Free from toxins
Non-greasy
Completely vegan
It does treat dry skin and skin dehydration which alone is a source of most skin related problems.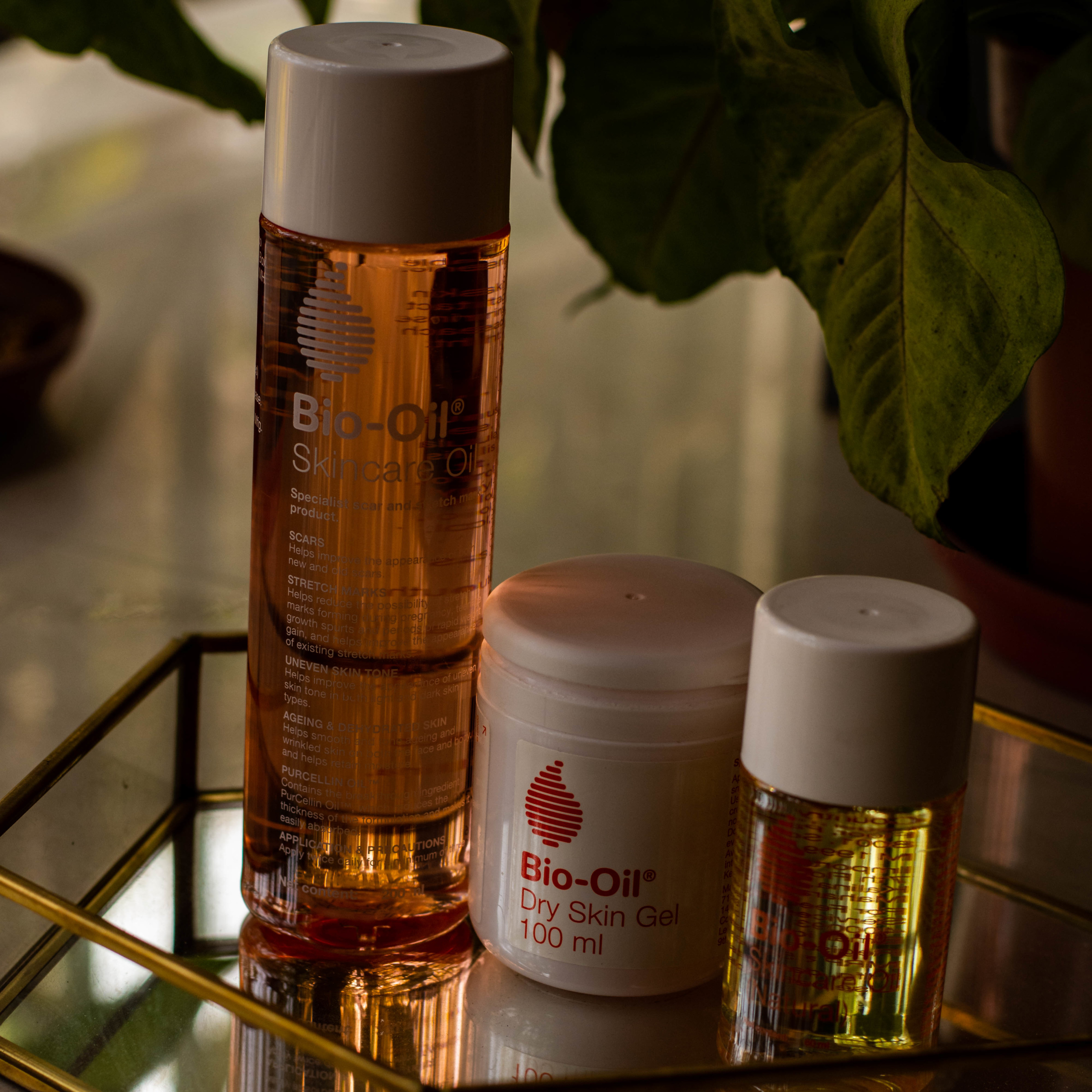 Here is how I use Bio-Oil
I have been using Bio-oil religiously for the past few months. I have incorporated it into my no-fuss weekly pamper skincare routine. I first double cleanse my face using the Bio-oil Skincare oil and a mild foaming face wash, then apply some rose water as a toner and pat it onto my skin. I finish it off with the Bio-Oil Skincare Oil (Natural). You may go ahead and apply another layer of moisturizer but Bio-oil alone works very well as a moisturizer for my skin. You just need to take a very small amount, about a few drops. That will be enough to cover your entire face.
I also have light stretch marks on my hips and thighs which I have been taking care of by massaging bio-oil on the marks daily.
Now, one of the  questions that I find in every Bio-oil post-
Does Bio-Oil Help Disappear Surgery Marks?
Bio-Oil helps to improve the appearance of new or old scars; whether from surgery, accidents, burns, insect bites, scratches or conditions such as acne or chickenpox. Although younger scars will have a greater chance of improvement, studies have shown that older scars also benefit from regular use of Bio-Oil.
It is recommended to apply Bio-Oil to your scar as soon as the skin is fully healed. This is known as the 'maturation' or 'remodelling' phase of scar formation. Remember that for the best results to be seen Bio-Oil should be applied twice daily for a minimum of three months. Please note that Bio-Oil should not be applied to broken skin.
Another of the questions is-
Will Bio-Oil help acne?
Acne is a complex condition that requires professional advice on how to correctly control and manage it. It would therefore be wise to seek medical advice on the matter. However, Bio-Oil can be applied to acne scarring once the skin has healed /active acne is under control to help improve the appearance of the scars.
Bio-Oil is a one-stop solution for all your skin related worries. That's why it is termed #OneSkincare.
After being sceptical for a long time, I finally tried my hands on Bio-Oil. I have had a great experience using Bio-Oil for my skin and I am truly satisfied with the result. I would highly recommend this range of products to everyone.