Hi, guys! Hope you're doing well. Today, I am going to review an all-natural and organic scrub that I've been enjoying using during my self-care/ weekly pamper routine for the past couple of weeks. If you know me well, you'd know that I am a sucker for natural skincare and bath and body products. So, when I got to try a few products from Deyga I was very excited. Today's product in focus is Deyga Rose Scrub that is completely natural and chemical-free.
The importance of exfoliation is no secret. Scrubbing your skin on a regular basis to get rid of dead cells, blackheads and other impurities is like regeneration of the skin. I make sure to exfoliate my skin thrice a week. I try to keep aside a day, mostly Saturdays or Sundays for pampering my skin with exquisite skincare products. For my weekly pamper routines, I like to use products that are rich in organic ingredients, safe on the skin, and most importantly have an exotic feel in them. Deyga Rose Scrub has all of that and more. Made with 100% pure, organic, real rose petals, this scrub works wonders without harming your skin.
About Deyga Rose Scrub
Exfoliating feels exquisite with this beautiful rose scrub made with real rose petals. It melts quickly on the skin and gently refines the pores while removing the dead cells to expose cleaner, fresher skin.
Benefits-
Cleanses the skin
Exfoliates it
Softens the skin
Provides a healthy glow
How to Use-
Wet your skin
Scrub over face/hands/legs/underarm or elsewhere
Leave it on the skin for 60 seconds to absorb
Rinse off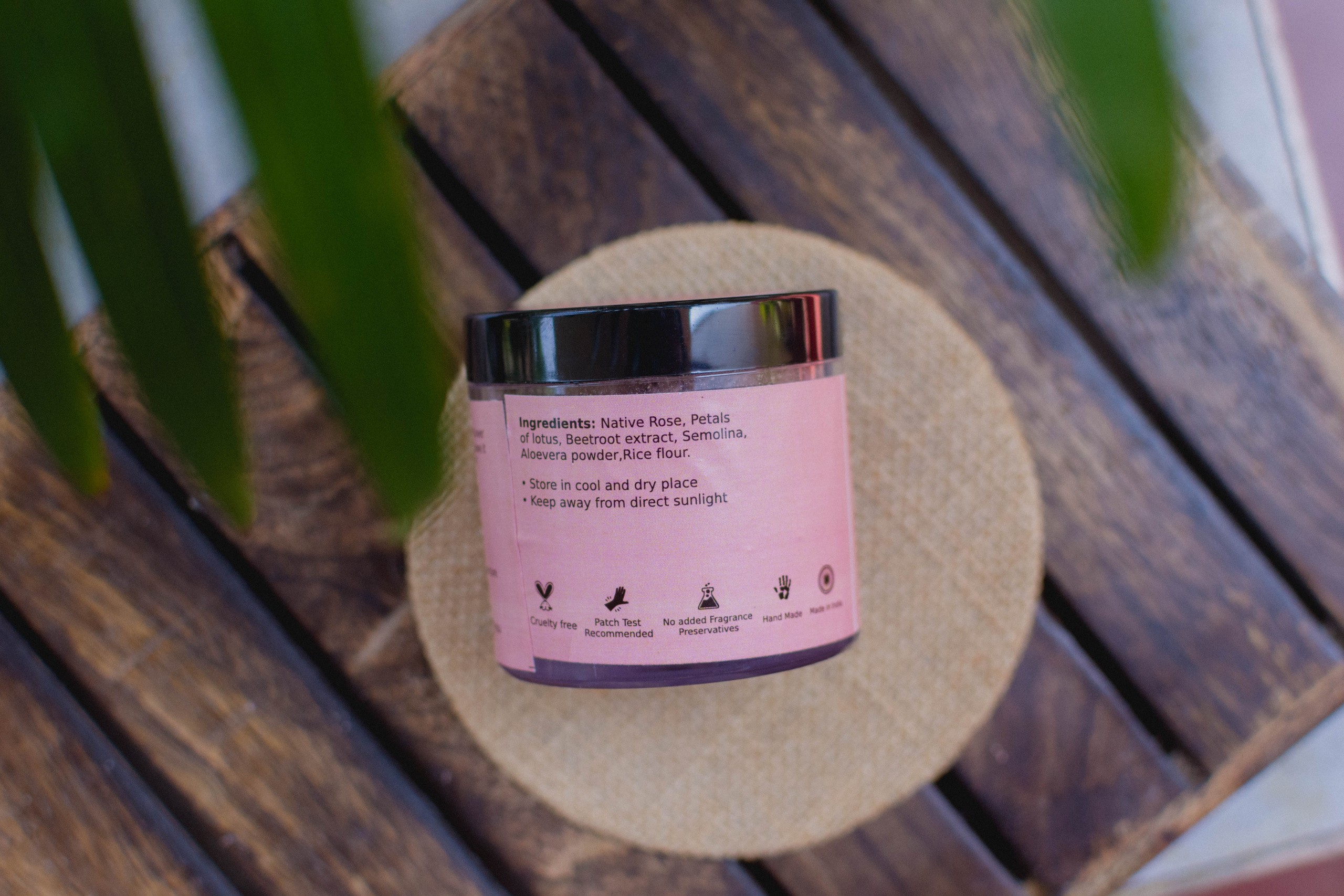 Ingredients-
Deya Rose Scrub is made up of all-natural ingredients like native rose, lotus petals, beetroot extract, semolina, aloe vera powder, and rice flour. While semolina and rice flour give the scrub a base and work as active physical exfoliants, beetroot happens to stop premature aging and reduces age spots and blemishes as it is rich in Vitamin C. Lotus petals and rose petals have skin-balancing properties which work best for controlling the sebum production of the skin. The fatty acids and proteins present in the lotus flower help keep the skin nourished. The anti-inflammatory properties of rose petals help fight the adverse effects of UV rays and it reduces the signs of aging.
Price- ₹570 for 100g (Buy from their website)
Packaging-
This scrub comes in a  transparent plastic tub with a black screw lid that closes tightly so there is no spillage. The packaging is travel-friendly because of its sturdiness. The minimalistic packaging has my heart.
Texture & Smell-
This is a DIY scrub. That means it comes in a powder form to which you have to add water, curd, or rose water according to your wish and need and make an even paste out of it. The powder is a little gritty to touch but is not abrasive on the skin. It has some woody rose notes to it which is very mild and lingers for a bit. For those who are allergic to strong smells, this would be a great fit for you as the fragrance is 100% natural.
My Experience with Deyga Rose Scrub-
As I mentioned earlier, I have used this scrub for more than 3 months for my weekend pamper routines and I have to say it is one of my most favourite skincare products ever that too in a budget. Its au naturel ingredients, unique formulation, and minimalistic approach instantly made me fall for it. I am always up for skincare products that are rich in natural and non-toxic ingredients and are sustainable. Each and every product from Deyga's wide range of skin and hair care products falls under the aforementioned criteria.
Coming back to Deyga Rose Scrub, I thoroughly enjoyed using this in my everyday skincare routine. The texture of the scrub is effective to scour away any impurities, blackheads, whiteheads, and dead cells from your skin without damaging or irritating the skin layer. It also effectively enhances the skin texture. I loved the fact that it did not feel harsh on the skin. It surely is a little time-consuming and creates a mess in your bathroom but it is definitely worth it. If you are also into natural and sustainable skincare products, you should definitely give this scrub a go.
Feel free to ask me any questions regarding this post or the product. I'll be more than happy to answer. Leave your thoughts in the comments.
Follow me on Instagram for more content on beauty & lifestyle. Subscribe to my YouTube channel for reviews with demo and other stuff!