Winter is here and that for me marks the beginning of officially going for a body moisturizer hunting. It now has been an annual ritual for me to try and test different body products. Although my facial skin is combination to oily, my body skin is dry. My body feels stretchy and dehydrated all year long. In winters, it just goes out of control. So, I am always on a hunt of a moisturizer that hydrates my skin and at the same time doesn't feel heavy or sticky. Over the past few years, I have started loving body butters more than body lotions during winters. Today, in this post, I will review a body butter that I have picked up for this year- Deyga Rose and Geranium Body Butter.
Deyga Rose & Geranium Body Butter
About the product-
From the house of a natural, organic, sustainable, handcrafted brand Deyga's rose and geranium Body Butter is infused with the goodness of rose, which rejuvenates your skin with the heart notes of English Rose with the warm woody notes.
Brand Claims-
It helps to delay the process of ageing.
It moisturises the skin for long hours.
It helps to hydrate the skin.
It makes the skin soft and supple.
Pure, Paraben-free, Phthalate-free, SLS-free, Vegan
Price- ₹550 for 100g
Available on- Deyga.in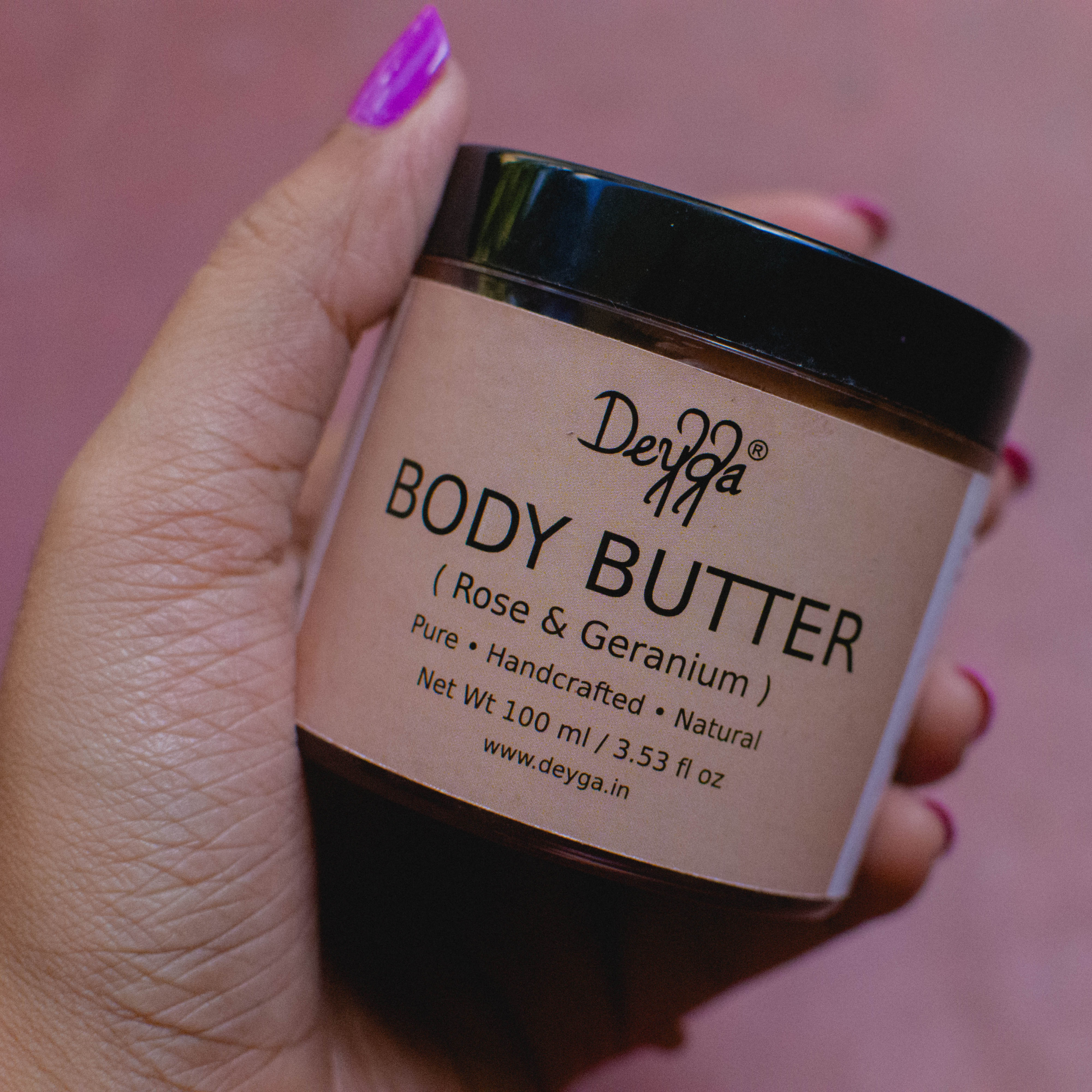 Ingredients-
Organic unrefined shea butter, Raw mango butter, Extra virgin coconut oil, Sweet almond oil, Rose essential oil, Geranium essential oil, Jojoba oil.
Packaging-
Deyga Rose and Geranium Body Butter comes in a simple plastic tub with a plastic screw-on lid. It also comes with a separator inside which ensures no leakage or spillage is there. The jar is very sleek which makes it easier to travel with.
Texture & Smell-
The product is a pale peachy pink coloured body butter that has a very thick consistency. In winters, it becomes a little more concentrated as it has natural butter in it but it easily melts down with a  quick rub between the fingers. Once applied, it spreads evenly on to the skin and gets absorbed quickly into the skin. The texture is just like that of any butter but non-sticky. It has a faint rose smell that lingers for 2-3 hours. The fragrance is very mild and doesn't cause nausea or headache as some would do. I am very sensitive to smells but found this to be extremely subtle.
My Experience with Deyga Rose & Geranium Body Butter-
Although I easily gravitate towards body butters more than any other equivalents because of their thickness, my only concern with them is that they would make my skin greasy or feel heavy on the skin. To my surprise, the Rose and Geranium body butter by Deyga looked way thicker in the jar than it actually is. It feels like whipped butter when scooped out of the jar. Once you rub it between your fingers it becomes thinner and easy for application. It gets absorbed by the skin easily and quickly and leaves the skin hydrated for long. The rich texture makes the skin soft, supple and nourished. I am also very fond of the lingering scent of this body butter. After continuously using this product has left my skin softer than usual and it feels and looks nourished. Moreover, the natural ingredients ensure your skin gets enough nutrients without any harm.  I am so glad to find such a product for myself. This body butter is suitable for all skin types.
---
That's it for today's post. I hope you found this article helpful. Make sure to share it with your friends and family if you did. Your comments encourage me a lot. So, pour in your thoughts in the comments. Subscribe to our Newsletter so that you get notified whenever there is a new post on the blog! Will talk to you in my next post. Till then, be happy and keep smiling! Follow me on Facebook, Instagram & Twitter and also Subscribe to my YouTube channel for beauty & fashion related videos and vlogs.