While packing our bags we always make sure we have packed our wallet, mobile phone, chargers etc but what you often tend to forget is a bottle of hand sanitizer. With the increasing awareness of hygiene, the use of hand sanitizers has increased over the past few years. Everybody is now quite aware of the fact that to be healthy, you need to maintain some basic hygienic practice.
Being Indian, I find it very crucial to clean your hands before you eat your food because almost every Indian prefers to eat with their hands and I am not an exception. Not always you'll find water around you to clean your hands, especially while travelling. I find it really gross to wash your hands with the water from a bottle through the windows of a bus or train. That is a complete no-no.
Not only for cleaning your hands, hand sanitizers, in general, have a lot of other usages. Here, I have listed all the usual and unusual uses of a hand sanitizer-
To clean your hands (the most common use!)
To sanitize your makeup palettes and brushes.
To disinfect your fingers before applying makeup.
To disinfect your makeup closet or desk.
To clean your spectacles or sunglasses.
To wipe off your fingerprints from different surfaces.
To clean spots on your car seat.
>>Did you know all these?
A hand sanitizer is a must in your kids' school bag. Children are the most prone to catch infections and most of them they get from school. Now, you cannot control your child's movements but you can make sure that they don't bring the germs home with them. It's better to start a healthy habit from childhood. Teach them the importance of hand sanitizers. It's most likely for them to not understand but still, you can help them grow a habit of cleaning their hands with sanitizers before eating. In this way, you can pass on the baton of healthy living.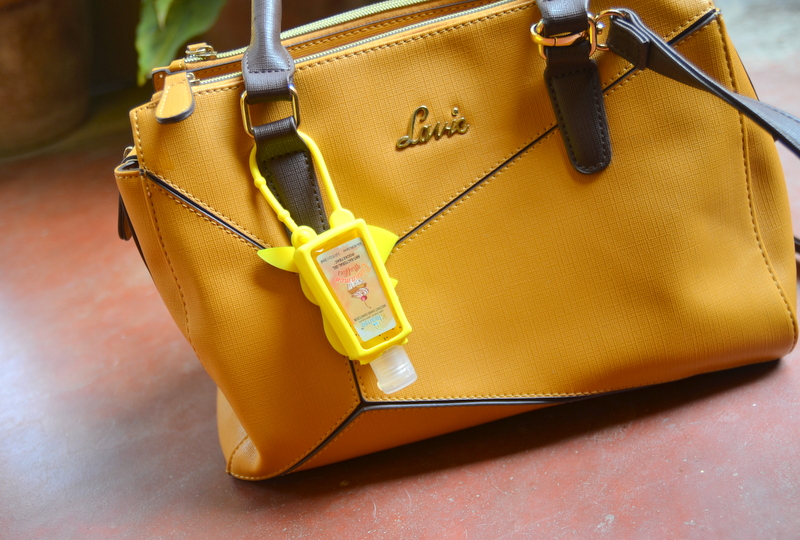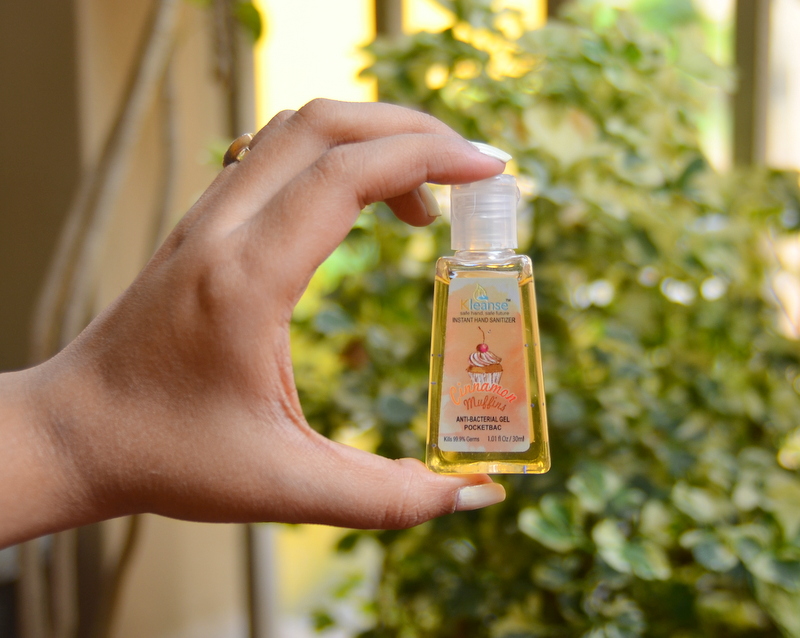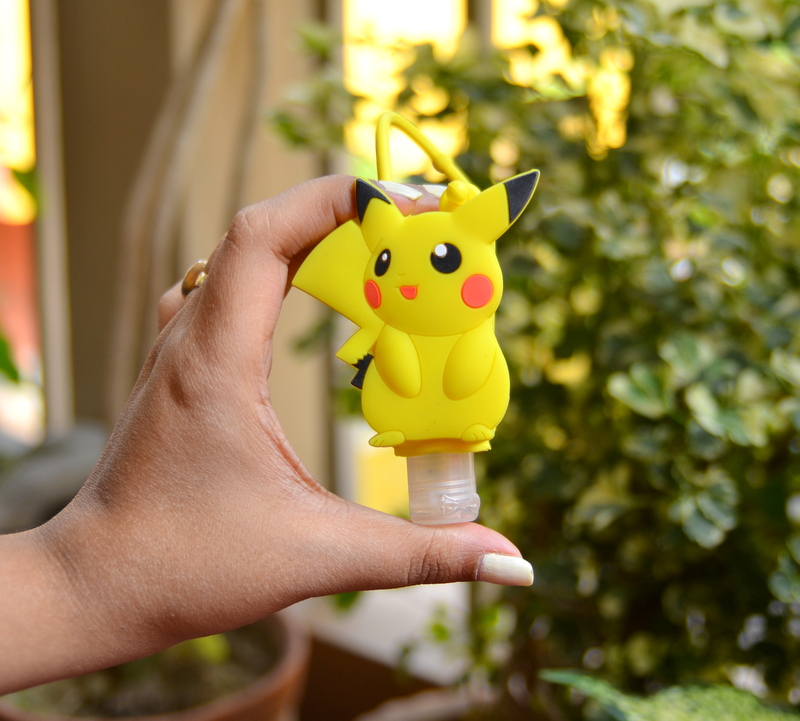 There are a plenty of hand sanitizers available in the market but you have to make sure you pick up the right one. Most of us don't know that a sanitizer that has at least 60% alcohol which is considered to be the ideal amount to kill germs. Make sure to check the amount of alcohol present in your sanitizer before buying. Kleanse Pocketbac Advanced Instant Antibacterial Hand Sanitizer contains 65% Ethyl Alcohol which is claimed to kill 99.9% germs. It is a 30ml bottle that is easy to fit in your luggage or your purse. It also comes with a silicon Pikachu holder which is really cute and it helps in attaching the sanitizer to your handbag, backpack or even to your key chains. The design is very attractive to children, they will never wish to lose it.
The formula of this sanitizer is very light, it gets absorbed to your skin very fast leaving them hydrated yet non-greasy. This also has floating Vitamin E granules that take care of your skin. The fragrance of the Cinnamon Muffins variant is a subtle cinnamon fragrance which fades off after a few minutes. It does not smell alcoholic at all. Kleanse Pocketbac Advanced Instant Antibacterial Hand Sanitizer comes in 3 more variants- Red Guava, Vanilla Kiss and Water Melon.
The claims-
1. Easy to kill 99.9% of germs when you're on-the-go.
2. Attached to your bag pack & purse.
3. It is a rinse-free and a non-sticky solution.
4. Allowed in the aeroplane.
Kleanse Pocketbac Advanced Instant Antibacterial Hand Sanitizer comes for Rs 239/-
---
That was it for today's post. I hope you found this post helpful. Make sure to share it with your family and friends if you did. Pour in your thoughts in the comments. Your comments encourage me a lot! Do subscribe to our Newsletter so that you get notified whenever there is a new post on the blog. Will talk to you in my next post. Till then, be safe & keep smiling! Follow me on Facebook, Twitter or Instagram for regular updates. Add me on Snapchat for more fun and a sneak-peek of my life.