Christmas is around the corner and we all are getting ourselves ready to be a part of the celebrations. Radiant skin during the festivities is a must and what could be more significant than achieving festival-ready glowing skin that too with the help of the ancient Indian skin care practices. Yes, in this post I'll be talking about a century-old Indian traditional skincare ritual, Ubtans. Recently, Lotus Botanicals have come up with their Ubtan skincare range, including- Lotus Botanicals Ubtan De-Tan Radiance Face Wash, Ubtan De-Tan Radiance Face Scrub & Ubtan De-Tan Radiance Face & Body Mask.
About Lotus Botanicals Ubtan De-Tan Radiance Range
Lotus Botanicals Ubtan De-Tan Radiance Range is targeted to people with tanned skin that is dull and lifeless. The range consists of three products- Ubtan De-Tan Radiance Face Wash, Ubtan De-Tan Radiance Face Scrub, and Ubtan De-Tan Radiance Face & Body Mask. They have adopted the idea of natural skincare using a timeless skin remedy called an ubtan, using a concoction of different herbs and ingredients. Being a medicated way of treating your skin, an ubtan has antioxidant, anti-fungal, anti-inflammatory, anti-pigmentation properties. An ubtan is supposed to be applied as a mask. However, with the new Ubtan De-tan Radiance range, you get all the benefits of an ubtan in the form of face wash and scrub as well.
The main ingredient that is very common in ubtans is turmeric. The ingredients used in Lotus Botanicals Ubtan De-Tan Radiance Range are- turmeric, chickpea flour, sandalwood powder, and 24k gold. Each ingredient in this ubtan range has their individual skin care benefits which works for rejuvenating dull skin, adding natural radiance, and removing tan.
About the Brand- Lotus Botanicals
Lotus Botanicals is a part of Lotus Herbals. The main motto of Lotus Botanicals is to create ethical and sustainable personal care products for everybody. Their wide range of skincare and haircare products are curated from 100% naturally derived ingredients to create #BeautyInBalance.
Safe Ingredients
Their products are made entirely from safe ingredients; that is, ingredients that are not known or suspected to cause human health harm as determined by scientifically recognized lists from around the world.
Pure Plant Power
Lotus Botanicals harnesses the real power of nature for every beauty and wellness need. Our products are formulated using potent plant botanical extracts – the real essence of purity.
Ethical Beauty
Lotus Botanicals takes conscious steps to reduce our impact on the environment at every stage of our product journey – from sourcing, formulating, packaging and delivery.
Preservatives-free
When they say natural, they mean it. At Lotus Botanicals, no kind of preservatives is used at any life stage of the product making them ideal for everyday use.
Free from Toxic Chemicals
Lotus Botanicals adheres to strict purity standards and never uses harsh or toxic substances. So, you can pick any of our products without worrying about health concerns.
Unique Time-tested Formula
They continuously research for innovative and unique active ingredients to bring out highly efficacious beauty solutions. Our wide range of beauty solutions is a testimony to this.
Lotus Botanicals is a name that screams purity. Their products are free from silicon, paraben and sulphate. Their products are non-comedogenic which means they won't clog your pores. They are anti-pollution i.e. they protect your skin from nanoparticles that are absorbed by the skin from the air. Their products are infused with minerals crucial for healthy hair and skin that help keep pH levels balanced while playing an important role in cell structure.
Now let's jump on the review of the products-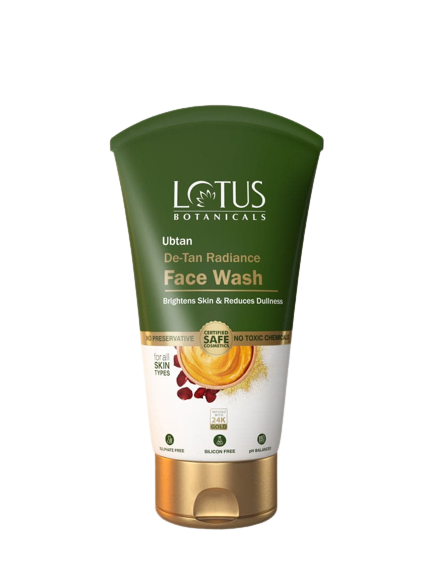 Be it summer or winter, our skin get little to heavy tanning by a little exposure to the sun. Mixing ingredients from the kitchen and then applying it can feel like a hassle. Lotus Botanicals has come up with a more convenient way to get the benefit of an ubtan with minimum labor. The Ubtan De-Tan Radiance Face Wash gives your face a bright and glowing effect in the first wash.
Packaging, Application & Benefits-
It comes in a deep green and white plastic tube packaging with a golden closure. It is a flip open cap that closes securely which ensures there is no leakage. The product is pale yellow in colour and the consistency is like a cream. It is not a foaming face wash, so don't expect any lather formation while applying. You need to take a coin size amount of the product and massage it gently into the skin in gentle, circular motions.
You can notice a change in the texture of your skin after a week of regular using. It effectively reduces any blemishes, such as sunburns, spots, and pimple marks. The turmeric helps you get a brighter and tan-free skin while the 24K Gold adds a healthy glow.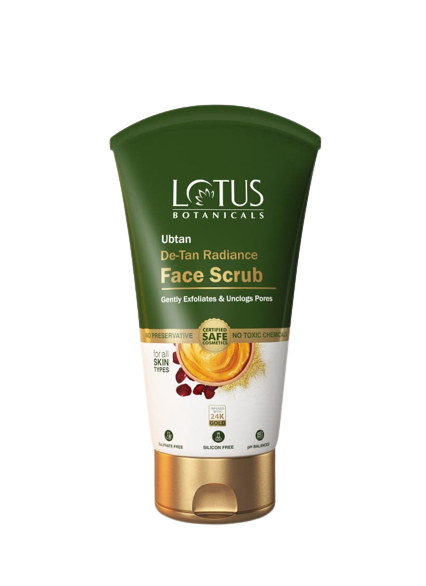 A scrub is a must to remove your dead cells sitting on the top of the skin. It also opens the clogged pores helping your skin to breath and ensuring the next skin care products go deep into the skin layers. Scrubbing your skin twice a week makes sure your skin doesn't accumulate buildups, dirt, and grime. It also improves the skin texture. Lotus Botanicals Ubtan De-Tan Radiance Face Scrub makes sure you get all the benefits of an exfoliant the natural way.
Packaging, Application & Benefits-
Like the Face Wash, the Ubtan De-Tan Radiance Face Scrub comes in a deep green, white, and gold packaging- resembling the ingredients. To cover your entire face and neck, you need a dime-size amount of the product. The texture of the scrub is creamy with mild exfoliating particles. You need to apply the product gently in circular strokes. Although the scrub is not too abrasive, it's better to avoid too much pressure while massaging. The scrub is perfect to bring out a smoother skin texture while scouring out all the blackheads, whiteheads, and other impurities. It has an effectual tan removal property that helps you get rid of the tan in a couple of uses.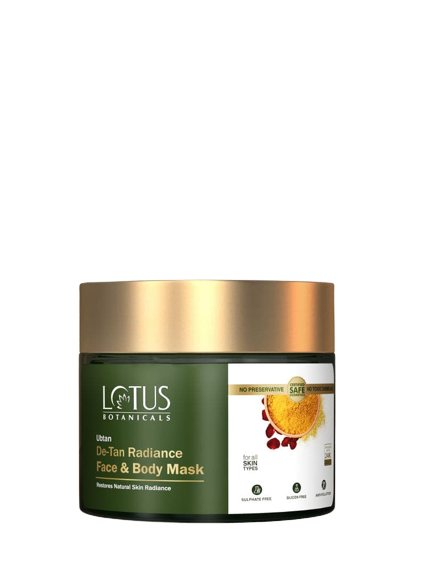 If you love using natural face masks natural herbs and ingredients, this Ubtan De-Tan Radiance Face & Body Mask could be your first choice. This mask comes in a powder form that you have to mix with plain water or rose water to make a paste out of it. The mask is made out of all natural and skin-friendly ingredients like turmeric, chickpea flour, rose, and sandalwood with an infusion of 24K gold.
Packaging, Application & Benefits-
Unlike the other two products in this range, the Ubtan De-Tan Face & Body scrub comes in an adorable green plastic tub packaging with a golden screw lid. The cap sits tight to ensure there is no spillage. To apply the product, you have to take out the required amount and mix it with a liquid of choice. After making a thick paste out of it, apply it evenly on the entire face and neck. Let the mask dry on its own, take it off with a wet cloth or with the help of your fingers. Don't be harsh while removing, just use gentle strokes. This mask instantly brightens up you face thus, is great for a quick pick-me-up before a party. It also removes dead cells while adding a natural glow to the face. Moreover, it adds a bit moisture so that your skin is soft and supple.
You explore more about the Lotus Botanicals Ubtan De-Tan Radiance range on their official website.
I hope you liked this review. If you are struggling with a stubborn tan, you can try out this effective range of products that has no preservatives and are free from toxic chemicals, Sulphate, Silicon, Mineral Oil, Synthetic Color, and animal cruelty. These are 100% Vegan and anti-pollution skincare products.