Hello, everyone. Hope you all are doing great. Today's post is a review of the Mamaearth Coco Face Scrub. Before starting off, I just want to put a disclaimer that this post is in no means sponsored or under a collaboration. I have used Mamaearth products in the past and I feel that this brand needs more exposure than what it gets right now. I have been using this particular scrub for the past couple of weeks and I thought it's just the right time to share my views with you all. Now, let's jump straight into the review. 
Scrubbing is one of the most essential parts of my skincare routine. I like to scrub my face every two days because I think that's what works for me the best. Generally, it is advised to exfoliate your skin at least twice a week. I also like to scrub my face before and after shaving and also after removing my makeup. Scrubbing my face after makeup has proved to be very beneficial for my skin. It helps keep the breakouts at bay. 
A Few Words on the brand- Mamaearth
Mamaearth is an Indian personal care brand that focuses on natural skin, hair and baby care products which are 100% toxin-free. It is claimed to be Asia's first Made-safe certified brand. Very interesting, right? It's no mystery why a large number of people of almost all age groups love their products. Mamaearth is-
FDA approved
Made-safe certified
Completely toxin-free
Dermatologically tested
A unique combination of science and Ayurveda
100% natural and organic ingredients 
Made in eco-friendly GMP certified facilities 
Cruelty-free
Plastic positive brand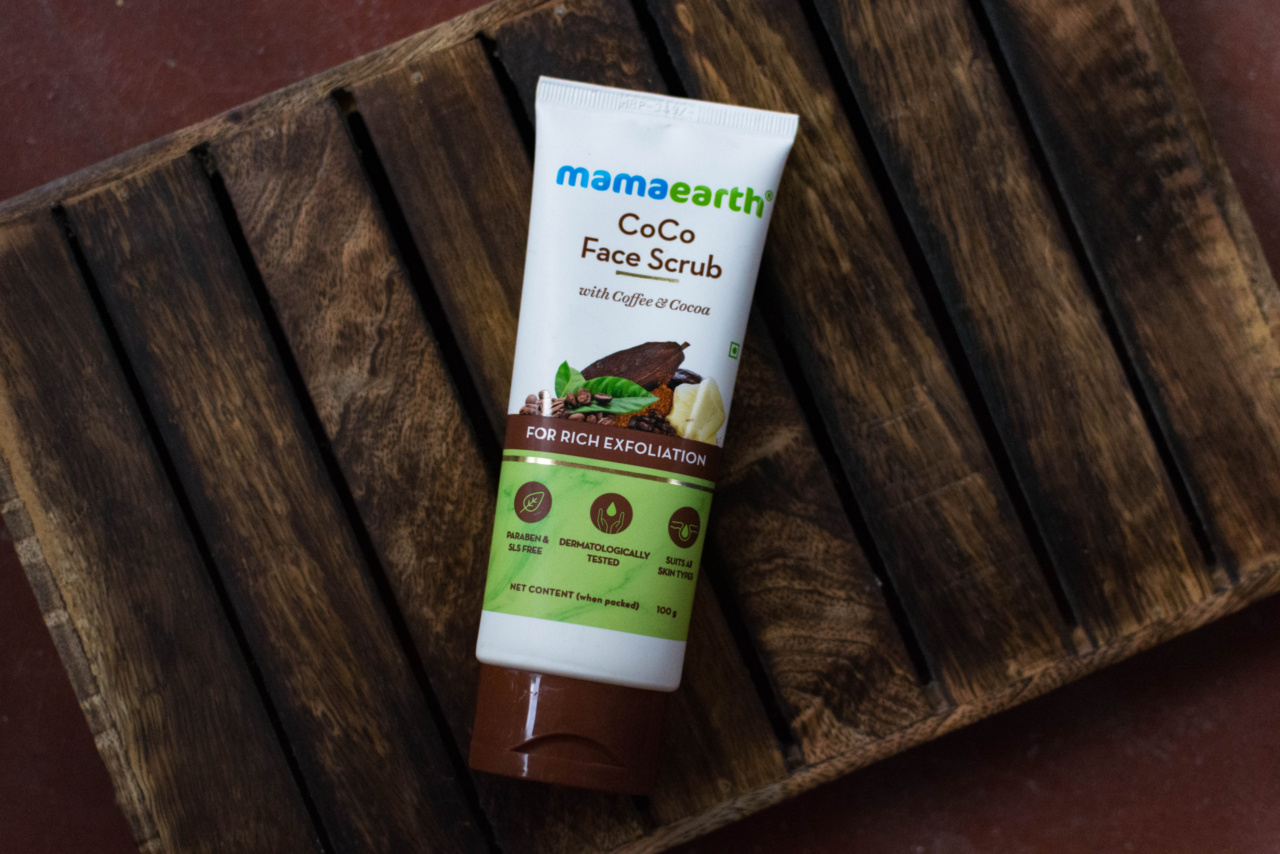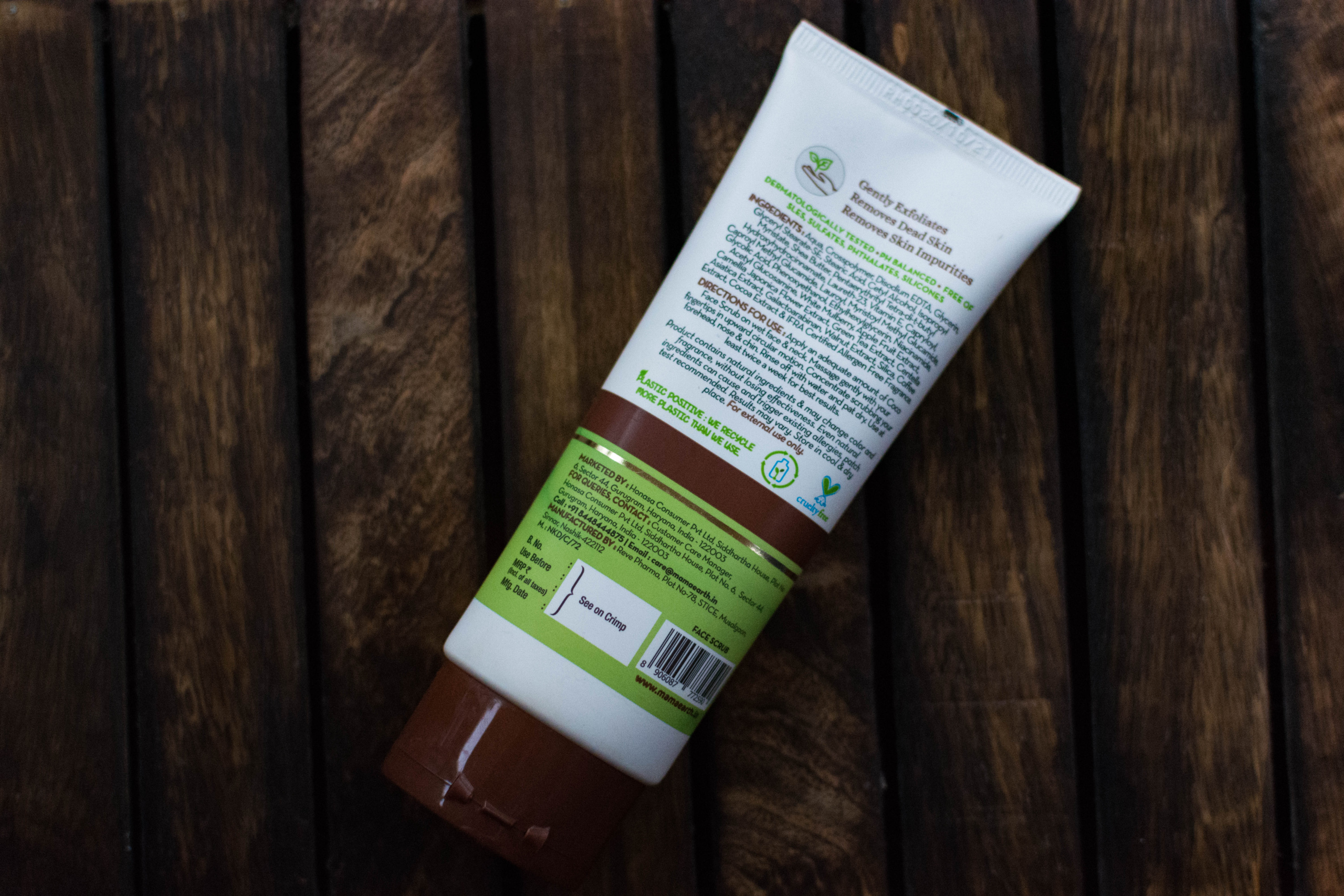 Price-
₹349/- for 100g
Product Description
Constant exposure to pollution, dust, and harmful UV rays can make your skin look lifeless. Stress and poor lifestyle choices add to the damage making your skin look dull and patchy.
Mamaearth CoCo Face Scrub is the much-needed addition to your skincare regimen. It gently exfoliates the skin from deep within while unclogging pores, getting rid of suntan, and removing dead skin. Natural ingredients like coffee and cocoa leave your skin looking fresh and rejuvenated.
The face scrub is dermatologically tested and is suitable for all skin types. It contains no Parabens, Toxins, or Mineral Oils.
Ingredient
Key Ingredients:
Coffee: Exfoliates gently to remove dead skin and other impurities caused due to environmental and lifestyle factors.
Cocoa: Loaded with antioxidants, cocoa slows down the ageing process, exfoliates dead skin, and improves the skin's elasticity.
Shea butter: Extracted from Karite tree, shea butter moisturizes and nourishes dry skin. It is also high in anti-inflammatory and healing properties.
Full ingredient list: Aqua, Crosspolymer, Disodium EDTA, Glycerin, Glyceryl Stearate-SE, Stearic Acid, Cetyl Alcohol, Isopropyl Myristate, Shea Butter, Pentaerythrityl Tetra-di-t-butyl Hydroxyhydrocinnamate, Laureth-23, Vitamin E, Capryloyl, Caproyl Methyl Glucamide, Lauroyl, Myristoyl Methyl Glucamide, Glycolic Acid, Phenoxyethanol, Ethylhexylglycerin, Niacinamide, Acetyl Glucosamine, White Mulberry, Apple Fruit Extract, Camellia Japonica Flower Extract, Green Tea Extract, Centella Asiatica Extract, Galactoarabinan, Walnut Extract, Silica, Coffee Extract, Cocoa Extract & IFRA Certified Allergen Free Fragrance
How to Use-
Step 1:

Apply an adequate amount of CoCo Face Scrub on wet face & neck.

Step 2: Massage gently with your fingertips in an upward circular motion.
Step 3: Concentrate scrubbing your forehead, nose & chin.
Step 4: Rinse off with water and pat dry.
Step 5: Use at least twice a week for best results.
Packaging
Mamaearth Coco Face Scrub comes in a classic plastic tube packaging. The flip-open lid is quite secure and spill-proof. Overall, I found the packaging very sturdy and sleek. You can easily carry it with you.
Also, all the information about this product is written on the tube, including ingredients and manufacturing and expiry dates which I found really handy.
Texture & Smell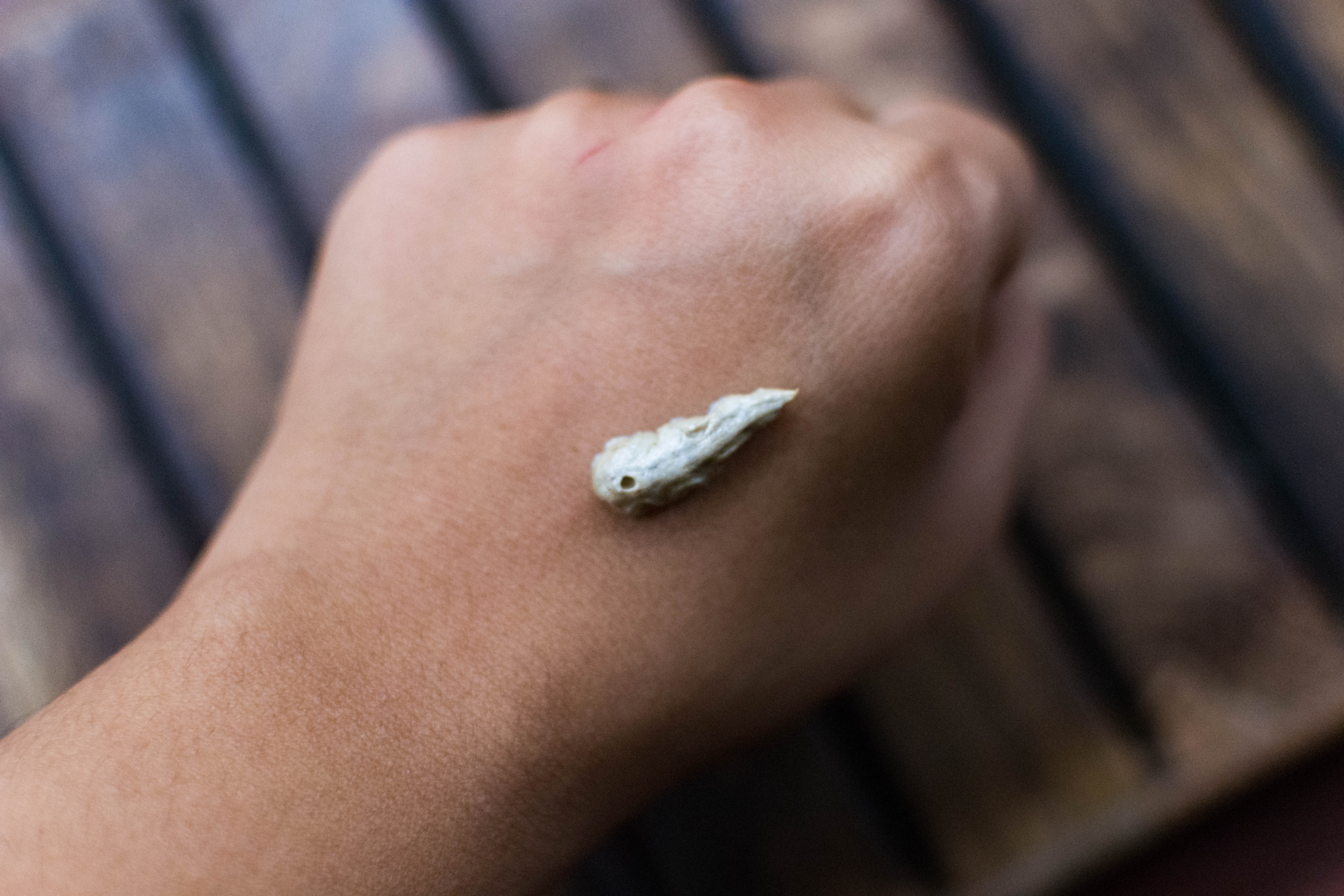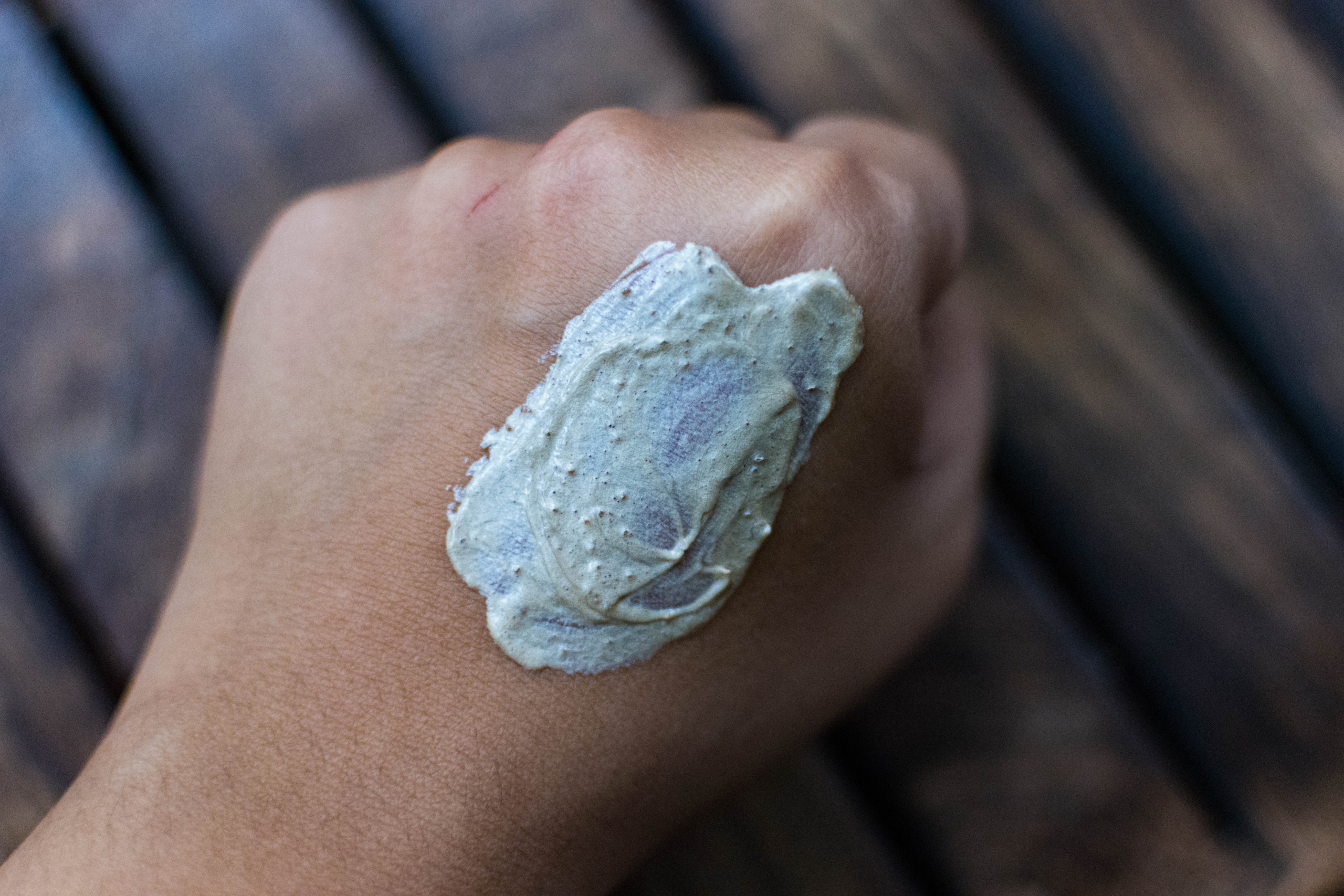 Mamaearth Coco Face Scrub has a very creamy texture. It's loaded with micro-exfoliating particles. The consistency is not very thick or not to thin thus it's quite easy to work with it.  The thickness of the product is just perfect so no need to mix it with water. 
The smell is exactly like exotic coffee and a bit of cocoa. Quite obvious, right? The smell actually helps in calming my senses to some extent. Using it in the mornings can actually help you wake up. I find it exclusively great or me as I am a coffee lover. The scent is quite raw and not at all chemical-like. The best thing about the scent is that it's not very strong or overpowering. It's mild and relaxing.
My Experience with MamaEarth Coco Face Scrub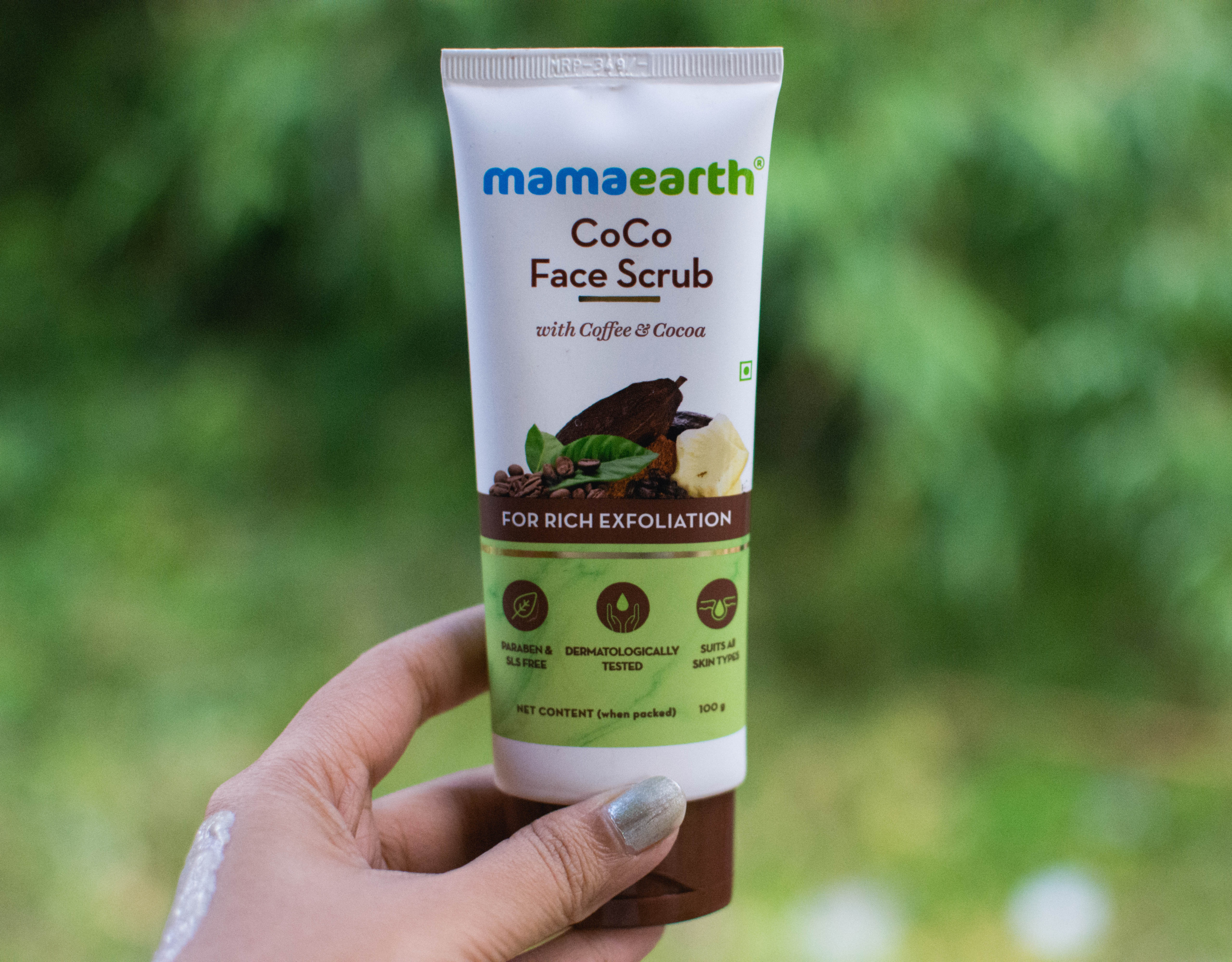 Scrubs are one of my favourite skincare steps. I love this particular product for several reasons.
Firstly, this is a very mild exfoliator. The granules are loosely packed and are not very abrasive. That's why it doesn't feel harsh on the skin. My skin has been acting up lately. It gets bumpy and sometimes sensitive. This scrub doesn't irritate my skin.
The second thing I love about this product is that it doesn't make the skin dry or stretchy. I have used many scrubs in the past and most of them had a tendency to make your skin look and feel dehydrated. Gladly, this one doesn't. Rather it keeps the skin moisturized even after cleansing it thoroughly. The shea butter in it makes sure your skin is well-nourished and hydrated. This results in a soft and supple skin every time you use this scrub.
The aroma of this is another thing about this scrub that I love. The coffee and cocoa smell makes your mornings even more energetic and also help you relax on your tougher days. 
Overall, I found this product very impressive and effective. It gently exfoliates the dead cells off of the skin leaving it nourished and hydrated. It also effectively removes blackheads too. The skin feels soft and smooth after application which I really like. Although this product is a little on the expensive side I highly recommend this to anyone who is looking for a 100% Indian, natural, chemical-free and hydrating exfoliator. #VocalforLocal
What is your favourite scrub at the moment?
---
That's it for today's post. I hope you found this article helpful. Make sure to share it with your friends and family if you did. Your comments encourage me a lot. So, pour in your thoughts in the comments. Subscribe to our Newsletter so that you get notified whenever there is a new post on the blog! Will talk to you in my next post. Till then, be happy and keep smiling! Follow me on Facebook, Instagram & Twitter and also Subscribe to my YouTube channel for beauty & fashion related videos and vlogs.