Motorcycling can be both a sport and leisure activity. It is loved by many men and women, because it allows you to fully enjoy the beautiful nature you'll encounter during a road trip. Riding a motorcycle is also a quick and good way to commute to your job and back. A beautiful motorcycle outfit can give you the confidence you need to take the bike out for a ride every day and will offer you good protection while you're on the road. But not all motorcycle clothes are trendy enough to wear to work or another important engagement. Keep reading to pick the right motorcycle outfit and enjoy a lovely day without any outfit worries or mistakes.
A black or colorful motorcycle helmet
There are a number of items that every motorcycle user should purchase. Firstly, picking the right motorcycle helmet is essential. Motorcycle helmets offer you protection if you are involved in an accident. The helmet will provide protection for your head while hitting the ground or the bike, and will also protect your neck from any harm. A broken neck can be deadly and therefore a helmet should never be taken for granted.
Motorcycle helmets do not only offer your protection, but can be quite a nice accessory as well. A full face motorcycle helmet with a sun visor can give a tough bad-ass motorcyclist look that the car drivers on the road will only be jealous of. If a tough look is what you're going for, choose a black helmet, or a black helmet with some subtle color accents. This will combine very well with a leather jacket or suit. For a friendlier look, choose a colorful helmet, such as one completely in red, blue, orange, or really any color that you like.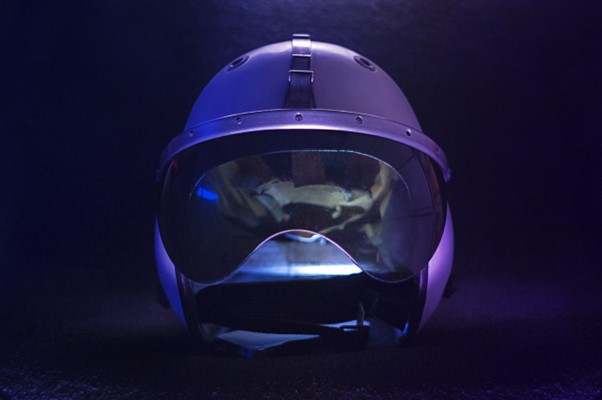 A leather or textile motorcycle jacket
Besides the helmet, a trendy motorcycle jacket will come in handy. A leather jacket is a true fashion statement and doesn't burn if you hit the ground. It can offer good ventilation in the summer so that you don't sweat on hot and sunny days. However, for cold winters a leather jacket is less suitable because it does not offer any warmth. During this season, you can opt for some extra thermal layers in combination with your leather jacket, to keep that tough biker look, or try a multi-layer textile jacket with thermal layers. This jacket will keep you warm in the winter, but is too hot for the summer and could cause overheating.
Black leather jackets can give you that real tough biker look that you're looking for, while brown leather jackets give more of an Italian summer feeling. Combine a leather jacket with a black leather pair of pants or a pair of jeans specially made for motorcycling. Jeans made for motorcycling are enforced and will offer protection during an impact, whereas regular jeans will tear and burn.
Trendy motorcycle shoes
The newest trend regarding motorcycle shoes is shoes that look like regular shoes, but actually aren't. Before trendy motorcycle shoes were invented, most bikers used to wear their own shoes, or motorcycle boots. Unfortunately, regular shoes do not offer the protection you need on the road, whereas motorcycle boots do offer protection, but are difficult to walk in.
To solve this problem, motorcycle clothing producers started to develop trendy shoes that were stylish, comfortable to walk in, and offer great protection. These shoes look like regular sneakers or boots, but are enforced with Kevlar patches or protective layers of special fabric inside the shoes. Not only do these shoes fit better with your daily outfit, but they also take away the burden of having to bring another pair of shoes for work or for other activities.