I've been flooded with messages and queries regarding my recent ColourPop order when I shared a haul on my Instagram. Although I have replied to some of the comments about the customs, I had to explain more in one post. The service that helped me get my ColourPop order shipped to India is a website called My Mall Box. In this post, I will share my experience with My Mall Box.
What is My Mall Box?
My Mall Box is a package/parcel/mail forwarding service. They provide their customers with a US address (a suite in our warehouse), which allows them to shop at online retailers who require a United States shipping address.
How Does My Mall Box work?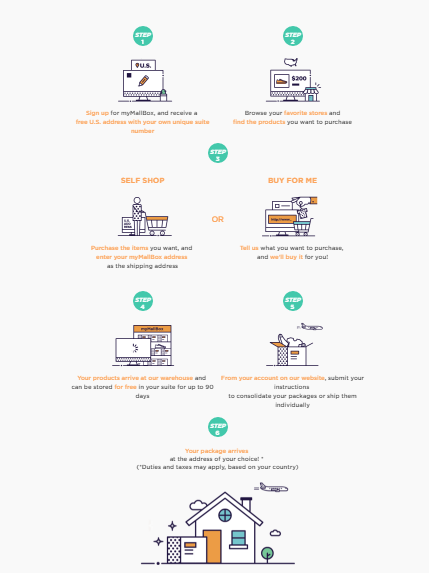 Once you sign up with My Mall Box, they will give you your own Amercian address along with a unique suit number. There are two options to choose from. One that allows you to self-shop the products directly from the merchant website using your My Mall Box address. Another option is to go for 'Buy for Me' option. In this option, you fill in a form writing what you want to get, product name, category, URL of the product and My Mall Box buys it for you. It's super easy to use My Mall Box as it's absolutely hassle-free.
After your products are shipped and received at the warehouse you are notified at once. You can see your order waiting for you in the dashboard of your account. Now, you have to Consolidate or Repack your package depending on your order. The next point is about Consolidation.
It's super easy to use My Mall Box as it's absolutely hassle-free.
What is Consolidation?
If you have bought several items from different websites, you will need to consolidate your packages in order to reduce shipping cost. Consolidating your packages means they will combine all the products into one package. The benefit of consolidation is there will be no risk of any of the packages getting lost in transit. Secondly, it will reduce shipping cost and lastly, it's free!
Prohibited Items
If you are a regular online shopper then you must know some items are prohibited for shipping depending on a list of prohibited imported items of a particular country. You must know it before ordering anything.
Shipping Rate
My Mall Box determines shipping charges based on the package dimension and weight. They have an online calculator through which you can calculate how much you need to pay for a certain package. For my order, I paid $31.65 for shipping via DHL.
Other Charges
One thing I loved about My Mall Box is that they do not have any hidden charges.
The shipping charges are based on what and how many products you order.
You get a free storage for 90 days which is awesome and after the period of 90 days, you will be charged $1 per day. Speaking of the storage period, I would like to mention that after 120 days of your order reaching My Mall Box warehouse, the contents are liquidated. The storage limit applies to consolidated packages as well. The 90-day and 120-day cycles do not reset after repackaging your products.
For all return package, they charge $10.
$4.50 handling fee and a 3% transaction fee per Buy for Me order.
$2.00 per package for Splitting your packages.
$1.00 per photo for photo requests.
Things to Keep in Mind
In spite of everything, there are certain things that you need to keep in mind, like-
Some websites like Sephora do not ship to package forwarding companies. I don't know if the 'Buy for Me' options works in this case. I had read many reviews and many people have mentioned about this issue with Sephora. I even know of an incident where someone's order had been cancelled. So, keep it in mind.
Some websites like Amazon.com only accept US phone numbers. My Mall Box provides a US number in this case.
Consolidating your order means you will not get the original box the products came in. So, if you are wishing to possess the famous Kylie Cosmetics box or the Quirky Colourpop box, consolidation is not for you.
Did I Pay Customs?
Yes, I did. I had to pay Rs 805/- for an order value of $24.99. Total amount that for the entire order was-
ColourPop Order-        $24.99- Rs 1616
My Mall Box Service-  $31.65- Rs 2045
Customs Charges-                     Rs   805
———————————————-
Total-                                           Rs 4,466
Why My Mall Box?
My Mall Box generates addresses in Delaware which is a tax-free state. So, you have to pay 0% sales tax for your orders.
Their Concierge fee is $3 which is very nominal compared to other such websites.
My Mall Box has low shipping charges compared to other equivalent companies. I had to pay $31.65 for my order.
Their service is extremely swift and they notify you at every step.
I had consolidated my package and they repacked it very well that my highlighter came intact. I though it'll be damaged in transit but luckily it didn't.
DHL and USPS are their shipping partners. These companies are completely reliable.
They give you a $5 sign-up credit.
Overall, I am really satisfied with My Mall Box's service. The entire staff including the customer care is very friendly and helpful.
---
That was it for today's post. I hope you found this post helpful. Make sure to share it with your family and friends if you did. Pour in your thoughts in the comments. Your comments encourage me a lot! Do subscribe to our Newsletter so that you get notified whenever there is a new post on the blog. Will talk to you in my next post. Till then, be safe & keep smiling! Follow me on Facebook, Twitter or Instagram for regular updates. Add me on Snapchat for more fun and a sneak-peek of my life.
Disclaimer: I was provided with a credit by the company to try out their services and write an honest review.