Essential oils are something that is much talked about these days but, most of us are unaware of what they actually do, how they benefit us and most importantly, the ways we can use them. Recently, I got to try a couple of essential oils from a brand called Speaking Tree and I thought I should write an elaborate post on the benefits and uses of essential oils along with my review on the Speaking Tree Essential Oils.
The two variants that I got are Peppermint and Lemon. We all know how beneficial peppermint and lemon are for our skin. Rich in Vitamin C and Citric Acid, Lemon is highly beneficial for the skin. It helps prevent acne, lightens acne scars and any other pigmentation and brightens the skin. Lemon is great for oily skin. Peppermint, also, is great for the skin and body. It has antiseptic and antimicrobial properties. The cooling property of peppermint helps calm the senses. It also prevents acne and removes dandruff.
About Speaking Tree-
Speaking Tree is an Indian brand that focuses on natural skincare based on traditional Indian culture and beliefs. They have a great range of Essential and Carrier Oils. All their products are natural and free from chemicals.
Speaking Tree essential oils are available on Amazon, Flipkart and mynutramart.com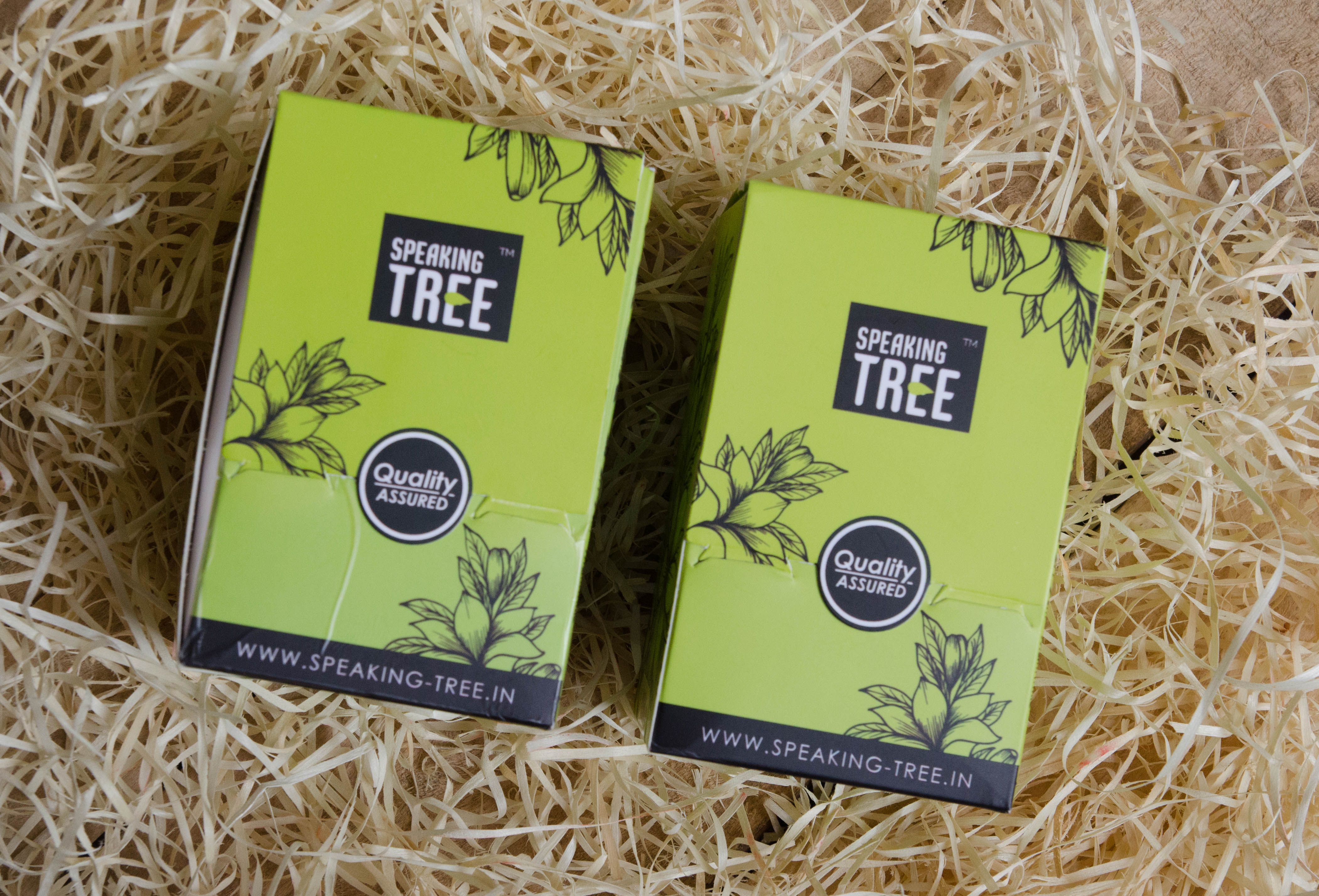 Packaging of the Speaking Tree Essential Oils-
Both the essential oils come in 15 ml glass bottle with a plastic cap. They have European dropper cap included in their packaging. Inside the outer packaging comes a glass roller bottle as well.
Speaking Tree Lemon Essential Oil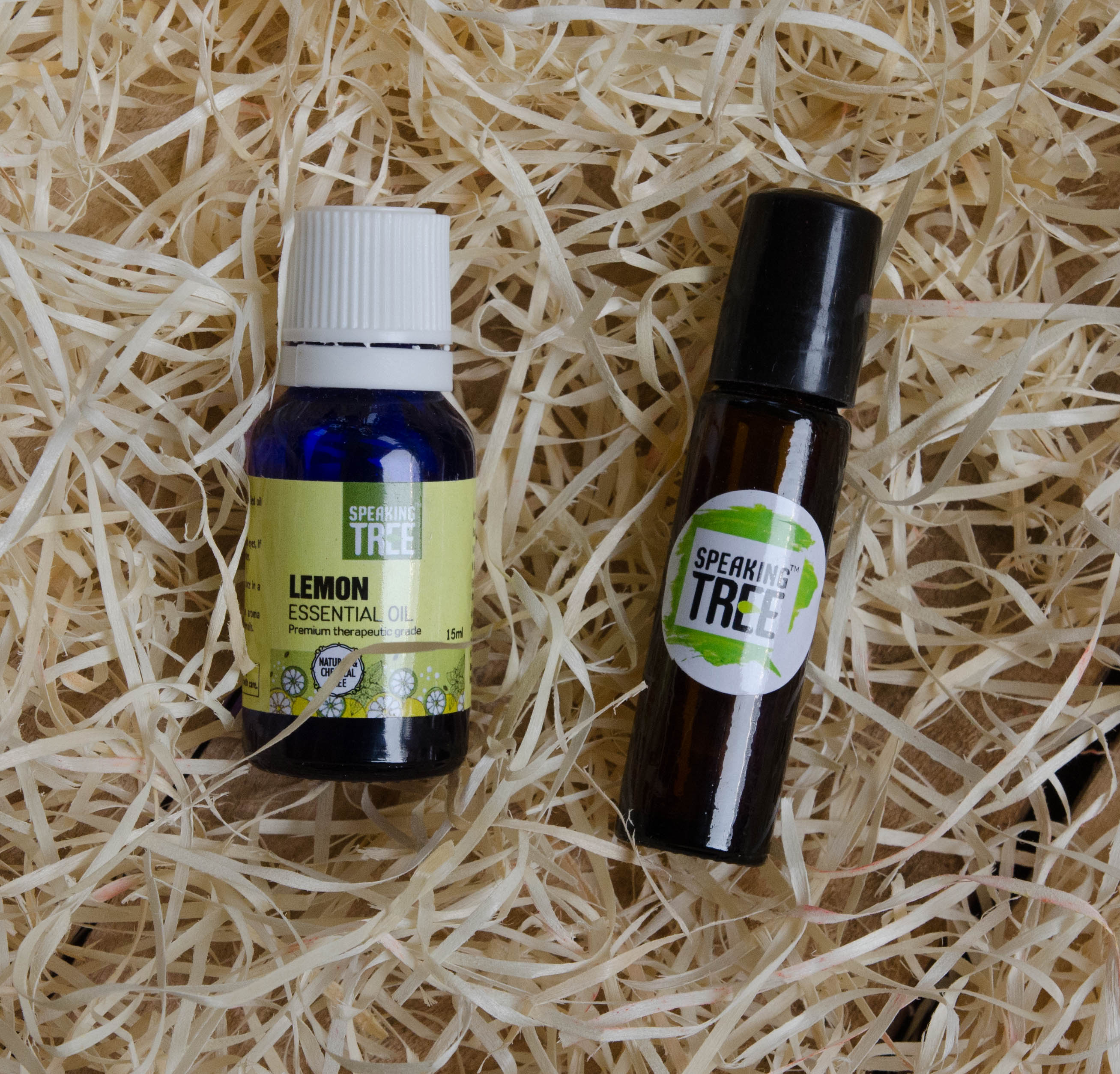 Price- Rs 295/- (Buy here)
Key Ingredients: Speaking Tree's Lemon essential oil is 100% natural and organic. It contains premium therapeutic grade Lemon which has calming and detoxifying properties.
Benefits:
Boosts immunity & cleanses system

Natural disinfectant and antiseptic cleanser

Helps to support healthy respiratory function

Excellent stress buster

Reduces the swelling in the mucous membranes

Eliminate dandruff & strengthens hair
How to Use:
Use 3-4 drops in a diffuser to promote a positive mood.
Mix 2-3 drops with water in a spray bottle to clean surfaces.
Good for blemishes & oily skin to minimize oil production.
Put a few drops in laundry to remove stains & brighten clothes.
Take some drops on cotton ball and put in refrigerator for a pleasant odour.
Speaking Tree Peppermint Essential Oil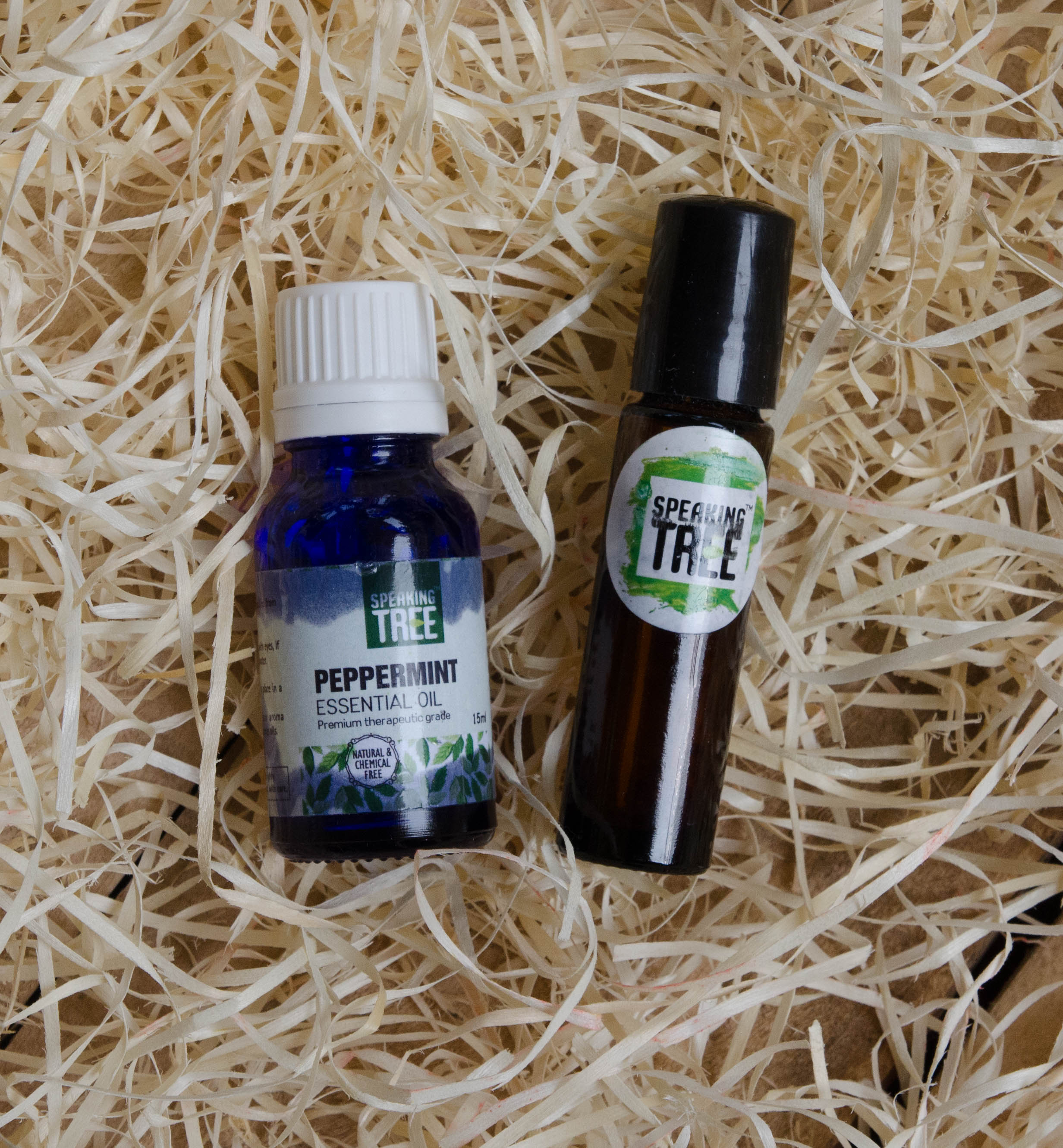 Price- Rs 310/- (Buy here)
Key Ingredients: Speaking Tree's Peppermint essential oil is 100% natural and organic. It contains premium therapeutic grade Peppermint which has many benefits for your body and soul.
Benefits: 
Reduces stomach aches, soothes digestive issues

Freshen bad breath & clear respiratory tract

Antimicrobial properties

Improves mental focus

Relieves headaches

Boosts energy
How To Use:
Blend few drops with carrier oil & rub on chest. Relax & inhale.
Put few drops on the shower floor for an invigorating bathing experience.
Place 2-5 drops in a bowl of steaming water, and inhale the stream to breathe easy.
Mix few drops with carrier oil & massage for relief from aching muscles.
Put few drops in a diffuser and relax your body & soul.
My Review of the Speaking Tree Essential Oils: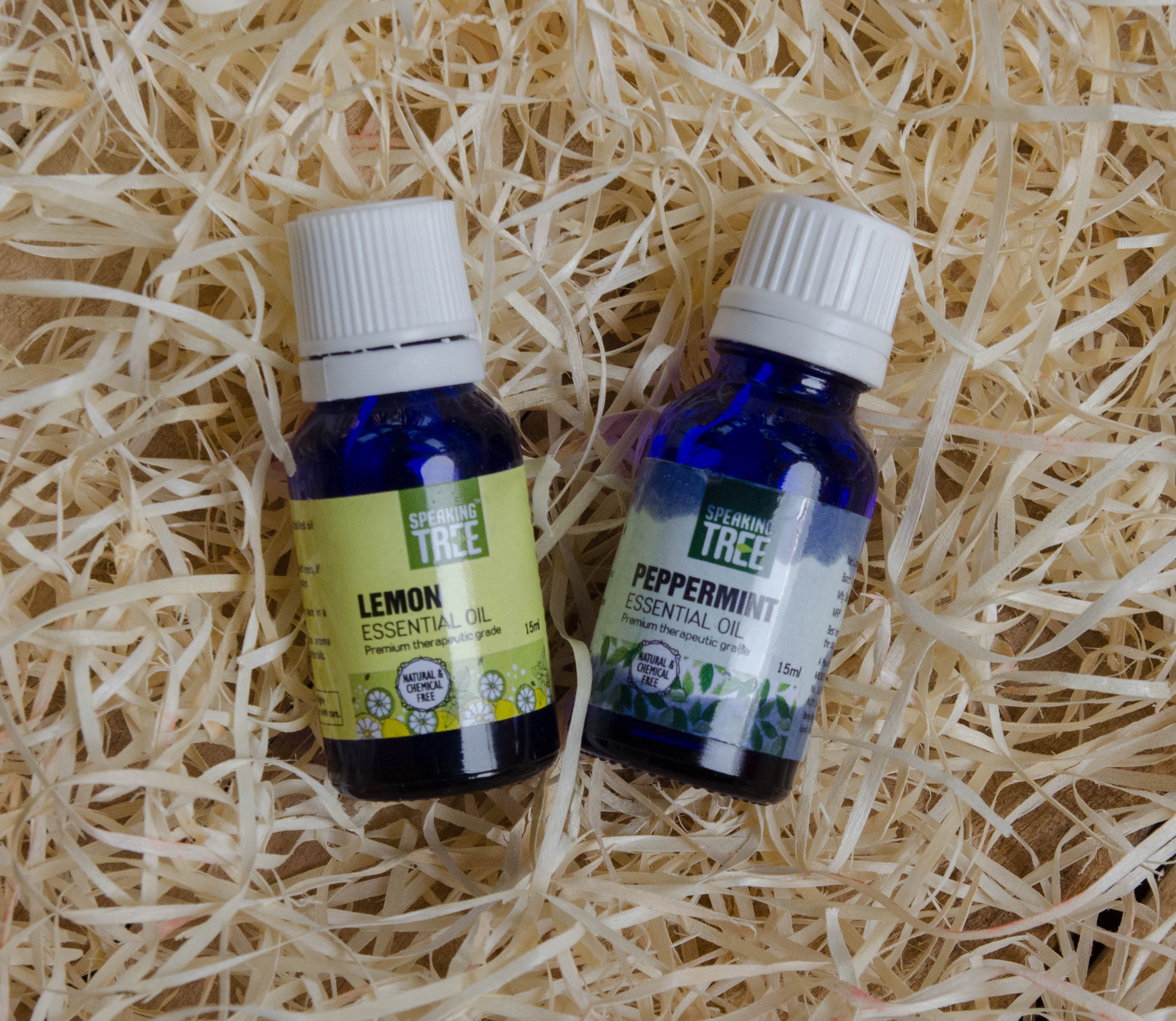 I have been using these two essential oils for over a week now and I think I should share my views with you. There are various ways of using these essential oils but there are two particular ways in which I am using them for me. I take 2 drops of the Lemon Essential Oil on to my palm and press it gently against my skin right after washing and toning the skin. I am doing this step twice a day and I can notice a change in the appearance of my skin. The dullness of my skin is now gone and it appears brighter than before. This oil is a dry oil so it does not make my skin greasy.
I do not like peppermint smell but when I get migraines, the same smell seems very calming and refreshing to me. If you get frequent migraine attacks like me then first see a doctor and start medication and while it starts paining use this peppermint essential oil instead of popping a pill. What I like to do is, I take some oil in the roller applicator and rub it gently on my temples. It gives a great relief from the pain and from the stress too.
You can also burn these oils in a diffuser and it will act as a stress buster. You will calm your nerves and destress you instantly. Or, just add a few drops in a bucket of water or in your bath to relax after a long, hectic day.
I would highly recommend you to try these two oils from Speaking Tree. Check out their website for more info.
---
That was it for today's post. I hope you found this post helpful. Make sure to share it with your family and friends if you did. Pour in your thoughts in the comments. Your comments encourage me a lot! Do subscribe to our Newsletter so that you get notified whenever there is a new post on the blog. Will talk to you in my next post. Till then, be safe & keep smiling! Follow me on Facebook, Twitter or Instagram for regular updates and also Subscribe to my YouTube Channel!