Hello, everyone! Today's post is a long pending review on some of the sheet masks that I got from Skin18.com. If you don't know what Skin18.com is all about then do check out My Haul from Skin18.com & Mini Review. In this post, I am going to talk about three more Skin18.com sheet masks that I tried. It's been ages since I used them up which you might know if you follow me on Snapchat. I mostly share my first impressions on new products there. Now that I am all done with the testings, I have decided to sit down and talk about them. So, let's start-
The new Skin18.com sheet masks that I got are these three- Cracare Anti-Aging Snail Repairing Mask, Mirum Fresh Fruit Pomegranate Real Nature Mask Pack and Luke Green Tea Essence Mask. Now, I am going to briefly talk about all of them.
My Experience with the New Skin18.com Sheet Masks
CraCare Anti-Aging Snail Repairing 3 Steps Mask ($2.90)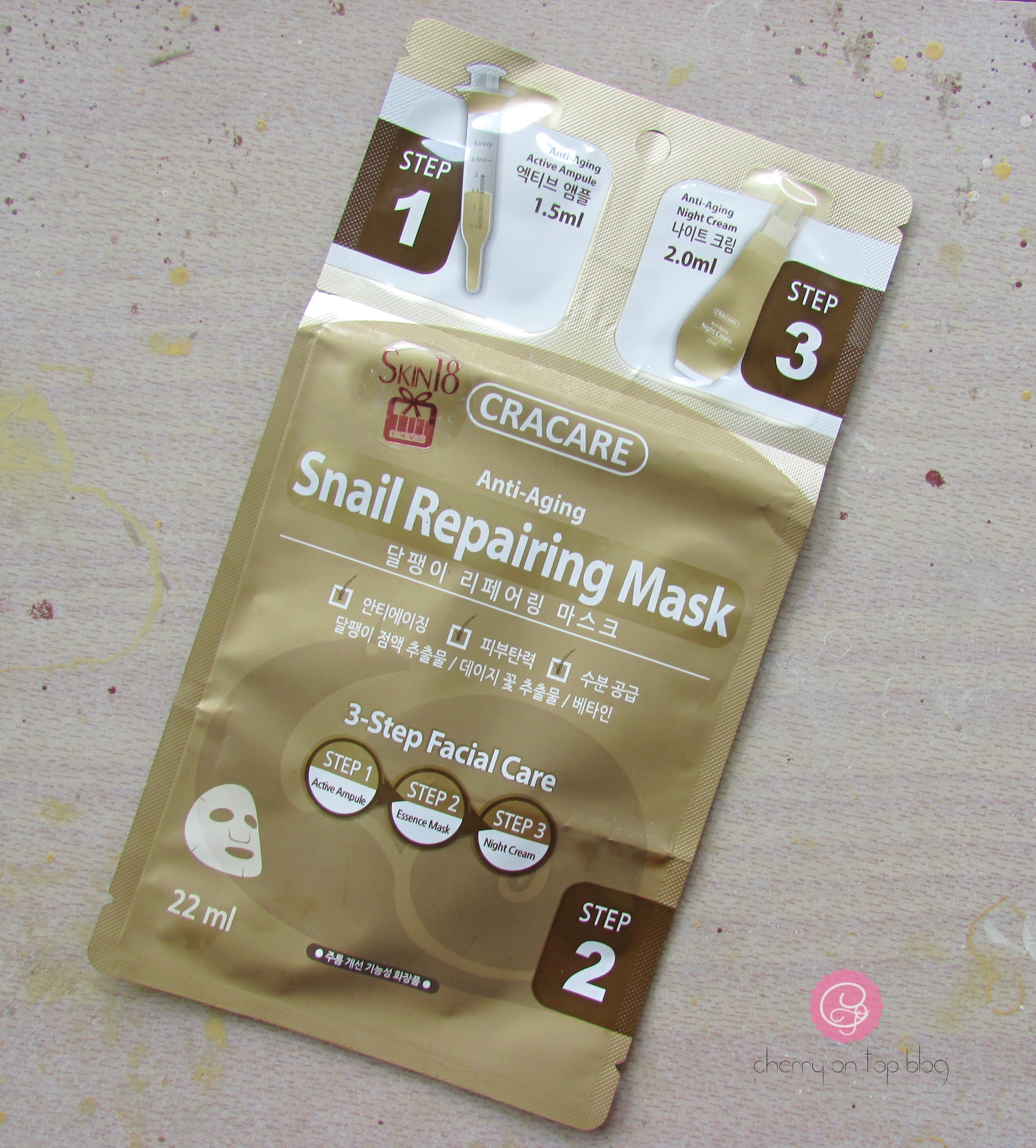 This basically is a 3-step facial treatment that is meant to firm your skin and lighten your complexion. This pack comes with an Active Ampule that is the first step, the second step is an Essence Mask and the concluding step is a Night Cream. You have to apply the Active Ampule so as to prep your skin for the next step. The Active Ampule is a silky, lightweight cream that needs to be absorbed into your skin especially around your eyes and lips before the second step which is the sheet mask. The mask is drenched with a slightly gloppy essence. The instruction says to put on the mask for about 20-30 minutes although I think it might have been there for an hour without drying.
When I removed the mask after 30 minutes, the essence was still there on my skin. The remaining essence is meant to be massaged into the skin. It takes no time to get absorbed completely without making the skin oily. Then, the final step is to apply the Night Cream. The Night Cream is again a creamy textured product, a little bit thicker than the Active Ampule. However, it gets absorbed into the skin quickly and keeps the skin well moisturised and nourished till the next morning.
I love this stuff because it is hydrating, non-greasy, makes the skin visibly brighter and provides a healthy glow, the skin looks and feels smooth, soft and supple the next morning. It does not quite work well to lift or firm my facial skin. Also, it did not do anything to the pores. You can definitely use it if you have a special occasion and want a glowing skin without putting much effort in brightening it up. Also, it has snail slime extract which is great for your skin as it is full of nutrients like hyaluronic acid, glycoprotein enzymes, antimicrobial and copper peptides and proteoglycans.  It stimulates the production of elastin and collagen. A lot of Korean skincare product has snail extracts in them like the ElishaCoy Skin Repairing Skin Cream that I had talked about in the past.
Mirum Fresh Fruit Pomegranate Real Nature Mask Pack ($1.25)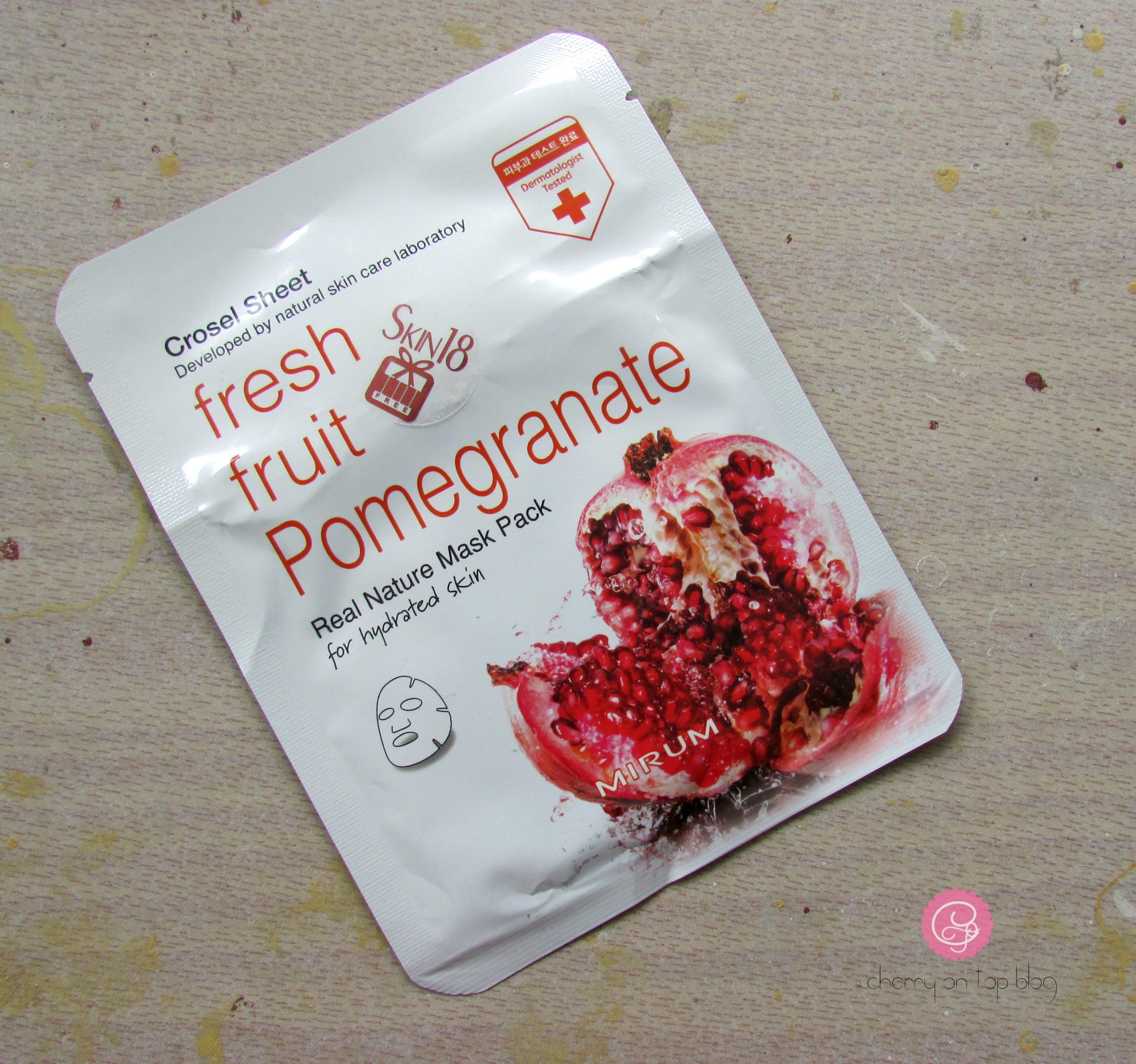 This sheet mask contains pomegranate extract that is responsible for restoring the elasticity of the skin. This particular mask sheet is made of 100% natural cotton which is great. This mask is meant for all type of skin. This mask takes care of the dry and tired skin as well and can be applied every day. Pomegranate extract is great for tightening your skin and making it look younger. You have to apply this mask to a cleansed and toned face for about 15-20 and you can see a difference instantly after removing it.
The essence has a cooling property and it gets absorbed into the skin quickly. It gives a boost of hydration to the skin instantly. You can feel your skin become soft and supple right after using it. The essence is non-oily. This mask causes no skin irritation or breakouts. I wish they had the instructions written in English at the back of the pack.
Luke Green Tea Essence Mask ($1.65)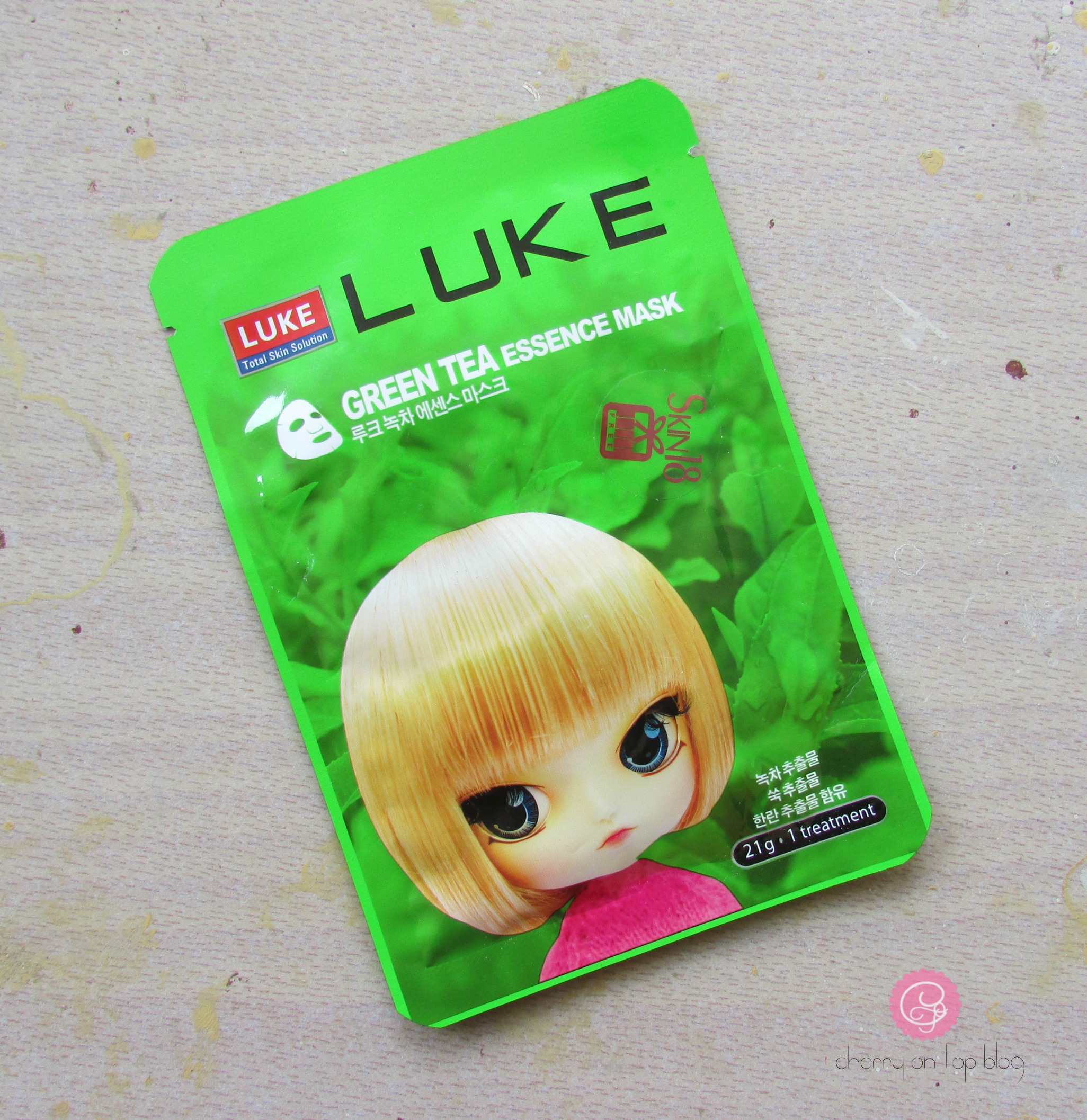 As you can tell it from the name of the mask, it contains green tea extract. Green tea has manifold benefits to it. To start with, it is packed with antioxidants that fight premature ageing, restores damaged cell, works great to prevent breakouts and so on. This mask specially formulated with green tea extract to firm your skin and minimise the appearance of fine lines.
The essence penetrates deep into the skin and revitalises and hydrates it, makes your skin look and feel healthy from within, soothes and refreshes the skin, makes it soft and improves elasticity. Although it made my skin very supple, it did not do anything dramatic to make it look firmer or younger. This mask also did not cause any breakout or skin allergy.
Skin18.com has a huge variety of sheet masks for different skin types and concerns. You can get the above-mentioned masks directly from their website which is skin18.com.
Have you ever tried any Skin18.com Sheet Mask?
---
That was it for today's post. I hope you liked it. Make sure to share this post with your family and friends if you did. If you want me to review any particular product then please let me know in the comments. Your comments mean a lot to me.  Do subscribe to our Newsletter so that you get notified whenever there is a new post on the blog. I'll talk to you in my next post. Till then, be safe & keep smiling! Follow me on Facebook, Twitter or Instagram for regular updates. Add me on Snapchat for more fun and a sneak-peek of my life.
Disclaimer- Product sent by the brand in exchange for an honest review.