Whenever I plan for a meal with my friends or family, choosing the best restaurant turns out to be the hardest thing. Not always people can afford fancy restaurants that cost a bomb. You need to choose a quality restaurant that suits your budget. For that, you need someone who gives you the best suggestions. You need one trusty friend who gives you the most honest reviews, for example, LittleApp! Suppose you are looking for the best buffet deals in your city, you can simply go and search for that on LittleApp and they will show you the best of the bests.
Since I live a few kilometres away from Kolkata, I need to travel all the way in order to attend events or any other work. So, it becomes quite necessary for me to find the best place to eat and it has to be on the go. Buffet lunch or dinners are the best if you are in a hurry and you don't want to sit and order and then wait for your food to arrive. Generally, they are the best deals for two people especially when there is a very less time.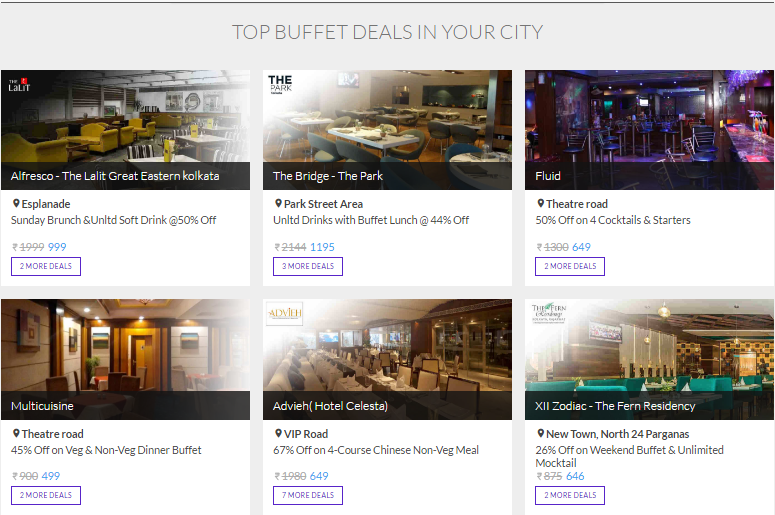 LittleApp has a bunch of great restaurants listed in their directory that has the best buffet service. Not only that, you get great deals on the buffet menu too. So, there is not just one reason to go for LittleApp when you are looking for food on the go. Currently, there are over 25 restaurants with the top rated buffet with 8% to 65% discounts available on LittleApp. Isn't that great? These deals are not only for Kolkata, but you can get similar deals in any restaurant from cities like Mumbai, Delhi, Bangalore, Pune and Hyderabad.
A Little Bit More About LittleApp
As their About Us section says, "Little Internet Pvt Ltd. is a hyperlocal deals discovery platform connecting customers and merchants across services like restaurants, spa, salons, activities, hotels etc. It helps customers discover fantastic offers at their favourite outlets and also become a sales channel for offline merchants.
We offer 50,000+ deals across 20,000+ merchants and all major cities like Delhi, Bangalore, Pune, Kolkata, Mumbai, Hyderabad, Chennai etc."
LittleApp is an online directory of Restaurants, Spas, Salons and Entertainment. You can get the best deals using LittleApp. It's very easy to use, easy to register, great for people who are always on the go and most importantly, it's free! You just have to register using your number and every time you purchase any deal they will deduct the amount directly from your PayTM wallet. That means, no banking hassle!
I am pretty much liking this website lately. They have also an android app which makes it easier to access while travelling. Have you ever used LittleApp? How was your experience?
---
That was it for today's review. I hope you found this post helpful. Make sure to share it with your family and friends if you did. Pour in your thoughts in the comments. Your comments encourage me a lot! Do subscribe to our Newsletter so that you get notified whenever there is a new post on the blog. Will talk to you in my next post. Till then, be safe & keep smiling! Follow me on Facebook, Twitter or Instagram for regular updates. Add me on Snapchat for more fun and a sneak-peek of my life.
Disclaimer- This post is sponsored.