Hi, guys! Today, I will be reviewing an amazing matte blue liquid eyeliner from Faces. It's the Faces Ultime Pro Matte Play Eyeliner in Blue. I am a big fan of Faces eyeliners. So, when the PR asked me if I would like to try their new matte eyeliners, I readily agreed. This range has two variants- one black and one blue. I was sent the blue variant for review purpose which I really appreciate because not always you get to try matte blue eyeliners!
As I mentioned earlier, Faces has launched its new matte liquid liner range a few months back after successfully launching their matte lip colours and nail paints. They have launched this in two variants- Black and Blue. Here's what the brand has to say about the range-
"Create your own signature eye looks for FACES Canada now launches Ultime Pro Matte Play eyeliner with intense matte colour in blue and black. With matte being the hottest trend in makeup, FACES Ultime Pro Matte eyeliner delivers rich matte intensity and brings out the depth in your eyes. So complete your matte collection of lip, nail and now eyes.
Get a stylish, chic eye look as FACES Ultime Pro Matte Play eyeliner comes in both blue and black colours. While the blue colour adds an instant pop to your eye look, the black colour gives a bold, confident and sharp look and is a must have. Whether you want to create a soft, sophisticated or a dramatic look, Ultime Pro Matte Play eyeliner will do it all with finesse!
FACES Ultime Pro Matte Play eyeliner has a super long wear with a stay of 17 hours or more and is quick drying and no transfer eyeliner. Be bold this summer, as the waterproof and sweat proof formula makes you even enjoy the water adventures with ease. The eyeliner, with its easy application, glides lightly over the eyelid, creating precise lines and flawless look. Its high coverage delivers the deepest pigmented line and impeccable hold. Besides, it is dermatologically and ophthalmologically tested and approved.
So get your hands on the new FACES Ultime Pro Matte Play eyeliner for the eyes that turn heads."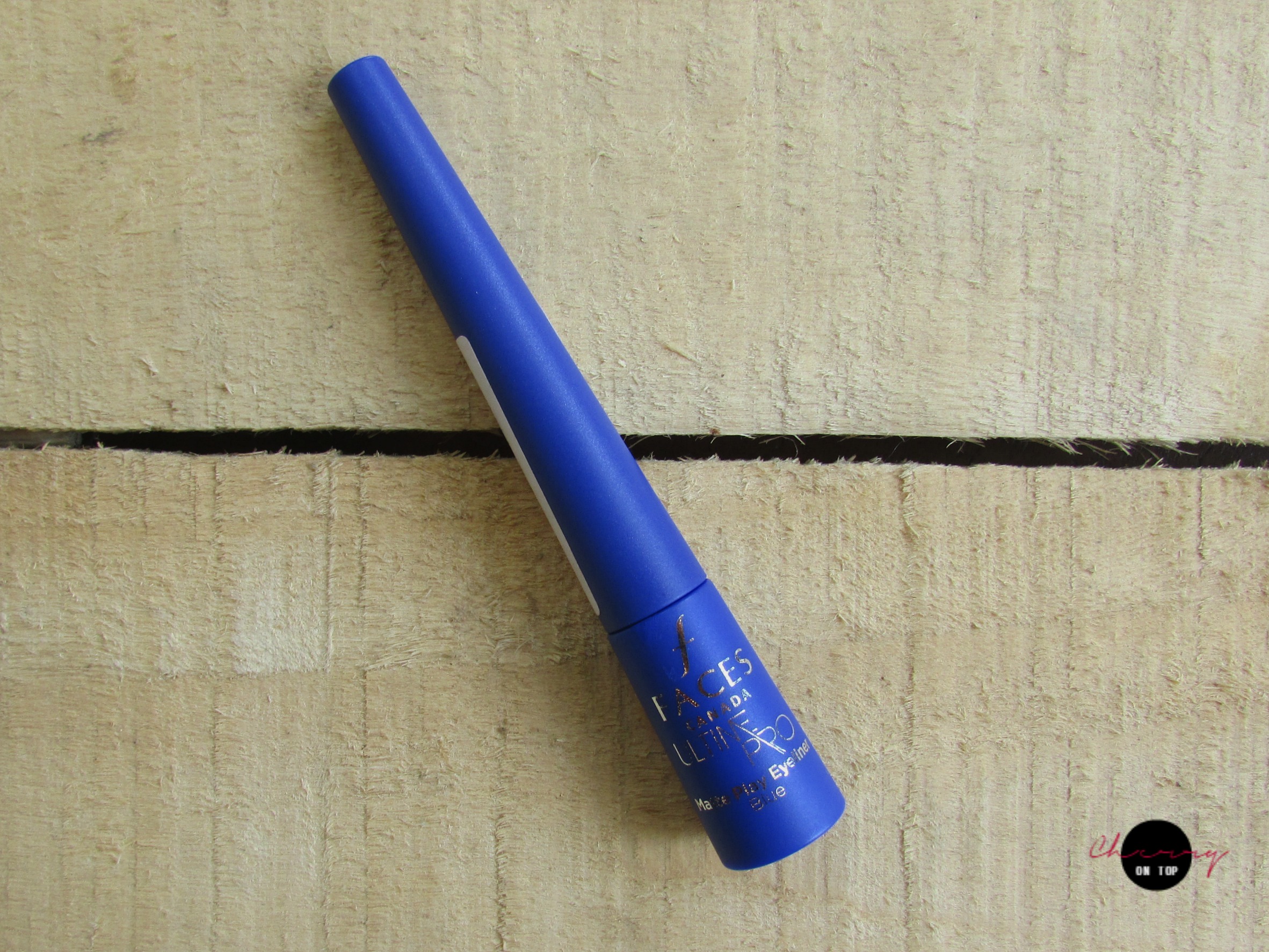 Price- Black- 649/-, Blue- 699 (Buy here)
Description- A matte blue eyeliner that lines and defines your eyes with ease and precision. Introducing the Faces Ultime Pro Matte Play Liquid Eyeliner that delivers the deepest pigmented line with an impeccable hold for an intense finish and great colour payoff. This liquid eye liner is easy to apply and gives you mesmerizing eyes with just one stroke.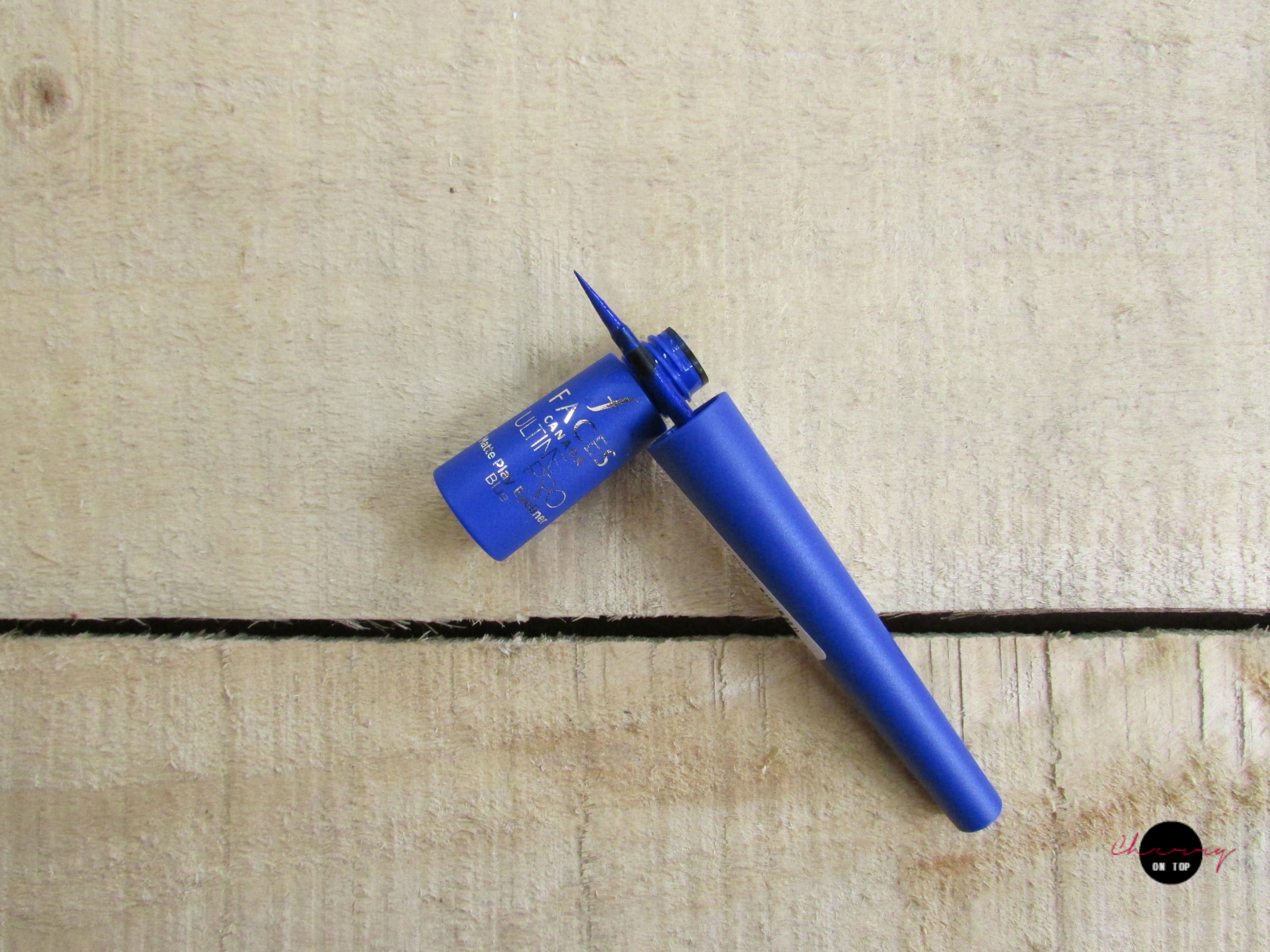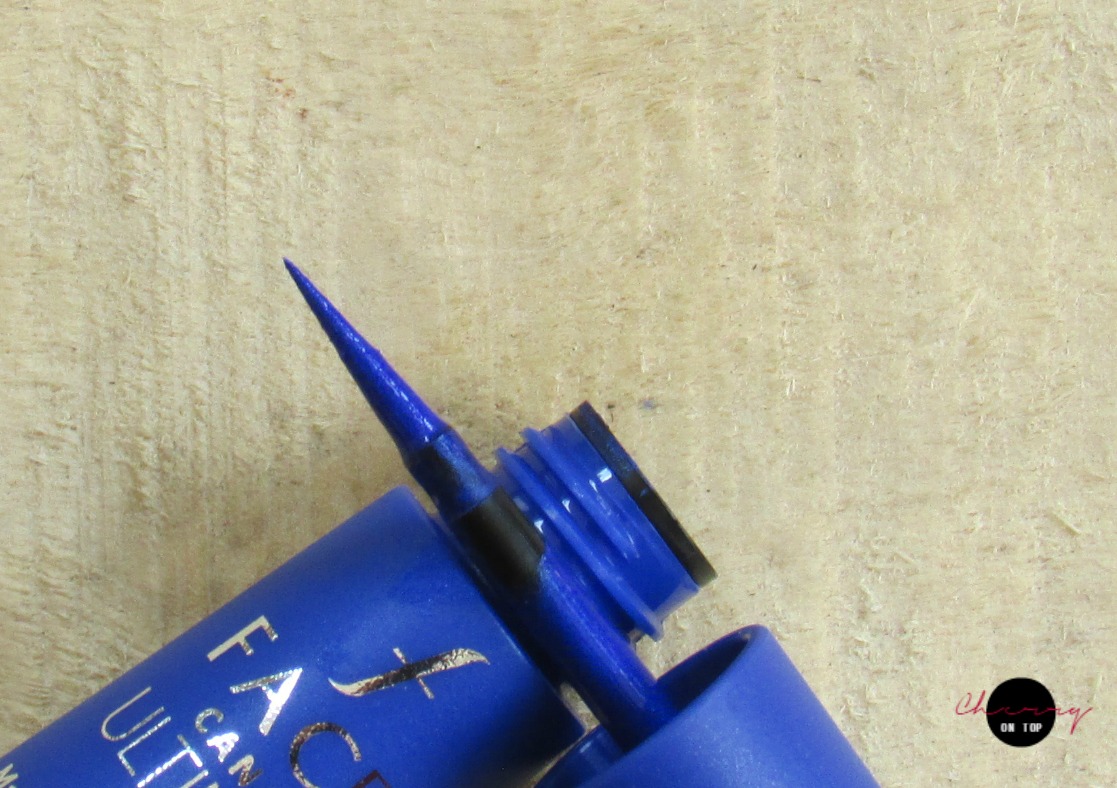 Packaging– The Faces Ultime Pro Matte Play Eyeliner comes in a small, sleek plastic packaging. The colour of the tube resembles the colour of the liner. The applicator is very meticulously designed. It's a felt-tip applicator with a long, pointy tip making it perfect for beginners or someone like me who always tend to mess up the winged liner.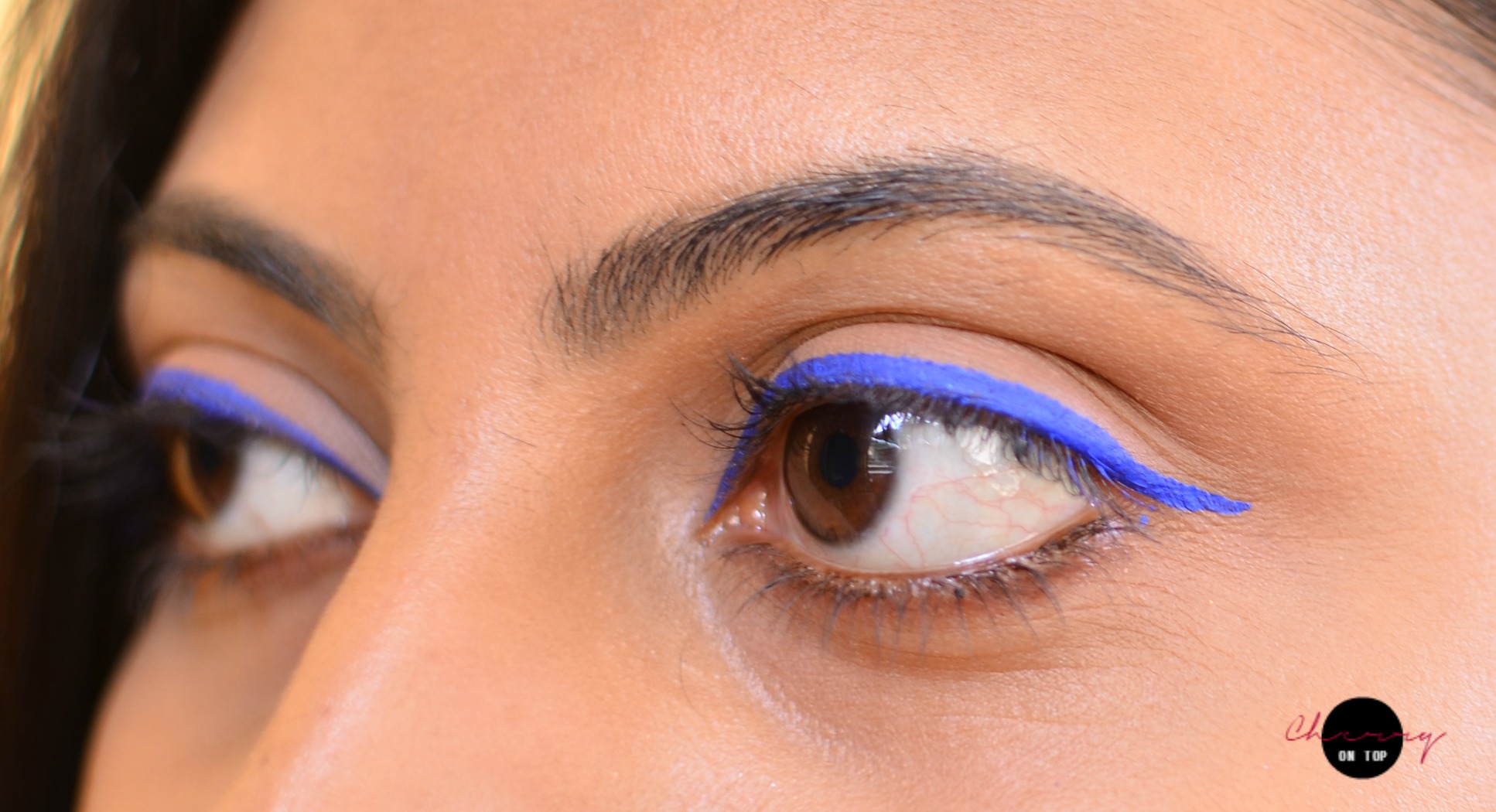 Colour– The Faces Ultime Pro Matte Play Eyeliner- Blue is a beautiful shade of blue. It is in between navy blue and midnight blue. I quite like the colour as it gives a pop of colour without being too vibrant. I usually avoid coloured eye liners but when I do, I make sure it's not too vibrant. This matte blue eyeliner gives me what I exactly need.
Formula- I am absolutely in love with the formula of this Faces Ultime Pro Matte Play Eyeliner. It is smooth, not too runny nor too thick, it is just the perfect formula. The application is pretty smooth, glides on easily on the lids and gives an opaque finish in one stroke.
My Experience with Faces Ultime Pro Matte Play Eyeliner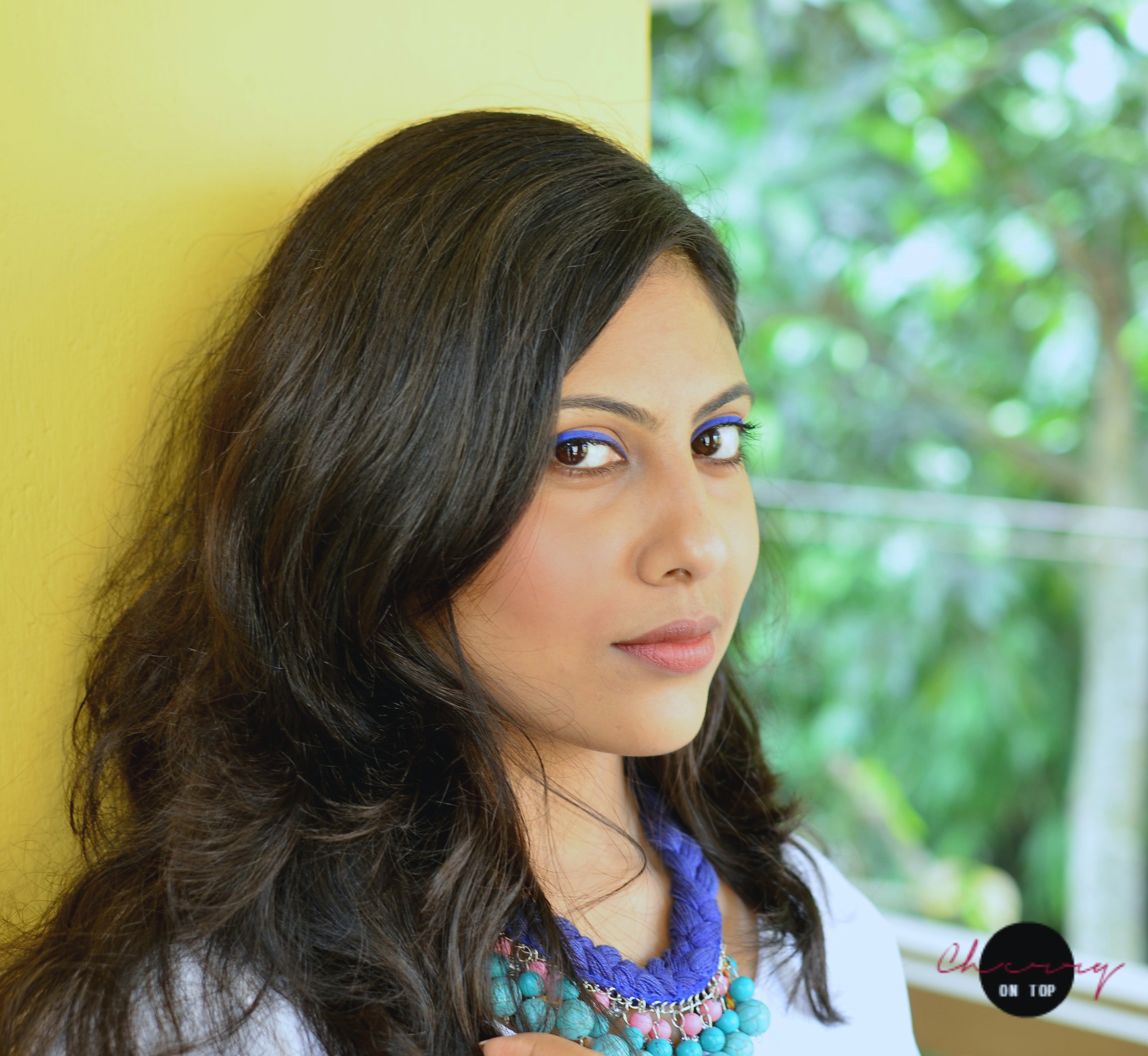 I am in love with this eye liner since I started using it. I am not very fond of coloured eyeliners but I can experiment with blue. What I love the most about this eyeliner is that it settles into a completely matte finish which is very rare to find in Indian market. Another thing I love about this eye liner is that it glides on smoothly and you don't need to scribble across your lids to get an opaque application. Also, the long and pointy tip makes it easier to draw precise lines and wings. The staying power is pretty good. It stayed for 5-6 hours on me without budging or fading and I have oily eyelids. It takes a few seconds for the liner to dry to a completely matte finish. The only con is that the eye liner is not waterproof.
Overall, I really enjoy using this Faces Ultime Pro Matte Play Eyeliner in Blue. I would suggest you guys try it out. It is worth the money spent. I am sure you won't be disappointed.
Have you tried it yet? How is your experience?
---
That was it for today's post. I hope you found this post helpful. Make sure to share it with your family and friends if you did. Pour in your thoughts in the comments. Your comments encourage me a lot! Do subscribe to our Newsletter so that you get notified whenever there is a new post on the blog. Will talk to you in my next post. Till then, be safe & keep smiling! Follow me on Facebook, Twitter or Instagram for regular updates. Add me on Snapchat for more fun and a sneak-peek of my life.
Disclaimer- The product was sent by the brand in exchange for an honest review.