Take a refreshing break from the busy metropolises of Bangalore or Chennai and head on a road trip to Pondicherry that promises a refreshing and memorable holiday.
Formally a French colony, this Union territory is fondly referred to as the French Riviera of the East. There is a distinct French influence on the culture, food, architecture and lifestyle of the people living here.
Situated at a distance of 160 km from Chennai, one can drive down the scenic East Coast Road and reach Pondicherry in 4 hours. Outstation cabs in Chennai are available for tourists to enjoy weekend trips out of the city.
Pondicherry has a heady mix of spiritual culture and modern heritage where one can find pristine beaches, museums, temples, gothic churches and colonial buildings. Among this gorgeous French colony, one can see how the French essence has blended with the Tamil culture and lifestyle.
Historical Sites
History lovers can take a guided city tour by opting for a car rental in Pondicherry. The French War Memorial, Statue of Dupleix, 19th-century Lighthouse and Park Monument are prominent landmark places to visit here. The Raj Niwas is known for its beautiful parks, medieval and contemporary sculptures that give an insight into the life of Pondicherry.
The Pondicherry Museum has some rare artefacts and sculptures that provide information on the cultural influences on this city.
Outdoor Activities
Paradise and Serenity Beaches offer surfing facilities for those looking to get their desired dose of adrenaline.
Adventure sport like Scuba diving can be done by tourists to discover the beautiful marine life or see the gorgeous coral reefs under water.
Take a stroll on the Gandhi Beach or catch the sunrise at the Rock Beach to relax in a serene environment.
Pondicherry has unmatched biodiversity. Nature lovers can find some exotic collections of plant life in the Botanical Garden.
Divine Pursuits
Calm your senses in the relaxing ambience of Aurobindo Ashram by meditating and offering prayers to seek blessings from the divine 'Mother.'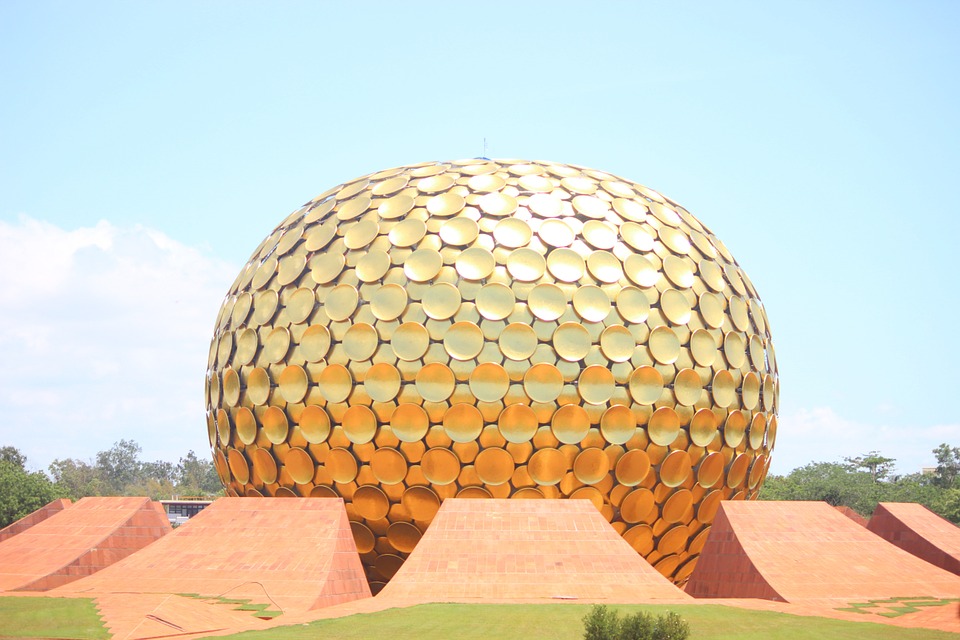 Auroville is a nearby township that provides a peaceful atmosphere. Centrally located within its premises is the Matrimandir where one can meditate to find inner tranquillity. The Manakula Vinayaga Temple is dedicated to Lord Ganesha attracts Hindu tourists especially during festivals. Enjoy the aartis and bhajans at the ISKCON Temple of Pondicherry and feel the divinity of Lord Krishna around you.
Food, Fun and Frolic
Pondicherry is a food lover's paradise. Cafe Xtasi serves the best thin crust pizza while Bakers Street is a well-known bakery. Surguru and Adyar Ananda Bhavan the veg restaurants where both traditional delicacies can be tried. The seafood at Appachi Chettinad and exotic continental fare at LaVilla Helena and Le Club leave one asking for more.
Pondicherry can be shoppers delight. Woodwork handicrafts, jewellery and fashionable clothing, can be found in the Serenity beach Bazaar and Nehru Street. Handmade souvenirs of SunD'art and Kriti Eco Boutique can be bought for folks back home. Luxury shopping can be done at Kalki and Casablanca that offer the best products in town.
The pubs and lounges of Pondicherry are the best places to unwind and enjoy the bustling nightlife.
*Guest Post
---
That was it for today's post. I hope you found this post helpful. Make sure to share it with your family and friends if you did. Pour in your thoughts in the comments. Your comments encourage me a lot! Do subscribe to our Newsletter so that you get notified whenever there is a new post on the blog. Will talk to you in my next post. Till then, be safe & keep smiling! Follow me on Facebook, Twitter or Instagram for regular updates and also Subscribe to my YouTube Channel!