Hi, guys! How are you all? Today, I am going to review a very affordable face wash from Astaberry. I will be reviewing the Astaberry Neem & Aloe Face Wash. I have been trying this product for more than a week and I feel this is the time I should review it for you.'
Price- Rs 55 for 60ml; Rs 95 for 100ml (Buy Here)
Description- Astaberry Neem Face Wash is based on principles of Ayurveda. It deeply cleanses the skin eliminating all impurities from the face. It prevents the occurrence of pimples, acne and blemishes.Neem has antibacterial properties which kill the germs and make face clear and clean.
Core Ingredients- Neem Extract, Aloe Vera Extract, Basil Extract, Lemon juice.
Other Ingredients- Ammonium Lauryl Ether Sulphate, Cocoamidopropylebetain, Lactic Acid, Glycerin, Proplyn Glycol, Atlas G 1823, Cucumber Extract, Lemon Extract, Neem Extract, Basil Extract, Aloe Vera Extract, Tea Tree Oil, Preservatives, Color, Perfume, Polyquat 10, DM water.
How to Use- Gently massage over wet face and neck with fingertips, lather and rinse, morning and evening.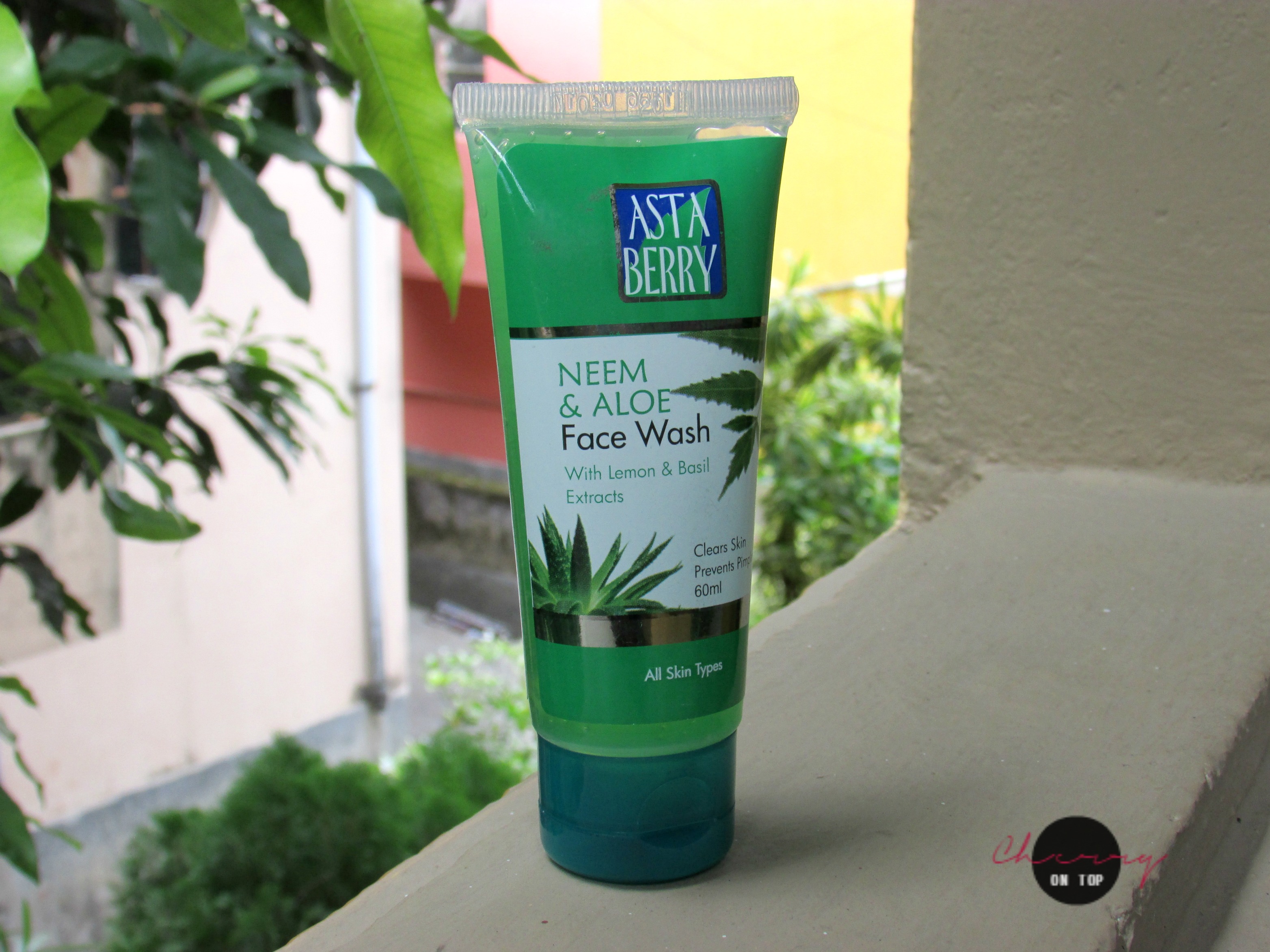 Packaging- Astaberry Neem & Aloe Face Wash comes in a bright green transparent plastic tube with flip open cap. The packaging is very simple, easy to handle and travel-friendly. You need to squeeze the tube in order to dispense the product out.
My Experience with Astaberry Neem & Aloe Face Wash
I love neem-based face washes a lot. I feel they cleanse the face from within and give me a glowing healthy skin. I have been using this Astaberry Neem & Aloe Face Wash for more than a week and I feel I have noticed a few differences in my skin after I started using it. Astaberry Neem & Aloe Face Wash has the benefits of Neem, Aloe Vera, Basil and Lemon. Neem soothes irritation and prevents acne. It is rich in antioxidants. Aloe Vera is a natural moisturiser, it works to alleviate the effects of UV radiation, hydrates and softens the skin. Basil has antibacterial and antimicrobial properties that purify the skin. Lemon is a natural source of Vitamin C, it clears and tones the skin.
This face wash leaves my skin clean and soft every time I use it. It makes the skin soft and supple and adds a healthy glow to it. It effectively removes sebum and impurities from the face and makes it look and feel fresh. Astaberry Neem & Aloe Face Wash is for all skin types.
I am quite happy with the results considering the price of the product. It can be termed as a good face wash within budget. I would recommend you guys to try it out.
The only thing I didn't like is the long list of chemicals used in it.
---
That was it for today's post. I hope you found this post helpful. Make sure to share it with your family and friends if you did. Pour in your thoughts in the comments. Your comments encourage me a lot! Do subscribe to our Newsletter so that you get notified whenever there is a new post on the blog. Will talk to you in my next post. Till then, be safe & keep smiling! Follow me on Facebook, Twitter or Instagram for regular updates. Add me on Snapchat for more fun and a sneak-peek of my life.
Disclaimer- The product was sent by the brand in exchange for an honest review.