Republic Day is approaching and it is high time we appreciate some of our local homegrown brands that are working diligently to serve you with the best of the bests. The brands and products I have chosen for todays post are used and loved by me and appreciated by many of the beauty experts. Today, in this post, I am going to share 8 skincare products that are locally produced, are rich in natural ingredients and works amazingly. So, let's start.
Before moving on, I just want to mention that these products are currently available at a great discount on Nykaa's Republic Day sale. So, it's an added benefit for you.
1. Kama Ayurveda Kumkumadi Thailam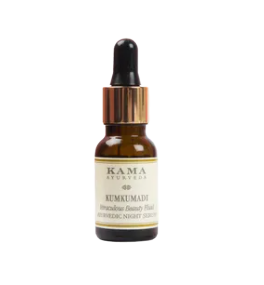 Kama Ayurveda never fails to satisfy with their large array of multiple skincare options that are genuinely natural and have the efficiency to solve the issues that are meant to solve. Their Kumkumadi Thailam is a one of a kind product that helps in repairing and regenerating damaged skin cells to give you that optimum glow and refined skin texture with regular usage.
Buy Kama Ayurveda Kumkumadi Thailam
2. Mamaearth Ubtan Face Mask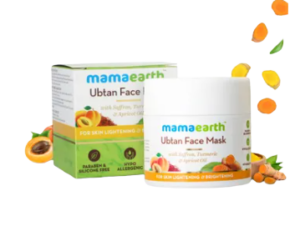 Mamaearth is another admired skincare and haircare brand that has gained immense popularity in the past year because of its affordability and efficacy. I have used their Ubtan Face Mask in the past and I totally loved it as it clarifies the skin by reaching the deep layers of the skin, opens the pores helps the skin breathe, brightens and evens out the complexion.
3. Plum Green Tea Alcohol-Free Toner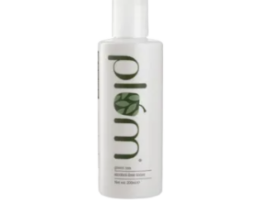 It's been years that I have been religiously adding Plum products into my skincare regime and let me tell you that the association has been proved worthy. The Green Tea toner from Plum suits me the best as it's free from any harsh chemicals, paraben, sulphate, silicone and of course alcohol. Because of that, it doesn't irritate the skin nor does it create any burning sensation. It just mildly tones your face and effectively removes any extra dirt that your face wash was unable to clear out.
Buy Plum Green Tea Alcohol-Free Toner
4. Biotique Bio Papaya Revitalizing Tan Removal Scrub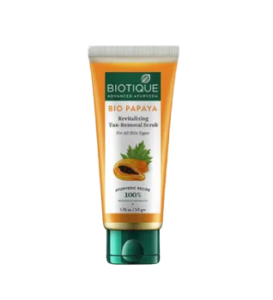 When someone asks me for any product recommendation for tanned skin, I blindly say this name. I have emptied several packs of this particular product and have gone gaga over this on all my social media platforms. The Bio Papaya scrub had got my back when no other products did. I tried several brands and zillions of products that claim to remove tan but nothing worked for me*.
Biotique Bio Papaya helped me get rid of my tan in two-three usages and those were sunburns that were the result of a beach trip. You know how hard it is to get rid of them!
Buy Biotique Bio Papaya Revitalizing Tan Removal Scrub
5. Lotus Botanicals Vitamin C Skin Brightening Face Serum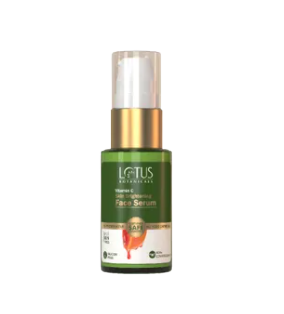 Vitamin C is an essential part of my skincare regimen. I am in my early 30s and anti-ageing is one of my top priorities when it comes to choosing skincare. Vitamin C helps my skin look younger, brighter, and fights off dark spots beautifully. That makes me go on a constant hunt for the best product containing Vitamin C so that my skin doesn't settle with a particular product.
Recently, I came across this Vitamin C face serum by Lotus Botanicals which is  100% vegan and cruelty-free, free from parabens, silicone, mineral oil and preservatives, non-comedogenic formulation. It beautifully sinks into the skin giving it a healthy glow. I am still using this one every morning and I can say I am loving it so far.
                                                                                        Buy Lotus Botanicals Vitamin C Skin Brightening Face Serum
6. Pilgrim White Lotus Natural Face Mist & Toner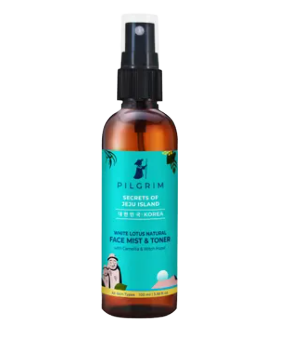 Pilgrim is a brand that has been gaining popularity over the past couple of years and there are valid reasons for that. First of all, the concept is one of a kind, something that the Indian skincare industry is quite new to. Secondly, their ingredients are 100% natural and exotic. They are gentle on the skin and suitable for all skin types.
I have used many of their products including their skincare and bath and body products and I can vouch for their quality and efficacy. The product I love the most from their huge catalogue is the White Lotus Natural Face Mist and Toner. Using it for a while, I have realized that White Lotus is a gentle ingredient that suits my skin so well. I use this product as a mist and it has worked in different ways for me. One, it soothes irritated skin, tones it, balances oiliness, provides hydration and refreshes the skin.
Buy Pilgrim White Lotus Natural Face Mist & Toner
7. The Moms Co. Natural Cranberry Coffee Face Scrub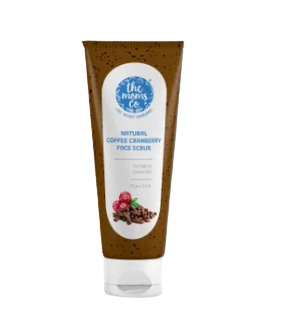 I am a sucker of all things coffee in my skincare regime. Not only its unparalleled fragrance but also its anti-aging, brightening properties that make me love it more and more. The Mom's Co Cranberry Coffee scrub is not only enriched with the benefits of coffee but it also has cranberry which is known for its anti-aging properties.
This scrub could be a little messy but it works amazingly and smells divine.
Buy The Moms Co. Natural Cranberry Coffee Face Scrub
8. MCaffeine Naked & Raw Tan Removal Coffee Face Mask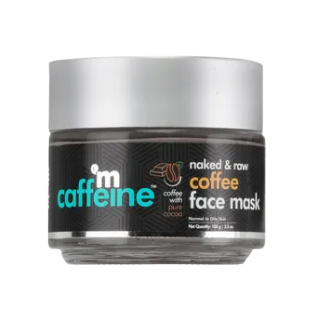 Another coffee-based skincare product I've loved in the past is this face mask by MCaffeine. I used it twice a week. It clarified my skin, added some healthy glow, removed tan and evened out the skin tone. Regular usage could help you with your skin texture.
MCaffeine Coffee Face mask is rich in Argan oil, Vitamin E, Pure Arabica coffee, caffeine, and Kaolin which helps in removing extra oil from the skin. MCaffeine products are vegan, free from paraben and SLS, FDA approved, Made Safe and dermatologically tested.
Buy MCaffeine Naked & Raw Tan Removal Coffee Face Mask