Guest post by Sudeshna Thakurta
A twelve-year-old girl often stood in front of the mirror in a pretty dress and slathered petroleum jelly from a tiny tub of Vaseline on her lips. The transparent gel glided on the lips, caught the light and made the lips look even more appealing. Putting on the sandals, she would walk out of the house. One sight of a group of aunties in the lane and it took ten exact seconds for her to eat it up. Five years later, a plump teenager adjusted her kurti and rushed off to her tuitions. Boards over a good dress any day, agreed; but how could she let the aunties make a remark about how her ass was a little too fat for someone her age. Five more years down the line, she, still slightly plump, particularly in the middle, tucks her black tee in a pair of faded blue jeans and walks without taking any notice of who else did in fact care enough to make a remark.
Well, the twelve-year-old was I and the story is my little journey to become who I am today. Same person, same surroundings, the only possible explanation for the change could be education, (and not knowledge or observation, mind you!) most people would infer. Being the only child to parents had made me believe that this was just my insecurities and me. Over years, as I understood, this insecurity was prevalent in most women. The last two years spent at a ladies hostel changed me. I saw girls change their outfits twice or thrice, to say the least, every time they are to step out: some hiding their ugly hairy feet, rest covering up a scar or two. All of this, just to avoid unwanted attention.
The struggle to wake up in the morning is real. To put together a decent outfit is a cure to the pain. However, the prying eyes, the way the society thinks makes it much more difficult to find a fix. As a woman dresses up and takes one last look at her reflection in the mirror, parallel lines of thoughts cross her mind. Is the lipstick a little too bright for a first date? Is the liner a tad too much for a casual brunch? Should I be wearing these earrings in the first place? The sight of another woman on the roads avoiding every sly comment, walking tall changes you. A smile from another woman, facing the same challenges as you do strengthens you, hoping that the toil is definitely worth it; it makes our day a tad bit brighter.
Then reading, writing and social media introduced me to a bunch of people so confident with their own self that they professed their love for dressing up via their blogs. While they experimented and kept doing what they loved, some with their well thought of stories and concepts defied the traditional norms of beauty. They have made us realizse how beauty is more than what meets the eye. Trust me, when I say that when my beloved grandmother said the same, it did sound like a mere consolation. She, in her white cotton saree, long hair, oiled and tied back into a bun and white and blue rubber chappals cued me towards the existence of a third world where your physical appearance or your choice of clothes and shoes did not define beauty.
With the advent of social media, you see several women pose for their front camera and put up their pictures, accompanying it with a caption, which many of us might want to label stupid and unnecessary. However, it is a shame when you see them posting their pictures, sometimes, a few taking off some valuable time from their lives; indirectly, sharing tips and tricks from their vanity that might work for you being shamed for the very same reason. (Courtesy: the meme corresponding to the decrease in the number of fashion bloggers in Delhi given that Sarojini is not going to be around anymore) To have random people treat them as a mere eye candy is one thing but to have people label them, judge them and ask them to fix something is another.
Vinitha Shetty, a fashion blogger from Mumbai is one such woman. Embracing herself has been tough for her, like most of us. There were people appreciating her and sharing bits and pieces of their stories, it broke my heart when I read the comment asking her to Photoshop the scar.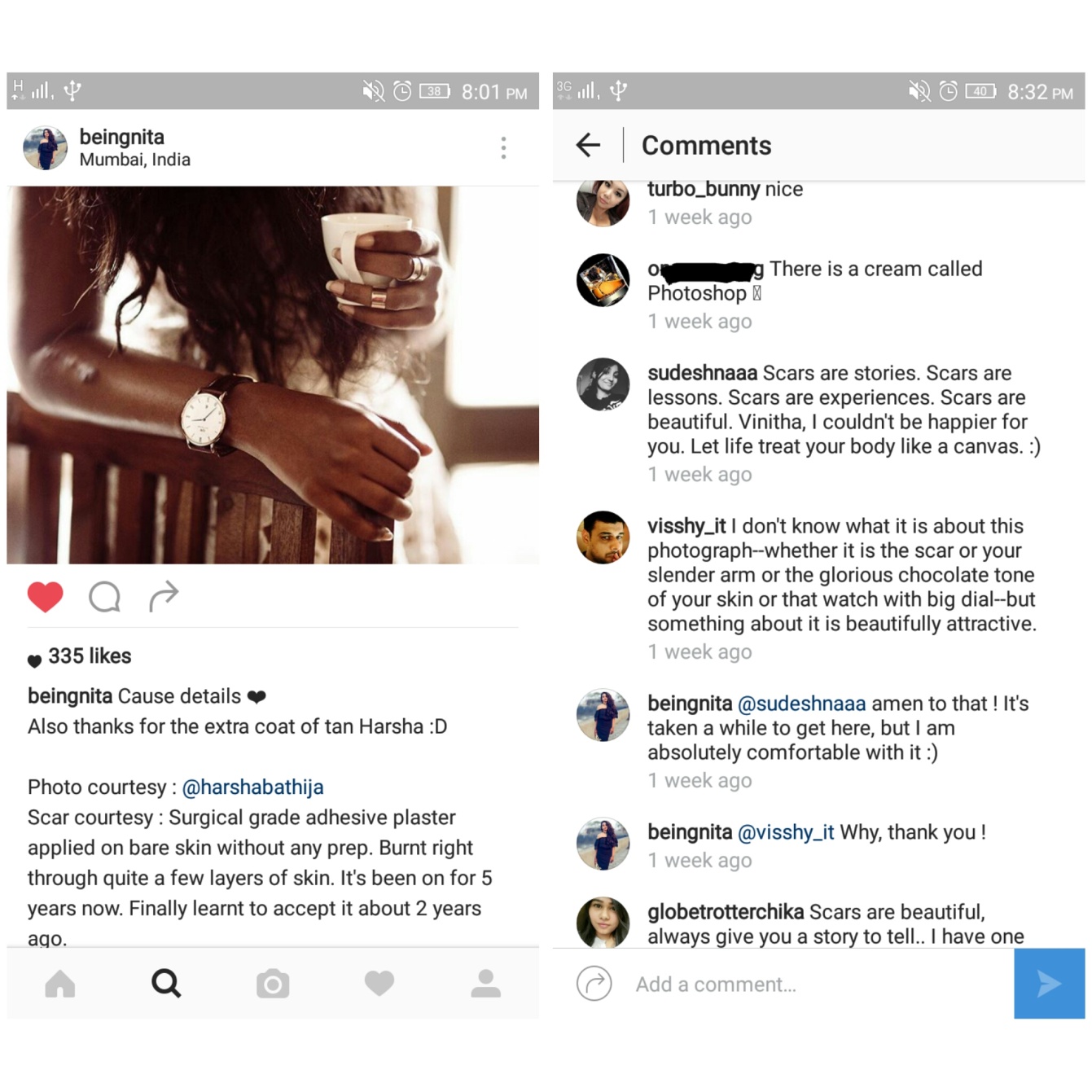 It takes time and patience to be okay with a scar or any acquired physical mark on your body. Therefore, when she dared to share the story of how she acquired a scar five years ago and had finally accepted it as a part of her being, it made me happy. Scars are stories, adventures slightly derailed from the usual route and experiences that moulded us into better humans; even if it does so in a very, very small way. It takes courage to reach out to others, to let them know that they are not alone. Let us just appreciate that someone cares to take some time out of their busy lives to share their experiences.
To say the least, this is the mere tip of the iceberg. There are all sorts of people out there. From offensive comments to direct messages to the fraandship requests, they are dealing with it all just so that we know that the last minute hesitation is obvious. It is a mere need for a breather, to catch up on life without any inhibitions, while the chai ki nukkad wala dada and his friends and the perverted uncles in public transport give us characteristic stares, obnoxious comments and question our intentions. I realize that there are plenty of us sharing our views but as John Green (Yes, out of all writers in the world, I chose to quote him.) would say, it is nothing more than a "shout into the void". Much to our disappointment, we still live in a society where people are not tolerant, refuse to acknowledge a difference in opinion and make their peace with it and raise an eyebrow at our bare shoulders in an off shoulder dress.
On a completely orthogonal (or maybe, partially relevant) note, aunties please stop staring at us. Out of all people, we expect you to understand and support us. Do you hear us complaining of your dressing choices? Of course, you do not. We can make fun of how odd that rani coloured salwar suit looks too, you know. But we do not. Why do you ask? If we, women do not support each other, who will? Food for thought, is it not?
About Sudeshna:
Eternal love for bhutta and rain; black coffee over tea; bibliophile; falling in love with life, very very slowly. Check out her blog at  http://laughterthatechoes.blogspot.com